Let's Talk: 5 months on, Microsoft's Surface Duo 2 is actually good now
Microsoft had another rough start with its second attempt at a dual-screen Android phone, but it's now in a really good place after a few months of patching.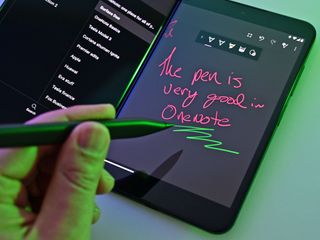 (Image credit: Daniel Rubino / Windows Central)
When Microsoft first revealed Surface Duo, it caught the tech world by surprise. While we anticipated a dual-screen Windows device (aka Surface Neo), a small Android-driven phone was a shocker.
Of course, Surface Duo launched a year later, and while people appreciated its hardware, the OS experience was messy. For Surface Duo 2, Microsoft thought it had its software woes figured out, but the second round of reviews may have been even worse.
Fast forward five months from its release, and Surface Duo 2 is an entirely different device, thanks to three substantial updates in December, January, and February. Improved performance, smooth animations, predictable behavior, it's all just … better.
Windows Central Executive Editor Daniel Rubino and Senior Windows Editor Zac Bowden have a conversation on Surface Duo 2 and Microsoft's progress.
Let's Talk: Surface Duo 2
Daniel Rubino: So, Zac, five months on, and we're both still using Surface Duo 2 as our primary phones. I applauded the hardware changes in my original review, but lamented ongoing touch sensitivity issues that drove me nuts, including swiping for notifications. But these last three software updates have made a huge difference. For me, Surface Duo 2 feels like a standard Android phone now, except for that extra display. That's perhaps a low bar for a premium device in 2022. Still, there is no denying that Microsoft has made considerable strides in updating this phone and, in general, is just getting better at updates. What do you think?
Zac Bowden: I think it's fair to say at this point that the Surface Duo 2 is finally where it should have been at launch. It launched in a much better state than the Surface Duo 1, but it still wasn't in a good enough position where I could recommend it to your average folk, and I think that showed in reviews at the time. Now, if you can wrap your head around the dual-screen aspect, the software will no longer get in the way. That's a huge deal. This conclusion even extends to Surface Duo 1, which I'd argue is basically at feature and stability parity with the Duo 2 at this point.
Daniel Rubino: Yeah, the most significant shift for me has been Microsoft's consistency. The updates are coming at around the same time each month, they feature detailed changes, and those logs are posted instantly on the website (instead of two days later). The company also seems to be improving at addressing ongoing issues and adding polish to the overall user experience. Things are smoother, more coherent, and there are no show-stopping bugs. And that also applies to Surface Duo 1, which, despite the older hardware, is performing much better than I thought it would at this stage.
What about pricing? In the US and Canada, Microsoft recently dropped Surface Duo 2 from $1,500 to $1,250. That's not a fire sale, likely due to heavily controlled supply management, but it takes the sting out a bit. Is it enough to move the needle?
Zac Bowden: I don't think so. Unfortunately, those initial rounds of Duo 2 reviews sealed this device's fate. Even though both are no longer in that state, it will have this stigma of being a buggy mess like the first Duo. Many people will see the price being cut here and there and think it's because the device is failing, so retailers are dumping stock because this exact thing happened with the Surface Duo 1. But I don't think that's fair on the Surface Duo 2, which is just starting to see a small price cut. The Duo 1, at this point, was almost 50% off, but the Duo 2 is nowhere near that. I think that says a lot about how much better Microsoft has handled the production and rollout of Duo 2.
Now that the software works as intended, we can finally see if people prefer dual-screens over single-screen multitasking. Beforehand, I think many people couldn't get used to the dual-screen aspect because the software was rough and wasn't making it easy. But now, the software works as intended, this is the first time we're able to see how ordinary people take to the dual-screen nature of this device. Will they find it helps their productivity flow? I certainly think it helps mine, but not everyone is the same.
Daniel Rubino: Yeah, I agree on the perception bit, and that's going to be a tough hill for Microsoft to overcome. I think so long as they keep at it with the software, including lighting up new features on occasion, the company will at least be in a much better position to launch Surface Duo 3.
What else should Microsoft do on Surface Duo 2? For me, it starts with Microsoft Launcher. Since 2020, Launcher on Duo has improved performance and animations, which is excellent. However, despite the regular Microsoft Launcher for Android having many of these abilities, we still cannot change icons or customize gestures, which is weird. I'd also like to see the Glance Bar get some more customization. What else do you think Microsoft needs to add to Surface Duo 2 for software and features?
Zac Bowden: Improvement to the Glance Bar is my most significant request. It's such a cool idea, but I never get to use it because I don't often get to use the few apps it supports. I communicate through Telegram, Skype, and Slack, not SMS or phone calls. Additionally, I'd also love to see Microsoft put more emphasis on pen integration; things like adding the ability to take notes and ink directly on the lockscreen instead of unlocking and opening OneNote first. It would also be nice if SwiftKey would adopt inking to write into text fields.
I think what I'm most hoping for is broader adoption of third-party apps taking advantage of the spanning capability on Duo. So far, only Microsoft's apps (and a handful of third-party apps) support this mode. That's fine, as not all apps need to support it, but I suspect with Android 12L coming to Duo later this year,, we'll start to see some app developers target those APIs and build apps that, at the very least, avoid the gap down the middle of the two halves.
Daniel Rubino: Yeah, I agree with Android 12L and apps being updated. I'm more excited about the developer options than the OS itself. It means Google will presumably update all its inbox apps like Gmail, Gboard, YouTube, Maps, Messages, the Play Store, etc., to support its own recommended APIs. Same with more Surface Pen support, making Surface Duo stand out from nearly all other Android phones besides whatever Samsung releases.
I also echo your request for SwiftKey, which is still not as good as Gboard for typing, and it has had handwriting recognition support for years.
Overall, I think it's safe to say Microsoft has reached a stable platform for Surface Duo with the core features and functions behaving as they should. Now, we'll have to wait for continued refinements and occasional new "feature drops" to keep pushing the form factor. Microsoft's next big test: How long does it take them to push out Android 12L? We're certainly not expecting anything like the ridiculous one-year wait for Android 11, but how quickly can the company push out that OS will speak volumes about its overall progress.
Let's revisit this topic later this year and see where Surface Duo 2 stands!
The Surface Duo 2 is a unique foldable with two displays. It can run apps side-by-side or span apps across both screens. The second-generation Duo improves upon its predecessor in several key areas, including having better cameras, displays, and software. Later this year, the Duo 2 should receive an update to Android 12L, which is optimized for tablets and foldables.
Get the Windows Central Newsletter
All the latest news, reviews, and guides for Windows and Xbox diehards.
Daniel Rubino is the Editor-in-chief of Windows Central, head reviewer, podcast co-host, and analyst. He has been covering Microsoft since 2007 when this site was called WMExperts (and later Windows Phone Central). His interests include Windows, laptops, next-gen computing, and for some reason, watches. Before all this tech stuff, he worked on a Ph.D. in linguistics, watched people sleep (for medical purposes!), and ran the projectors at movie theaters because it was fun.