Microsoft Surface Duo 2 down to $1,250 in first-ever official price drop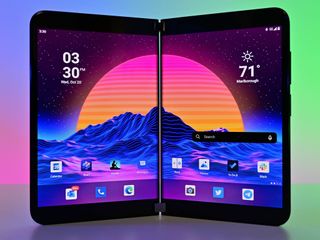 (Image credit: Daniel Rubino / Windows Central)
Microsoft's Surface Duo 2 is down to $1,250 right now through Best Buy and the Microsoft Store. That's $250 off its starting price and the most affordable we've ever seen the second-generation foldable from Microsoft. In fact, it's the first official price drop for the Duo 2 since the device launched late last year.
Save on Surface Duo 2
(opens in new tab)
The Surface Duo 2 is a unique foldable with two displays. It can run apps side-by-side or span apps across both screens. The second-generation Duo improves upon its predecessor in several key areas, including having better cameras, displays, and software. Later this year, the Duo 2 should receive an update to Android 12L, which is optimized for tablets and foldables.
The Surface Duo 2 is a foldable that takes a different approach than devices like the Samsung Galaxy Z Fold 3. Rather than having one large display that can fold, the Surface Duo 2 features two displays that sit side by side. You can also span apps across both displays. Certain apps, such as Xbox Cloud Gaming, are optimized to take advantage of the dual displays of the Duo 2.
While the Surface Duo 2 is an improvement on the original Surface Duo, the device is not perfect. "Surface Duo 2 is a significant improvement over the first-gen with much better hardware, attention to detail, and software that is significantly less buggy," said our executive editor Daniel Rubino in his review. "There are still issues to solve, however, and the high price will keep many away."
The Surface Duo 2 isn't cheap after it's $250 discount, but it is slightly less expensive.
While you should always purchase devices based on what they can currently do rather than what they may be able to do in the future, it's worth noting that the Surface Duo 2 is set to receive an update to Android 12L later this year. Android 12L is optimized for foldables and large screens.
News Writer and apps editor
Sean Endicott brings nearly a decade of experience covering Microsoft and Windows news to Windows Central. He joined our team in 2017 as an app reviewer and now heads up our day-to-day news coverage. If you have a news tip or an app to review, hit him up at sean.endicott@futurenet.com (opens in new tab).
Only if I was able to hold out another 6 months to a year, with my Note 8. While I don't regret paying 1,500, a $250 price cut is always welcome.

Still way too much when competing with other android phones. Also while I love the Duo, the bugs and issues make it a very hard sell. I hope that android 12L and continue support will make things better.

After holding out initially, I pulled the trigger 2 weeks ago on the SD 2. I have no regrets. I loved the SD 1 but the 2 is an objectively much better phone. I have yet to encounter a bug or some quirky behavior, something I had often on the 1.

What "bugs and issues" do you have on Duo 2 (that are also, preferably able to be replicated)?

Im curious about that myself. Sine the update, only two things I've noticed and these aren't even real issues. While using Google Duo, if I try to use the rear camera, it will sometimes show an error. The other, and this just happened today, I had some touch response issues. Rebooted and it's been fine. Other than that, it's been fairly flawless for me.

Actually I have the duo 1 now with the recent update the screen doesnt always turn on. I have to reset it a bunch of times for it to work. Also I still have issues with when exposing both screens both sides are on when the screen facing me should be the only screen to go on.

"the bugs and issues make it a very hard sell" Methinks your impression of the Duo 2 is way out of date and not accurate. Even the original Surface Duo is vastly improved over the last two months. I know. I own both and you can actually NOTICE the difference when you see the Duo subreddit on Reddit far more silent than in months past.

I think I'm going to pick one up I've given up on my pixel 6 literally the buggiest phone I've ever owned. The duo can't be any worse!

The last 3 updates for Duo 2 dramatically improved things. It's a good time to try it out.

My Duo v1 is now suffering from the screen won't turn on. I can feel it vibrate like it did turn on. I get the glance screen sometimes when opening it all the way. Does this happen in v2? Opening/closing the clamshell sometimes helps.

I've never had that happen on the Duo 2. I did have something like that (but I don't think exactly that) on my Duo 1, but MS replaced it under warranty and it never happened again. I think you may just have some hardware problems emerging. Eventually, any device will start to behave badly as components begin to fail.

All of the Microsoft stores around me closed. How did you issue warranty replacement? Do I have to have registered the device prior to issuing a claim? Cause I never do that - probably like msot folks.

Same but mine got worse after the update.

I just cannot get past how Microsoft left Windows Phone users holding the bag on expensive hardware whilst now nothing more that a paperweight. To drop over $1000 again on the hope, we will not see a repeat is more than I am willing to do. I have simply lost all faith in Microsoft and their commitment to the customer.

Please recognize the distinction with Surface hardware. Yes, it's all still MS, but MS has had a distinctly different approach to long-term hardware support with its Surface line. We can already see that with the Surface Duo -- the Duo 1 just received a full upgrade to Android 11. Both Duo 1 and 2 receive monthly updates including new features. This is already much better support than any Windows Phone ever received, going all the way back to Windows Phone 7.

Microsoft put at least ten times the money and effort into Windows Phone than it did with the Duo. It's a shame the Windows Phone didn't work out. The SD 1 is pure garbage. Even with the latest update it takes forever to do the simplest task. Microsoft did a huge diservice early adopters by not offering a better trade in for the SD2. I can't understand why there are so many apologists for the original Duo. It's a half-baked product that instead of increasing productivity, actually reduces it. For me, I will never again spend more than $500 on a Microsoft phone.

Even if Microsoft doesn't give the Duo another update, it won't matter as Android is basically designed to be abandoned. Google will update it in the background for several years to keep it compatible with new apps and APIs. Some features and security updates come this way as well.

It took three transfers and over 90 minutes on the Microsoft Store Support line, but I got my refund for my January 14th order. They refunded the extra sales taxes too, which was nice. It should be a lot easier, but it can be done.
Windows Central Newsletter
Thank you for signing up to Windows Central. You will receive a verification email shortly.
There was a problem. Please refresh the page and try again.