Mobile payment system LevelUp supporting NFC and Windows Phone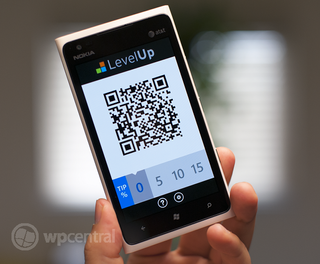 LevelUp already uses QR codes, next up is NFC
Boston-based startup, SCVNGR, developers of the LevelUp mobile payment platform, have announced the addition of NFC-based payment support. Currently, LevelUp uses apps on iOS, Android, and most recently, Windows Phone, to generate QR codes based on customer credit card accounts linked to the app. In turn, those codes are read by devices at payment counters, which are provided to vendors free of charge. The new NFC readers will add one more layer of convenience to the process.
In a humorous press release, which is par for the course, self-described Chief Ninja Seth Priebatsch had this to say.
LevelUp recognized that "the proverbial fire has been lit for the industry" to start incorporating NFC in mobile devices like the Nokia Lumia 920 and Lumia 820, both of which were announced yesterday in New York.
You can see the full press release in its entirety after the break...
Truth be told, the Windows Phone app is actually very well done and we can't wait to see it get NFC abilities, especially since LevelUp's assumption about the iPhone 5 getting NFC may be premature. No sweat, as Windows Phone 8 will step in.
Pick up LevelUp for Windows Phone here in the Marketplace.
Source: SCVNGR; Via: FierceMobileContent
Windows Central Newsletter
Get the best of Windows Central in in your inbox, every day!
When will scavenger come to WP? Did they concede to geocaching even though it's different? Oh...yeah, NFC payments...finally hitting a cluster fuck point. Hopefully all these different players don't turn off the layman.

That's pretty nifty, but I can almost guarantee that there isn't a single business in this town that will be compatible with this app.

It's slow but they're evidently in the major cities--NYC, Boston, Chicago, SF, etc.

Sounds very neat and interesting. But most of my customers do not have the technology yet to enable them to make contactless payment. What they do carry with them all the time are there cards still. So until the rest of the world catches up, I am quite happy with the mobile card reader I got from mPowa.
Windows Central Newsletter
Thank you for signing up to Windows Central. You will receive a verification email shortly.
There was a problem. Please refresh the page and try again.