The LG Gram 15 is the latest addition to the ultra-light Windows 10 notebook line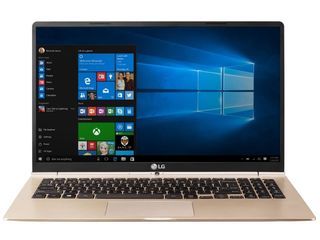 After launching the smaller Gram 13 and Gram 14 notebooks in 2015, LG is coming back again in 2016 with a larger, but still very light, 15.6-inch LG Gram 15 notebook. The company showed off the new laptop as part of its CES 2016 lineup.
The LG Gram 15 is only 2.16 pounds and is just 0.7 inches thick, making it the lightest 15-inch laptop ever. It will have a 1920x1080 display, and a person's choice of an Intel Core i5 or Core i7 processor. It can support up to 8GB of RAM and either 256GB or 512GB of internal storage. Battery life for the notebook has not yet been released.
The LG Gram 15 is due for release sometime in the first half of 2016, but pricing has yet to be revealed.
Source: LG (opens in new tab)
In before the only 1080 display negative comments. Less pixels = less power.

Heard of the word Portable?

Do you really need more than 8 gigs of ram on this type of computer? Im pretty sure the market this is intended for is a light duty highly portable laptop where 8 gigs is plenty.

Someone missed the sarcasm.

Ugh its soooo light how will it play Crysis 3 at max settings?!

Considering ultra gaming, there's a long line of heavy weight laptops made especially for gaming. Don't take it lightly.

Raining Windows 10 laptops...

Every time Windows Central covers news about new gadget I have to open a unit converter app. Metrics rules. :)

If it's so great, why do you need a unit converter? ;)

Pounds - imperial
Kg - metric

All of the new light weight ultrabooks from CES are looking like the new MacBook. Especially the gold versions. Kinda like a few years ago when Ultrabooks arrived they all had similar appearances of the MacBook Air at that time. This makes you appreciates how distinctive the Surface Book looks even though people complain about the fulcrum hinge. I personally like it because it stands out. At any rate; this is good for the Windows 10 ecosystem but I don't know how many people will pay the premium prices for a Window s10 laptop when people are so conditioned with the cheap Windows laptops.

People complain because you can't please everyone - I like the fulcrum hinge and think it looks futuristic and cool. There has been a mass release of W10 notebooks and laptops as well as 2 in 1's so perhaps the needs of most are covered here. Sure there will be more to come too in 2016. I'm pondering getting a Surface Pro 4 or waiting for the Surface Pro 5.......my Surface Pro 3 is still awesome and I may just get the new keyboard and wait for the Pro 5......

I was thinking all the new device colors remind me of the kitchen appliance colors my grandparents used to own.

So much for the Samsung being the lightest. This is over a half pound lighter, which is insane.

2.17 Pound, 0.7 inches...??
Please add metric/standard values too, not all your readers are from USA/UK, thank you :)

Uk use both mate, so why don't you just learn both like we do

Thank you, sensible British friend.

1 kilo = 2.2 pounds, 1 meter = 39.3700787 inches. Does that help? 1 inch is 2.54 centimeters btw.

It would give macbook a hard run for their money. Go windows teams. Time for hyrid laptap to become real things.

I don't know if I like the sound of a hyrid laptap. Sounds like it might be painful.

...or a hybrid lapdance... gaaaah

Does it have backlit keyboard yet?

If it follows the rest of the gram line, no. I would guess they axed the backlit keyboard to save weight.
Windows Central Newsletter
Thank you for signing up to Windows Central. You will receive a verification email shortly.
There was a problem. Please refresh the page and try again.