Lightbox Pro for Windows Phone, an illuminating set of utilities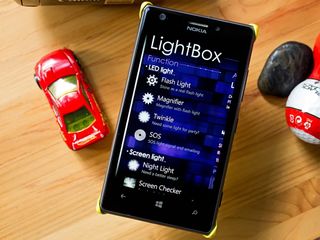 Our Windows Phones can be rather convenient at times, from checking the weather to sending a quick email to even casting a little light on things. Lightbox Pro is a Windows Phone utility app that offers eight different ways to use your camera light and phone display to light things up.
From the basic flashlight to a party ball, Lightbox Pro hopes to be your one and only Windows Phone light source. The app does have a certain level of appeal but a poorly designed trial version may likely turn many away.
Let there be light!
The main layout for Lightbox Pro has a main page that lists all of the lighting options available, the About information and a Favorite page that will list any light tools tagged as favorites.
The list of light tools includes:
Flashlight: A simple, straightforward tool that turns on your Windows Phone camera light.
Magnifier: This tool uses your Windows Phone camera to magnify text. You have the option to turn on your camera light to shed a little light on what you are reading as well.
Twinkler: Here you can flash your Windows Phone camera light like a party ball. This tool includes a frequency setting to allow you to adjust how fast the light flashes.
SOS: This tool uses your Windows Phone camera light to display SOS using Morse Code. You also have the ability to email emergency contact your GPS location.
Night Light: This tool uses your Windows Phone screen to provide a softer light designed to help you relax as you fall asleep. The tool also has theme music to help you have a good night's sleep.
Screen Checker: This is more of a utility than a light tool in that the Screen Checker will help you identify any dead pixels on your Windows Phone display.
Softbox: The Softbox tool provides you with an assortment of light colors and patterns that you can use to cast a little light during photo shoots. Using your Windows Phone screen this tool has seven color tones and about a dozen light patterns to choose from.
Candle Light: Here you have three virtual candle styles that can shed a little light on things or be used as a substitute for the real thing. You have a set of birthday candles, a heart shaped candle and numbered candles. As an added touch, you can tap the screen to blow out the candles.
Each of the light tools performs as described with no bugs or glitches experienced. I do like that each tool has a few adjustment settings to fine tune performance, Many of the tools will come in handy and I'm particularly interested in the Softbox tool. It could come in handy when shooting macro shots with a DSLR.
Overall Impression
While Lightbox Pro does a nice job of things, the one issue that may turn customers away is how the trial version is designed.
With the trial version you can bounce around the main pages without issue to see what all the app offers. But when you dive into Lightbox Tool Pro's lighting tools, you only have about fifteen seconds before the light is turned off and a "Trial Period has expired" message takes over the screen.
You can tap the Windows Phone Back Button to return to the app's main pages to retry another lighting tool. But after fifteen seconds the message appears and you'll need to back out to the main pages.
I can understand having a time limited trial version but usually the time restriction is set to days not seconds. The first time the trial version times out your thought is "What the @#!" and around the third or fourth time, I can see some uninstalling Lightbox Pro and pledge to never mention its name again. I think Lightbox Pro would have been better served with either an ad-supported trial version or a trial version that expired in a few days, not a few seconds.
Lightbox Pro is priced reasonably at $.99 but even then, many will want to try things out first. Overall, we found it to be a handy light utility app for your Windows Phone. Just be patient with the trial version. The app does get a 4.5 Star rating in the Windows Phone Store, which is in the ballpark.
Get the Windows Central Newsletter
All the latest news, reviews, and guides for Windows and Xbox diehards.
George is the Reviews Editor at Windows Central, concentrating on Windows 10 PC and Mobile apps. He's been a supporter of the platform since the days of Windows CE and uses his current Windows 10 Mobile phone daily to keep up with life and enjoy a game during down time.
WP Central app doesn't give the Download option?

All links and images are off here (PC).

You have the name of the app go to store search and download.

I was providing feedback so that they could correct the issue, but thanks for stating the obvious...

Swipe to the right and "Download App."

Thanks for all the feedback, the swipe to the right and "Download app" wasn't available when I posted my comment to let them know. Its now been fixed and works as it should

You have the name go to store and download it

#1 tool kit ? What is that another app ?

George, could you please review your post? Links/images aren't working ;/

working on it. Images, QR and download links should be back in place. Sorry for the technical difficulties.

Have you seen the Swing Copters game in the WP Store from .Gears, the original developer of flappy bird. Is it real or fake?

I've tipped them, and Daniel says it is a fake. I too am confused, as it is appears on store main page several times.

But it doubts that there is no word from the developer.

Swing Copters is published by what looks like the official devs company (.GEARS) unless someone jacked that name

Link and QR are missing ... Here is the link on the store; http://www.windowsphone.com/s?appid=b7fe52be-a386-4381-8022-155b573f9308

Is anybody experiencing problems with store installing apps?

Sometime it takes a second to start and sometimes I have to try truce but I was thinking that was because I'm far from my WiFi

Same problem. Which connection do you have?

#1 tool kit is great. Very well made. This app in the article looks terrible

I would try it, but the app wants to know everything about me in the permissions section.

I love to use the 1520 as a flashlight. Its so easy to put in various positions when fixing my car. I say the mobile flashlight is a revolutionary thingy. Kind of like a new wheel thingy, but in a good way.
So far I haven't greased it also :)

Your review was "bang on". This may go down as the fastest trail version ever. Overall it does seem to be a very useful app, however you would have to buy it to try it, and at $0.99 it wont break the bank.

I bought it and have to say ..what a waste of money and time dont buy this shit many free alike do the same

I just installed to give it a try.
My trial expired in 30 second flat
What a piece of crap

Finally! I mentioned this such a long time ago. Posted via Windows Phone Central App

I did get pro version of this app for free when was on promotion but still #1 toolkit is so much usefull.

Well..I thought this app was for photographers :/

Well Done!! It`s worth buying !