Lines the Game, an excellent choice for a time wasting Windows Phone game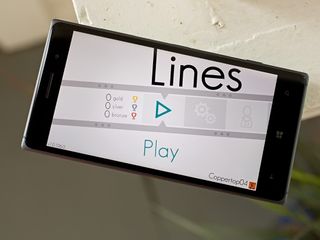 If you are looking for a Windows Phone game to lose track of time with, check out Lines the Game from Game Troopers. While the game has a casual pace, it is not a pushover by any means.
You are presented with a broad range of drawings and have to determine a strategy to create the longest colored line on that drawing. There are five gaming modes that range from simply placing a colored dot on the drawing to race the other dots already in play to a mode where you add lines to the drawing.
Lines the Game is an easy game to pick up on, a little hard to describe but a great way to pass the time. Available for low-memory Windows Phones, don't be shocked if you start playing and you suddenly realize thirty minutes has passed.
Lines the Game is a Xbox gaming title where you can earn twenty in-game Xbox achievements. It is also one of the cleanest looking games in the Store.
The main menu contains several options that include a Daily Challenge, access to the game's settings, access to your achievements and access to the gaming credits. Settings include the options to mute the sound, choose your language and toggle between the day and night modes. Line the Game's Daily Challenge will present you with random puzzles that, when solved, will unlock additional levels. You only get one chance to medal in the Daily Challenge, which offers a little more pressure than the normal gaming puzzles.
Lines the Game has five game modes that collectively hold 250 puzzle levels where you race colors around a sketch drawing. The goal is the same with each mode with you tracing the drawing with your colored dot(s) and create the longest line on the drawing. How you accomplish this is the variable the changes between the gaming modes.
The five gaming modes will launch with a tutorial puzzle that outlines the gaming mechanics. Each of the five modes has pre-race moves or techniques designed to give your colored line the advantage. The five modes include:
Point: You are presented a drawing that already has a few colored dots in place. You will have to place your dot or dots on the drawing in a manner to allow your colored lines to be longer than the other colors.
Eraser: Your colored dot(s) and your opponent's dots are already in place. The strategy with this gaming mode calls on you to erase some your opponent's dots to give your dots a movement advantage.
Rope: Again, all the dots are in place and with the Rope mode you add a line or lines to the drawing to give your dots a movement advantage over the other dots.
Knife: You will face drawings that already have all the dots in place. The strategy here is to cut a portion of the sketch that will restrict your opponent's dots and give your color an advantage.
Mix: This gaming mode will offer you multiple options for game play that can include any of the previous gaming modes. One level may have you place a dot and cut the puzzle while others will have all four options in play.
The colored border for the puzzle will represent your color and each puzzle will have a specific number of pre-race actions you can make. For example, one puzzle may have you placing one dot on the puzzle while another may allow you to place three dots.
There is an element of strategy involved with Lines the Game. As soon as you make all your pre-race moves have been made, the colored lines begin to run the pattern of the drawing. Only one color can occupy a line of the drawing and you use the pre-race moves to cut-off the other colors so your line will be the longest.
At the bottom of the drawing is a progress meter that will illustrate the race's progress. Puzzles can pit you against one opponent or multiple opponents. The sketch drawings can be rather involved and trying the best strategy to have your colored line be the longest can be a real head-scratcher at times.
Overall Impression
Lines the Game is an addictive and challenging Windows Phone game. While the first few puzzle levels in each mode are a little on the easy side, the difficulty increases nicely after you get past the second or third gaming level. Graphics are clean looking with a slight minimalistic approach. I like having the ability to toggle between Day and Night modes to let you enjoy the game at night without blinding everyone with the white screen of the Day mode.
Overall, I would easily recommend Lines the Game but it does have one downside - the Windows Phone game is that it lacks a trial version. The full version is $2.99 and while I think the game is worth it, it really would be nice to have a trial version that allowed you to play the first five levels of the game.
Game Troopers is quickly building up a reputation for delivering solid gaming titles to the Windows Phone Store and Lines the Game is no slouch. If you are in the market for an addictive puzzle game, check it out.
Download Lines the Game for Windows Phone ($2.99)
George is the Reviews Editor at Windows Central, concentrating on Windows 10 PC and Mobile apps. He's been a supporter of the platform since the days of Windows CE and uses his current Windows 10 Mobile phone daily to keep up with life and enjoy a game during down time.
I would like to try then buy

Actually the game is awesome , it's worth the buy (at least for me)

Agreed. New concept is fantastic, live creativity, but it means I have no idea if I would like it or not.
No Trial, no buy Devs!

Time wasting......??????
.
.
My holidays just got over...!!!!!
.
.
Thankfully this is paid title...:)

I am on never ending holidays. Free all the year

Is that a hint of a google ad

Good review, good game. Game Troopers is killing it. Can't wait for Abyss.

True, but I'm more eager about The Last Door (announced yesterday) :)

Yes, that one looks exciting too! I really am impressed with Game Troopers. Imagine if Microsoft Studios cared as much about mobile Xbox gaming as Game Troopers does.

Why is it so difficult to have a try before you buy option? I know it's only a couple of quid, but it all mounts up if you start downloading stuff you don't like.

It must not be worth it for developers. Either the time spent coding the trial doesn't result in enough of a boost in sales to cover the extra costs, or, even worse, people who would've just taken the plunge and bought the game instead try it out and don't buy it (either because the trial was enough to satisfy them or they didn't like it).

And they would rate the game poorly asking for why it isn't free?

That's a really good point. I can't say enough how vexing it is to read reviews of games that are littered with 1-star reviews and people begging the developers to "make it free!". I don't normally condone violence, but if I could punch everyone in the face who ever wrote a review like that, I would. If I were a developer, I wouldn't offer free trials for that very reason.

I want to buy plague inc, but i saw some reviews against it, is the game worth buying? Sorry for the off topic, I didn't find anywhere else to ask this question

It's really worth bro :)
Playing on Lumia 520 and it is awesome :)

Awesome, i have a 520 too

Yes, it is worth buying (at least for me)

Guys try "One More Line" ! Just came to windows store . Awesome time waster.

Yes, it is very addicting

I picked this up about a week ago

I've very much so enjoyed this game!

This is totally worth the $3. Very addictive.

What's with the Audio advertisement that auto play? This motorola ad keeps looping over and over. So annoying.. I love to support you guys but it may be time to adbock windows central. (not talking about the app but the article when viewed via PC)

There's another challenge too. Play any puzzle several times (each time, the dots reposition themselves) and you will be awarded a bronze, silver or gold trophy depending on how long your winning streak is. To get a gold trophy you have to win the same puzzle ten times in a row. With that and the other challenges, this game has a long play value. An excellent game that's well worth every penny of its asking price.
Windows Central Newsletter
Thank you for signing up to Windows Central. You will receive a verification email shortly.
There was a problem. Please refresh the page and try again.