LinkedIn updated, adds support for the big tiles and speech recognition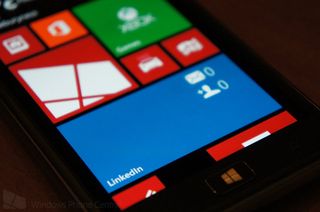 The official LinkedIn app for Windows Phone has been bumped to version 1.5 and introduces a number of new features. The social network is geared towards business and is a place for co-workers to gather and networks to prosper. If you're looking for a solution to keep in touch with the professional side of your life, LinkedIn is a solid option. So what's new in the latest release?
The team have followed up the most recent update with some juicy Windows Phone 8 features. This is the change log for version 1.5 (published on the official Windows Phone Blog):
Live Tiles support (all three sizes - displays counters for both friends and messages)
Ability to set LinkedIn Today images as the lock screen background
Speech recognition support enables users to command LinkedIn (example: "LinkedIn. Inbox." or "LinkedIn. New status.")
More languages have been included, including French, German, Chinese and Spanish
It's a great update to better support Windows Phone 8 and take advantage of the larger (and smaller) tiles now available to consumers. You can download LinkedIn from the Windows Phone Store for free (both Windows Phone 7 and 8 supported). Thanks, Paras and aaa6112, for the heads up!
Rich Edmonds is Senior Editor of PC hardware at Windows Central, covering everything related to PC components and NAS. He's been involved in technology for more than a decade and knows a thing or two about the magic inside a PC chassis. You can follow him over on Twitter at @RichEdmonds.
They removed the "People Who Recently Viewed Your Profile" section!

they are trying to relegate this as a premium only option.

Maybe so, but it's still available on iOS and Android as a feature.

from first hand investigation I can tell you they muck with the who's been viewing you results if you are free vs paid. I've done an experiment for 3 months now where when I was premium it would show you everything. With free, it will show you who viewed on that day, then in subsequent days it obscured who that person was. They want that feature to be as broken as possible so you will pay for it to work right. I suspect this feature will go away on iOS and android as soon as they can figure out a way around the in app purchasing issues because apple wants cuts of any subscriptions.

Ok, but I'm on a Premium account and that feature is hidden from me. Royally sucks!

That sucks :(
I love this app! This was the first real good looking Metro app after Cocktail flow!

Damn, wish I had of read this comment before updating.....

So what really. What is the need to know who viewed our profiles. Isn't that why we are on there? To get people to view it? I've actually had co-workers warn me as I was about to click on someone's profile and say "Be careful! You know they will now know you viewed their profile?" LOL. So friggin what! :)


1) It's useful to know who your profile attracts. 2) You don't have to click on those that view your profile to know basic information about them like their name and position.

Unfortunately, most of the time I just attract sales people who want to solicite to me :( Can't tell who they are anyway since they create "anonymous" profiles to go fishing on LinkedIn. But point taken. It can be useful in some ways, if not critical.

Nope, they didn't. It's still there!!

They added fast resume for wp8

I wish I would've waited to update as well. Might just delete it now. If they made a pay version for .99 cents i'd pay for it to get the "People who've looked at your profile" back. Damn shame!

I didn't update to the new version (still on 1.1) and when I open the app, I get that stupid "oops..." error that says it failed to load the profile viewers. So whoever hasn't updated the app will still not be able to see who viewed their profiles.

Are the graphics (like the logo) in the app now in high resolution for WP8?

They brought the Profile View section back. I don't know how they did it without an update.

Why do I need this app? Isn't this what the people hub is for?

The People Hub is great for general status updates and notifications from your from your various social networks, but it doesn't have all the features of each network. The People Hub is meant for a quick glance and go overview of each your networks. Whereas the individual apps are for the full experience. For example, for Linkedin, you can't browse their full profiles, you can't view companies/groups, you can't view, you can't accept invites, etc. but you can do all that in the LinkedIn app.

I've also noticed that it's now got proper support for 720p displays
Windows Central Newsletter
Get the best of Windows Central in in your inbox, every day!
Thank you for signing up to Windows Central. You will receive a verification email shortly.
There was a problem. Please refresh the page and try again.