Linx brings the Surface design to cheaper tablets, starting at £200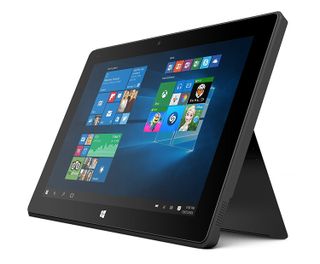 Linx has been offering great value Windows tablets to the British public for a while now but its latest releases are taking things up a notch or two. Coming in both 10- and 12-inch form factors, its latest Windows 10, the 10V and 12V bring the Surface design to cheaper tablets.
You're not going to get hardware to rival the Surface 3 and Surface Pro really, but you do get that now iconic kickstand design with a detachable keyboard. Linx isn't the first to produce a 'Surface clone,' but offerings from the likes of Lenovo and ASUS are somewhat pricey. Especially compared to these from Linx.
Across the board you're looking at Intel Atom x5 processors, with the bottom end being a 10-inch 1280x800 resolution display, 32GB of storage and 2GB of RAM. Going up from there options will include 4GB of RAM, 1920 x 1200 12 inch displays and 64GB of storage. By no means the highest end stuff you'll find but the most expensive model tops out at £349.99, while the cheapest 10-inch model costs £199.99. You'll get full sized USB, microSD and HDMI out on all, though. So not lacking in connectivity.
For those attracted to the Surface design but don't want to pay the higher prices, these could offer an interesting solution. Linx tablets in the past have been pretty solid devices, if lacking in glamour. They're set to start shipping at various dates in October and November.
See at Amazon (opens in new tab)
Richard Devine is an Editor at Windows Central. A former Project Manager and long-term tech addict, he joined Mobile Nations in 2011 and has been found on Android Central and iMore as well as Windows Central. Currently you'll find him covering all manner of PC hardware and gaming, and you can follow him on Twitter and Instagram.
Great!
Getting one for my kids!

I have to say, I've had two Linx tablets so far, a 7 inch Windows 8 one (now upgraded to Win10) and the Linx Vision gaming one. Both have been, for the price, faultless. Though the screens aren't the best, and battery life isn't ideal. they are certainly good enough, and they are extremely well built for the price.

Yeah I had a Linx 8 for a while, couldn't really fault it compared to my Dell Venue 8 Pro. Was more than pleasantly surprised.

They should remove internals and triple the price.

No, that would make it an HP Lap Dock...

Surface phone dock. Only 699$.

If only it had a stylus...

800p is, even for that price, a little to low on a 10 inch device.

Anyone had a Chuwi model? Cause I want to buy the Hi10 Pro.

I have hi8 that costs only 100$ and it's great. No problems and great value per price.

They have a promo at Gearbest the Hi10 Pro version for 150€ so im thinking to buy it.(40€+Keyboard and stylus).

I've used the Linx 7 and 8 tablets my parents have and they're great for the money! They're never gonna beat services time the price but they work and they look decent. Looks like the design had been improved here plenty but it's a shame they're not bringing pen support to them. It's also a shame they're not aiming for a 7.9" Surface Mini clone design.

These look nice. Good to hear positive reviews of them as well.

Yes. This thing looks sturdy. I wish I could find one in my country. I won't need a keyboard for this. Windows 10 is already very good as a pure slate laptop. I can just keep a full size keyboard and mouse at my desk.

Looks pretty cool. The Windows hardware button on the bottom is more of the Win8 era, not really seen on a Win10 device. And the starting specs are somewhat low; after having a number of 2GB RAM, 32GB storage devices that I have to play with to make room for updates, I know I wouldn't go for this, but those larger storage ones seem more interesting.

If its the same as all other linx tablets, its not a button but just a logo.

I got Linx 7 tablets for both my boys to play with, then I got one for myself. I'm interested to see how good this new 12V model is going to be.

But for the kickstand, 200 dollars gives you an awesome 9.7 inch tablet with good specs. Much ado about nothing ?

Tried searching US Amazon and it doesn't appear to be available. I guess it isn't here.

I'm currently writing this on the Linx 1010b with keyboard dock, I have to say its great for £140 I use it for browsing and Twitter mainly. I have no complaints, the battery lasts formost of the day...I may invest in one of the new ones after using this.
Windows Central Newsletter
Thank you for signing up to Windows Central. You will receive a verification email shortly.
There was a problem. Please refresh the page and try again.