List of Call of Duty: Modern Warfare known bugs and launch issues
By Matt Brown published
Prepare for a bumpy ride into Modern Warfare.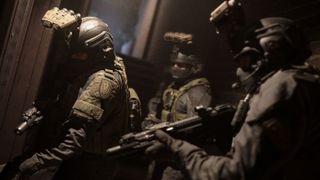 (Image credit: Activision)
Call of Duty: Modern Warfare has debuted worldwide, reviving Activision's bestselling shooter through the contemporary lens. From advanced operations to guerrilla warfare, the series' latest packs content for all across its grim campaign and thrilling multiplayer modes. And while Modern Warfare builds on strong foundations, that comes with a significant range of bugs and issues. We've rounded up all reported problems at launch, spanning Xbox, PlayStation, and PC.
General Call of Duty: Modern Warfare bugs and issues
With Call of Duty: Modern Warfare experiencing a bumpy debut across all platforms, these are the common issues players are facing.
Multiplayer server issues
Modern Warfare's multiplayer servers continue to experience launch issues, as now expected from any major video game's opening week. Connectivity issues may prevent sign-in, slow matchmaking, and reduce overall multiplayer performance. While stability improved over the October 25 release, expect further upgrades over the coming days.
Freezing and crashing
Call of Duty: Modern Warfare has launched with well-documented stability issues. Alongside isolated platform-specific flaws, general freezing and crashing are reported on Xbox One, PlayStation 4, and PC. While Infinity Ward issued a title update to counter crashes, they're still a regular occurrence for many.
Audio bugs and issues
General audio issues appear to be affecting Xbox One, PlayStation 4, and PC users. Hitching, cracking, and other distortions lie among reported bugs, although with no formal fix. Adjusting the game's audio bitrate may eliminate issues, but other settings may bear improved results for some.
Xbox One-specific bugs and fixes
Xbox One X crashes
Xbox One X users report regular crashes when playing Call of Duty: Modern Warfare at launch. While freezing appears widespread, many Xbox One X users also report full console shutdowns. Infinity Ward has acknowledged the issue, assuring work on a fix is underway with aid from Microsoft. While the studio hasn't provided a formal workaround, we've experienced reduced crashes when installing the title on an external hard drive over the console's 1TB integrated storage.
Unofficial workaround: Install Call of Duty: Modern Warfare on an external hard drive.
Xbox One X screen tearing
Xbox One X consoles may exhibit screen tearing across Call of Duty: Modern Warfare. The result of new frames pushed to your display mid-refresh, two separate images may display on two halves of the screen. While a formal fix will require an update from Infinity Ward, enabling FreeSync may provide temporary improvements if your display supports FreeSync-over-HDMI.
Unofficial workaround: Enable FreeSync via the Xbox One settings if using a display compatible with FreeSync over HDMI.
PC-specific bugs and fixes
Stuttering cutscenes
Modern Warfare users on PC report regular stuttering while viewing campaign cutscenes. Infinity Ward has acknowledged the issue, confirming a fix is in the works. While the issue appears to stem from background disk usage, no formal workaround has been provided.
High CPU usage
Modern Warfare may cause temporary high CPU usage on PC, in some cases resulting in stutters or crashes.
Screen flickering
PC users report flickering overlays across Call of Duty: Modern Warfare, including face masks, gas masks, and blood splatters. With no current workaround, stay tight for future updates.
Dev Error 6065
Modern Warfare PC may present the "Dev Error 6065" message while in-game. Infinity Ward has acknowledged the issue, with work underway on a fix. In the meantime, Infinity Ward recommends adjusting your graphics settings until a future update.
Official workaround: Lower your graphics settings until a fix.
Dev Error 6165
Modern Warfare PC may present the "Dev Error 6165" message while in-game. Infinity Ward has acknowledged the issue, with work underway on a fix. In the meantime, Infinity Ward recommends attempting "Scan and Repair" through the Battle.net application. If unsuccessful, a full re-install may be required.
Official workaround: Initiate a "Scan and Repair" via the Battle.net application or fully re-install the game.
Unable to access graphics options
Graphics options may be inaccessible to some Modern Warfare PC players. Infinity Ward has acknowledged the issue, with work underway on a fix. However, the studio suggests removing the player folder in Documents > Call of Duty: Modern Warfare as a potential fix.
Official workaround: Delete the player folder in Documents > Call of Duty: Modern Warfare.
Miscellaneous PC issues
Call of Duty: Modern Warfare also packs an assortment of reported miscellaneous bugs and issues across PC. Expect updates to this list as new issues surface, with further information on existing cases.
Lagging and unresponsive menus
Inconsistent mouse and keyboard inputs
Issues when loading textures and shaders
Problems with multi-monitor setups
Have we missed issues you're experiencing with Modern Warfare on Xbox One, PlayStation 4, or PC? Let us know in the comments section.
Next level combat
(opens in new tab)
Call of Duty: Modern Warfare
Times have changed

Call of Duty: Modern Warfare raises the stakes once again in 2019. Infinity Ward brings a raw and provocative take on the first-person shooter, shining a gritty light on the changing nature of modern combat.
Main
Matt Brown is Windows Central's Senior Games Editor, Xbox & PC, at Future. Following over seven years of professional consumer technology and gaming coverage, he's focused on the world of Microsoft's gaming efforts. You can follow him on Twitter @mattjbrown.
Only issue I've seen so far is my rocket launcher not leveling up when taking down aerial units like UAVs and Personal Radars. It is still level 1.

Played for 2 hours this morning (campaign and MP). Only issue was the XB1 didn't recognize the campaign pack #2, a quick reboot and we were off to the races. The story on this so far is awesome....

This game almost destroyed my ps4. It froze it multiple times the download was ridiculously long and immediately seemed to overwhelm my ps4 and made it make that ticking sound I've heard other people talking about, and yes it was a big download but I have good internet and it's never taken so long or affected the performance of my console. During my first attempt of the update I booted up rocket league only to have that stutter for 5 minutes and then freeze my ps4 all together, it finally got done and then I had the same issue with the copying of the game. It hit 24 and then just stopped. It did that 3 times. I made it to the boot camp somehow and played the bots for a while but when I tried to back to my main menu my whole console froze up. I waited and then it loaded about half of the main menu and the other half of the screen was cod. When the main menu finally loaded completely the cod music was still playing and I couldn't do anything with my ps4 it was totally unresponsive to my controller. I tried to eject the disc and when that took about 30 seconds I was really worried. I restarted my ps4 and it was still running so slow I couldn't make it to the settings menu. I unplugged it for 10 minutes turned it back on cancelled the download and deleted it from my library, restarted my ps4 and it was still running slow. I deleted apps from my storage to make more room I deleted all my screenshots I reestablished my connection to the internet I did everything I could think of while it had my console running so slow I couldn't get it to pull up the power menu to turn it off. I restored all the licenses and then I held down the ps button on my controller for 10 seconds to make it turn off, turned it back on and my ps4 was responding to my controller almost as it should. I managed to turn it off properly, Unplugged and plugged back in again and while still sluggish, my ps4 was running ALOT smoother. I put in another game and it booted up just fine, same with netflix, I put cod back in and started the 36 hour process all over again. Once it was finished I tried to boot up the game and it was still obviously having problems. I tried to backup all my save data to the cloud in preparation for safe mode but only made it about 30% before my ps4 hard reset on me. I got it into safe mode tried to rebuild the database but it only got maybe a quarter of the way though when my ps4 turned back on. I got on with customer support chat and explained what was happening, he had me unplug my camera then go to settings and turn off my facial recognition, which was never on, and then had me restore to factory settings and that seemed to fix it. He said I was good to put cod back in and try to play it again but I hopped around the menus and watched netflix for a while to be safe.
I lost ALOT of my games and save data during all this and my playstation is STILL not performing the way it was before I put in call of duty modern warfare. I already contacted support and followed they're instructions and am still having issues so not entirely sure what to do but if I have to replace my ps4 because of this game infinity ward or whoever made it so this game affects entire console performance is getting the bill.

No one is talking about this, but on Windows 7 the game runs at half the framerate. I mean that if the game is limited to 60 fps (with or without vsync) it actually runs at 30 fps. So in order to play it at 60 fps I need to force my video card to render 120 fps, which is really demanding. What's more is that I am wasting half of electrical power for nothing. Here is the link on the activision forum: https://community.callofduty.com/t5/Call-of-Duty-Modern-Warfare-PC/FPS-c...

Maybe because the game is really not meant for windows 7 or really anything under windows 10. Your computer is most likely the problem for why it's stuck a 30fps. No games nowadays are actually made to be played on windows 7 and windows 10 installation is free you just need a activation for it to work and if your computer can't even be updated to windows 10 then you shouldn't really be playing any games at all.

I can't kill anyone. Infinity Ward please fix!!!!!

multiplayer missions in barracks, When activating a mission so many issues where progress doesn't show or the mission Deactivates after a match and lose progress, have re started the game and had to redo missions over and over so frustrating, e.g select mission get 10 head shots with optic, get head shots and after game mission inst selected anymore and progress says 0/10, re-select mission repeat same thing. have completed other missions and have had issues with them not showing progress also but this seems to be bugged where it deactivates the active mission after match every time.... pls fix
Windows Central Newsletter
Get the best of Windows Central in in your inbox, every day!
Thank you for signing up to Windows Central. You will receive a verification email shortly.
There was a problem. Please refresh the page and try again.