Here's how to crossplay with your friends in Call of Duty: Modern Warfare
Get your friends together to get your kill on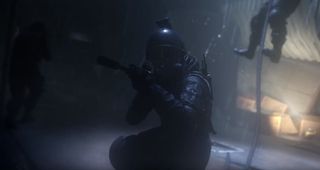 Call of Duty Modern Warfare's crossplay beta is with us, starting today (September 19) for those of you with the golden ticket, and on Saturday (September 21) for everyone else.
The beta will be the first time in the Call of Duty franchise that players on the Xbox, PC, and PS4 can party up and play together regardless of platform. Here's how you can do it.
The Basics
Call of Duty: Modern Warfare is moving away from platform-specific identifiers to their own platform-agnostic Call of Duty account usernames. This change means that to play Call of Duty: Modern Warfare online you'll need to make a Call of Duty account to play multiplayer online. If you've entered a previous round of the beta, you should have one already.
You can create an account on the Call of Duty website. You can even do that now while you're sat at your desk daydreaming about digitized warfare.
Playing with friends
If you're on the same platform, this should be simple enough. Playing on Xbox Live or Battle.net involves inviting your friend from that platform's friends list.
However, if you're looking to play with pals on the PlayStation 4, Xbox One, or PC, then you'll need to add them as a friend on your Call of Duty account. You'll then be able to invite them for cross-platform shenanigans.
For now, at this stage of the beta, it's this simple. You'll need to make sure every player has crossplay allowed.
How will the matchmaking work?
We don't know the specifics of matchmaking yet, but we do know that developers Infinity Ward are planning to separate users of controllers and keyboard and mouse.
However, mouse and keyboard players looking to party up with the controller-wielding pals could find themselves in weird company. In those cases, Infinity Ward's algorithm will relax the rules and put the two input types together to create the fairest match. PC players rubbing their hands together and expecting to deliver the apocalypse with their mouse and keyboard shooting should be careful though. Infinity Ward claims that both input types are reasonably balanced.
Activision has internalized many of the multiplayer aspects onto their own servers. This means that you can voice chat inside the game with players from any platform, letting you chat without relying on a third-party system like Discord.
Crossplay will be available for every different multiplayer mode, whether that's the Battlefield-esque Ground War or one of the smaller objective-based modes. Activision has said that they're not planning on crossplay for ranked or competitive play just yet. So you might not want to invite your friends to form a multiplatform Call of Duty super-team just yet.
Mostly, the system seems to work like Fortnite's crossplay efforts, which have quickly become the gold standard when it comes to multiplayer matchups.
But I don't want to crossplay!
Don't panic. You'll still need to create a Call of Duty account if you want to play the multiplayer. But you can duck in and out of crossplay at will if you're going to filter out players on other platforms.
The crossplay Beta
The crossplay beta is running from Thursday, September 19th at 1 PM ET, and all players will be able to jump in on Friday, September 20th at 9 PM ET. Then everyone can play until Monday when it will shut off at 1 PM ET.
Get the Windows Central Newsletter
All the latest news, reviews, and guides for Windows and Xbox diehards.
Jake Tucker has been writing about video games and technology for a decade, which he loves. He is better at this than writing about himself, which he does not. He's on Twitter on _Jaketucker.