Find the best deals in India with the Little app for Windows Phone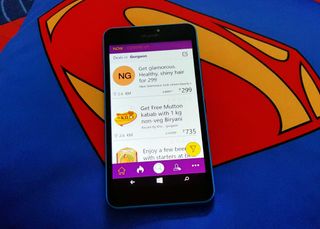 Little is a hyper-local that helps you find the best deals on restaurants, movies, hotels, salons, gyms, spas, et al. around you. At the moment, the app has over 5000 merchants enrolled across 11 cities in India. The app helps you to find a deal, pay for it through the app, and redeem it with the merchant.
Little uses your location to show the best deals near you, and the app can also alert you when a great discount comes up in your neighborhood. Little is meant for immediate consumption. All you need to do is fire the app, buy a deal, and redeem it immediately - no printout or anything else required.
While you can buy most deals by paying the full amount through the app via the Paytm integration, and redeem at the merchant for a cashless experience, there's also 'pay-a-little' deals. Items can be bought by paying just a token amount through the app, and paying the balance to the merchant directly when you redeem the deal.
At the moment, in Gurgaon for example, there aren't too many good deals that I'd pick. The company though claims that they are working very hard to get us the best discounts on the services that most of us use the most. The number of the merchants would obviously grow too. One issue that I keep hitting was that the app required mobile number verification via One-Time Password (OTP) each time I tried to use the app. It's odd, and hopefully the next update would take care of it.
Little is a pretty nicely designed app – it's colorful, and the user experience is very intuitive and seamless. If you are a deal digger, this should be a definite app for you to check out. Give it a whirl, and let us know how you like it.
Want to get Hyper-local Offers ?? and get Free Mobile Recharge.. Download App :http://streetsmartshop.com/

@Abhishek So it's a kind of immediate conception right?.. So if I purchase one deal from a restaurant , I have to redeem it today itself?? Or I can go whenever I feel?? Didn't get it clearly..sorry
+ Is it supported in banglore?

I think it depends on the deal, the redeeming period should be specified on the deal page. And yes I think Bangalore is supported (check article image)

Oh sorry... I just saw it... But the app crashes when opening in W10M .. :-/ I must try a restart and soft reset..

I wish the Windows Central app was designed beautifully too, was intuitive too.
maybe tomorrow, *sigh*

It works though. Agreed, it's not the most eye catchy of apps, but it does its job. Most of the times

Better than Android App though... I've used it in Android and trust me it sucks ( more than WC for WP ) .. This app works fine on my W10M test device.. I appreciate that..

Doesn't always work. For days at a time it'll refuse to fetch news.

Windows store bug at W10 mobile, lets you reinstall unpublished app.....

Tiny owl will make their way with windows 10 mobile. Just waiting for hotstar.

Yes. I am also waiting for TinyOwl and hotstar

I've found Crownit way better than any other cashback tool that gives cashback against your restaurant bills (almost of no use previously). Check it out on Windows Store: https://www.microsoft.com/en-gb/store/apps/crown-it/9nblggh1zstp
Windows Central Newsletter
Thank you for signing up to Windows Central. You will receive a verification email shortly.
There was a problem. Please refresh the page and try again.