Lockie, another customization option for your Windows Phone lockscreen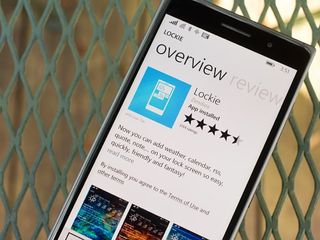 One easy way to customize your Windows Phone is through your lockscreen. There are several native ways to modify your lockscreen appearance, but there are also several apps in the Windows Phone Store to help you modify its appearance.
Lockie is on such app that hopes to catch your eye. We were tipped on the app and after tinkering with it for a short while, it comes across as a decent option. It could use a little fine-tuning but if you are looking to add a little flair to your lockscreen, Lockie is well worth trying.
The two primary pages for Lockie are brief but covers a lot of ground. One page has a drafted layout of your lockscreen and the other allows you to tweak the settings on the various elements of Lockie.
Here is what Lockie can add to your Windows Phone lockscreen:
Lockscreen Background: Lockie has background image support from Bing, 500px and a collection of favorite pictures from your Pictures Hub. Images are rotated and individual images from Bing and 500px can be saved locally to allow you to build your own image collection.
Weather Forecast: You can pin weather information for your location or a set location that will be displayed on your lockscreen.
Calendar: Choose which calendar(s) you would like displayed on your lockscreen. You can list up to five upcoming appointments from your calendars.
RSS: Choose your favorite RSS feed and display up to five feeds from the source on your lockscreen.
Quote: Lockie has a nice collection of inspirational quotes that can be displayed.
Note: Need to add a personal note to your lockscreen? Lockie will let you do just that.
Personalise: Here you can personalize the lockscreen appearance by changing the background theme (light and dark) and accent colors.
Background Agents: These settings adjust the frequency each line item on your lockscreen is updated. The frequency ranges from 1 to 4 hours.
Once you set the particulars of each feature, you will use the layout screen to set everything in motion. A gear cog will pull up the feature choices available for each section of the lockscreen. Once you have everything set to your liking, tap the Set Button at the bottom of the screen to begin using Lockie as your Windows Phone lockscreen app.
The free version of Lockie restricts the limits of the various features. For instance, you can only view up to two appointments on your lockscreen with the free version.
Up under the three-dot menu off the main pages you will find a menu item to pull up More Options. These add-on options are all available via in-app purchases and basically increases the limits on each line item. For example, for $.99 you can unlock the full range of RSS feeds. For $2.49, you can unlock the full range of all the features. Any in-app purchase will remove the ad-support.
Overall Impression
Lockie joins a crowded field of Windows Phone lockscreen apps. It has potential but navigating around the app can feel a little cumbersome and it will require a little patience until you get the hang of things. You are always battling pop-up menus that remind you that you are using the free version and offers the premium features.
I would have liked the option to use a single picture and the ability to preview your lockscreen before making it live. Technically you can use one photo, just have a single image as your favorite. While the layout page gives you a feel for things, it isn't an actual preview.
All in all, I liked Lockie and found it to have potential and appeal. There is no "one size fits all" solution for lockscreen customization and Lockie is a decent addition to all the choices we have in the Windows Phone Store.
Download Lockie for Windows Phone (Free w/In-App Purchases)
Windows Central Newsletter
Get the best of Windows Central in in your inbox, every day!
George is the Reviews Editor at Windows Central, concentrating on Windows 10 PC and Mobile apps. He's been a supporter of the platform since the days of Windows CE and uses his current Windows 10 Mobile phone daily to keep up with life and enjoy a game during down time.
May check it out like to suppport new developers.

So I assume they official gave up on fixing the Live Lock Screen app?

I also want to know about this..Bugs aside, I really liked the app.

If I remember correctly, it will be built into 10.

Seen many apps like this, nothing to fret, moving on

Ill stick with https://www.windowsphone.com/en-gb/store/app/lock-screen-changer/80069c27-28f7-472f-ad06-f8567e34973d

Yeap. Me too. Simple. Elegant.

There is a fake 'Live Lockscreen' app that I installed today after I did hard reset with build 10166 so far the app works don't know how long it will last until it gives up just how lockie gave up on me like most apps on Windows 10. I really loved the official Microsoft Live Lock screen app, hope they bring it back without the beta label.

Can you share the link of that "fake" app ?

Do we need to open the app to change lockscreen every time

Once an app has Xbox music lock screen compatibility then we can talk.

Try "Awesome Lock" and thank me later if you are happy with it ;)

I used "Lockie" for a while, but found it unreliable, and I'd randomly need to refresh the lock screen manually a few times a week. Switched to "Awesome Lock" and have been happy with it so far (I'm currently using the free version, but will probably pay for it soon, as it has been working well).

True, after AwesomeLock I have not looked at any other lock screen app, it will be hard to beat its functionality, from stocks to sports, I get everything.

Thanks Zaid.. Any idea how to add wc RSS? Could you give me a link?

Lockmix doesn't have rss feeds or news option in the free version.

+1520. There been many lockscreen apps, but i keep returning to Lockmix. If it only supported Swedish it would be unbeatable for me.

Requires too many features (contacts, dialer, etc.). Can't take the chance.

When you add your note, you can call phone to your phone contact, show the map with your location contact on the Note Page!

Lockie has degraded in quality and ease of use after a recent series of updates. The changed UI and features had serious issues initially, including app crashes. Now it is somewhat stable. But Bing image option is still not working on my 925.

I use Lock Manager, haven't found anything to get me out of that yet... Lockie, Lockmix, Awesome Lock....do they allow rotating Lock Screens images?

All lock screen apps are useless until Microsoft supports them. By the way where's Microsoft's lock screen app?..Its ridiculous that after so many years wp still doesn't have a proper lock screen app..

What are you talking about? That is why there are developers. There are tons if Lockscreen app in the store. If Microsoft will have to make one that is the best then developers will no longer bother make an app not only a Lockscreen app but for Windows in general. If you are talking about limitations of the OS, there are reasons why Microsoft or Windows are putting those limitations, and believe me that is for your own good.

Use organizeme the best and the most productive one. Although I hope for new features.

The weather functionality in lockie stopped working for me.

Guys, check out this one
http://www.windowsphone.com/s?appid=d3621ce8-4154-451e-90df-8dded8d54f0c

Since it support Bing for the background photo. I might give it a try. I really love Bing phitis on my lockscreen, so I have new photo everyday.

Awesome lock is the best lockscreen app i have ever used. And i have tried at least two dozens of them.

Is there a lock screen App which show The notifications on The lockscreen?

L830 - i used to have lockmix, but now tetra lock screen, hope MS will bring it back in win10, its the best!

It's very good application

I will give this a try! Hope MS brings the MSN Weather lock screen and glance options back soon for Windows 10 Mobile. It's one of the only features I miss in Windows 10 Mobile from WP8.1.

I live and use an app called lock mix

I use Lockie as my lockscreen app of choice. I liked its previous UI, but the new UI is terrific. It has had some bugs but the dev kept in contact with me whilst working them out and I am happy to big him up. I have severe health issues. I have a note on my screen with my emergency health and allergy details and the I.C.E info and phone number. It also shows a motivational quote and calendar details. It rotates through my favourite images of my various cats. I really like this app and heartily recommend it. Also buy the upgrade cos it is worth it.

Installed it on my L1020, but it keeps freezing and crashing even after a soft reset. Seems to have problems downloading Bing pictures. Even after removing and re-installing, it still has problems, like not able to go back to main screen using back button. Removing until they can fix bugs.
Windows Central Newsletter
Thank you for signing up to Windows Central. You will receive a verification email shortly.
There was a problem. Please refresh the page and try again.