The Logitech C920 is still one of the best webcams you can buy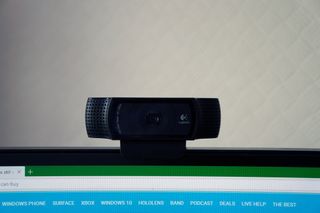 When using your Windows 10 PC for conference calls, chatting with family and friends, or for streaming your favourite game and making YouTube videos, you'll need a decent webcam. While more affordable options are more than enough for those who aren't bothered about poor quality, spending slightly more can bag you the best webcam for all your invested bucks.
Much like other PC peripherals you'd immediately assume one would have to spend out hundreds of dollars for a solid webcam, but that simply isn't the case when it comes to Logitech. The C920 is by far my favorite webcam and is probably the best one I've owned. This thought is shared by other owners of the same product, and is also the first choice for many here at Mobile Nations.
At just $62.99, this 1080p webcam is ideal for those seeking a flawless video recording tool without having to spend much in order to make a purchase. Everything captured by the unit is compressed using H.264 for great quality and there are two microphones on either side of the webcam to ensure decent audio is captured. Though if you plan to utilize the webcam in a streaming setup, you'll generally want to use a dedicated PC microphone.
Zeiss branding is plastered on the face of the device, and the five-element glass lens captures sharp images allowing the auto-focus to ensure a clear picture is present. Unfortunately, the auto-focus can have a little fun from time to time, bouncing in and out of focus, or refusing to adjust to an object brought close to the camera itself. But in general, it works just fine.
Image 1 of 5
Attaching the webcam to your PC monitor or laptop couldn't be easier. The included mounting bracket (which is also tripod-compatible) can be easily adjusted to fit accordingly and the unit itself can be tilted once attached. An added benefit of plug and play is you don't need to install any extra software if you do not wish to do so. Simply plug the C920 in and you're good to go.
You can fire up Logitech's control panel for the webcam should you wish to fine tune settings. It's possible to disable the auto-focus and set the focus point manually, adjust gain, exposure and other values, as well as disabling auto-brightness control and configuring anti-flicker. We've had no issue using the webcam in Skype, Google Hangouts and OBS (Open Broadcaster Software).
Are you rocking the C920, or do you rely on a different webcam? Let us know in the comments!
See at Amazon (opens in new tab)
Windows Central Newsletter
Get the best of Windows Central in in your inbox, every day!
Rich Edmonds was formerly a Senior Editor of PC hardware at Windows Central, covering everything related to PC components and NAS. He's been involved in technology for more than a decade and knows a thing or two about the magic inside a PC chassis. You can follow him on Twitter at @RichEdmonds.
Hello? Does it work with Windows hello?

I think Windows Hello requires a Realsense camera. Creative sells one for like $200.

That camera is also massive. If they can put one in the surface, why can't they make a normal size web cam for Windows hello?

They can, they just haven't. I'm sure that will happen. Personnaly I opt for more fingerprint readers. There are times I don't want it just automatically log me in when I sit down.

The Surface uses a different technology, it's not Intel Realsense. I don't know what they use, but I do know it's not RealSense. The Surface team developed their own solution for kt.

I don't get why MS can't just release a standalone version of the Surface Pro camera for PCs. Android is going to take over this market now due to MS lack of support for Hello.

Windows Hello requires an additional infra-red camera to indentify the user. There are no webcams that support it with the exception of an Intel dev-kit camera with Intel Real-Sense technology and a brand new one from Creative that just got released (north of $200).

I love my c920. But being several years old now I really wish Logitech would step up the game again. Or somebody else. Even now there's limited 1080p live streaming options out there. Kinda sad Imo.

Would love to see a high quality 1080p 60fps camera Posted via the Windows Central App for Android

Use a Hero cam and an HDMI capture card.

I just bought one and is working flawlessly I am very happy about it. BTW the audio is not bad, however I would like to know if any of you suggest a decent recording clip mic. Since I am starting to record videos to teach about different subjects. I browse amazon but not sure about it.

Samson Go Mic is the way to go.
https://www.amazon.com/Samson-Mic-Portable-Condenser-Microphone/dp/B001R...

Ordered this unit last year, I agree, great webcam. I use it for skype and hey Cortana! I even use the mic for typing by voice. Highly recommend.

Does it work with Windows Hello? I'd like a webcam, and having that feature would make it an instant buy for me.

Based on some Bing searches, the answer is no to the question of Windows Hello. From what I could gather, the camera would need intel's RealSense 3D. This doesn't have RealSense 3D.

Didn't like the review, it wouldn't have helped me if I wanted to Buy a webcam. How about specifications for example?

Is it difficult to go to Amazon and have a look whilst also getting reviews from many people? Wouldn't call this a review just a recommendation.

Microsoft Lifecam is what I use. Does 720p and isn't too bad. Was looking at replacing it with this at some point.

I use the MSFT Lifecam studio 1080p webcam.
But it has the same issue, I have to use manual focus, auto focus does the same very unstable when moving around.
I can't have that making my Videos for my FB page, it needs to stay focused all the time.

Didn't the anniversary update just break this?

That's the press. My 920s are working fine. Yes more than one. I also have some C270s that are working. There is a registry entry floating around that is helping some. It appears to be widespread enough that it is a big issue. What is surprising is that MS doesn't seem concerned enough to get right on it. The 'promise' a fix at the next update in Sep. We do video demos almost every day using Skype and a C920. If it was broken we'd be hurting, and majorly pissed. The fact is that it worked fine after the AU, and had it not we theoretically could have rolled back.

Mine still works, so it seems not.

Same here. My webcam is working just fine.

My old Logitech Pro 9000 is still working without a hitch... Funny that...

My entire office has c910s and 920s and not a single person has an issue with anniversary update.

Meh. If you have a WD external drive there is a driver conflict that have BSOD, both companies know about it and blame each other. Had to give mine away. Loved the quality.

Two other options that are worth looking at. The C270 is a decent lower cost option that would work for a lot of folks. There is also a C930e that has a wider field of view than the C920, 90 to 78 degrees respectively I believe.We use a C920 in our conference room with great success in both GoToMeeting and Skype for Business. The mic does a good job of picking up audio throughout the room. I use a C920 at home for the Living Room PC (Shuttle mini-PC) for family Skypes. Useful for XMas morning with the grandkids.

I wish they actually made another version with a narrower field of view. A lot of our offices have relatively open floor plans rather than traditional cubicles so video chats often end up including neighbors or adjacent work spaces in the periphery. Posted from my Nexus 5X

im waiting for razers Stargazer

Perfect for Omegle wankers ☺

The 920 is not a terrible camera, but that it is just sad that it is quite literally the best available for desktop users. I mean, my 5 year old laptop has a far better camera... Most $200 chrome books have a camera that is near the same quality range, not to mention the cameras found in just about every cell phone made today. I am just really surprised that nobody makes a great tiny camera (no mic) out of these parts that are cheap and available in bulk.

I'm really curious what 5 year old laptop has a better webcam than this one.

i have hooked up to my Samsung used to be smart TV but ever since MS stopped supporting the Skype its become useless...

I bought one a couple of years ago. My parents were blown away by the quality of the picture and sound, they asked me to but them one as well. I don't know how much they cost these days, but they were around $115 AUD back then. The thing that got me buying one was the native Windows 8 support.

Gr8 webcam, however doesn't work with Windows 10 mobile Anniversary update, Microsoft fix coming in Sept or roll back to pre anniversary or use another cam software temporarily as I am.

yeah, a great camera until MS decides to break it's functionality with the next update

Rocking the Logitech C615. Nothing too fancy.

I have a C920 here and it's a great webcam. Two months ago I managed to film a family of badgers in the evening in our back garden. I had to mess with the settings to max out light sensitivity. I used a very long USB cable through our kitchen window to hook up to my laptop. The C920 was placed on a garden bench. I had an outside light on - the badgers didn't mind a bit. I got some excellent footage good enough for TV with stereo sound of them eating peanuts. Was also able to use digital zoom. Have to put the footage on YouTube sometime. Well worth the £40 I paid for it on eBay. Posted via Windows Phone Central App
Windows Central Newsletter
Thank you for signing up to Windows Central. You will receive a verification email shortly.
There was a problem. Please refresh the page and try again.