Lomogram passes 4.5 million downloads in Windows Phone Store, big congrats to developer DevRain Solutions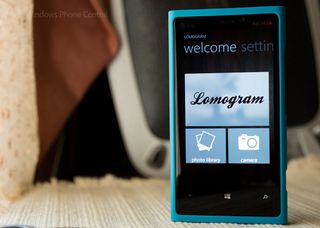 As a mobile platform Windows Phone sits in third place. It's a distant third however when you compare it to both iOS and Android. Depending on who you ask, we're at somewhere like 4% marketshare globally. That's still pretty small, but also presents a huge return for developers who make killer apps. Like the guys at DevRain Solutions who have just reached a killer milestone in the Windows Phone Store – 6 million downloads.
First off, congratulations to DevRain Solutions. Hitting a million downloads is a milestone in and of itself, but they were able to do that over six times.
Their killer app? Lomogram. It was just last January that they passed 1 million downloads and a year later, they've had a big jump.
Lomogram is a great photo editing app with 47 filters, 49 borders, and 72 lightening effects. You also have fine tune controls over things like exposure, contract, brightness, cropping, rotating, flipping and tilt-shift. It's a great app that can natively share to social networks like Facebook, Twitter, Flickr, Tumblr and VK. The app is also available on both Windows Phone 7.x and Windows Phone 8. While a lot of developers are starting to focus more and more on Windows Phone 8, there are still millions of Windows Phone 7.x users out there who want great apps. DevRain Solutions catered to both user bases.
A blog post on their site shares some other interesting statistics about their success in the Windows Phone Store. For example, Lomogram itself has over 4.5 million downloads in the Windows Phone Store. After the launch of both 6tag and Instagram downloads didn't slow down for Lomogram. Instead, they saw a 5% in daily sessions and downloads after those apps launched. While both 6tag and Instagram offer solid editing solutions in app, standalone editing apps like Lomogram still have a place.
Lomogram is definitely the workhouse of DevRain Solutions, but they also have games (Undead Carnage: Redemption) that see solid downloads and reviews. If you're a developer and interested in other statistics from DevRain Solutions be sure to hit up their blog post.
Want to try Lomogram? It's free for both Windows Phone 7.x and 8. Grab it from the Windows Phone Store or use the QR code below.
Source: DevRain Solutions
Windows Central Newsletter
Get the best of Windows Central in your inbox, every day!
Keep the good work DevRain guys :D

One of the best photo editors out there!

I love this app. Congrats!

Congrats I need to check it out.

DevRain, you can publish your game in here using a PEGI or an ESRB certificate. Just upload one of them in the brazilian row (DJCTQ). I can help with this.

Awesome news and well deserved. Lomogram is a fixture on my phone.

Quality will get attention. This is proof. Congratulations to the developers. :)

My primary app for uploading photos to twitter and Flickr with filters for both wp7.x and wp8. Well done to devs.

Nice app. I use it regularly. Great job guys.

I love this app, but for some reason it does not appear in the 'app' list when I am looking at my photo's - anyone got the same issue?

For me, it doesn't show up under "edit" but it shows up under "apps".

Impressive, never heard of this but am downloading now. Here's to the next million

Love Lomogram. But I'm just curious. I know Lomogram has over a million unique users, but offering a free app with no ads (that I can see), how does that convert into revenue? I would hope such a great dev should be financially rewarded.


I'm very willing to pay for this app, this is the only photo-editing app I have with no issues.

Congrats! Does it have double exposure by any chance? Anyone known an app that does double exposure?

Hmm, a double exposure camera app would be great! And while I know this is completely different, there are those apps that use the front and back camera simultaneously. Have you used those? (not at all the same result, but still fun nonetheless)

Camera 360 has double exposure but for the photos that are already taken, I use Instablend.

@Sam Sabri: how many "lightening" effects should one app have? I'm assuming "lighting" vs "lightening"? I've seen Thor enough times to know that there are only so many ways to do "lightning" effects...unless we are talking as in gentrification, and "lightening" takes on a whole other meaning and a photo editing app could totally fit the bill... I keed I keed! But what does this app do again exactly?

Would love it if you could share to 6tag from within Lomogram.

Yes please! Or to Instagram directly!

4% global market share is nothing to sneeze at - it hasn't peaked yet. Apple at best achieves 3.5% global market share in computers - still included in the "Other" category in most market research. Difference is WP didn't take 30 years to reach 4%.

Great app and one of my favorites! Been using it since I had my 710! Congrats!

Ya itz available for wp7 that's why..

Yes! This is my favourite photo filter app! I even shares Twitpics easily unlike the official Twitter app which is kinda stubborn when it comes to that. Congrats, dev!

Minus the massive compression...

Been one of my favorite apps, especially the photo frames. Can't name another with better frames, can anyone else? Great job!

Hi Friends! We just want to let you know that Lomogram is now located under new url: http://www.windowsphone.com/s?appId=3990bda9-ab8a-48e9-998d-44cc6a04a0ae