Nokia Lumia 2520 Review
Nokia is bringing their first Windows RT 8.1 tablet to market, but is it the right choice?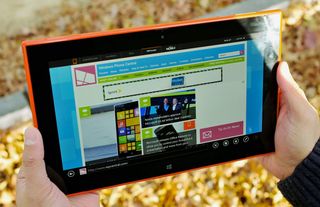 In a few hours, Nokia's first Windows RT 8.1 tablet goes on sale in the US on Verizon (AT&T gets it just 24 hours later). It's a momentous step both for Nokia and Microsoft, who so far have had a tough sell with the RT. In fact, Microsoft and Nokia are the last two manufactures to offer the stripped down version of Windows, with other OEMs opting for the more powerful 32-bit version on an Intel Atom or i5 processor.
So does Nokia have what it takes to spark some life back into the Windows tablet market? And what about Microsoft's own Surface 2? Read on for our full review of the Nokia Lumia 2520 tablet.
Swipe to scroll horizontally
Outstanding 1080P HD Display, fast processor, excellent battery life and build quality make the Lumia 2520 an noteworthy tablet. LTE connectivity gives you an always-on internet device, built in Office and HERE Maps makes it compelling.
No full USB port, the lack of a kickstand and Microsoft's Surface 2 make it hard for the Lumia 2520 to stand out. Carrier branding limits its availability and the lack of storage may limit the device for power users. Odd button placement and uninspiring power adapter.
The Lumia 2520 is a solid, first attempt from Nokia to make a Windows RT 8.1 tablet. While the device has excellent specs, inspiring design, button placement and a phenomenal display, its not clear if many users will see the advantage of this tablet over others.
Specifications
Windows RT 8.1
10.1" full 1080p HD AH-IPS, High Brightness with Low Reflectance, Gorilla Glass 2
6.7MP Auto Focus ZEISS optics, Secondary: 2MP HD wide-angle
Video 1080p@60fps
4G LTE
Nokia Music for unlimited streaming of ad-free music
Free global HERE Maps
Microsoft Office built-in
Qualcomm Snapdragon 800 (2.2GHz Quad Core)
8000 mAh (integrated) battery
The Lumia 2520 tablet has a lot going for it in terms of raw specs but the big differentiator is the integrated 4G LTE for Verizon and AT&T. Currently, the Surface 2 is Wi-Fi only, though Microsoft has a planned LTE version due next year. But for now, Nokia is the only game in town for an RT powered tablet with 4G on board.
With 32 GB of internal storage (but only around 17.5 GB available) and micro SD expansion, users should have plenty of room for Windows Store Apps and Games. It's not ideal, as a 64 GB version would be nice too, but for this range of tablet it's not terrible.
The other benefit for Nokia is their double punch ZEISS camera and ClearBlack 1080P display. It has a 60 Hz refresh rate and so-called "enhanced outdoor readability". Combined with the claimed 10 hour battery life and Nokia's penchant for design, the Lumia 2520 seems like the ideal tablet for work and pleasure.
Layout
The Lumia 2520 is fairly clean when it comes to design and arrangement. It weighs in 615 grams, which is not light but it's not heavy either. It's somewhere in between. In many ways, it's what you expect a Nokia Lumia tablet to feel like—solid and high quality. Still, there is a contrasting difference between the plastic polycarbonate and the VaporMG that Microsoft uses. It's not better (or worse), just a different feel to it. There is no creaking or rattling, not that we would expect that from a Nokia device. No, this tablet reeks of quality.
The Lumia 2520 has agreeable, rounded corners like their Lumia phones (save for the Lumia 928 and Lumia 929). Because of that it feels nice to hold for extended periods. The edges are thinner than the middle, which pushes out slightly and evenly. When lying flat on a tablet, there is no wobble or rocking.
Button layout is interesting. Volume and power buttons are on the top right corner, making them somewhat odd to access. This contrasts with the Surface 2, which has the power button in the upper right corner, but volume rockers to the left side. I'm not a big fan of the button layout as I basically had to look each time I wanted to turn the device on or adjust the volume (you never really knew which button you were pressing, blindly).
Also on the top left is the micro SD and micro SIM door. It pops up slightly and is not completely flush with the device. It's not a bad solution, heck, Nokia had little choice, but it is more noticeable than I would like.
On the left side of the Lumia 2520 you have the headphone jack and 2.5 mm power adapter. The power adapter is the familiar "pin" type found on laptop and other tablets. That means no charging via USB. This is one area where I would have enjoyed seeing some Nokia innovation as the tried and true pin power adapter, while familiar, has never been very comforting. You have to press in rather hard and it's just not a slick solution to what is a common function. The charger does have a nice green light to notify you that it is charging. You also have to be a bit careful. On first blush, both "holes" look exactly the same, so you'll have to remember "power on the bottom, headphones on top".
To the right of the tablet you have a micro USB (3.0) and micro HDMI-D ports. The micro HDMI Port should keep people happy while the micro USB is a tad frustrating. One trade off with those slick, curved edges on the Lumia 2520 is not having enough room for a full USB port. Clearly an engineering obstacle. That's a downside if you frequently use the USB port for thumb drives or accessories, as you'll have to use an adapter (not included) to get that to work.
The front of the device has the 2 MP front-facing camera and Windows key. No complaints on either, though I would like to see manufactures start to make the Windows key glow a bit—nothing bright, but just a slight illumination. That's because if it's a dark room, it becomes difficult to orient yourself to find that key, especially on the Lumia 2520.
Two speakers are cleverly hidden on the lower screen bezel, much like the microphones on Nokia's phones. This is one of the rare cases where a manufacturer has created front-facing dual speakers on a tablet. They are fantastic. Bass is not very strong, but they are very crisp. For a tablet they are surprisingly powerful, even at 50% strength and because of their placement, you won't block them when playing games.
Finally, on the bottom of the device is the open connector the optional keyboard accessory. It's actually done nicely, considering there aren't many options to keep such a port "clean".
Processor
Qualcomm claimed that the Snapdragon 800 will perform better than the Nvidia Tegra 4 that's found in the Surface 2 from Microsoft. Forgetting benchmarks for a moment and going by "real world" feel, I would tend to agree with their claim. Animations are buttery smooth and overall, it's a joy to use (although on occasion I did see the camera 'get stuck' on processing).
Interestingly, when it comes to benchmarks, like SunSpider and Kraken for JavaScript, it was the Surface 2 that was ahead of the game.
Still, as I said above, in many instances the Snapdragon 800 did feel very fluid to us on general animations and performance. Take for instance launching a game like Jetpack Joyride, for all intents and purposes, it performs the same on both tablets.
When it comes to keeping up with Windows RT 8.1, the Snapdragon 800 holds its own and dare I say, I prefer it.
Display
Let's just get this out of the way. The 1080P ClearBlack display is hands down the best on any Windows Tablet and probably any other tablet out there. Yes, it runs loops around the Surface 2's display and that is one of our favorites to begin with.
Color and contrast are exceptional as are the viewing angles. Being a 10.1-inch device, the 218 PPI is slightly higher than the Surface 2 at 207 PPI. Slight, yes, but it counts.
When it comes to outdoor use, as you can see in our hands on video and accompanying photos, there was no issues with glare or readability. Nokia's claims on being the best tablet to use in the sun appear to hold true. Due to the ClearBlack dual-layer polarizer, reflectivity on the display was super low. I could easily read under a bright fluorescent light and not be distracted by the (almost non-existent) glare. Truly, phenomenal.
Nokia really nailed the display on the Lumia 2520, although at this point, I expect it. I don't want to downplay this fact—when you're using a tablet, you are staring at a screen in your hands. It matters to have a good display and the Lumia 2520 shines in this regard.
Camera
The Lumia 2520 comes with a 6.7 MP ZEISS rear camera. It's the same camera module as found in the Lumia 720, one of our favorite Windows Phones. That particular camera is known for its sharpness and that's true here as well.
It's rather small sensor at 1/3.4 inch, but it does pack a respectable f/1.9 aperture for low-light performance. It's topped off with a 26 mm focal length, making it quite wide.
Performance of the camera is commendable, but it does tend to be very noisy in lower light conditions. Images could be hazy at times and color rendition was accurate while the contrast was conservative.
It's a good camera and it should perform well for most functions, but unlike Nokia's other Lumia phones, I am not particularly blown away by it either. Of course, when compared to the competition, it certainly holds its own and I would easily rate it above-average. When compared to the Surface 2 though, it's slightly behind, believe it not.
The same holds true for the front-facing camera. It's sharp but it tends to be noisy and the color rendition is so-so.
Both cameras on the Lumia 2520 are decent but not awe-inspiring, at least not what we've come to expect from Nokia. When compared to standard tablets, they're good but we're not convinced Nokia has set the bar with this tablet. Perhaps in the future, a higher-end PureView branded camera will adorn a different Nokia tablet, raising the stakes.
Software
Nokia is not only in the hardware business, but they are increasingly doing more with software. On Windows Phone, this trend started off as a mild differentiator but quickly swelled within a year to a tidal wave of apps. Those apps were not simple throw away ones either, but they tended to fill in "gaps" on the Windows Phone platform.
We can expect the same from Nokia when it comes to Windows as the Lumia 2520 launches with a few solid, exclusive titles:
HERE Maps – Login into your account, directions, places, map layers and more
Nokia Music – Now called Nokia Mix Radio, it allows streaming and downloading of music mixes
Nokia Video Director – Edit videos taken with the tablet or imported
Nokia Storyteller – Found on the Lumia 1520, Storyteller organizes your photos based on time, date and location
My Nokia – Tips, FAQ and explanations on Windows 8.1 and the Lumia 2520, including basic operations
Connection Manager + My Verizon Mobile – Two apps to manage your Verizon (or AT&T) accounts
Dragons Adventure – Based off of the movie 'How to Train your Dragon', this game comes from Dreamworks and Nokia
All the apps are top notch. HERE Maps is particularly useful since this device connects up to a cellular network and it has GPS on board. That makes the Lumia 2520 tremendously more useful, including as a navigation app for your car, or if you need to look something up while out and about. Figuring out some of the controls took a little bit of practice, but being able to sync your favorite locations and Collections is certainly welcomed.
Storyteller works well by organizing your photos to tell a virtual "story". It's a clever app that uses info from your geo-tagged photos to build a logical collection, instead just a haphazard mishmash of randomly taken photos based on the date or size. It's similar to Apple's Collections/Moments in iOS, though this is more full featured due to the detail and tie into HERE Maps.
Video Director finally brings a quality video editing app to Windows 8.1 and My Nokia helps those new to tablets or Windows 8. Both apps are well done and certainly don't feel filler content, but rather doing what they do best: offer a solid customer experience.
Are these Nokia-exclusive apps a reason to buy the Lumia 2520? Certainly not. Or rather, not yet. But they are highly regarded and they offer a peek into the future of Nokia's strategy on Windows 8.1 going forward. Of course, with Microsoft taking over the Devices & Services business from Nokia, it's not clear if these apps will remain exclusive or be folded into Microsoft's own portfolio. But for now, they are leaps and bounds better than anything Microsoft's other OEMs are offering on Windows tablets.
Lumia 2520 – Yay, or Nay?
The Lumia 2520 is a very solid, first attempt for Nokia. Let's not forget that their experience with full tablets and computing devices is more limited compared to their work on phones. But the company has a lot of talent behind it and it shines through on this device. Let's break it down:
Pros
Quality – Nothing feels cheap about it and Lumia phone owners will appreciate the Nokia design
Display – Arguably one of the best on any device, it really shines here
Speakers – Loud, crisp and not blocked by your hands when holding the tablet, they making gaming, movies and media a treat
4G LTE – Tablets are awesome but when they are Wi-Fi only, you can at times be carrying around a paper weight. Having the device fall back to LTE when out of Wi-Fi range (it prefers Wi-Fi over 4G, saving data charges) brings a whole new experience to Windows 8.1
Design – The overall look of the device is stellar, especially the Verizon Red (shame on AT&T and Verizon though for not getting Cyan or White versions)
Processor – On paper, the Nvidia Tegra 4 looks to be faster, but in real world usage I prefer the Snapdragon, mostly due to its superior video performance
Keyboard + Battery – Although I was unable to test it out, the optional keyboard accessory with 5 hours of extra battery life is a nice addition
Cameras – Solid, above average performance, they won't raise the bar but they will get the job done
Battery life – It lasts days and days, easily the 10 hours claimed by Nokia
NFC – Useful for transferring files from one device to another, NFC is always nice to have
Cons
Kickstand – There is none. This is strictly a hold-it tablet (or use the optional keyboard accessory)
Power adapter – Uninspiring, it uses the old 2.5 mm pin adapter
Button placement – The power and volume controls are cumbersome to use; Windows key is hard to see
Not full USB – Users have to use a not-included adapter to get full USB 3.0, making accessories difficult
Limited storage – With only 32 GB of internal (17.5 GB actually available) and limited expansion with a 32 GB micro SD card, users can only have a 64 GB device (less than 50 GB actually available)
The fact Windows RT is left off of the list is because it's a personal preference. I happen to really enjoy using Windows RT 8.1 over the x86 full version for tablets. Quite simply, RT gets better battery life and is "lighter" on the processor. In regards to apps, I'm a big fan of Windows Store Apps and avoid using a traditional x86 app on devices with screens smaller than 13-inches. Part of me can't wait until x86 desktop dies.
The choice to go for an RT device may be bucking the trend, but I do believe in Microsoft's model (while admitting to its limitations and confusing branding issues). But if you were looking for me tear down this device based on that alone, sorry. Only you can decide if you need to Photoshop on a tablet or do other high-end, non-Office productivity on a 10-inch screen. For me, tablets are not about that.
The Lumia 2520 tablet on its own is a quality device. Battery life is excellent, device performance is top notch, it looks great and it has a drool worthy display. Toss in some permanent LTE connectivity and you have the makings for an impressive device that you can take everywhere, anytime. We've seen some always-connected devices in the past, but not this good.
Still, some little things bother me and if you've noticed the constant references to the Surface 2 in this review, you'll know why. The Surface 2, in my mind, sets the bar for RT tablets. I think it's a phenomenal device. Between the two-stage kickstand, performance improvements, new HD display and excellent cameras, it's one of my favorite pieces of technology, ever. Seriously. Give me my cyan Touch Cover with backlit keyboard and I'm in heaven. That may be unfair, because perhaps I should judge the 2520 in a vacuum and pretend the Surface 2 just doesn't exist. But that's the truth.
The Lumia 2520 is slightly less productive. It seemingly falls into a "consumption" device mode familiar to tablets. That's not a bad thing per se as clearly the iPad and Galaxy Tabs have been doing well in that field. You can also always buy the combo keyboard and battery, which price wise is nearly the same as the Surface plus keyboard. Having said that, I still prefer a Surface 2 + kickstand + backlit keyboard.
But when you take away my USB, put the volume buttons on top of the device (unless you hold it vertically) and you have a pin power plug, well, it takes away some of the magic I've grown to love about the Surface.
And while I boast about the always-on LTE (when not in the range of Wi-Fi), not everyone wants to pay for a data plan. Carrier-branded tablets with contracts just have not taken off, despite their usefulness. Because of that, you have to be willing to pony up some extra money for data (or use an add on feature for Verizon billing). If you don't want LTE data, you have to buy the $499 Lumia 2520 without a contract and not use the 4G. If that's the case, I think you're better off getting a Surface 2.
If on the other hand you need (or really want) an LTE Windows RT 8.1 tablet, then the Lumia 2520 is a good choice. There's no killer flaw with it and quite a few stellar perks, including that display. I won't lie, the glossy lipstick red Lumia 2520 for Verizon turned heads when I was using it in public. It's a gorgeous piece of hardware. The slightly smaller display is a good choice by Nokia, the speakers are great and it's fun to use.
The issue for me though is what happens when Microsoft releases the Surface 2 "early next year" with LTE and GPS on board? For me, that's a killer device.
Another way to sum up this review is not that the Lumia 2520 is a bad choice, far from it, it's great. Nokia has brought their charm and sylphlike design to Windows RT tablets, just like I expected. Right now, people who want a Windows RT 8.1 device have two really good choices on the market. That's actually a good problem to have, as either selection will reward its buyer with many hours of media, gaming, Office productivity and just fun. But Nokia, surprisingly, has not outdone Microsoft and their Surface. At least not yet.
The Nokia Lumia 2520 tablet will be on sale for $399 on AT&T (Nov 22) and Verizon (Nov 21) on a two-year contract or $499 off.
[From November 22 through December 2, 2013, if you pick up the Lumia 2520, you are eligible to claim a free Power Keyboard. For more info: www.nokia.com/us-en/phones/tablet/lumia2520]
Video Credit: Mark Guim, Windows Phone Central
Windows Central Newsletter
Get the best of Windows Central in in your inbox, every day!
Daniel Rubino is the Editor-in-chief of Windows Central, head reviewer, podcast co-host, and analyst. He has been covering Microsoft since 2007 when this site was called WMExperts (and later Windows Phone Central). His interests include Windows, laptops, next-gen computing, and for some reason, watches. Before all this tech stuff, he worked on a Ph.D. in linguistics, watched people sleep (for medical purposes!), and ran the projectors at movie theaters because it was fun.
Does it deserve the lumia name?

What do you mean, Nokia designed and constructed it. It probably has the best camera on a tablet at present, and has a beautiful Lumia-esque design. Personally, I'm torn between this and the Surface 2. This has some things I want (Nokia apps, Nokia camera, better display) while the Surface 2 has other things I want (200GB of Skydrive space for 2 years, kick stand, slightly better battery life). The ultimate Windows RT tablet for me is Surface design and build quality (Kick-stand and Touch/Type Covers), Nokia's apps, 200GB of Skydrive space for 2 years, and a Snapdragon 800 processor. Sigh... Daniel, how come you guys didn't review the cover/keyboard combo along with the tablet?

http://www.zdnet.com/the-nokia-lumia-2520-my-week-with-the-other-windows-arm-tablet-7000023437/ This article by Mary Jo Foley provides some interesting first hand experience comparison between the Surface and the L2520 usage. The reviewer unfortunately didn't have a keyboard either. I believe that once you start using LTE tablet, you will have hard time to go back using wifi only tablet. It will feel like a crippled device which is operable only in the restricted areas.

Very true, I am waiting for Surface 4G as my next tablet. In meantime I may pick the 8" dell device.

If you have a Windows Phone, you don't need LTE if you have a plan with internet sharing. My Surface 2 automatically connects to my phone with Bluetooth, tells it to turn on internet sharing, and it connects without me touching my phone. The whole process takes about ten seconds.

Nice to know, how do you set it up ? (I mean the automatic bluetooth connection enabling internet sharing ?)

To connect on a tablet or laptop that has Microsoft Windows 8.1 Use Bluetooth to pair your phone with your tablet or laptop. On your tablet or laptop, open the Settings charm, and then tap or click the Network icon. Pick your network name at the top of the list, and then tap or click Connect. You'll be connected and ready to go. The password is entered for you, and you can connect even if Internet sharing is turned off. No need to dig out your phone and turn on Internet sharing—it's done for you. To connect this way, your phone needs to have Windows Phone software version 8.0.10501.127 or later. See How do I update my phone software? for more information on how to update your phone. Your laptop or tablet needs to have Microsoft Windows 8.1.

Can the original Surface do this?

Yes, if it is updated to Win 8.1

Quite the opposite. Having Hotspot on your phone eliminates any need for a carrier tablet and extra fees for having one.

I would never go back to a wifi only tablet. Internet sharing drains your battery. Besides, there are places in the world where carriers do not rip off customers, and 5eur/month are all you have to pay for a few more gigs for your tablet.

Yeah, most carriers worldwide don't charge extra for internet sharing. I've only heard of such a thing in the US.

Well, that's great. If I get one, where can I send you my monthly $100 Verizon bill? Thanks!

Actually having looked at the device in mire depth, the only thing i would miss about my gen1 Surface is the kickstand, the rest is beaten by 2520

I'm really digging the new style of video reviews. Much more professional-looking.

Agreed! Well done Daniel & co!

Now, now...let's not get off on a tan(θ)

Ageed. I understand it is more work to put together, but it looks much better and feels more "natural" than the previous review style.

Natural..i see what you did there. The verge always makes videos of the devices on a white desk with books in the background...guess wpcentral video style is in the lovely outdoors.

This tablet isn't going to be available in my country, I'm trying to decide between the Dell Venue 8 Pro and the Surface 2. I know they are completely different but my decision is between those two. Which one should I buy?

I honestly recommend the Surface to anyone.

I have the Dell Venue 8 pro. I like it. One thing I do wish it had was the keyboard cover like the surface. Other than that I can/would recommend the DV8P.

Consider the Lenovo miix 2 8 as well. I am debating between between the Lenovo and the Dell. Just waiting for the holidays for the prices to drop..or so I hope.

If you need or appreciate 'Always On' tablet, either L2520 or 8" L2020 is your choice. If you don't need LTE, then either Surface 2 or any other Bay Trailer tablet will do. The Surface 2/LTE will be out next year, but it won't be as cheap as L2520. It will probably be in the $600-$700 range.

Next lumia tablet with 8" screen

Dude I take it you're from Brazil as well, I bought the surface pro 2 on my last visit to the US, it is a little heftier but it is a full blown computer in the size of a tablet... if media is what you will consume, navigate the internet, watch videos and the ocasional gaming, get a Lumia and verify if your network works with their band of LTE, which varies from state to state. If you wanna get work done do like I did and get a surface pro 2 with the touch cover, I couldn't be happier with this device!!

Yeah, but how much did you pay for it?

1200 $ for the 128 gb model + touch cover with taxes.

I have Dell Venue 8 pro - selling my Surface RT - found RT a bit limiting, but still loved it. If you dont use desktop software other than office, its really the perfect device. DV8P is amazing, it would be the perfect device that I was always looking for..........if it had micro hdmi. Other than that, the thing is amazing.

I was at the MS store in Oakbrook Il today and they had one on display. I must say it is a gorgeous looking machine. Though the gloss red was a fingerprint magnet. If only they had matte cyan. Also I would love to see a 7" device... Sticking with my surface pro 2 for my everyday ultratab...

I'm still holding out for yellow!

I hate the finger smudges. My finger tips are oily like that.. :(

I must say, this new kind of video reviews are definitely better than the old static way. Though you picked a strange season to begin them :P The tablet seems nice. I don't think I would replace my Surface RT with it but I'll probably buy it because it's Nokia's only tablet (you say "first effort"...well, it's the only one. Unless they release another by the end of the year which is unlikely.)

They will release an 8" tablet before the MSFT deal goes through.

We don't know yet. That's only rumours so far, just like Goldfinger and Moneypenny. The only place I could see them to that would be at CES in January. Or at Mobile World in Barcelona, at best (Nokia and NSN has booked booths). Otherwise there won't be time.
The EUs decision on the deal is expected on the 4th December. I think only the ok from the US government and Microsofts shareholders is missing, but not sure (and the Chinese government...not sure if they need theirs because of the factories).

Don't consider the US SEC's approval a done deal just yet. They've gone after Microsoft just about everytime they've tried to expand, and have sided with just about every complainant who files an antitrust injunction against them. So there may be more drama yet to come if another company raises an issue over it.

It's weird seeing people in jackets at this time of year. It was 36 C for me today! Seeing so many leaves on the ground is weird too... because it's not Autumn here and our trees are evergreens :P

That glossy red finish is irresistible. I don't feel like I need a tablet, but would love to pick up a 2520 if we get them in Canada. Beautiful device!

I know how you feel. I read this review on my red Lumia 920 and I can really tell that Nokia took design cues from their Lumia devices when designing the 2520. I just love this red colour. It looks good and draws quite a bit of attention.

Daniel, I enjoyed the video format a lot, but I must ask... Who films you while doing these new videos? Before it looked like there was a camera behind you, but now it looks like someone's following you.

Video credit at the end of the article ;) It's Mark Guim.

Bah! I must've missed it :p

I just had the opportunity to fill in a Verizon employee on chat that the Lumia 2520 was in fact not a phone and was already announced on the Verizon website for release on the 21st. I then provided them with links to their own website as to which they responded they cannot open links. This is why WP will always struggle to become bigtime because the people who are supposed to be selling the devices don't know anything about them.

Exactly! And like what happened to my friend, she wanted to buy an inexpensive Windows Phone after admiring my 920 and 1020. I told her she should go buy a Nokia Lumia 520 from Walmart and showed her the phone and it's specs on the web. She was completely sold and couldn't wait to get one.... then I see her a couple days later with some Android POS phone and asked "what happened?" ... "Oh... the people at the store told me not to get a Windows Phone. They said they're not good phones."... WTF???

Haters gonna hate, bitches gonna bitch.. but I am sticking with Windows forever! M for Metallica, Microsoft and nothing else matters!!

I start to a wonder if Apple is paying a bonus to carriers for maintaining a certain percentage of the phones registered on the network. It almost seems that way...

Not exactly sure why it not having a kickstand is bad. Is this based on comparison to the Surface, another RT tablet? If so, I understand, but I don't think I've seen a review for the iPad Air or Mini getting knocked for not having a kickstand. You also mentioned in the summary that it's not clear if users will see this tablet as an advantage over others. Do you mean other Windows 8 and RT tablets or other tablets such as Android and iOS tablets?

As Paul Thurott said - the kickstand is like wireless charging, it is something you don't think you would ever need until you try it, then you miss it on every device which you come across which doesn't have one. I think the reason people don't ding iPads for not having a kickstand build in is because they always end up buying a case/smart cover for it which doubles as a stand. I've never seen anyone go naked with an iPad and they are content with their cases serving as a stand, however once you've discovered that you shouldn't need to buy another piece of accessory which adds extra weight (and in a lot of cases actually defeats the purpose of having a light weight tablet) and is not as secure as a build in kickstand, you quickly begin to realise that build in kick stands are a great idea and that it should be a requirement and not an aftermarket after thought.

I understand what you're saying, but by that reasoning, every phone should get dinged in the review that doesn't have wireless charging.

And rightly so. Wireless charging must be brought up in every phone review, the same way other features are brought when they are missing (i.e. NFC, removable battery, BT4LE, etc.)

And yet it's not. Reason being is not enough of a standard. If more phones had these features then phones without it would be judged more harshly, but since there are very few tablets (although more are appearing) with kickstands, it seems a bit unfair to ding this one for lack of one.

Galactic Reign is back in the wp store, why? And is free

I don't mind windowsRT at all. Tech bloggers need to stop trying to degrade the platform with their bias opinions

Agreed ! This is tablet, not a PC. But this tablet is packed with more productivity option and that's what make me fall in love with it.

this...! Bought the venue 8 pro, and returned it, like the form factor but I will be waiting for the RT version from Microsoft or Nokia

I still like the surface 2

What a profesionaly done review. This is great Dan.

hehm, internal said 32gb but actually available just 17gb, where the other go?

OS, apps, backup image...

In the video review, he broke it down to this: After "The OS" you get 25 GB free. After the apps, you get 17 GB free. And we know it has Microsoft Office and lots of useful stuff pre-installed.

With Bay Trail and full Windows they would double their sales. Same battery life, business ready and if you want you can totally ignore the desktop. And if you want to do anything more than run flipboard and Facebook the desktop and x86 devices will always be around.

At this point in time I would agree with you. While I don't necessarily have anything against RT devices, I don't feel like they have enough support right now. I still need to be able to access my Firefox bookmarks/history, adjust the warmness of my screen via f.lux, and have an active digitiser (preferably wacom). Once RT can do this, then I'll stop looking at x86 tablets.

Didn't you run the 3DMark app? I wan't to know how it scores in the Ice Storm Unlimited test.

I love how viewable that screen is in daylight.
As far as choosing between this and the Surface 2.... I prefer how slim the Nokia tablet is. I understand that the Surface line has the full USB port but I'm willing to sacrifice that for slimness.
On another note, my time with my HP Touchpad made me accustomed to its screen size/shape. It will be weird for me to hold and use these 16:9 tablets.

I have seen both the 2520 and the surface 2 side by side, and the 2520's screen is a little bit vetter, colors have more pop. as far as thickness, laid them both side by side and they are about as tall. the edges os the nokia seems thinner but the middle part is thicker.

Nice, but Surface 2 for me.

"reeks of quality." Is that good or bad?

It's the stench of success!

Only you can decide if you need to Photoshop on a tablet or do other high-end, non-Office productivity on a 10-inch screen. For me, tablets are not about that. I don't understand why RT/ARM supporters think this way. It's not either-or. You can dock an x86 tablet to an external keyboard, mouse, and large monitor just like I do with my ancient Samsung Series 7 Slate. In this configuration I run Visual Studio 2012 to develop my WP8 app, Word for docs, etc. Afterwards, I can undock and then use it as a tablet running WinRT apps. If MSFT had simply added a scalable UI API to Win32 and backported it to Windows 7, there wouldn't have been this disastrous split between Win32 and WinRT (which, imho, will kill Microsoft). My programs would scale according to the available screen space and input technology.

I literally just quoted the exact same sentence from the review lol but I took the other road :P btw, I think Dan is referring to the actual horsepower that the new 8-10 inch tablets come with, it just isn't enough to run Photoshop or in my case Fireworks efficiently. However if you are not in this camp, and you really want to be able to open regular x86 software in a tablet then full Windows 8.1 is there for you. But if you already own an ultrabook and just want a device to carry around from the sofa to your bedroom etc. then why not an RT device which you can still manage your files and such in the desktop? choice is great isn't it lol the fact you can have that above argument, third world probs.

WINDOWS RT IS A BETTER CHOICE FOR MOST USERS Many people appreciate the no-malware and the very low possibility of corrupting the system by user error (stupidity?) that Windows RT brings. I just went to visit my cousin, and his somehow new Windows laptop was already full of virus even he had an updated antivirus installed. He just tried to "download some movies", it seems. That kind of problem would never happen in Windows RT (or an iPad, for that matter). For my parents I would absolutely recommend Windows RT over "full" Windows. Is the only way to be sure :-D I am sure some people needs "full" Windows in a tablet, but for that power users there are suitable options, such as Surface Pro 2. Still, that is like 5% of the general market for tablets. Otherwise, how can it be the iPad sold dozens of milions of units without running Photoshop or, gasp!, even Office. The iPad has many apps, but for sure nothing similar to real Photoshop or a developing environment (actually that is specifically forbbiden by the Apple rules). It always strikes me that according to the reviews of tablets with Windows 8/RT, about 90% of the earth population are artists that bought Photoshop (that costs more than many tablets) and needs to use it in a tablet with not enough memory or CPU (2GB RAM, Atom SoC or similar). By now Adobe must be richer than MS, Google, and Apple together! 8-D

No RT is not better, since it's merely a subset of Win8.1.
Also a tablet does NOT have to run Photoshop or Office to be successful (see iPad), but if it did it (without side effects) it would obviously be better. One last thing, when people talk about Windows being better than WinRT, it's not only because it has a few workplace applications, it has more to do with it handling things better (multitasking, file management, background tasks, etc.) and being infinitely more open to developers as opposed to the better protected but significantly limited WinRT with his sandboxed app logic and restricted APIs. If a device (hardware + software) manages to offer the benefit of a tablet (i.e. form factor, battery life, etc.) while retaining the productivity, ease of use and freedom of PCs, then there is no doubt it would a big deal and an instant success. The Surface Pro is trying to be it, but still isn't- although it's came very close in its 2nd Generation.

IF we lived in a fantasy world and IF in that place existed a magical OS and a marvelous device that could do everything without any compromise, then I would agree with you. But the reality at this moment is that you have to choose between an open and potentially more powerful OS and a more restricted but safer OS. For many people, thus, RT (or iOS) is the better choice. Still, RT has to improve and mature, that's for sure (and even though is already far less crippled than iOS). For the rest of the people, we have the "full" Windows, as I said in my post. Choice is the key word, and Windows RT has a place, that happens to be bigger than for "full" Windows. I will keep having a "full" Windows for my laptop/desktop and RT for tablets and phones (if they merge with WP as expected). BTW, according to your idea that "more is better", do you think it would be a good idea to have "full" Window in a phone? It is technicably possible, as the Lumia 1520 has similar specs to Surface 2. With antivirus, registry, installing drivers, etc..

Out in the Real World (TM) this thing will tank, just like all the other RT tablets. If people want an iOS or Android-like device then they'll go ahead and buy one of those devices. Why would they buy a similarly crippled RT device? MSFT broke backward compatibility with almost all of their existing ecosystem (Win32, which is/was the largest in the world at 1.5 billion users). At a minimum, the cost of developing for their totally new RT "ecosystem" should have been paid back by automatic compatibility across device types ... but they didn't even get that right! There's WinRT, WinPRT, and I assume some other incompatible flavor for the XBOne (WinXRT?). They use different controls, different APIs, different stores, different developer accounts, etc., etc. It is a complete and utter clusterf***. I won't even mention the RT system's horrible performance. They act as if they're still on top and everyone simply has to put up with their crap to get access to a pot of gold. They're delusional ... it's already cost them the head of Windows, the CEO, and a billion $$$ outright, and that doesn't count the billions of lost revenue in the future. Edit: my guess (hope?) is that WinRT, the version of RT for laptops/desktops, will be deemphasized along with Metro in Windows 9. WinPRT will assimilate some of the WinRT APIs and be MSFT's "mobile" OS. Those enhanced WinPRT programs will run on the desktop in a window or full screen on small displays (i.e. they will adapt to their output size). Edit2: BTW, WinRT and WinPRT run on that thing you despise: Win32. What do you think the they use for their IO operations, graphics, multithreading, etc. Have you ever run a performance log of your program on a Windows Phone 8 device? You'll see direct3d.dll, gdi32.dll, drivers, etc. RT is an API framework on top of Win32.

To each his own. I was in your camp until I bought the S2, and I love the thing. I still use my laptop (core i7, 16 gigs of ram) for most tasks, but that is because I usually need the additional real estate even when out and about...and I need the power to run ANSYS, SolidWorks, etc., which aren't even very smooth on an i5. My S2 serves a completely different purpose, and serves it well.

There's an aspect of RT you are ignoring, and that's the hardware side. RT is designed for ARM chips. If MS disregards the phenomenal growth of ARM while focusing on x86 alone, that IMO is a very wrong choice. Qualcomm, Nvidia etc. keep pushing the frontiers for ARM chips, MS has to develop an OS that is 'light' enough to run on ARM. That is the real purpose of RT. It's not just some delusional fantasy MS has -- they know that in the future, ARM could easily command a very significant chunk of the computing space, even if that chunk is more tailored to the consumption side. RT is a good strategy.

WinRT wasn't "designed" for ARM chips, it runs on x86 as well. Win32 runs on ARM and x86 in addition to different CPUs in the past (i860, DEC's Alpha, Intel's IA64, etc.). I don't understand why there are so many myths out there about WinRT.

I don't despise anything, all the contrary, read again my comments. I just said RT is the most suitable choice for some people (most people). That's all. :-) Actually, I don't mind what's under the carpet as far as I don't notice. If it performs well, has no malware, is stable, etc and it run on MSDOS 1.0, I would not care at all. 8-D

Largerly agree with you. Non-malware argument is always underestimated, and you still have acces to filesystem and some productivity apps.

Nokia screwed up by not making a non-carrier version with all LTE band support available.
The carrier tie-in alone makes it a no buy for me.

Not locked to any operator over here at least, but then there aren't any operator locked devices here. Should have my 2520 in couple of weeks with LTE!

hummm.... I will try the Surface 2 with some butter and jam. It must be great for breakfast! However, I will not try to dip it into milk or chocolate, I guess that would void the warranty :-(. And the next time I will try to set the Surface language to French before eating it. Yummy!

Waiting for 7 or 8" Lumia tab

THANK YOU, Dan. "Only you can decide if you need to Photoshop on a tablet or do other high-end, non-Office productivity on a 10-inch screen. For me, tablets are not about that." So many times I wonder why people bring up the argument that RT is stripped and dumbed down, from the very beginning Microsoft made it clear RT is to compete against the iPads and Android tabs of tomorrow. These machines cannot give you the power of an x64 desktop machine. RT is strictly to consume off the Windows Store apps. It is a BONUS that you can at least have your desktop there and manage files and connect full USB accessories and work on Office, something the iPad and Android tabs will never offer, yet RT is considered dumbed down and stripped -_- Great review btw, the professionalism is a welcoming change :)

My wife has a Surface2 and really the ONLY sticking point for her is she can't connect to her work via VPN. If they had that she would be able to keep it. So it's not just PhotoShop, it's also business connectivity (Not just Cisco but anywhere that you have a custom VPN). Fingers crossed that this will happen soon, but it's been a year and still no peep from Microsoft or Cisco. I would love to have an RT as a second, home-only device - it works really well for just about all tihngs.

Whaa? no way? damn I really thought Microsoft addressed this with windows 8.1? sorry to hear that. I found this online from the windows 8.1 business oriented features list.
"Windows 8.1 also comes with auto-triggered VPN support, which lets Windows auto prompt you to sign in with one click when you select an app or resource that needs access via the company's intranet site or other VPN sources." Unless it doesn't come within windows RT? that would actually suck -_- cause MS really wants to penetrate the BYOD market.

Did you check in the control panel "network and sharing center"? I think you can setup VPN in the "Set up a new connection or network".

They did increase the number of VPNs supported, but Cisco Anyware is not supported. My wife's company deploys an x86 installer that includes a Cisco VPN client and certificate in a package. She obtained and manually installed the cert but that didn't work - still needs the client. Until the Cisco client is compiled for RT (or if her IT admins lower the security on the firewall to let her through without a client) she can't access the network, even locally. There are a few threads on Cisco support and Microsoft Answers, but all I see are promises of "we'll look into it" and "Microsoft hasn't given us the necessary RT APIs." Sigh. Meanwhile there is an iOS client.

I'll stick with the Surface2 for now (since I won one!), but this tablet does look sexy!

Anyone know if the NFC supports Tap+Send like Windows Phone does?

Torn between this and Surface 2 for work. The USB 3 port on the latter is nearly as important as LTE so will settle for how they feel in the flesh (once Nokia decide to release the 2520 in the UK, natch). Regarding the power port on the Lumia, isn't this in place to allow rapid charging of 70% in an hour or so? I though it was a Quallcomm thing, not a Nokia design decision?

Yes it is. I was suprised that Daniel was able to pioneer a new way to bash Nokia.

It wasn't bashing, but when compared to the Surface 2, it's lacking imo. Is it wrong that I thought Nokia could have done better here? Pin connectors for charging are not good, imo.

i like this device very much, i would like to add something. Other manufacturers claiming that their (windows 8 with atom) is better than a (windows 8 rt with snapdragon 800) - is actually insane. They tell you it runs Photoshop, and Skyrim!! although an atom technically able to do so! but its going to be a hell of an experience, my intel I5 3rd G + AMD radeon 7670 can barely do it in way i can enjoy. I think that was the idea behind windows RT from the very first beginning, to eliminate atom processors type of devices.

Anyone know, if I could use the sim in a Verizon MiFi with an unlocked Verizon L2520? I guess I could just tether it, but not having to carry both is definitely a plus.

No mention that you can get it on At&t for $200 if you buy a 925, 1020, or 1520. http://www.engadget.com/2013/11/21/nokia-lumia-2520-review/

The no kickstand arguement is just getting dumb. So what whould you do with a kick stand when you are without the keyboard? The charm of RT is the seemless blend of a tablet and casual ultrabook and that means you will have some sort of keyboard case all the time. And when you do, all those so called flawed on the 2520 magically disapeared.

One example: Putting it on a table for watching movies or causul web browsing when you might not really need the keyboard. In that case, the kickstand is faster and the cover just adds bulk.

I actually answered that same question last nigh before going to sleep. I was laying (belly down) on my bed, watching the latest episode of Family Guy with the kickstand in motion. I caught myself thinking "how the hell could I have lived without this for so long?"
So there, here's only ONE advantage.

So tough to choose, the Lumia 2520....... or the Surface RT 2?...... With the features that both these devices have to offer, it just simply boils down to what's more important to you.

oh man, I get torned between this thing and the Surface 2

Oh Daniel, milimeters seem to be your Freudian slip whenever talking about megapixels.

"It's not light. It's not heavy. It's somewhere in between."
I like WP central, even though it might be accused of being a little biased when it comes to WP products. However, I do think you guys need a sub on your copy. Or at least read each others' work critically. Atm, there is too much padding and meaningless in articles. Hope you're happy to take some feedback.

For me, the 2520 edges over the Surface 2 due to design, but mainly the screen quality and the built-in GPS for Here Maps, my only gripe is the 32GB internal memory and limiting the SD Card to 32GB as well - a 64GB version and 64GByte SD Card support would be a major winner.

Here maps was amazing when I played with it last night. One thing I did not know was that here maps has a street view. I absolutely love the 2025. It was sleek on design, light weight, has a really nice screw, and a decent camera. Really good tablet. It us going to get attention I will be keeping my surface 2. it is just more functional for me... It is a tablet/laptop and better suited for this that the Nokia. The kickstand, keyboard, USB port, etc all which except the keyboard is stock. Its industrial design will hold better in the elements and look professional in the office. No matter, they are awesome devices and I would have both if I could really justify their use.

Actually, the specs on Nokia's site are correct and the user guide is wrong. I have a 64Gb SD card in mine right now and it has no trouble recognizing and using it. Mine is the AT&T variant. On the SD card/sim door sticking up, it is flush on mine whereas the one I looked at at a Verizon store did protrude a bit. I do think that the +/- volume is setup backwards. I'm constantly hitting the wrong end for what I want. I was torn between the 2520 and the Surface 2. My wife has a S1 so we could share keyboards, chargers and such. I went with the Lumia because of the free keyboard offer, the feel (curved edges), Nokia apps, speaker placement, and I figured I could pick up a Surface Pro 2 later when they came down in price.

Yeah, it seems 64GBytes is the correct size - has anyone tried anything larger?

Those in the UK can get an Acer tablet running full Windows 8 for £280. Why would anyone buy this for a higher price with less features and a higher price? This tablet is way too little too late. The limitations it has in comparison to the better looking Surface 2 in no way are made up by LTE connectivity. It is interesting to see the difference between the views shared by Nokia fans and the views shared by Nokia fanboys.

Hmm...battery life, performance, screen quality and size, no option for SIM, no GPS, no Here Maps etc etc...

Think Im going to go with the surface 2. One thing that really bugs me with Nokia is the lack of info surrounding release dates. Ok we know its date for America release (and only just) but a guessing game for the rest of us. I live in the uk and had a real hard time getting my hands on my 920 when it was released. I actually settled for black in the end as got fed up chasing the low stocks. Its my birthday the 25th and i am looking forward to being able to walk into a number of uk shops and pick up a surface 2, without having to stress out about which colour ect is in stock. Rant over :-)

For a first tablet, it looks good, but sorry Nokia, I'd rather buy the Surface 2.

I don't see it having a normal ("boring") charger connector as a drawback. On the contrary, the Surface's proprietary connector is nice and all but it sucks to have weird unique connectors. I'm praying that the charger doesn't ever break each time I plug it, if it does I'm dead cause it's very hard to find.

Agree. Love my surface, but hate proprietary technology... I love the mag safe type adaptor, but it only works for surface. I used to hate this with apple, but at least third cables are becoming more and more multifunction. Maybe the surface adapter has some untapped potential like the similar cover ports...

Not to mention it's kinda annoying to plug in the Surface (2) adapter.

I played with this tablet last night at the Microsoft store.. It is fantastic. So sleek, light weight, beautiful screen, so large yet easy to hold. I was there with my purchase receipt of my launch surface 2... Not to return it, but to get in on the current two keyboard promotion. The surface is just more my thing... Sleek and industrial... I would love to see an 8" Lumia tablet... If I did not work, play,and over live the no compromise surface design, this would be a wonderful tablet. I can see this tablet doing for windows tablet what the Lumia line did for the phone.. Boost consumer interest Then I played with 1525. Again fantastic. Made me want it badly... But until 8.1, there is just no need... My 920 will do. I bought a nexus 7 for the compromised extensions between my surface and 920... The 1525 with 8.1 would be what I possibly need in the future. Finally the staff was heavily preparing for tomorrows Xbox launch. They were scanning a ton of free promo gift cards. You could buy the Xbox games and accessories already.

How do we know about the pointy edges on the 929? It isn't even announced yet, let alone released. That puts it in hypothetical, possibly prototype, territory. *grumble Verizon customer grumble*

I don't want to be nitpicking but isn't it a bit conflicting to say "While the device has excellent specs, inspiring design, button placement and a phenomenal display,..." and then list "ODD button placement and UNINSPIRING power adapter" in the thumbs down box?

So you cant buy this tablet like off contract and use it just on WiFi?

Yes. Though it's more $50 over the Surface 2 with almost identical specs and a kickstand. But if you want a second to none display and exclusive Nokia apps, then you won't mind the extra cash.

I love my Surface 2, but wish it had GPS - seems like something that should have easily made it into the 2nd gen product.

I actually wanted this device over the Surface 2, but after reading this review I'm happy enough with my 1-week-old Surface 2 =)
The lack of GPS and NFC is a real bummer, though...

I would immediately get one if the 2520 was using Bay Trail :(. I can't leave x86 for now :(.

A very comprehensive review Dan... Great!! Cunnigham Park by Union turnpike in Queens! Yay!! ;)

If it was 8.1 pro, I might look into it but, I'll stick with my Samsung Slate 7 "8.1" device for a while longer. I would be losing features for moving to something like this... ANd you can get a surface 1 RT device for around $200 with a little shopping around, I personaly think it's a better deal...

How big is the charger? I heard it will charge the tablet very quickly

What Microsoft needs to do now is converge the best of the 2 into 1 killer tablet. From 2520: display, processor, NFC, GPS, exclusive apps From Surface 2: USB, HDMI, kickstand, storage (internal and external support) Incorporate the 1520's camera and provide WIFI only and WIFI/LTE options. I would buy that in a second.

You and everyone else! :)

Still using that stupid 16:9 aspect ratio, do not want.

I agree. But the ratio appears better on the 2520 than the Surface Pro and even the Surface 2; better than any other 10.1 tablet. The 2520 screen appears wider (portrait), or taller (landscape); and I find the Surfaces too narrow or short. The only weakspot I have for the iPad is its portrait orientation as opposed to landscape. Yet, landscape is necessary for productivity; while the iPad is great to look at or read.

Great review Dan! Also, you live in Queens too?

Looks nice but Surface 2 for me, rather, for wife... oh who am I kidding, it's for me 2. ;)

Daniel I think you should have reviewed the device assuming that most people will also buy the cover which, besides the keyboard (which is supposidetly better to type on than even the type cover 2), also has two usb ports and a kickstand (kind of) and an extra 5 hours of batery. Taking this into account, I don't think many people would judge the surface 2 better as long as you include the covers of both in the comparison.

The entire video was done outside. They didn't even have to worry about veiwing or sunlight issues. That screen is amazing, I personally love the feel of the 2520. And Daniel didn't mention one other small feature that it has that the Surface doesn't, NFC. not a huge deal, but nice to have when all of our Windows Phones have it too. My preference would still fall with the Surface in the end I think, but it is in no way a no brainer. Once you get used to that kickstand and Touch Cover you really don't want to give it up.

I cannot imagine going back to a full sized tablet without a kick stand. I guess I should not judge too harshly until I see the KB vase for this but it looks like it adds a lot of bulk. I would consider this if Zagg made on of their clever kb shells for it.

In the review, the statement 'It's a very solid first attempt...' should be changed to 'Nokia's first/last attempt', given that Microsoft's taking over. I doubt in the future that they'll be releasing both another Surface and a Lumia tablet, under the same roof. It would be total lunacy and competing with themselves.

This tablet gets closer to the kind of tablet i'm looking for then most any other windows tablet, which i'm going to call an explore tablet. I want a tablet that has built in GPS, can document with photos, video, as well as write trip reports, etc. Having Nokia Maps, IE the best offline map support, brings this all together. I currently have a nexus 7 that I thought would offer a decent off line mapping experience for these kind of situations, and I was actually surprised that it more or less sucked compared to Here maps.
While I haven't used it, i think this is actually a quite good first attempt at differentiating themselves from other tablets. when dell, asus, and samsung released their devices, they just sort of released them. No one knew what they were capable of. The product illustrates you can not only consume with this device(basic tablet function), but capture a whole lot more. I hope that Nokia makes a this in an 7-8" form factor, with a wacom stylus so i can ink on maps or photos.

Not to be a downer, but I just don't see the appeal of RT to the average consumer. I guess one of the few things going for this tablet is that it has ability to connect via a cellular connection vs. just wifi. However, I do see business users buying one of these because they get: Tablet, Office and true mobility anywhere.

You in Queens Village by Union Turnpike. If you ever want some great Chinese food, There is a place around there called King Yum.

Cool review Daniel , but we are still waiting for the biggest comparison between Dell V8P und Lenovo miix2

I just purchased a Lumia 1520, so acquiring the 2520 for $200 makes plenty sense for me. Virtually everyone already has a carrier plan, so with shared data the cost of adding this device is $10 monthly. I have read other 2520 reviews, and suggest the keyboard/cover is necessary for a thorough one. The keyboard cover -- with USB and additonal battery power -- is essential for producitvity, and is what this review lacks...

Will there be a type cover, and how much will it cost? A WiFi-only Surface 2 may sell for $449, but with cover it is actually $570-$580. If Nokia can sell a competent cover for $79-$89, they will have erased the price difference between the 2520 and Surface 2. In that case, the 2520 may have appeal for more people than just those looking for an LTE tablet.

The keyboard/cover case is well-publicized. Apparently, it simply was not made available to WPCentral. It includes a single-position kickstand, in addition to USB and a battery. There is also a full-size touchpad. It is an additional $150. Reviewing the 2520 without the keyboard/cover is like reviewing the Surface without a Type/Touch cover. I have read the keyboard is a bit cramped in the 2520 cover, but the case folds over to fully cover/protect the tablet and does not leave you holding onto a felt-covered bottom. The same reviewer (Engadget) who did not like the keyboard found the single-position in which the case props up the tablet problematic when sitting on one's lap, much list the first Surfaces.

I like these outdoor reviews, Daniel does a good job.

I just realized that I was constantly thinking "I will rather do that on the 1520" at most of the features Daniel described... That does't mean that I don't like the 2520, but it confirms that I finally found my ideal setup. The Surface Pro2 with docking station and type cover to replace my laptop and increase mobility and a 1520. That is pretty much all I will need.

I just can't understand why Nokia chose RT over regular WIndows. This OS makes my purchase of this device very unlikely. Totally senseless to go with an OS the marketplace has abandoned, when you could have had a full 32 bit windows versiom.

Anyone knows about the limitations of the microSD? I have an ASUS Vivo Tab RT with a 64Gb SD card. Does it mean, that if I replace my ASUS to the Lumia I won't be able to use my microSD in my new device?

I still dont understand point of RT devices at this price point 499 is a lot for RT if you compare it with full featured x86 tablets from Acer let say. And with win RT you get basicaly same limited functionality of Android tablets just better loking and you can pick up good Android tablet for 100 or more dolars less. So againg, what is the point? Just for say, i ame huge Windows 8 fan, i own Acer W510 64 GB and i love it. It is perfect combination of consumer device and mobile work machine with keyboard when i am out of office. Also, carriers in US are crazy to charge that much. I pay 20 eur /month and get unlimited text, 200 minutes of call and 2GB of data (after that you dont pay more, only get limited speed, which sucs).

To have a choice is not the good point? And better looking, far better looking, then droid.

Yes, i agree, but 100 dolars is a lot, especialy in countries where you dont earn that much as in US - and this is place where RT does not make any sence, casuse it cant compete with android in price and for same price you can buy full featured x86 tablet with Atom inside and 8 hour batery.

I really like this tablet. It's the first time I've been tempted to try Windows RT. I wish I could get a non-carrier version in cyan -- I don't care about LTE, I just don't want carrier logos on it. Maybe I'm shallow but appearances do make a difference. It kinda sucks that Nokia fans get teased with the Lumia 1520 with built-in charging and the 2520 in cyan, then we find out we can't have those -- way to alienate your base. I know I could get a charging cover for the 1520 -- I have one for my 1020 and I am not a fan. Maybe AT&T will announce a 64 GB 2520 in cyan...without logos. I'll not hold my breath.

Daniel, according to the Nokia site, the max microSD card supported is 64GB, not 32GB as stated in the review.

And a 64GB card is working just fine in it too. Hopefully Daniel will correct the review soon.

O.K. , I had a really hard time deciding to buy the Nokia or Surface 2 especially after this review, I really like them both. So, I went back to the Microsoft store to play some more with them both but I just couldn't get past the BRILLIANT display on this Nokia, with an inch or so of jet black Gorilla Glass surrounding the bright page view and the awesome red frame, always connected LTE, beautiful red color to stand out in a crowd, $100 off and only $10/month to add a line to my Verizon account, I came home and ordered the RED 2520, it is unavailable in stores....why, who knows? Serious, the only display better than this in the Microsoft store was the Samsung Series 9 laptop for $1300. This will be my best travel companion while hanging around airports this holiday travel season. Have to admit, I'm am not at all familiar with a micro USB 3.0 port but I did find several adapters available to convert it to a regular USB 2.0 if I can't wait for my keyboard which has 2 USB ports. Now according to Windows Central the keyboard is FREE...HUH??? I was already ecstatic and I haven't even received it yet, comes tomorrow. If you want to know anything let me know, you know what I'll be doing this weekend.

I ordered these two USB3 adapter cables. I'll try to remember to report back on how they work when I get them. http://www.amazon.com/gp/product/B00FNDXO0M/ref=oh_details_o01_s00_i00?ie=UTF8&psc=1 http://www.amazon.com/gp/product/B00EAM8574/ref=oh_details_o00_s00_i01?ie=UTF8&psc=1

As with ANY and EVERY tech product, hardware/software/look-at-me-I-got-it-first-ware, DO NOT buy version 1.0. Manufacturers are experimenting on early adopters and getting paid to boot.

That takes you out of the early adopter camp, I guess. Those of us who bought the Lumia 2520 will enjoy it knowing our (and your) future devices will be better because of it.

what ever, nice nice nice, what ever! but you can't buy this device. at&t now forces you into 2 years contract. what a dick move. again those contracts killed Nokia, who ever is behind this idea and executed it should be fired and banned from any company.

I wasted almost an hour at att store, and then was told they would not sell it to me without a contract, even though the sales associate told me I could up front. I walked out upset, but drove to Microsoft store and walked out with one in 10 minutes without a data contract, dealing with much more friendly people. With the free powered keyboard offer by Nokia, it is like paying $350...for that price, I can live with RT, as it does everything I need in a compact light tablet. So far, it is fast and beautiful.

That is really too bad. The AT&T store by Mall 205 in Portland, OR didn't care one way or the other. They were very helpful and exchanged the first defective tablet with no complaints. Now, if they wouldn't limit the color selection to black and offer Cyan, black, red, and yellow. Oh did I mention Cyan? The black does look nice and professional at least.

Tell you a good news. In order to celebrate new B2C site.You only register an account on Funbookes can get a free gift that price is $10 from Funbookes.com

Great review. I stopped by my Verizon store earlier this week and ended up buying a 2520 for my wife. Save a $100 and got home and ordered the free keyboard. I also picked up a protector and kickstand for $18, so it does have one. You just need to attach and pay for it. Am enjoying setting it up for my wife as now she can text, skype and do office products all on one device. Oh yeah and watch movies on those long airline flights. Hoping she will be ecstatic with it on Christmas day. Just to be sure bought you the required amount of jewlery, clothes, book gift certificate and knickknack items for her grab bag.

I would like to know if I can turn off the haptic feedback. I played around with it at the Microsoft store, and nobody there could tell me if I can or not. I found one at the store that did not have the vibration but also the windows button did not work...When ever I touched the windows button the whole tablet would vibrate and not just the area underneath it. Very disorientating for me and I felt i was going to drop it. Also it being Windows RT I can't really install regular windows applications correct? Like some games, or applications that I use on my PC.

Anybody know where to buy the Nokia Power Keyboard? I missed the sale that came with the free keyboard and cannot find an official one anywhere?
Windows Central Newsletter
Thank you for signing up to Windows Central. You will receive a verification email shortly.
There was a problem. Please refresh the page and try again.