Nokia Lumia 2520 has 'clear advantage' over Microsoft's Surface 2, says Qualcomm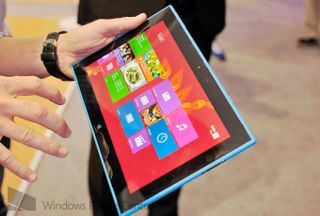 Nokia announced the Lumia 2520 Windows RT 8.1 tablet at its conference in Abu Dhabi earlier this month. Microsoft had already unveiled the Surface 2, but which tablet is more appealing? According to Qualcomm executives, the Nokia RT tablet is the one to invest in, with a "clear advantage" over the Surface 2 with regards to the speed of the processor, graphics power and wireless connectivity.
Here's what Raj Talluri, senior vice president of product management for Qualcomm's application processors, told CNET:
Now, of course Talluri is going to big up the Lumia 2520, especially since it's sporting a Qualcomm CPU. Nvidia is behind the processing power in the Surface 2 (just like its first generation of Surface tablets). But no one can ignore the specification sheet.
Both chips are more than capable of running Windows RT 8.1, there's no questioning that. However, in terms of processing power, the Lumia 2520 is slightly ahead of the Surface 2. You've got the Snapdragon 800 2.2GHz chip inside the Nokia tablet, while Microsoft lags behind slightly with the Tegra 4 1.7GHz - this isn't a deal breaker, but it's a significant difference in speed.
Whether you're a Surface fan, or an avid Nokia follower, you'll not be disappointed. Both quad-core processors are able to load up and run both apps and games from the Windows Store. Microsoft's choice of CPU is also an improvement over the original Surface RT, which wasn't sluggish by any means.
That said, Nokia's packing an improved Qualcomm chip, but how much of a factor the CPU will play in consumer decision making between the two is yet to be seen. Does the speed of both processors affect your decision as to which Windows RT 8.1 tablet you'll purchase? Side note, remember that Qualcomm is the company behind one of the most bizarre keynote presentations:
Source: CNET
Rich Edmonds is Senior Editor of PC hardware at Windows Central, covering everything related to PC components and NAS. He's been involved in technology for more than a decade and knows a thing or two about the magic inside a PC chassis. You can follow him over on Twitter at @RichEdmonds.
If there is no WiFi only available, then are we able to purchase this without having to subscribe to carrier plans?

Doesn't look like my dream of a yellow one will come true, so cyan for me! Prefer the matte finish and cyan over black any day!!!

I hope you don't live in the US. Preliminary reports say it is only be sold in black on ATT and red on verizon with a gigantic VERIZON 4G LTE logo taking up roughly half of the back.

"gigantic VERIZON 4G LTE logo taking up roughly half of the back. " condolences to all.

I had already chosen the Lumia 2520 because of the superior screen, of it being lighter and easier to hold and because of the extra 5 hours battery that come with the cover, this is just the cherry on top.

Absolutely. And you didn't even touch on some of the other advantages.

Side to side there shouldn't be much difference between screens. Nokia might have a leg up with their screen in direct sunlight. Surface 2 is a major improvement over RT. Everything is fast and with no lag. WebPages load faster than my wife's iPad and my PC. Not sure how the extra speed (on the Nokia) is going to make a difference in real world performance. Engadget's review rated Surface 2 as 14.5 hours of battery life- I've almost matched it. With the keyboard plus battery attachment, the Surface 2 will have even better battery life. I dont need a wireless radio either so I wouldn't trade mine in for anything.

No doubt Surface 2 is worthy of your money. But, with all the Nokia apps, the Lumia design language (a Lumia 920 owner here), wireless charging NFC and all the other advantages... I just personally don't see why I would buy a Surface 2.

Only way is jump to a Nokia is if they (cause someone has to) is bring some sort of video editing app to the rt tablets. Doesn't have to be anything like Sony Vegas but something would be nice.

The most important Nokia apps never stay exclusive. Considering Microsoft bought them (at least their hardware team) the rest of these so called exclusives will be on Surface soon enough. Wireless charging on a tablet is gimmicky imo and the minimalism of the Surface design appeals to me. Different folks, different strokes. I love Nokia and my 822 but the excessive zeal towards their products borderline reminds me of apple fans.

I thought wireless charging was gimmicky too until I got a charging plate for my 920. Now I don't know why I went so long without one.

I dont dislike wireless charging. I bought an charge pad and charging backplate for my 822. It doesn't charge as fast. For the purpose of having a charged tablet faster, I think its unnecessary.

Understandable. I charge my phone on the wireless charger overnight, so my situation is different. I do like that the 2520 uses quick charge and can get 80% battery life back in an hour.

I bought a wireless charging plate that AT&T had on sale. Def not a gimmick. Aside from the fact that it works, it saves wear and tear on constantly plugging in the USB.

Truly Snapdragon 800 is the true winner in terms of processing power...
Ha Ha Where Apple & Nexus processors are nowhere near to SD800 (See this graph that demonstrates) http://
bit.ly/1azk6H3

The chart has Tegra 4 as the overall winner (by a small margin). It would appear the Surface 2 and Nokia 2420 have a lot of grunt on comparison to the non-windows competitors. Win

This link is a spam trap. Please moderator do something about this.

Wirelessly charging on a tablet is gimmicky? Not so; you obviously never used an HP Touchpad. It worked perfectly for me. Combine that with not having to plug it in, reducing the wear and tear on the charging port is awesome.

200MB of free Tmobile data might seal the deal for me since I value that more than unlimited skype and 100GB of skydrive.

Who's offering 200MB of free T-Mobile data?

T-Mobile is. Everyone gets 200MB of data for free.

Personally I choose the Surface 2. Not because I didn't know about the superior performance of the Snapdragon over Tegra 4, nor the LTE, but the Surface 2 is a bit cheaper too, and I didn't have to buy another keyboard because I could re-use my first touch cover from my original Surface RT.
And I have to say, I am in love with the kickstand. Never want something else again.

That kickstand would rock on the 2520. Once Microsoftowms Nomia maybe they can add it on.

If I didn't get the Asus RT last year, then I would have gotten this tablet in a heartbeat. But there is really no need to get a new 10.1 inch. I will however get the Lenovo Miix 2

Will they sell a WiFi version only?

So you have to buy and plan with the tablet or can one purchase out right without a plan?

Likely either way. Usually Verizon gives you a $100 discount if you get it with a contract. $399 for a LTE enabled 10" tablet with 32GB would be a good deal. The only cheaper 10" tab that they have now, brand new, would be the Galaxy Tab 2 with only 8GB.

I also understand that the Verizon discount program will hold for things like the keyboard accessory. So if you have a discount due to your employer, you'll get around $22 off the keyboard cover.

It's also possible the Nokia tablet will have a slightly better price. I've heard that the 929, the 2520, and the 525 will all hit close to Thanksgiving for VZW.

I can't see saving 100 when its in contract for two years which you have to pay monthly for.

Usually you already have a contract. I believe the extra non-phone device costs $10 a month extra on Verizon to share data.

It largely depends if it's worth it. If you want the LTE data with it then getting the $100 back is good because you'd do the data plan anyways. If not, buy it unsubsidized and don't get a SIM for it.

Really don't want to add an extra bill to something I'm only going to use at home about 95% of the time. If I can't just walk in and buy one and walk out, then the Surface 2 it is!

You'll be able to buy it outright. If you don't care about mobile network compatibility then you can buy it from anywhere in the world and ignore your local carrier offerings.

Do we have any pricings on Canadian stores yet?

I'll wait till next generation for the 64-bit ARMv8 version.

By then it might now be "Nokia" Lumia. Who knows if the line will continue once the Microsoft acquisition goes through. This could be a one off product. I'm hoping that doesn't happen though.

Interesting thought but I am not sure MSFT's deal with Nokia includes tablet devices.
Nokia won't be able to make mobile phone devices if the deal goes through but they may still be able to make tablets. I say"may" because I haven't studied all the fine print but from what I have read I believe Nokia can still produce devices that are not mobile phones.

You make a fair point since I don't know the ins and outs of the deal either.

The acquisition was the Nokia phone division. Not the entire Nokia company. The 2520 wouldn't be part of the Microsoft thing.

The acquisition was for the devices decision so I assume that would include tablets

Well would you call the surface a device? If so then yes the 2520 would be under the acquisition too I guess

Yes. Everything involving their mobile devices and services, except the HERE mapping technology and apps.

I doubt it will be, but its possible. Lumia 2520 in my mind isn't going after the same people the Surface 2 is. It's clear MS sees the Surface brand to be a laptop replacement. While Nokia Lumia 2520 is more about being completely mobile. Always connected. And being creative (look at the apps being built in).

Yes, the deal is for the devices division. I doubt that after the deal closes, Nokia would have the infrastructure in place to build a new tablet or the people to get it done.

I'm curious now. What exactly are you looking for from a 64-bit ARM tablet?

Na, I'm going for Surface 2.

I don't have any problem with the surface 2 very fast and responsive

That is what's most noticeable about the s2, fast and smooth. Its faster than my 3 month old PC.

The kickstand does it for me, Surface 2 ftw

True but I like the attachez/ folder keyboard style on the 2520

Totally, I don't want to be burdened by carrying case/keyboard just when I want to lay down or watch it at an angle and comfortable position

Already got my Surface 2 and I love it! :) I still love Nokia though.

As I'll eventually be getting a Surface Pro 2, I'll probably get Nokia's tablet if I ever decide to get an RT device.

+928 its a shame Nokia doesn't have a "Pro" version. Now that would be an absolute deal breaker for the surface line for me.

Nokia is not a PC manufacturer.

That's why I am a big supporter of MS....there is no difference between tablet and PC if you ask MS.

I love Nokia but that design and build of the Surface 2 is the winner. The GPS on the 2520 is tempting but I could care less about the cam, which ironically the Surface 2 has the better FFC.

Technically it has a higher megapixel count. We don't know if it's actually "better" until it's been tested, but one could assume so.

It would still be faster than Tegra even if they both sported the same clock speed. MS just doesn't want to lose NVIDIA I guess.

Sorry but you are wrong. The Tegra 4 is faster. Look it up,

At the same clock speeds Tegra 4 is faster, but also requires (quite a lot) more power. 800 is still the most efficient one. With these 2 devices, only time will tell for sure, but I'd expect the 800 to be a little faster.

Its like Nokia fighting itself. . .

Microsoft fighting itself...

Microsoft didn't buy Nokia. Just the phone business. The 2520 doesn't count.

Microsoft bought the hardware division of nokia aka "devices and services" and yes it includes the 2520. They left the "here maps" and nokias networking business alone.


And Nokia "future innovations" R&D, but yeah tablets are in D&S.

Please read comments and posts before writing something, Microsoft bought the Nokia devices division if Nokia started making a camera for your butt its Microsofts business, if they make a tea cup it stays in Nokia.

This is a bias opinion by Qualcomm the maker of the chip. Look at all reviews and test between the Snapgragon 800 and Tegra 4. The Tegra 4 wins everytime. But I agree the 2520 looks amazing. And I really enjoy my Surface 2. Read the review: http://www.mobile.pro/index.php/benchmark-battle-exynos-5-octa-vs-snapdr...

Really? Most phone makers have gone with the Snapdragon 800, so there has to be a good reason for it...

They are minor but the scores show it. The Tegra 4 is faster.

The Snapdragon uses less power and it's more integrated. With Tegra4 they still need additional chips to add the same functionality.


As I started writing my comment, this guy stole the words from me.
Snapdragon uses less power to conserve battery, which I feel works better in a smartphone setting. Tablets...well then there's Tegra 4..

The test was also done with the Nvidia Shield, which needs active cooling, and it is using a 720p screen, while the other phones are running 1080p screens.

He's right. There are a number of comparisons that show performance is pretty much a wash between the two. The choice to go with the SD could be do to other factors - cost, power consumption, volume & availability, etc

The integrated antenna for cell transmission and reception plus the chipset that supports GSM/HSPA+/CDMA/LTE that is built in. the nVidia does not do this, so you'd need an extra chip.

However, the nVidia is technically a five core CPU. Background tasks are loaded to the fifth A15 core, so they do not need to performed by the main four cores. Couple in the the GPU on the nVidia which is faster and more sophisticate than the very good Adreno 330 on the Snapdragon.

It's important to not merely look at the speed of the CPU, especially when you figure that the nVidia is designed to utilize all four cores to achieve performance. It's not a shock that it performs better than other ARM SoCs.

But the Tegra 4 is not really built for phones while that's Qualcomm's bread and butter. So the Qualcomm makes sense for the Nokia since it has LTE while the Tegra 4 is a better solution if you don't need built in LTE capability. The tests mostly all declare that the Tegra 4 is a better chip for day to day performance. But it wouldn't make sense on a phone due to the need to add an extra chipset to support the cell signal. They do have a lower power Tegra 4 coming for that.

Great info. Even though I have the Surface2, I still read reviews and comment threads because I learn about a new feature with every one published.

It's one reason why I bet the Surface2 will be faster for most all things. MS went with the Tegra 4 because of its design. They could have gone with the Qualcomm and added cell data, but didn't. Frankly, the Tegra 4 is the most impressive design of the current ARM chips because of that fifth core. It is ideal for a tablet. I would be very interested to see how it could handle the backend for something like Photoshop Elements with a new Metro front end. The Surface 2 will become an even better tablet as more apps come into the Windows Store and as MS works with software makers to create RT frontends. Most of the backend stuff on big applications like Creative Suite, etc is .NET, which makes the backend fairly portable. Optimizing the code for ARM and building a new touch centric front end will allow more serious applications into the Windows Store. This is where Microsoft is going with this. I a couple of years, most productivity apps will be moved off the Desktop. Legacy will be supported, but the new Windows will firmly take hold.

Thank you, sir. Now I'm not concerned about getting the Surface 2 over the 2520 anymore.

Qualcomm has fully integrated LTE radios/chipsets on the SoC's, NVidia hasn't integrated it yet on their highest end Tegra 4's which puts them at a disadvantage for phones from a cost and battery standpoint

They choose snapdragon for the phones because they bundle the radios

Yeah and ignored tegra 4 for phones cause its power hungry.

Y didn't Microsoft just put the best and most powerful chip in the surface 2? It would have drawn in them spec freak and loads more Imo.

The people that care about specs are the minority.

Like the 2520. But I prefer the industrial design and USB inputs of the Surface 2. Can't wait till next year to see what comes from both sides working together.

The 2520 has USB inputs as well.

Right, but two full USB 3.0 ports on the power keyboard cover. Which I would assume being a possible purchase if you were to get a Surface 2 with a keyboard cover as well. If you weren't planning on getting an optional keyboard cover for the Surface 2, then I get what you're saying.

Why dont people understand that difference???

Cause if you just day USB port, it's not specific enough as saying full or mini USB. Some people may not even know there are distinctions. Especially when you consider the iPad doesn't have a full or mini. At least the average consumer may not know.

Right, like some people don't know the difference between mini USB and micro USB.

The Surface 2 has a USB input. I used it yesterday on mine.

We are planing to get a tablet soon, I am using 920, my wife always has a concern about flash player in wp8, is this new Lumia tablet built in browser support flash? Thanks

Flash is not available for any phone (anymore). Yes, flash player is built in to the browser on the tablet.

Yes. The tab has full flash support in the web browser.

All Windows RT tablets support flash player. This was corrected by Microsoft early on. Initially there was a white list of sites that were supported, now almost every site is. Buy ur Windows tablet with no worries

Internet Explorer has built-in flash support on Windows RT (Surface/Surface 2, Lumia 2520 etc.). It's a very capable browser.

Yeah all windows 8 and Windows 8 RT browsers have flash embedded in the IE browser

Windows RT is best for viewing Adobe Flash websites and videos at cheap price. Every flash website I have tried worked. You can also block ads through host file.

yes windows RT supports flash websites and they run great.

Posting from my Lumia 1020, but still got the surface 2 pro. Still need to run programs, but love the design for the Nokia, and may be good for the house if the surface becomes my main work computer . Will a pro version be coming?

According to the articles I've read about the tegra4 vs. SD800, the Tegra4 is no slouch at all. Actually several comparisons put the Tegra4 ahead of the SD800. I for one will def. Be getting a Surface 2. The kickstand, build (i love metal) and the touch cover are clear winners in my books. Sure the 2520 Looks fantastic, but having to add bulk for the keyboard and lack of built in kickstand are not for me!

Perhaps i don't know my stuff i want a tablet but am determined to stay away from rt as it seems like a 'half os' a full os i want to replace my craptop i need windows8.1 for sdk's etc not another compact mobile os ? advice and research says no to the 2520 simply because of RT?

Actually that's a misconception. RT is a "full" OS. It's not meant to run full windows. That's what the pro version is for. RT is meant to be a consumption device in line with an iPad and/or Android tablet. The Windows store already has about 100,000 apps in its first year. I'm not sure how many apps android and iOS had after the first year, but 100k isn't too shabby.

What? My tablet with Windows RT is awesome.

Then get the Surface Pro 2, that has a "full OS", whatever that is supposed to mean. As others stated, Windows RT IS a full OS the only thing it can't do is run desktop software and lacks some of the components that 8.1 Pro has for businesses.

You need to decide what you want to do with it. If you want to install steam, desktop games or software then stay away from RT. You might be able to find equivalents for some things as apps, but only you know your own priorities. If you want Visual Studio and SDK stuff then you need pro.

Microsoft made a mistake calling RT Windows. They should have called it iWindow because it seems that the public has no problem telling the difference between OSX and iOS. Just drop the last letter and add an "i" and suddenly people get that this is a moble OS.
RT is perfectly usable. So far my experience is that it is better than iOS in many,many ways. Yet like iOS, I don't expect it to run my desktop apps. Whis isn't generally an issue on my tablet anyway.
Sure, it is cool to run Photoshop on the Surface Pro. And the Pro's ability to run legacy software does allow it to serve as your only device if you need legacy support. Legacy apps are hard to use with finger input, so that's important to take in. The Metro apps are way better for a tablet interface.
However, MOST people will find Office and a solid browser that support many Flash sites plenty. I love that so many websites just work on RT that on my iPad I have to download the App because iOS doesn't support any Flash nor does it support HTML5 as well. I love multiple apps on one screen.
Of course, RT might die because of misperception. But it is a full OS and very useful.

I know how to keep Qualcomm happy....
I'm waiting for the Snapdragon 800 powered Surface Mini.

If I could get ahold of one I'd actually choose the Surface due to a slight loyalty to Nvidia. It was around the time Slackware 7 was released if I remember correctly, and I'd just built my first tower from scratch. I had a Geforce 2 Ti literally given to me for nothing and I quickly found out that at that time, getting hardware accelerated graphics was short of a miracle with regards to ATI, whereas Nvidia had modules ready to roll. Quick kernel recompile (I chose to build it in instead insert at boot) and voila. Ever since those days, I've always appreciated Nvidia. Probably not the most valid reason given the differences, but if I ever afford one I'm betting that, as said in the article, the quad core Tegra shouldn't exactly be a let down or miserable experience.

Perhaps i don't know my stuff i want a tablet but am determined to stay away from rt as it seems like a 'half os' a full os i want to replace my craptop i need windows8.1 for sdk's etc not another compact mobile os ? advice and research says no to the 2520 simply because of RT?

To be honest, I kinda feel the same way. Not sure why, but I do.

RT is a full OS. It has functionality and security that iOS and Android could only dream of.

RT is not half an OS, it is a full OS and should be focused on as the lighter, simpler, desktop free future.

Spouting this same BS twice in the comments for one article, that's good going. Doesn't get your point across any better though!!

RT 8.1 is actually a very good consumption OS, I absolutely love my Surface 2.

What do we learn from their keynote? None of them is able to properly pronounce "mobile". Darn rebelious colonists...lol

Jokes aside, I have no intention of replacing my RT with a Surface 2. However...I'm definitely going to check Nokia's tablet. And will probably buy it to use as an entertainment tablet (since I use the RT to actually work...believe it or not)

Ah, so you are British eh...

It's safer to say "not from the US" as most non-US English speakers would say it like "mo-bile" instead of "mo-bil".

Oh yeah, that's horrible. They seem to forget there's an "e" on the end of the word and say it like "mobil" instead of "mo-bile".

Now it comes down to price. It's as simple as that

For me, it comes down to value. The Lumia 2520 gives you 3G/LTE and is lighter. The Surface 2 gives you the kickstand, a larger screen, nicer housing (magnesium), the 2 year upgrade to 200GB of SkyDrive, and the one year of unlimited Skype-to-phone.

No kickstand, USB, touchcover and it's on VZW... I'll stick with Surface.

Well, the kickstand and USB are part of the keyboard cover. Doesn't have a touchcover...but then again, you're probably in the minority of Surface users who prefers the touch cover to the typecover (hence the new covers having switched the colour offers) Anyway, the Surface is a great tablet. You won't be losing by sticking with it.

Price to add Nokias Keyboard/cover?! Its already listed to start out higher just for the tablet itself. Price WILL be a big factor for many consumers.

The price is around 140€. The price for the Surface power cover is 200€.
So you have the Surface 2 costing minus 50€ than the Nokia 2520. But the power cover costing 60€ more.
In the end, it's cheaper to buy a Nokia 2520 with the power cover than a Surface 2 with a power cover.
The only problem is that Nokia doesn't offer any cheaper versions of the cover yet, and the Surface has the advantage of having available the 1st gen covers and the 2nd gen ones.
I still think Nokia should have opted for licencing the Surface covers to use in the 2520. They decided otherwise. Pity. As far as consumer goes, however, there's a fair chance a Nokia tablet, outside the US, will end up selling better than the Surface. Again, because just like the phones, Nokia is an established and trusted hardware brand, and Microsoft isn't.

Yeah but I had Surface for over a month before getting a keyboard, and had kickstand and USB all along, no extra, bulky cost. Surface just more a PC, 2520 more like an iPad.

Surface line is focused on full productivity and Nokia is more focused on mobility and consuming, more like iPad. Thats good, because last time I checked many poeple wanted iPads.

this is bullsh!t article... Its been proven time and again that Tegra 4 beats snapdragon 800 in performance on most benchmarks... And oh btw, the article says that surface 1 was no slouch, well yes it was. But Surface 2 definitely is not. Tegra4 makes surface 2 a real treat, especially in browser and video and multitasking and game performance. Really nice... And I seriously doubt this Lumia tablet with snapdragon 800 will perform better....

How does reporting on what someone else said make this a BS article?! Now what the person said could be argued as BS, but not the article. And yes, the surface 2 is faster than the Gen 1. However, Gen 1 was still better than the vast majority of weak android tablets out there.

He's right. This is a typical, horribly written Rich article. Absolutely no analysis, just a lengthy re-telling of a fairly mundane quote. What is the performance impact? How about citing one of the numerous tests between the various processors' benchmarks? What specifically is unique among the two tablets? Why must every article need major copyediting?("with regards to"?) It's like reading a school newspaper where every kid has to contribute.

Which one is faster depends on many things, choice of benchmark being one, but at this performance level I'd say they are both fine choices. The differences in performance should be minor.