The budget friendly Lumia 435, 530 and Lumia 535 can now use 6tag for Instagram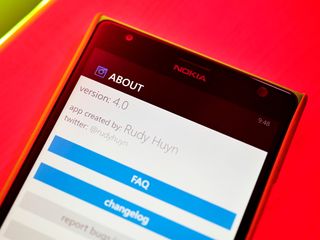 If you have managed to pick up one of those new ultra-cheap Lumias, you will be glad to know that you can now use the third-party Instagram client 6tag on those phones.
Huyn has pushed out version 4.0.2.0 of the popular Instagram app to all users, but only those with some new entry-level Lumia will be interested.
6tag 4.0.2.0
Support Lumia 435/530/532/535
Most of those phones have only been released in the last few weeks and represent the new wave of affordable Lumias. It is not clear exactly why compatibility needed to be added for those specific devices, but presumably something is different. Huyn did recently ask other developers about Silverlight video-support values on the Lumia 535, indicating a connection.
Regardless, you can now download the app and use it on your budget Lumia.
Download 6tag for Windows Phones (Free)
Daniel Rubino is the Executive Editor of Windows Central, head reviewer, podcast co-host, and analyst. He has been covering Microsoft here since 2007, back when this site was called WMExperts (and later Windows Phone Central). His interests include Windows, Microsoft Surface, laptops, next-gen computing, and arguing with people on the internet.
Just what I want my phone to be known as "...one of those ultra-cheap lumias..." Great.

It's not like that's a bad thing, it's just a classification of the price range/class. It would be another matter if somebody called my L920 ultra cheap, when it was very expensive. He didn't call you cheap. I remember friends who had their houses full of expensive Apple products, but the house itself was falling apart...

Nothing wrong with that status since it suits the device range/price. If you have insecurities about the status of your phone, then spend more on a more expensive device; just dont live in an illusion, it's not healthy.

I have two 1520's in red, thank you. My point was WP may earn a stigma of ultra cheap....read slowly, then read again...

How ironic the 1520s are pretty cheap now.

Well, they are over a year old. Show me a phone over a year old that's not cheap? Still, the 1520 is the ONLY phone with all features.

Give this dev a medal!! Bought the ad free version to support the dev immidiately after using the app for 5 minutes. Only video missing, but we get on version 5 as he said. I would buy again any day. 5*.

Microsoft should make a statue of Rudy Huyn.

Only istagram app to save windows platform.

But I already use it on L535 !! Lol! :D

Yeah, it's weird. I never saw anybody complain before this update.

Yeah, maybe just another bug fixes for L535. But before it was unavailable for L530.

Doesn't 6tag support for all Lumia devices?

It does..but don't know why n how...rudy again published for new "ultra -cheap" devices

Because MS, didn't release new "ultra-expensive" devices haha

thanks rudy, but i'v been using 6tag since i bought my 535 (around 1st wk of feb) so i don't knw what would b the dffrence

"Pushed out version 4.0.2.0"*correction*

Ruby huyn even made good tinder client, 6tin! This dev is awesome!

520 is already supported.

Amazing app....much better than droid and ios

This guy is one of the main reasons I've stuck with Windows Phone on the apps side of things. Such a shame he had to erase the snapchat app. It's the only thing I'm missing.

I still don't understand why Snapchat pulled the app and forced users to use the official app. Idiots don't even make an official Windows Phone app.

Oh Rudy should do a grindr...

I had to look that one up....say, how was it being married to Jesse James? Did his cheating really hurt you? Lol..playing with your name.

right! rudy, please make a grindr app. please! i don't like ths scruff thingy on wp.

Good thing Africa is being mined to all hell for gadget like these.

So true,precious metals...

Waiting for someone to ask, "When in India??"

When will it come to Verizon? (that's the next best question)

Another great achievement. Thanks a lot Rudy :-)

#OffTopic how do you re install Cortana if you accidentally uninstall it on windows 10 technical preview for phones and why does Microsoft have that option anyway?

Its funny how such a thing can be important. Have a lady friend call me about her sons new smartphone and that I could not use Instagram. Young kids like that that true the WP OS will be quick to drop a phone and get something else. This is why Snapchat or what its called, and other apps matters. These teens are the next customer in the future and we just lost one customer who is likely to dismiss the WP os I the future. Kids are growing up with no Microsoft background and THAT will destroy Microsoft in the future.

Hitler and his crew knew that lesson..but people forget.

History..Hitler and his propaganda minister Joseph G, began indoctrination of the youth at a very early, knowing their future was in the youth...see, remember Hitler youth..they taught military skills. Now so you see the relationship between the last sentence of the op?

Lumia 435, 530, 535 as well as Blu HD and Billy 4.7 devices uses a snapdragon 200 processor. This processor has some limitations, one of the is video decoding. To be accurate, this processor doesn't support (some) videos higher than 576 pixels. 6tag used higher resolutions videos, so it crashes the app (this is why 6tag was not available on windows store for 530 devices). More info here: https://msdn.microsoft.com/en-us/library/windows/apps/ff462087(v=vs.105).aspx
Windows Central Newsletter
Get the best of Windows Central in in your inbox, every day!
Thank you for signing up to Windows Central. You will receive a verification email shortly.
There was a problem. Please refresh the page and try again.