Lumia 520 and 720 phones getting Cyan update in India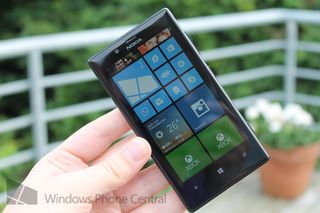 We are getting a number of reports that the Lumia Cyan over the air update is rolling out now for the Lumia 520 and Lumia 720 smartphones in India.
This means that those phones will be able to get Microsoft's Windows Phone 8.1 upgrade. As we have mentioned before with previous OTA updates to Windows Phone 8.1, anyone who has the Lumia 720 and 520 and has already downloaded and installed the Developer Preview version needs to downgrade to Windows Phone 8.0 before they download the new over-the-air update to 8.1.
While we were expecting the Lumia 520 to get updated to Cyan this month in India, the update to the 720 is a bit of a surprise as that phone was not scheduled to receive the update until September. The Lumia 1020 has already received the Cyan update in India, while the Cyan downloads for the Lumia 920, 820, 620 and 825 are supposed to be out next month.
Thanks to the many residents in India who tipped us!
Good news for 520 and 720 Lumia owners.

yipee... :D this is a surprise.. for L720
I hope that continues

I own 520 with 8.1 DP and GDR Update 1 installed. Right nw at 12:40am IST i chck up update is NO. Shud o downgrade? Or is the update still not OTA

You wont get the update because you are on Dev Preview. Either wait for MS to fix the Cyan/Bitlocker issue or else downgrade to WP8+Black and then you will receive WP8.1+Cyan.

You won't see it until either Microsoft fixes their bitlocker thing or you downgrade to 8.0, there is no info on when it is going to get fixed so if you don't have patience for a "coming soon" then you only have that option left

Simple instructions to downgrade and update: - Settings -> Backup -> Apps+Settings -> Back up now*
- Downgrade to 8.0 using Nokia Recovery Tool
- Don't login using your microsoft account (skip step - very important)
- Settings -> Phone Update -> Check for Updates
- Finish all updates until none are found
- Settings -> About -> Reset your phone
- Now login using microsoft account Nokia Recovery Tool (US)
Nokia Recovery Tool (UK) *Note, you will lose all saved game data.

What happens to the apps on SD card?? Will that stay or need reinstalling??

All your apps will automatically be re-downloaded to your SD card.

Hey,
I have many paid apps installed on my device and some free promotion apps like wpcentral etc, if I use your method and update my phone to cyan will all of my purchases will be gone or it will be restored, also keep in mind about promotional free apps,... Secondly
I have updated my phone to windows phone 8,1 update 1 to developer preview, there are some bugs in the preview and my phone hangs at times.. Will it be resolved in original cyan update??I have to downgrade really,? No patch available yet?, If this method works fine and if you used it? and of course will all of my settings and app will have no change?And if I update to cyan then can I update my phone further to update 1 by preview for developers? Should I wait? Do cyan have some featured which are not in preview........
Thanx in advance
All others comments are also welcomed.

Unfortunately there is no direct upgrade from Developer preview at this moment. Microsoft has blocked all phones from receiving the upgrade due to a bitlocker issue. The only way to receive the Cyan firmware is to downgrade your phone to the original Windows Phone 8.0 Your personal settings, phone settings, accounts, text messages will automatically saved to the cloud. The only thing you lose is saved game data on your phone or SD card. All your purchases are tied to your Microsoft account. As long as you login with your Microsoft in the last step all your purchases will be restored automatically. All your apps will be automatically downloaded. Make sure you follow step one, its very important that you do an up-to-date backup prior to downgrading. After you receive your Cyan firmware, you may launch your Developer Preview app, turn it back on and you should get Update 1 with no problems. Enjoy your newly updated phones!

Saving everything to cloud! I nva knew update process wud be so hard! Okay has anyone using 520 updated? Howz it like ?

It's really not that difficult. The whole process should take about 30-45 min. Most of that is waiting for everything to reinstall.

I started the downgrade process from dp 1 to wp 8 because of stability issues. Took freaking 4 hours and few mins for 1.34gb on a 1mbps network :\

I started the recovery tool at 7am IST, and Now at 3:00AM, I see WP8, Now I am doing the phone update I skipped the sign in process. Btw, why skip? to avoid DP version of 8.1 to be installed again?

To avoid your settings from 8.0 being backed up and over riding your DP 8.1 settings.

For me the stuff downloaded completely and flashing started before the software gave an error of flashing failed and now my 720's dead :\ Volume down key not working as usual to do a hard reset ! Recovery tool and NSU don't support the phone now.

Why the fuck do you want to update a520,? Just keep it as it is,it's a cheap phone,it works.

It isn`t dirt cheap in countries like India where there are no carriers.

Thanks for the valuable comment. Humanity is better for it.

So u mean I need to use my WI fi or data plan to get those apps back or the apps in phone will remain safe and SD card ones will be deleted. I recently reset my phone and its not been a month and I can't afford to waste freakin 6 GB and 4 hours to download them again. Thank you in advance

After your downgrade your phone will not reuse your apps on the SD card. You will need to have Wi-Fi to automatically re-download your apps if you don't want to use your carrier data.

Now is lumia cyan uodate for lumia 520 is availble in India(Hyderabad) na? Beacuse in other phone no update was shown. so i just want to conform whether this update has released in hyderabad or not? Please clear my doubt

In order to get the update you must downgrade to WP8.0 first and check for updates. In order to downgrade you need 'Nokia Software Recovery Tool' you can either download it in your PC or go to your nearest Nokia Service Center.

Im on lumia 720 windows phone 8.1.1 software version is 3056.40000.1349.2002 this version eligible to do this process

I downgraded from DP 8.1 to 8.0 in order to get Cyan on my 1520. It wasn't a rosy process IMHO. Further, my paid apps, they were kinda forgotten, and I had to re purchase a few from Store.
The benefit of Cyan is definitely stability it brings over DP. I was quite frustrated with random re boots and stuttering transition effects on my 1520. With Cyan, things have smoothened a lot, I haven't had any reboot since past 2 weeks. From features POV, there isn't drastic difference, and, you are on update 1, you will miss the folders etc. Rest all is pretty standard affair.

That's odd about your apps missing purchase. I've never had this issue. Did you get some apps on promo or region changes?

No. All apps purchased were for my region and for Cyan, of course I had to resort to Indian region setting (I had set region to US on DP 8.1 for Cortana)

Im on windows phone 8.1.1 software version is 3056.40000.1349.2002 when I connect my phone to Nokia software recovery tool version 1.4.3 , for downgrading it downloads the same software version. how I will be able to downgrade to windows phone 8 to get Cyan.

when I connect my nokia Lumia 520 to software recovery tool the phone is not detected, I am on preview for developers program, this software are installed only by the windows xp R windows 8 system please help me with is.

Please follow the onscreen instructions to reboot your phone in recovery mode until the program recognizes it. My Lumia 1520 and Lumia 1020 was also not recognized initially and it had me hold down Vol - & Power Button to force reboot. Afterwards, the phone sat at the Nokia logo screen and the program recognized my phone. You also might need to change your USB port. Let me know if you have any other issues :)

I don't wanna waste time on having cyan in my 720 but it's better to wait about a month. It will save me usage, time, tension .... And what's the use guys u are already using WP8.1 benefits in cyan are negligible compared to usage and time u waste. In cyan:
Video tuner (not really matters I have movie maker 8.1)
some new settings(negligible)
Stability(patch is gonna be there In a month).

Well I followed your instructions and I am in the step Settings -> Phone Update -> Check for Updates How do I make sure, that What I am installing is not a DP but official 8.1 Cyan. At this point I am still in Lumia Black. Should I proceed. The update version to be installed is 8.10.12393.890 and it goes to agreement page which mentions windows 8.1

Well I followed your instructions and I am in the step Settings -> Phone Update -> Check for Updates How do I make sure, that What I am installing is not a DP but official 8.1 Cyan. At this point I am still in Lumia Black. Should I proceed. The update version to be installed is 8.10.12393.890 and it goes to agreement page which mentions windows 8.1

When you downgrade your phone to 8.0 it is no longer in developer preview mode.

Okay! Thank you :) I m proceeding to install !

Got it ! Its Lumia Cyan now. Resetting the phone now. So logging in now, will no longer register me to DP right?

Hello! I have a Nokia Lumia 520 and few months ago I updated to Lumia Black Using a developer account. Few ago I felt the mobil was getting slow and I unistalled the version, and restored the phone. I have noticed that everytime I restore the phone I still have the Windows 8.1 version. I remember I got that version with Lumia Black, but still now Everytime I restore the mobile,. I find the 8.1. The details on my INFO is like follow: Name:
Model: Nokia Lumia 520
Operator
Software: Windows Phone 8.1 Version SO: 8.10.12393.890
Firmware: 3046.0000.1329.2002
Revision of Hardware: 1.0.0.0 --- In EXTRAS and INFO it says LUMIA AMBER. Should I upgrade to Lumia Cyan even I have WIndows Mobile 8.1 version?
THank you very much!

Alpha Cortana with this update?
Its right?

It's a firmware update. Not GDR Update. So No!

No, this is just Cyan. Not WP 8.1.1.

Nopse it doesn't come with Cyan. I think its a mistake in the article.

No its not a mistake. It says that you get the update and unlocks the ability for you to get Update 1

Right but u need to download uk English

If you want cortana alpha then update dp with 8.1.1

I update DP 8.1 but Cortana showing that is beta version....

And that is going to be good news for around 95% of the people having Windows Phone in India. ;)

It would be if we were not on Dp

you had choice whether to go on DP

Just wait. Cyan doesn't bring anything amazing to WP8 devices.

Just now got a notification saying an update is ready to be downloaded ! 720 user in India . Bravo ! Welcome 8.1 :D

well, u lucky people.. we are still waiting :( im on L720

Ugh. Damn local carriers.

When is the fix coming for those who have installed dev preview?

Don't know... But MS is trying to fix it... Don't worry you will also get the update when it will be fixed...

So those with the update 1 have to necessarily have to downgrade?Or do we have to wait for another update.

You only need to downgrade if you want the Cyan update right now.

That's great... Now just waiting for the Microsoft's fix for developer preview... Will update as soon as possible....

Great to hv cyan update rolling out. Installing now

Uh. No. WP8.1 doesn't have Alpha Cortana. That arrives with GDR1.

Cue the "not for the ### phone" or "not in someCountry" comments

Using the Nokia Software Recovery tool. http://www.wpcentral.com/preview-developers-still-need-downgrade-lumia-cyan

Uaing Nokia recovery software tool...
Search on WPCentral....

Same here dude ... Don't we too expect a surprise as L720 got .., Atleast I saw some using the L 525 except me... Once I thought no one other than me has bought the 525
... Jokes apart ...

Dude.. L525 is the best budget Lumia phone. * FellowL525User *

Yes Lumia 525 is better than all Lumia phones under Lumia 82X

Is the update available to neighbours of India.. That is in Pakistan??

Its not available in Pakistan, yet! Hope it is released soon.

L720 with DP This Side but Cyan Update is not available for those who are using Windows 8.1 Update 1. Hope microsoft fix this soon. Let's hope for the best.

Edit : Downgraded and Got the Cyan Update! Downloading now.

@iamgrv hey bro ... how much time did u need to downgrade .. and also share your net speed. My internet has 512 kbps speed ( guys from other countries dont laugh :P ) so how much time it should take.

On 3g with avg. Download speed of 300 kbps , it ll take 60-75 minutes to download 1.29 gb. And another 15 minutes to install. I did it few days ago. Than update your phone to black.

You cannot this update with 3G. Wifi is the only option.

bsnl broadband..:D i will wait for the fix..

Mine took few minutes as I'm using server internet. As per your internet connection, you'll be able to download it within 120-150 minutes as this update includes "Cyan+WP8.1".

@iamgrv you confused a little more. I asked only about the downgrading time, is that what you were talking about? or you are saying that with the nokia recovery tool i will be updated to cyan+wp8.1 directly.

Whats the size of cyan update for 720???

Last sentence of third paragraph says 920, 820, 620 and 825, John.

To get update 1 do we need to activate previee for developers

You will get preview of Update 1 not the official one.

DId you do some course or you are born as****e ? Can you tell me whats the difference between them ?

Oh yeah bby gimme dat Cyan

Just get me the Lumia Icon update!!!

Guys, what about Europe, Hungary, Greece???

Is out for a while in Italy and Romania, but WPCentral don't want to talk about it.

Meh. By the time att releases the cyan for the us 920, the dev preview update fix should be implemented.

I doubt they will even release it.

Recieving Update as of now. Just WOW

Am still waiting too :'( +620

India doesn't have a 825 Variant. I don't think any market does at this point. I guess you meant 625

Could be the 525, or maybe both.

Actualy Lumia 625 was the first phone to get Cyan in India.. I guess just an error with 825...

Dud you check under the pyramid!

Awesome!! Now I gotta get my uncle's phone and update it.. Thanks

Plz tel me updates size in 520

India gets everything first. ::Hauls ass out of post.::

Now Microsoft only hates Brazilians, I guess.

That's not completely true. You are forgetting about cortana.

Just checked . There is no update recd for lumia 520 wid 8.1 DP and GDR update 1

Read the article guys.. Ppl with developer preview have to wait for the update till Microsoft fixes the problem... or they have to downgrade their phone to Lumia Black - WP8.0 with the Nokia Software Recovery Tool...

When the update will come for 520 in uae

Img omg wht a surprise...

using WP DP 8.1 GDR 1 on Lumia 520, no update received yet.
phone update says: your phone is up to date.

Downgrade your phone to 8.0 then update it

How can we downgrade to 8.0???

Update is only for WP8.0 not for WP8.1. Till wait for fix from MS for WP8.1 dev version

NOT FOR 8.1 DP OR 8.1 UPDATE DP.... FIRMWARE UPDATE

Both 8.1dp and8.1 update dp

Well lets hope it comes out soon for 920 and with the BL issue fixed.

Still waiting for cyan on my CV L520 in Germany

Yuppie. 720 is getting update in India. Downloading :)

When is 920 getting it's update? I need it badly to optimize my my phone. Am currently on 8.1 update 1

Will i get this update on my lumia 525 in india ?

Wait for fix for dev version

Damnnn I'm not gttn the update..I'm a L720 w8 user..

Is cyan update coming to lumia 525?....please tell me...

No it is only for 520,720 users

windows cyan update for lumia 525 is available through nokia software recovery tool.Try

Guys with Phone Memory problem please visit: http://www.windowsphone.com/en-in/how-to/wp8/basics/make-room-on-my-phon... I'm trying it. Will update the comment if it works out.

Verizon dead last for updates again... No surprise there. +928

Actually no, India is the 3rd biggest, 1st is the USA

Updating my l520's! yay! :D

Hey. Can u pls tell me how much data did the update use?? (approx.)
and how is the phone after the update?

Are they for CV versions or branded versions? If they're for CV then I hope CVs in other countries will get cyan soon as well. I hate the fact that branded phones got cyan, while CVs still have to wait. That defies all logic, unless MS was bribed by carriers to delay Cyan for CVs on purpose.

Pls who knows if Cyan is Available for 520 CV : GB

Damn it. Why don't they give it for 920 !!

Is there any noticeable difference between Cyan and the developer preview WP 8.1 for "old" Lumia phones? Like better battery, performance...

I get cyan on my 620 w/ gdr1 CV Italy

Hi all, I'm using 520 in dev 8.1. What I have to do in order to get the update??

I don't get why all the country variants world wide don't have the update yet I mean so far almost every model has the update somewhere

What the fork..?? Why no cyan update for Lumia 920, 820 & 620..?!?!?!

Pls enlighten me when would I get Windows 8.1 update? I'm totally confused now. Posted via the Windows Phone Central App for Android

W8.1 for PC is already available, for WP8.1 , what is ur phone model???

I'm sorry. I meant WP8.1. Also I'm installing it now. :-) I thought I won't get 8.1 coz after cyan update my phone was the same before updating and some people kept telling cortana is also not coming. :-\ Posted via the Windows Phone Central App for Android

Shit man em in dev preview!!!! :(

WPCentral is having India fever......)

Hey everybody is that ok if i changed my region to india to get the cyan update then after the installation turn it back to my original region

No it's the thing with the ROM you can't get the update even if you do so..

What rom i mean is the rom created indian ??? Like that ... How...?!

Yeah each phone has its own country ROM preinstalled so you can't get the update just by a change in region

To get the update you need to flash your phone with Indian ROM

in setting ->extras+info -> more info

Yeah,it only accepts Indian commands,hahaha !

Hlo sir...i hav l520 but my phone does not show me the cyan update....

Looks like the rest if the world will have cyan before tmobile releases it. Still waiting for bitlocker fix and tmobile to finish testing.

Lol, waiting for my phone to be charged before updating. Out of battery at the very wrong time. Haha! Lu720

What are the additional features that cyan brings over the 8.1DP on the Lumia 520?

By the way i m not downgrading as i m in habit of using folders....

Also it takes lot of time to downgrade and upgrade

Same here..will better wait for the fix..

Same here. There will be no such improvements that w