Lumia 520 and 720 phones getting Cyan update in India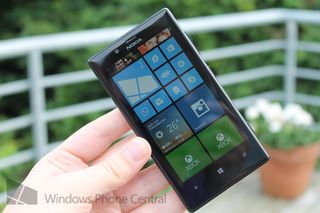 We are getting a number of reports that the Lumia Cyan over the air update is rolling out now for the Lumia 520 and Lumia 720 smartphones in India.
This means that those phones will be able to get Microsoft's Windows Phone 8.1 upgrade. As we have mentioned before with previous OTA updates to Windows Phone 8.1, anyone who has the Lumia 720 and 520 and has already downloaded and installed the Developer Preview version needs to downgrade to Windows Phone 8.0 before they download the new over-the-air update to 8.1.
While we were expecting the Lumia 520 to get updated to Cyan this month in India, the update to the 720 is a bit of a surprise as that phone was not scheduled to receive the update until September. The Lumia 1020 has already received the Cyan update in India, while the Cyan downloads for the Lumia 920, 820, 620 and 825 are supposed to be out next month.
Thanks to the many residents in India who tipped us!
Windows Central Newsletter
Get the best of Windows Central in in your inbox, every day!
Good news for 520 and 720 Lumia owners.

yipee... :D this is a surprise.. for L720
I hope that continues

I own 520 with 8.1 DP and GDR Update 1 installed. Right nw at 12:40am IST i chck up update is NO. Shud o downgrade? Or is the update still not OTA

You wont get the update because you are on Dev Preview. Either wait for MS to fix the Cyan/Bitlocker issue or else downgrade to WP8+Black and then you will receive WP8.1+Cyan.

You won't see it until either Microsoft fixes their bitlocker thing or you downgrade to 8.0, there is no info on when it is going to get fixed so if you don't have patience for a "coming soon" then you only have that option left

Simple instructions to downgrade and update: - Settings -> Backup -> Apps+Settings -> Back up now*
- Downgrade to 8.0 using Nokia Recovery Tool
- Don't login using your microsoft account (skip step - very important)
- Settings -> Phone Update -> Check for Updates
- Finish all updates until none are found
- Settings -> About -> Reset your phone
- Now login using microsoft account Nokia Recovery Tool (US)
Nokia Recovery Tool (UK) *Note, you will lose all saved game data.

What happens to the apps on SD card?? Will that stay or need reinstalling??

All your apps will automatically be re-downloaded to your SD card.

Hey,
I have many paid apps installed on my device and some free promotion apps like wpcentral etc, if I use your method and update my phone to cyan will all of my purchases will be gone or it will be restored, also keep in mind about promotional free apps,... Secondly
I have updated my phone to windows phone 8,1 update 1 to developer preview, there are some bugs in the preview and my phone hangs at times.. Will it be resolved in original cyan update??I have to downgrade really,? No patch available yet?, If this method works fine and if you used it? and of course will all of my settings and app will have no change?And if I update to cyan then can I update my phone further to update 1 by preview for developers? Should I wait? Do cyan have some featured which are not in preview........
Thanx in advance
All others comments are also welcomed.

Unfortunately there is no direct upgrade from Developer preview at this moment. Microsoft has blocked all phones from receiving the upgrade due to a bitlocker issue. The only way to receive the Cyan firmware is to downgrade your phone to the original Windows Phone 8.0 Your personal settings, phone settings, accounts, text messages will automatically saved to the cloud. The only thing you lose is saved game data on your phone or SD card. All your purchases are tied to your Microsoft account. As long as you login with your Microsoft in the last step all your purchases will be restored automatically. All your apps will be automatically downloaded. Make sure you follow step one, its very important that you do an up-to-date backup prior to downgrading. After you receive your Cyan firmware, you may launch your Developer Preview app, turn it back on and you should get Update 1 with no problems. Enjoy your newly updated phones!

Saving everything to cloud! I nva knew update process wud be so hard! Okay has anyone using 520 updated? Howz it like ?

It's really not that difficult. The whole process should take about 30-45 min. Most of that is waiting for everything to reinstall.

I started the downgrade process from dp 1 to wp 8 because of stability issues. Took freaking 4 hours and few mins for 1.34gb on a 1mbps network :\

I started the recovery tool at 7am IST, and Now at 3:00AM, I see WP8, Now I am doing the phone update I skipped the sign in process. Btw, why skip? to avoid DP version of 8.1 to be installed again?

To avoid your settings from 8.0 being backed up and over riding your DP 8.1 settings.

For me the stuff downloaded completely and flashing started before the software gave an error of flashing failed and now my 720's dead :\ Volume down key not working as usual to do a hard reset ! Recovery tool and NSU don't support the phone now.

Why the fuck do you want to update a520,? Just keep it as it is,it's a cheap phone,it works.

It isn`t dirt cheap in countries like India where there are no carriers.

Thanks for the valuable comment. Humanity is better for it.

So u mean I need to use my WI fi or data plan to get those apps back or the apps in phone will remain safe and SD card ones will be deleted. I recently reset my phone and its not been a month and I can't afford to waste freakin 6 GB and 4 hours to download them again. Thank you in advance

After your downgrade your phone will not reuse your apps on the SD card. You will need to have Wi-Fi to automatically re-download your apps if you don't want to use your carrier data.

Now is lumia cyan uodate for lumia 520 is availble in India(Hyderabad) na? Beacuse in other phone no update was shown. so i just want to conform whether this update has released in hyderabad or not? Please clear my doubt

In order to get the update you must downgrade to WP8.0 first and check for updates. In order to downgrade you need 'Nokia Software Recovery Tool' you can either download it in your PC or go to your nearest Nokia Service Center.

Im on lumia 720 windows phone 8.1.1 software version is 3056.40000.1349.2002 this version eligible to do this process

I downgraded from DP 8.1 to 8.0 in order to get Cyan on my 1520. It wasn't a rosy process IMHO. Further, my paid apps, they were kinda forgotten, and I had to re purchase a few from Store.
The benefit of Cyan is definitely stability it brings over DP. I was quite frustrated with random re boots and stuttering transition effects on my 1520. With Cyan, things have smoothened a lot, I haven't had any reboot since past 2 weeks. From features POV, there isn't drastic difference, and, you are on update 1, you will miss the folders etc. Rest all is pretty standard affair.

That's odd about your apps missing purchase. I've never had this issue. Did you get some apps on promo or region changes?

No. All apps purchased were for my region and for Cyan, of course I had to resort to Indian region setting (I had set region to US on DP 8.1 for Cortana)

Im on windows phone 8.1.1 software version is 3056.40000.1349.2002 when I connect my phone to Nokia software recovery tool version 1.4.3 , for downgrading it downloads the same software version. how I will be able to downgrade to windows phone 8 to get Cyan.

when I connect my nokia Lumia 520 to software recovery tool the phone is not detected, I am on preview for developers program, this software are installed only by the windows xp R windows 8 system please help me with is.

Please follow the onscreen instructions to reboot your phone in recovery mode until the program recognizes it. My Lumia 1520 and Lumia 1020 was also not recognized initially and it had me hold down Vol - & Power Button to force reboot. Afterwards, the phone sat at the Nokia logo screen and the program recognized my phone. You also might need to change your USB port. Let me know if you have any other issues :)

I don't wanna waste time on having cyan in my 720 but it's better to wait about a month. It will save me usage, time, tension .... And what's the use guys u are already using WP8.1 benefits in cyan are negligible compared to usage and time u waste. In cyan:
Video tuner (not really matters I have movie maker 8.1)
some new settings(negligible)
Stability(patch is gonna be there In a month).

Well I followed your instructions and I am in the step Settings -> Phone Update -> Check for Updates How do I make sure, that What I am installing is not a DP but official 8.1 Cyan. At this point I am still in Lumia Black. Should I proceed. The update version to be installed is 8.10.12393.890 and it goes to agreement page which mentions windows 8.1

Well I followed your instructions and I am in the step Settings -> Phone Update -> Check for Updates How do I make sure, that What I am installing is not a DP but official 8.1 Cyan. At this point I am still in Lumia Black. Should I proceed. The update version to be installed is 8.10.12393.890 and it goes to agreement page which mentions windows 8.1

When you downgrade your phone to 8.0 it is no longer in developer preview mode.

Okay! Thank you :) I m proceeding to install !

Got it ! Its Lumia Cyan now. Resetting the phone now. So logging in now, will no longer register me to DP right?

Hello! I have a Nokia Lumia 520 and few months ago I updated to Lumia Black Using a developer account. Few ago I felt the mobil was getting slow and I unistalled the version, and restored the phone. I have noticed that everytime I restore the phone I still have the Windows 8.1 version. I remember I got that version with Lumia Black, but still now Everytime I restore the mobile,. I find the 8.1. The details on my INFO is like follow: Name:
Model: Nokia Lumia 520
Operator
Software: Windows Phone 8.1 Version SO: 8.10.12393.890
Firmware: 3046.0000.1329.2002
Revision of Hardware: 1.0.0.0 --- In EXTRAS and INFO it says LUMIA AMBER. Should I upgrade to Lumia Cyan even I have WIndows Mobile 8.1 version?
THank you very much!

Alpha Cortana with this update?
Its right?

It's a firmware update. Not GDR Update. So No!

No, this is just Cyan. Not WP 8.1.1.

Nopse it doesn't come with Cyan. I think its a mistake in the article.

No its not a mistake. It says that you get the update and unlocks the ability for you to get Update 1

Right but u need to download uk English

If you want cortana alpha then update dp with 8.1.1

I update DP 8.1 but Cortana showing that is beta version....

And that is going to be good news for around 95% of the people having Windows Phone in India. ;)

It would be if we were not on Dp

you had choice whether to go on DP

Just wait. Cyan doesn't bring anything amazing to WP8 devices.

Just now got a notification saying an update is ready to be downloaded ! 720 user in India . Bravo ! Welcome 8.1 :D

well, u lucky people.. we are still waiting :( im on L720

Ugh. Damn local carriers.

When is the fix coming for those who have installed dev preview?

Don't know... But MS is trying to fix it... Don't worry you will also get the update when it will be fixed...

So those with the update 1 have to necessarily have to downgrade?Or do we have to wait for another update.

You only need to downgrade if you want the Cyan update right now.

That's great... Now just waiting for the Microsoft's fix for developer preview... Will update as soon as possible....

Great to hv cyan update rolling out. Installing now

Uh. No. WP8.1 doesn't have Alpha Cortana. That arrives with GDR1.

Cue the "not for the ### phone" or "not in someCountry" comments

Using the Nokia Software Recovery tool. http://www.wpcentral.com/preview-developers-still-need-downgrade-lumia-cyan

Uaing Nokia recovery software tool...
Search on WPCentral....

Same here dude ... Don't we too expect a surprise as L720 got .., Atleast I saw some using the L 525 except me... Once I thought no one other than me has bought the 525
... Jokes apart ...

Dude.. L525 is the best budget Lumia phone. * FellowL525User *

Yes Lumia 525 is better than all Lumia phones under Lumia 82X

Is the update available to neighbours of India.. That is in Pakistan??

Its not available in Pakistan, yet! Hope it is released soon.

L720 with DP This Side but Cyan Update is not available for those who are using Windows 8.1 Update 1. Hope microsoft fix this soon. Let's hope for the best.

Edit : Downgraded and Got the Cyan Update! Downloading now.

@iamgrv hey bro ... how much time did u need to downgrade .. and also share your net speed. My internet has 512 kbps speed ( guys from other countries dont laugh :P ) so how much time it should take.

On 3g with avg. Download speed of 300 kbps , it ll take 60-75 minutes to download 1.29 gb. And another 15 minutes to install. I did it few days ago. Than update your phone to black.

You cannot this update with 3G. Wifi is the only option.

bsnl broadband..:D i will wait for the fix..

Mine took few minutes as I'm using server internet. As per your internet connection, you'll be able to download it within 120-150 minutes as this update includes "Cyan+WP8.1".

@iamgrv you confused a little more. I asked only about the downgrading time, is that what you were talking about? or you are saying that with the nokia recovery tool i will be updated to cyan+wp8.1 directly.

Whats the size of cyan update for 720???

Last sentence of third paragraph says 920, 820, 620 and 825, John.

To get update 1 do we need to activate previee for developers

You will get preview of Update 1 not the official one.

DId you do some course or you are born as****e ? Can you tell me whats the difference between them ?

Oh yeah bby gimme dat Cyan

Just get me the Lumia Icon update!!!

Guys, what about Europe, Hungary, Greece???

Is out for a while in Italy and Romania, but WPCentral don't want to talk about it.

Meh. By the time att releases the cyan for the us 920, the dev preview update fix should be implemented.

I doubt they will even release it.

Recieving Update as of now. Just WOW

Am still waiting too :'( +620

India doesn't have a 825 Variant. I don't think any market does at this point. I guess you meant 625

Could be the 525, or maybe both.

Actualy Lumia 625 was the first phone to get Cyan in India.. I guess just an error with 825...

Dud you check under the pyramid!

Awesome!! Now I gotta get my uncle's phone and update it.. Thanks

Plz tel me updates size in 520

India gets everything first. ::Hauls ass out of post.::

Now Microsoft only hates Brazilians, I guess.

That's not completely true. You are forgetting about cortana.

Just checked . There is no update recd for lumia 520 wid 8.1 DP and GDR update 1

Read the article guys.. Ppl with developer preview have to wait for the update till Microsoft fixes the problem... or they have to downgrade their phone to Lumia Black - WP8.0 with the Nokia Software Recovery Tool...

When the update will come for 520 in uae

Img omg wht a surprise...

using WP DP 8.1 GDR 1 on Lumia 520, no update received yet.
phone update says: your phone is up to date.

Downgrade your phone to 8.0 then update it

How can we downgrade to 8.0???

Update is only for WP8.0 not for WP8.1. Till wait for fix from MS for WP8.1 dev version

NOT FOR 8.1 DP OR 8.1 UPDATE DP.... FIRMWARE UPDATE

Both 8.1dp and8.1 update dp

Well lets hope it comes out soon for 920 and with the BL issue fixed.

Still waiting for cyan on my CV L520 in Germany

Yuppie. 720 is getting update in India. Downloading :)

When is 920 getting it's update? I need it badly to optimize my my phone. Am currently on 8.1 update 1

Will i get this update on my lumia 525 in india ?

Wait for fix for dev version

Damnnn I'm not gttn the update..I'm a L720 w8 user..

Is cyan update coming to lumia 525?....please tell me...

No it is only for 520,720 users

windows cyan update for lumia 525 is available through nokia software recovery tool.Try

Guys with Phone Memory problem please visit: http://www.windowsphone.com/en-in/how-to/wp8/basics/make-room-on-my-phon... I'm trying it. Will update the comment if it works out.

Verizon dead last for updates again... No surprise there. +928

Actually no, India is the 3rd biggest, 1st is the USA

Updating my l520's! yay! :D

Hey. Can u pls tell me how much data did the update use?? (approx.)
and how is the phone after the update?

Are they for CV versions or branded versions? If they're for CV then I hope CVs in other countries will get cyan soon as well. I hate the fact that branded phones got cyan, while CVs still have to wait. That defies all logic, unless MS was bribed by carriers to delay Cyan for CVs on purpose.

Pls who knows if Cyan is Available for 520 CV : GB

Damn it. Why don't they give it for 920 !!

Is there any noticeable difference between Cyan and the developer preview WP 8.1 for "old" Lumia phones? Like better battery, performance...

I get cyan on my 620 w/ gdr1 CV Italy

Hi all, I'm using 520 in dev 8.1. What I have to do in order to get the update??

I don't get why all the country variants world wide don't have the update yet I mean so far almost every model has the update somewhere

What the fork..?? Why no cyan update for Lumia 920, 820 & 620..?!?!?!

Pls enlighten me when would I get Windows 8.1 update? I'm totally confused now. Posted via the Windows Phone Central App for Android

W8.1 for PC is already available, for WP8.1 , what is ur phone model???

I'm sorry. I meant WP8.1. Also I'm installing it now. :-) I thought I won't get 8.1 coz after cyan update my phone was the same before updating and some people kept telling cortana is also not coming. :-\ Posted via the Windows Phone Central App for Android

Shit man em in dev preview!!!! :(

WPCentral is having India fever......)

Hey everybody is that ok if i changed my region to india to get the cyan update then after the installation turn it back to my original region

No it's the thing with the ROM you can't get the update even if you do so..

What rom i mean is the rom created indian ??? Like that ... How...?!

Yeah each phone has its own country ROM preinstalled so you can't get the update just by a change in region

To get the update you need to flash your phone with Indian ROM

in setting ->extras+info -> more info

Yeah,it only accepts Indian commands,hahaha !

Hlo sir...i hav l520 but my phone does not show me the cyan update....

Looks like the rest if the world will have cyan before tmobile releases it. Still waiting for bitlocker fix and tmobile to finish testing.

Lol, waiting for my phone to be charged before updating. Out of battery at the very wrong time. Haha! Lu720

What are the additional features that cyan brings over the 8.1DP on the Lumia 520?

By the way i m not downgrading as i m in habit of using folders....

Also it takes lot of time to downgrade and upgrade

Same here..will better wait for the fix..

Same here. There will be no such improvements that we are dying for.

Hey guys i installed windows 8.1 and update 1 using preview for developers for lumia 520 . To get cyan update i first downloaded nokia recovery tool which is now lumia recovery tool in my PC. then opened lumia recovery tool and connected my phone to pc. to connect press the power button for long . then it starts installing cyan update.

Ya man. I'll wait for the fix, than to lose my game data n wasting half a day in downgrade n upgrade

Wat d hell..wat we developers preview user will do to get the original cyan update

Is there a fake cyan?!?!?! Lol

As promised by Microsoft... On 7th August they said update for Lumia 520 in India will come in a week's time or 10 days.. It came in a week exactly.. Love it.. Surprise is that Lumia 720 was expected to get next month but they got it with 520... Cheers enjoy this update... :) Thank you Microsoft..!!

Updated to Lumia Cyan!
- lumia 620 , India
Yippie!
But i dont know at the top post y it shiws that its not available for 620..but i got the update 2hours back. :)

Are u sure is it cyan?????

Only cyan or even w8.1??? Posted via the Windows Phone Central App for Android

Are you sure?! Please post screenshots! Thanks!

if this is a joke, many 620 owners gonna have Heart attack. :P

I downgraded and was waiting for Cyan but after reading the article, L720 will get it in September, I again installed DP. Its better I wait for the fix.

Uhh.. Bro... It says that 720 was expected to get cyan in September but it's available right now. Next time read the article carefully, coz the five mins you saved by not reading it, are now gonna take aways at least a few hours for you do downgrade to 8.0 then upgrade to cyan and then again upgrade to update 1. Quite a hassle now isn't it?

I read the article and it said L520 will be getting in August and L720 in September. I was missing the notification centre and saving to SD card, so reinstalled DP but now suddenly they released Cyan for L720, its only 4-5 days I started using DP, and I don't want to downgrade again and do an OTA. Better to wait for DP fix and moreover DP is working fine except some Wi-Fi and battery issues.

Hahaha...this is hilarious man...read the damn article pls...! :D it says it was expected in September but it came early. And you didn't even need to read it... what does the title of the article tell you?? Am sorry but I've gotta make fun of ya man! :D

Shocking lumia 920 didn't get lumia 720 got.waiting waiting waiting for bit locker fix fix it soon MS. Posted via Windows Phone Central App

India is a big wp market, isnt it?

Will better stay and wait with 8.1 dp update 1 than to downgrade for something which doesn't bring anything new except optimization and fixes..

A surprise indeed to see 8.1update, okay so i just installed the first part of update which took around 5-8minutes, now the main part is downloading with 50-60kbps speed im still at 4%with 5 minutes gone, can anbody please tell me what's the update size?? coz i think its gonna take lot of my time or probably this whole night to see the 8.1 os on my L720

Can any body say what is the download size of the cyan update?....i am going to use mobile data connection for the update...

Someone told its more than 200 mb so don't think your mobile data can help you in downloading, if you are on 3G, do try. Otherwise WiFi needs to used to download the update. Posted via the Windows Phone Central App for Android

Yes i am on 3g with 500kbps...so can i?? Der is no risk?

Better use WiFi. 500mb is big. Posted via the Windows Phone Central App for Android

i think ms doesn't even allow to download update using mobile data

hell ya man, dont think, it doesnt allow except on wifi.

Having a WiFi with 8mbps speed itself is taking so much time to download and install. Around 15-20 mins. Posted via the Windows Phone Central App for Android

Update is only possible on Wi-Fi connection

I would recommend to use Wifi and also have enough space in your phone before beginning whole thing, All the best!!

Suck up bloody hells fake news

Suck up bloody hells fake news.

Damn! I thought it was gonna be L920 after L1020!

Hope the bit locker issue gets solved quickly ...waiting waiting MS plzzzz..... love ur surprise for L720

Yippieee!!! I got the update in my L520... Will update tomorrow.

My L720 getting an update for Window 8.1 (Cyan) in Delhi NCR...feeling excited

Why do they always forget L525? Is it not made by Nokia?

Patience my friend.. Every phone has its day..BTW I have 720 with 8.1 update 1..I can't get this update..may be soon I'll.

920 had to see younger bros 720 n 520 getting more love from parents. Big brother issues :-/

That cracked me up :-D I guess none can express that feeling better than how you did :-) Posted via the Windows Phone Central App for Android

Can i wait for the fix ??? I mean I'm using DP of wp8.1 ... Is that safe to wait to get the cyan update officially for dp version.. I dont wanna downgrade .. I dont wanna lose all my data . Can anyone answer me? Or guide me?

Wait for the fix.. I am also having 720 with 8.1 update1, MS promised to fix..So why hurry? Right

My phone isn't restarting... :( after cyan update...
What to do...??

You mean after the updated and ready to be installed?? Don't worry my phone was showing restarting for like good 5 mins. Have patience its a big update Posted via the Windows Phone Central App for Android

It restarted nearly 10 times till now and still it's restarting....

Nah... Not at that time... After the phone is turned off and the two screws rotate.... The phone restarts right... At that time.....

they are gears not screws dumbass -_-

Now it showed be an exclamation mark ( !) and again started to restart over and over again

Change phone,seems you fucked it up,maybe you dumb guys will learn something sooner or later !

yeah i am also waiting ............no news for 820
hate it

It is showing the Nokia logo and then disappears and again reappears....

If its in swithoff condition,connect the charger..I tried this on black update. Or its on NOKIA LOGO should try to hold power and vol down for vibrating

I tried that too... It dint work... :(

Try pressing contemporary the camera button,the switch button and the volume down button and at the same time take the battery out,if it doesn't work,then it means you fucked the phone,so throw it away jerk!

Now it showed an exclamation mark (!) and again started to show the Nokia logo over and over again

if your phone is not starting or appears to be stuck, you can also recover your phone with "My phone does not start up or respond option" (only available for Windows Phone 8 models).

It's wonderful to read about people fucking up their phones,great jobs guys,keep on with it !

I am getting the WP 8.1 update on my L720

Lol and still no cyan update for 1520.1 Netherlands country variand its really taking To much time while other phones all are getting it omg anyone got it on This Phone pls pm me

Pls anyone know if cyan is out on the 1520.1 Netherlands country variant pls pm me if u know !!!!!!!

Please do not spam. I also have a 1520.1 but mine is from Belgium and mine also hasn't received the Cyan update.

Yeah I got the update too

Going to start the download now leta hope it work out

Can anybody tell me how much size is the update

About two bags and three cups :)

I guess i was the size of the update not your weight

"my 920 is waiting for u 8.1...."

Good news,now we can all sleep better !

Huh! Is out for Italy for weeks and you guys don't say about it.

Yes.... on the email. And on the forum too....

You guys only care about us and India, the update for 720 is out in several country's in Europe and the wpcentral never notice that. U can check Nokia website. Stp Americans think they have a king inside.

... What country are you from so I can insult it and its people too?

I think he is Italian like me,and also I think that you guys should stop following everything that rolls out on the Indian market,it's still the smallest for WP,are you guys trying to build it up for Microsoft?every day 80%of your news is focused on wats out for India.cheers guys !

Whoa whoa whoa!!! You jelly bro??
"Its still the smallest for WP"???
Get your facts straight man.

My facts are strait,get informed better man :)

http://www.theregister.co.uk/2013/09/19/microsoft_windows_phone_beats_io...

It's the biggest for the 520,that's the fact !!

Errr.. In case you missed the ceo is an indian. :p relax man. Lots of ppl use wp here in India and there's plenty of support from developers as well.. Its good for the ecosystem. Stop complaining

Up to now the only ones that complain are from India,read the posts,and as for the CEO,yes he is of Indian origin,but we educated him in USA,just like Indians were educated from the English.!

@bruno, kid if you don't know anything, don't talk crap. "INDIA get educated from english", joke of the year. Go and learn history.

@burno, India is the biggest market of wp8. If you don't like lndia related articles, don't read them. For your kind information, Microsoft ceo got educated in India.

@burno @manash He is a chubby kid with so much fat around his waist other then his mouth its impossible for him to move anything else you see.So he just take that beating on anybody poor Burno. :P

So,we have a lot of angry Indians here today ! And yes,I am oversized,115 kilograms and 62years old,but as for sense of humor I will never change myself with any of you !! Especially with the ones that wake up in the morning and wait for the posts on updates for their phones.....real jerks.and also BURNO is in the Czech Republic,my name is B r u n o.

@Bruno Sain For one, we had ZERO tips from Italian users about their Lumia 720s. Dozens about India. Second, India for site traffic is our THIRD largest (behind the US and UK); Italy is way low on that list.

@Daniel Rubino Is the update only through OTA cant we download it now through Nokia Software Recovery

825???
Wow never seen that...

I tried to update my Lumia 720 to Windows 8.1 I got an error message : "The update couldn't be downloaded (801882cb) Did anyone get the same error? please help. Thanks Arun

It might be Low Phone Storage issue.
Refer following link.
Worked for my Lumia 720
http://www.windowsphone.com/en-in/how-to/wp8/basics/make-room-on-my-phon...

What the hell... It is out for L520 but not for L525..

Hey man,it's not Microsoft's fault if you got the wrong phone !

Seriously dude...both devices are almost same....still

Does it has to be always talking talking before u roll out the lumia cyan update globally. Microsoft sucks

No way to download it via mobile data? I am using 3G! But have no wifi currently!

Finally we will have a lot of happy Indians out there !

Oh god... Why can't they just release it for everybody! I'm probably gonna have to wait until October :(

Its a surprise for Lumia 720 owners in India !!

Awsome I got update thnks Microsoft exprncng new luk

K, wpc guys, you can go now on a vacation, and you'll be free from that tormentors comments.

So wen is lumia cyan update for lumia 520 rolling out globally?

Tomorrow morning,wake up early and wait for it,jerk!

Hey kelvin don't take seriously Bruno's comment, he is just angry because he doesn't get update for his mobile so......

Haha,Bruno has his updates on his 925 and 820 since over two weeks.Kelvin,don't worry you will get it soon,ore matter :)

aha download is ready ,, yupeeeee

No updates for the 525,out if production now,so don't hope.

I'm sticking with the gdr1... lets hope MS will fix the Bitlocker issue quickly

No one interested to download next preview for developers for the next version of os.because of downgrding.and i don't want to be a Dev from now

Since when have you ever been a developer?,you just applied to get the preview,so shut up and wait asshole.

Well well.Microsoft is more like Greek Gods.And those on dp version are experiencing irony of fate.MS offered developer preview to the more curious and impatient humans saying "Go.Thou shalt enjoy what most others cannot."So,we,impatient humans downloaded developer preview.And now comes the irony of fate.All the patient people who chose not to taste the fruit early are getting cyan and to us,impatient humans who ran a dp version,Microsoft God says "GO TO SLEEP.THOU SHALT NOT ENJOY WHAT MOST OTHERS CAN."Speaking of the fiix,I think MS has a fixation with fixes.

Gave up waiting for L925 TMO Cyan lol. Wtf.e I just want a new 5" device.

Bug fix update no come why

Again l620 last receive Lumia cyan.

No..it will be L525 this time...it is a forgotten device...even in the lists...

525 is nit going to get updates,so keep it as it is ore throw it un the garbage can.

Why should I downgrade if I will get the WP 8.1 using recovery tool as it will check for latest firmware n that's it 8.1 is out... Just need to get the update one again

Where the crap is the Cyan firmware update for 1020 on AT&T? Should I unlock my phone??

What might be size of update for no DP..?..

Did Cyan get it the notorious equalizer?

Sir can I know when I will get Lumia cyan update for my Lumia 520 ....

chutiye,downgrade ur 520 and check for update,CYAN will be there to download!

Sir and small dout I have updated already 8.1 with preview developer .can I downgrade it from Nokia care??

They wont do that.. U hav do it manually

Nice surprise just before independence day....
Love you Microsoft

Its our "INDEPENDENCE DAY GIFT.!!!"

Ur right
Happy independence day to India
And Nokia India for the surprise gift

Seriously! are you guys so stupid !?

Has anyone down-loaded the update for L520

Experiencing new features wth my L520 cyan update

Could I need internet using nokia recovery tool after downloading?

Yeah the phone reverts back to the state of original out of box...

I am getting cyan lumia 520

What equalizer comes in cyan in L520??

One for your brain asshole !

U really are an annoying jerk..

Unable to download update using 3G mobile data. Please help.

Updates can nit be made over 3g,read your phones instructions jerk.

Could anyone post what's the battery life after updating to windows phone 8.1 Cyan...and howzz the update with regards to switching apps etc.. ??

Battery backup is increased.. And charging time reduced.. I found this .. While I've used dp also

Yay... Best day of my life

Haha ! Best day just because you are getting a Phone Update ! Get a Life Dude !

When cyan come to 520 indonesia?user 520 here already take developer preview because cyan took so long time to come to indonesia.

When is coming in indonesia for Lumia 720???

Started updating my L520 around 5:30 AM Still (its 8:20AM now) waiting for completion. First it updated to 8.0.*something* then to 8.1. I hope the wait is worth it. 3 cheers for MS and NOKIA.

I m a registered in preview for developers so what can i do now?

You can either Downgrade to 8.0 using the Recovery Tool or can just wait for the Update for DP users, MS is fixing it!

Go to bed and get some sleep so your little brain can get some oxygen,dumb head !

I'm not going back to 8.0 to install cyan. Can't afford to lose my files.

Waiting for #brasil, kkkk

Waiting for middle east update for Lumia 720

can anyone tell the size of download of update in 720

One 5 MB update and then 459mb

This news makes us happy,thanks!

I have updated my Lumia 720 in India. WP version is displaying as 8.10.12393.890 but as per my knowledge it should be 8.10.12395.xxx Can anyone confirm am I correct?

No update for 820 ... Waiting for such a long time . Microsoft not showing any love for 820.

8.1 updte & chyan update these two does it make any difference....,imL720 user

I had registered as preview for developer programme few days back But did not download DP. I refrained myself from downloading it. Will i get Cyan update notification?

No,you will get a two weeks free vacation asshole !

Yes its there.. !! Installing right now on my l720. Such a surprise. I was totally not expecting this month

can u tell the size of update....

It is somewhat going in the order the phones were released.... So my guess is that d next will b 525>620>820>920. Shoot!...i'll b d last one to get d update!!! :(

I have a Lumia 520 in India,but not getting update notification.

Well India is a big country,soon or latter it will get to you,be patient.

I am not getting Cyan Updates.. It tells Your Phone is Up to date, Using LUMIA520 .. can anyone tell me the reason??

Did you buy a fake copy of 520?

I too not getting the update and i m sure its not a fake copy because I have been updating every GDR update since i bought it in May2013..

Lol...but not for 920??? Weeird! :/

@jay papai Same here dude

My update is getting stuck at 19% please help.I have 1.50GB free in phone memory

It sticks because you don't have enough memory,you need at least 3gigs for the update process

Don't talk rubbish. Maximum 1.5 GB space is required for download and installation.

What is d size of d cyan update for luma 720 india

489mb.. And one minor update of 5 mb

Why Microsoft not going to design any model like L 720.
I like it's design.530,630 all are not look so awesome.

lumia 720 is cannibalising there own models. If one compare 820 with 720, 720 is better product for its price. It has better camera. Far better battery life. and it feels better in your hands. So i guess they won't be doing this mistake again and that premiuim feel you are talking about will not be there in the future low ranged lumia models

This promises other regions will get updated pretty soon too, put some back into it Microsoft.

What About Bangladesh(L525)?

Enyone update his Lumia 520 in cyan update in India....

i did in the morning! i downgraded and updated to CYAN!

Hy friends I m using dp version on Lumia 520 in India but how to downgrade my Lumia 8.1 dp to Lumia 8.

If u have warranty ,then go to Nokia care .t her they will do for you..

my l720 is stuck on spinning wheels while updating. what to do?

What about update for Lumia 525??

I don't get cyan update yet for 520 India.Not officially listed in nokia tracker page

No I am not using Dp.still Lumia black

it is not available for me too....
lumia 520, wp8 black, India

already updated my lumia 1020 to CYAn and now updated dad's 720 and sisters 520 to CYAN!

Is urs 520 is hanging after cyan update???

nope. not at all! infact working smooth on all devices!

Have u got cortona..and is it is available in India for 520

my 720 a little bit hangingafter cyan update :(

Why don't Microsoft/Nokia make the Software recovery tool to do 'Cyan' update instead of 'black'??
That would save a lot of time for us with wp8.1.1 dp.

Nokia Software Recovery takes my L520 straight to Amber, not even Black ...just downgraded...i guess it should now jump to Cyan dodging Black :P :P

How is it working in l520..?

I hope MS solves bitlocker issue soon!!!

Yeah,I,bet you can't sleep at night without the updates ,your friends have them and you don't,socially your out,poor guy :(

I didn't slept whole night till my phone gets updated, now yawing like hell. But sad with update lots of bugs and errors.

Can any body can tell whether 520 got cyan update or not plzzz

If I didn't downgrade in wp8...then I can not get cyan update in 520?????

You need to wait, until MS releases a fix for DP users. I'm also on dp8.1.1 and i'm waiting for the fix, don't want to downgrade.

Is it avaliable in Pakistan??

Dear All I have updated my Lumia 720 to cyan today. working fine. Thanks....It was a bit surprise though. steps which i have taken 1. Restored the old firmware using nokia software recovery tool 2. then checked for updates. Got 8.1 prepare update. finished it 3. again checked for update. Got cyan 8.1. 4. Took half an hour to finish all. 5. Enjoying :)

Is you updated to cyan via nokia software recovrey tool or through wi fi??

Can anyone tried to upgrade their phone to cyan via nokia software recovery tool once its downgrades to wp 8???

hureeeeeeeeyyyyyyyyyyyyy !!!! today is my birthday i just imazing may i get #cyan update at 14th august ,,,,, my wish came true ........... thank you so much #microsoft !!!!! salute !!!! yeah wp is mast then other topai os ha ha ha ha.........

This article made my day .... Really a GOOD Surprise for my Nokia Lumia 720.

How do I update for lumia 720 cyan in Indonesia, I had already tried the update, but have not been able to

Aaj Pakistan ka bhi bday hai....lol

Look I am not happy cause still Microsoft could not fix the problem,,,,If preview for developers enable lumias will not get CYAN update then this pvd update is worst program,,,,,,I hope they will fix the problem when I wake up tomorrow...

Why do you need cyan. WP 8.1.1 DP has more features than cyan update.

Guys pls help me, tell me one thing that if I update win 8.1 by my phone will this void my phone warrenty..?

Are you kidding?? Off course not...

Tell me guys will update void my phone warranty

Are you dumb???? IT WON'T VOID YOUR PHONE'S WARRANTY. Developer preview did void the warranty. This is official Cyan update and hence it won't void your phone's warranty..

Hey how many times will you ask the same question??

I m geeting error 801882d2, i got this error 20+ times while downloading update, it says could not download update. Error code 801882d2. Is ms can deliver an update properly, trying from last night till now, but always fail after some downloading. Plz resolve it.
Lumia 520 without dp

Me too! So i am not the only one *hush*

I did the whole thing, downloading-installing-restarting-spinning wheels- and i am still on black! And when i click the button, i get this error..

My L520 is out of warranty then I can update my phone plzz reply me???

Offcourse you can. Warranty has nothing to do with the phone updates.

Says, update was downloaded but could not be opened. Please help

Tell me guys will update void my phone warranty.?

Tell me friends do manual update using wifi void my phone warrantyy??

Hi, all Lumia 520 users in Indonesia. Some words from local nokia team that lumia cyan update to start roll-out on 16 August 2014 (this saturday). Let's just wait patiently & hopefully it is true...

What the hell i updated my l720 but i didn't got any change answer me ??????

The update is divided into 2 separate packages. You have to download the 2nd one too

I downloaded the cyan update on my friend's Lumia 520.. I think people who are on developer's version of WP 8.1 GDR1 are better off.. Lets wait till MS fixes the bitlocker issue..

When cyan update will be available for 525?? Please reply

How much space do i need to install wp8.1 update?
Plz rply immediately

Can anyone tell my how much MB i need to download to update my phone. I don't have a wifi connection here. Will mobile net connection do the job?

Is any body phone is hanging with cyan update in 520???

Waiting for Lumia 620 Cyan update.

Really a huge surprise for 720 users...!!!!

Didn't like the facebook option in people.. It opens up facebook app.. Which is damn slow.. !!

I didn't like the new facebook app thing in people menu in 8.1.. It opens up facebook app which is damn damn slow... I hope ms dv brings back the old facebook setting n all in next upadate...

It won't happen. All the old style hubs are gone. They are too messy to update....

What happen if I unchecked in dp application in my Lumia 720 !!!!

What happen if I unchecked in dp application in my Lumia 720!!!

I just updated my Lumia 520 to 8.1 its awsm OS :P But How do i set my status to Online in messaging so that i can use Windows Phone chat feature like we do in Windows Phone 8 ?

Feature has been removed in WP 8.1 ..

When is coming indonesia??

After update 8.1 my phone some what hangs ...can anybody tell me what is the reason??plzzz

How much time will it take to update?

But it is showing under testing

Can anyone tell me how much MB i will have to download to update my phone? I don't have a wifi connection right now. Will normal net connection do the job?

Hi!! 520 user here... Updated it and I have been using it since 3 hours. It's very smooth guys and it's awesome though I experienced lil hiccups but now its all good... Loving this fresh look. Very happy

i am trying to update but dont know what the problem is it roll back again itself on its own to 1% after reaching a certain progress

Is cortona present for 520??

Wtf? Previous Flagships like lumia 920 are still on hold.... What kind of strategy is this from Microsoft? Disappointing...

Ian not getting Cortana alpha version can I know the reason

It will be released with Windows 8.1 GDR1 update. Will be available in coming days!!

When we gonna see CYAN with DP installed?

So i downloaded the update.. Downloading -installing-spinning wheels-restarting and then.. Nothing.. I am still on black, and now when i click the check for update button.. It shows error..can anybody help? It'd be appreciated..

U have to download package 2 also. just go again to settings->phone update-> check for update and bingo!! u will gt windows 8.1 available for download!!

So do I need to downgrade from previews program to 8 so that I can update or was that fixed?

When is coming on Indonesia for Lumia 720?

is downgrading risky for the devices???

Wtf where my Lumia 920 update, I've been with windows phone since the start, very disappointed!

Any one got the wifi arrow for any l520 or l720 users??

if any indian brother having problem to update Lumia 520. Then he can contact me yr .. Same here I update my Lumia 520 in Lumia cyan awesome

8007000d error. Update was downloaded but couldn't open the update

I have updated to cyan update but it some what strucks in 520 what to do can any one help me

Hey...i have l520 with black update...yet my phone do not show me the cyan update....plzz suggest me any1 what to do???

Currently updating my lumia 520 to official 8.1 update from microsoft(not preview for devlprs), got it today (14th AUG), lumia users in india with country variant phones can now download luia cyan now

When is Europe following for L520 and L720? I hope very soon. Had anybody in Europe received Cyan on 520 or 720 yet?

We have app called the cyan update, it shows me the update is under testing. Anybody from India, please genuinely tell me weather you have updated your phone to 8.1 or not??? M using 720.

it says: your phone is up to date.
- lumia 520, wp8, India
:( help

just downloaded the new update foe Lumia 520 and boy oh boy feels a fresh new phone and loads of things to look up gr8 update to beat andriod and yes it takes full 2 to 3 hours to download and complete installation ...a hassel free update gr8 work by Microsft and Nokia

What is the size of update??

What is the size of cyan update???

I am running WP 8.1 GDR1, I will wait until Microsoft would fix bit locker issue.. I think Microsoft should lift block for developers preview updates as bit locker enabled phones are only getting issue. This may limit to bit locker enabled users to downgrade and others will continue...... Any how eagerly waiting for fix.....

will lumia 525 users get the cyan update next month ??

Absolutely loving it for last 12 hours on my 520. Thanks WP

Any new features for Lumia 520 compared to WP 8.1.1 DP?

For some reason I am not getting the update, it says that it is upto date, I haven't upgraded to the developers preview and have a normal Lumia black 520

Yippee! I got Lumia cyan + windows phone 8.1 update on my Nokia Lumia 520 right now at 1:30 am on 15th August at BHUJ- KACHCHH, GUJARAT. INDIA. Thanks Microsoft

How do I update for lumia 720 cyan in Indonesia, I had already tried the update, but have not been able to......

After cyan update in my 520 it is hanging sum what ...can any one can tell me what is the reason??plzzz

Couldn't download even now (l520) error 8007000d couldn't open the update. Free storage 2.1 GB

Couldn't update till now error 8007000d couldn't open the update. L520 free storage 2.1 GB

After downloading the update my 720 is lagging and slow, not sure what's going wrong. Did any one else also having the same issue

when I connect my nokia Lumia 520 to software recovery tool the phone is not detected, I am on preview for developers program, please help me with is.

hai i need MX Player for my nokia Lumia 520. any buddy can help me to download for free . please help me with is.

Sir and small dout I have updated already 8.1 with preview developer .can I downgrade it 8.0 and how can i downgrade , i dn't have windows 8 system to install NokiaSoftwareRecoveryToolInstaller i have windows xp system , it's posible to downgrade through wifi plz give some ides to downgrade to 8.0.. please make help of this.. please reply

hi everyone, I have updated my Lumia 720 yesterday. But not able to get the Alpha version of Cortana as a Live tile on start screen. Can anybody help me in configuring the same.

I've tried to update lumia cyan in 720, but can not update, I've arranged with India or US countries, but still can not update
what's the solution, inbox in my email address thombad007@gmail.com
Please help me !!!

Yes Finally I got the Cyan Update...
It's Really A very Neat update..
& Brings Facebook & Skype as Pre-Installed App...
My Lumia 520 Seems to be Faster now..
& Enjoying Some Camera Improvements too...

Enjoying The New Lumia Cyan On my Nokia Lumia 520 [ Indian Region ].. It's Really A Very Neat Update ... & Yes I too Downgraded My Mobile & got Update... Downgrading took nearly 20 mins and Complete Upgradation took Nearly 2 hrs.. And this Update also brings Facebook & Skype Has Pre- Installed Apps.. And this Update has bought some Speedness for my Mobile -&- Some how its better than Dev Preview... And New Camera Developments are Quite Good too...

CYAN UPDATE for Nokia LUMIA520 is available in Bangladesh from right now. Gonna download in a while!

what happens to windows phone 8.1 update 1 , when cyan update roll out to dev. preview phones?, will it erase update 1 and install cyan and then again we have to download and install dev. preview windows phone 8.1 update 1?

Still nt gettin' Mobile networks in action center....

no USB settings option in my 720 :(

I observe a serious discharge rate of my battery even if I am not using it its getting an instant decrease. It is same as my first update to WP 8.1 without battery performance improvements update. I am currently using GRD1 of WP 8.1

I have the Developer WP 8.1 update 1 installed. What data will i lose after downgrading to WP 8. Kindly, fill me in.

I have the Developer WP 8.1 update 1 installed. What data will be lost after downgrading to WP 8. Kindly, FILL ME IN.

Cortana India sucks, better to keep US beta. It sounds better and alive

I purchase my L720 in Saudi Arabia and now I am in India ,but my 720 is not taking cyan update ,please help me

I own a lumia 720 and I am from India. I still haven't got the software update notification. I checked for updates but it says my phone is up to date. Confused.

Hey I upgraded yesterday to cyan on my 720. But since then my One Drive app is not working and I can't even uninstall it or update it from the store!! Help please

Im on lumia 720 windows phone 8.1.1 software version is 3056.40000.1349.2002 How to downgrae to 8, please tell me the Process... Thank you

Hi There, 2 days back I have got an update on my Lumia720 for 8.1 which i processed & got it done. Now i am told that the version which has been updated in my phone is a developer preview. I wanted to know if windows 8.1 update is been rolled out for L720 (India) if yes how can i update my phone coz i dont see cortana & some other important features in the currently updated version. Thanks!

Does downgrade works for India??

Still waiting for Lumia 525 in India with DP.

Does downgrade works in India??

I had upgraded my Lumia 520 phone to Lumia Black version today. After the upgrade finished, it again downloaded the same version and installed it. I thought I finally got WP 8.1. But when I checked the 'Extras+Info' section in my phone, it says 'Lumia Black'. It seems my phone has installed Lumia Black twice or something. My phone is once again showing 'Downloading updates..', but I turned off the Wifi connection. Can't I get WP 8.1? Why is my phone installing Lumia Black version over and over again?

Wow!! I got some quite weird method about getting Lumia cyan+wp 8.1. (im using L720 in indonesia, CV) first all i got official lumia black on my phone, i keep checking the phone update, but it says my phone is updated. A couple hours ago, im trying to reset my phone for NO REASON. Im just curios how to do hard reset on lumia, so i did that. the my phone resetting, and i just got wp8, NO LUMIA BLACK UPDATE. i keep checking the phone update, but it says nothing. But then i use nokia software recovery tool to check the update, and that it! I thouht thats the update for lumia black (just 1,38 GB), after downloading and installing, i got the wp 8.1+official lumia cyan.. Thats really weird, because the cyan update for 720 in indonesia is not yet been release. I guess im the lucky one :D Note: No personal setting, app and other things changed, because i restored them with MS account

Awsmmm.... I got 8.1 in my l720 its awsm.... But expecting alot......still no cortana in india

The Windows Phone 8.1 OS is very good and fast OS but there is some disadvantage in my Nokia Lumia 520 that I can't change Microsoft Account in Add account Session, and I unable to change Microsoft Account until I reset my Phone.

Although the nokia support site states that the Cyan update is still 'Under Testing' for Belgium, I was able to upgrade to Cyan OTA yesterday evening 10 PM. The update happened in 2 steps. At first my phone started to download an update. When finished (after 20 minutes) it said that my phone was ready for upgrading to WP 8.1. So I went back to the Phone update screen in Settings and checked again.
And yes, a new download started. Does anyone have an idea on what was included in the first installation? Gr

sir, my Lumia 720 a little bit lagger after i updated to CYan

Updated my Lumia 520 to cyan 7days ago. Since then its hangs a lot ,too much lag , internet explorer crashes again and again. Even got an error msg that the battery saver is having some problem and needs to be uninstalled. Is anyone else facing this issue?

I have the Lumia 520 with WP 8.1 Developers' Preview. That's Lumia Black I suppose. Since Lumia Cyan is the latest update, I would like to get it. Is it available in India? I have read that I need to downgrade. If I downgrade, will I lose anything from the phone? I need all apps, settings, call history game data, etc to be restored later. I can't afford to lose anything and download the apps again. Please advice me regarding downgrade and then how to update to Lumia Cyan. Do I need to take any precautions?

lumia 520 fail to boot, tried for hard re set but fail, software recovery vial PC tried, but get windows 8 not support by my lumia 520 , what i can do now??
Windows Central Newsletter
Thank you for signing up to Windows Central. You will receive a verification email shortly.
There was a problem. Please refresh the page and try again.