Lumia 530 and 630 make big gains, Lumia 535 a hit in India but Windows Phone flagships are scarce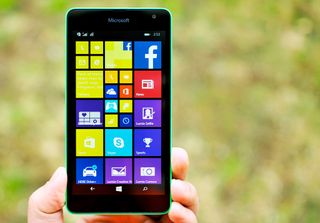 Latest AdDuplex numbers reflect Microsoft's gains from yesterday with the Lumia 535 becoming a hit
Yesterday, Microsoft released their FY2015 Q2 numbers demonstrating year-on-year and sequential growth for their Lumia smartphones. Although selling 10.5 million phones in one-quarter can be seen as a drop in the bucket when compared to Apple or Samsung, it is rather impressive. Microsoft posted gains during a time when the OS is in transition, and no new Lumia flagship was announced.
This morning, AdDuplex, who runs a very popular cross-promotion advertising network on Windows and Windows Phone, posted their latest stats about the ecosystem. Collected from 4,995 different apps (not users) the AdDuplex report paints what is considered the most accurate picture of the landscape.
The story is the same, in many ways, from previous reports: low cost and budget phones rule the roost for Windows Phone. This time, the Lumia 530 and Lumia 635 make significant strides globally while the Lumia 535 is taking off in India.
Windows Phone on a global scale
What is most interesting about the worldwide distribution of Windows Phone devices is the sheer amount of budget phones and the lack of high end. Granted, the Lumia 930 was announced nearly a year ago, but it does not even factor into the main categories. Instead, it is lumped in under "other". Same goes for the Lumia 1520. However, the venerable Lumia 920 and Lumia 925 sit at nearly 9% globally. The fact that the Lumia 830, Lumia 930 and Lumia 1520 have not pushed out of a smaller data point is telling about those phone's resonance with customers.
The Lumia 930 is no Lumia 920 in terms of market – or – mindshare.
In more positive news, the Lumia 635 has jumped from the ninth position to number six worldwide. Likewise, the Lumia 530 climbs from the tenth spot all the way to becoming the fifth most popular Windows Phone.
As evidenced by yesterday's numbers, Microsoft's broad release of both devices (including in the US on most carriers), and heavy promotional discounts have put many new Microsoft Lumia phones into people's hands. More so than I think many would have anticipated due to the negative press surrounding Windows Phone these days. Then again, people who typically buy these budget phones are not the type to follow tech news too closely. They are a very different demographic from the techno glitterati that try to define trends.
Lumias own 96% of the Windows Phone world
In terms of manufacturers, it is all Nokia (Microsoft Corp) with a massive 95.6% of all Windows Phones sold. HTC (2.56%), Samsung (0.99%), and Huawei (0.56%) make up the remaining amount. The absolute number of Lumia Windows Phones, when compared to others is astounding. It makes you wonder why a company like Verizon would continue to push the Samsung ATIV SE (which is a superb phone) over a Lumia, where customers tend to gravitate.
Indeed, with nearly 96% of devices being a Lumia, you have to wonder how can any company claw back into the Windows Phone ecosystem to compete. HTC is having middling success with its HTC One M8 for Windows, but not enough to make a difference. In addition, despite that phone being an excellent flagship, its limited release to just two US carriers (AT&T and Verizon) with a much more limited rollout on T-Mobile is clearly hindering any gains for HTC.
Lumia 535 doing gangbusters in India
Back when the Lumia 535 was announced, I wondered if Microsoft could push the phone broad enough to make a difference. I guess we now have an answer.
In India, the new Lumia 535 has become the second most popular Windows Phone in that country. Sitting at 9.1%, it is only bested by the nearly two-year-old Lumia 520, which still commands a massive lead at 26.8%.
The numbers appear to back recent reports of shipments nearing 500,000 of the new phone to India. The Lumia 535 is on its way to becoming a bona fide hit in India.
The Lumia 535, despite some touch screen sensitivity issues, is a perfect budget Windows Phone. It has 1 GB of RAM, a rather generous 5-inch display, well-performing processor and more importantly, a front-facing 5MP camera. Combined with swappable back covers and an affordable price, the Lumia 535 is turning out to be a great decision by Microsoft for India.
However, it remains to be seen if the Lumia 535 can exhibit the same level of growth outside of India. Currently, the Lumia 535 has no presence in the US, despite it being an ideal budget phone for this market too.
The need for a disruptive flagship
Pooled together with yesterday's numbers from Microsoft and the Windows Phone landscape does not pose many surprises. With no new flagship Lumia this holiday season and an OS in transition, it is only because of the low-cost Lumia phone segment that Windows Phone has show growth of 1.3 million phones.
That's the good news.
However, Microsoft's high-end problem looks to be quite severe. The Lumia 830, Lumia 930 and Lumia 1520 are not making much of an impact. Compared to the Lumia 920, which I still consider to be the most iconic Windows Phone to date in terms of mass adoption, and Microsoft really needs to consider their next move.
A new Lumia flagship is not expected until later this summer. The timing is likely for two reasons:
Windows 10 launch
Microsoft is putting much effort into the design
Many people have desired a 'Surface Phone', which is a meaningless phrase. However, what people do mean by 'Surface Phone' is a Lumia that has the same distinctive quality as the Surface line of products.
Indeed, when it comes to hardware, Microsoft has proven that they can make some exquisite devices. Between HoloLens, the Surface Pro 3, the new Surface Hub, and the Microsoft Band, Microsoft has the chops to re-invent the flagship Lumia.
I am convinced that Microsoft could have stamped their name on a high-end Lumia that was already in the pipeline, much like the Lumia 535. However, my guess is the company is going back to the drawing board after canceling their 3D Touch 'McLaren' phone. And why not?
At this point, I would rather a phone built by the same people who brought us the Surface Pro 3 and Microsoft Band combined with the ex-Nokia crew that now works with Microsoft. If this is what Microsoft is doing whatever arrives this summer could be much more than just the same old Lumia Fabula design. It will be the closest thing to a Surface Phone, and I think it should be worth the wait, especially with Windows 10.
Source: AdDuplex
Windows Central Newsletter
Get the best of Windows Central in in your inbox, every day!
Daniel Rubino is the Editor-in-chief of Windows Central, head reviewer, podcast co-host, and analyst. He has been covering Microsoft since 2007 when this site was called WMExperts (and later Windows Phone Central). His interests include Windows, laptops, next-gen computing, and for some reason, watches. Before all this tech stuff, he worked on a Ph.D. in linguistics, watched people sleep (for medical purposes!), and ran the projectors at movie theaters because it was fun.
535 is really going to be a hit phone!

with the 535 price and specs, it's not just best budget windows phone, it's best budget smartphone there is , period

Even Chinise mobile makers here in Pakistan cannot compete in terms of Price and specs and i really happy that Microsoft made some bold decisions to remain in the market and they ve succeeded Apple and Samsung are already captured big market share in almost every country but Microsoft making thier path between them this is a big success for Microsoft.

I'd have to disagree and say the new Moto G is a better budget phone.

Moto G is pricier for a budget phone.

We are talking windows here

No, New Moto G is priced 13k in India compared to 535s 9k which puts it in a different league . And 730 only costs 14k so Moto G is definitely a 730 contender and not a 535.

@TastyLumia I disagree with your disagreement because the 535 is the true budget phone, as in budget meaning low price and good quality. Moto G is more expensive! In price sensitive markets, the 535 trumps Moto G price-wise.

The original Lumias had curves... but then Nokia released the boxy Icon/930 and that's just not where people wanted them to go. I hope they abandon the boxy, blinged up chrome styles and come out with something fresh & innovative.

I am truly excited for a new "Surface Phone". Hopefully it will have similar spec to... Windows 10, 5" 1080p full HD screen, snapdragon 810 8 core processor, 3gbs of ram, 50mp pureview camera with a 8mp front camera, wireless charging, aluminum unibody. Yeah its gonna be awesome...

Why 3GB of RAM?! 2GB is plenty, it seems to me. I didn't notice a substantial performance difference going from the Lumia 920 (1GB) to the Lumia 1020 (2GB).

That's because in 1020 2gb ram is only utilized for photographic tasks, for the system it still runs 1gb ram. Pick a 1520 or 930 and u will definitely feel the difference especially since they have processors capable of handling 2gb ram intensive tasks.

@Athull That still doesn't prove that there will be a noticeable difference in performance between a 3GB and a 2GB Windows phone. Until proven otherwise, I would agree with @MassDeduction that 2GB is plenty for a Windows Phone.

No with a massive camera of 50mp I believe a single gig of ram will be needed for the camera alone for speed. The other 2 gigs would be strictly for the system. So with the Snapdragon 810 and 3gbs of ram I see the phone being supported for at least 2.5-3 years. You know "future prove"

I do have a 1520. It does feel a bit faster, but it has a much better CPU so it ought to. And your assertion that the full 2GB isn't available to the system on a 1020 is the first I've heard of that, got a link?

No with a massive camera of 50mp I believe a single gig of ram will be needed for the camera alone for speed. The other 2 gigs would be strictly for the system. So with the Snapdragon 810 and 3gbs of ram I see the phone being supported for at least 2.5-3 years. You know "future prove". I would prefer the phone to last. I have a 920 and if I had just another gig I think I could hold off on another phone for another year.

I would $h*t a brick if a phone like this appeared, haha, but why not dream?

Very few options when it comes to flagship phones in India

Like people wait for flagships (dt too Windows) in India. -_-

Yeah...but some do... Like me...920 here and bought it for 36k

Lumia 1520..... Bought it for OMR 161 (INR 26000 / USD 417 approx.) during a clearance sale 2 weeks back in Oman... Totally worth & awesome Windows Phone period!

Lumia 535 is a sure hit in India , But we are in trouble answering every 535 user about the touch and video plyback isssue in our fb group...

Touch has been fixed in the new lot, bought one a few days ago for a friend. What's with the video playback?

yup but not properly optimized.. and it cant play full HD videos..

Oh! Wait till the next HIT low end Microsoft Windows phone :D

Am i the only one here ?? My phone keeps giving creep-creep noise when we fast forward any video.

If you are talking about default video player,then yes

No! It started happening to me after WP 8.1 and its still there

Me too, even though I don't even have sound on. Lumia 920

No. You're not. I get that too on my Lumia 720.

It can play HD (720p) videos nicely, though. Why would one want to play FHD (1080p) videos on a qHD (540p) screen anyway?

may be , i will want as i play 1080p video in my lumia 520.. it used to play in default player without any lag in wp8 but with a slight lag in wp8.1 but moliplayer can player 8gb 1080p movie without any lag....

I mean if your screen is 540p, it doesn't matter if the video is 720p or 1080p, there will be no difference in quality.

Actually, the colours might be slightly better, and the sound quality might be as well. It of cource depends on what the spurce is.

Same here bro. It was one of the strong points of the 520 I considered when buying it 2 yrs back. Back then I guess no other phone in it's price bracket could possibly play1080p videos without a hitch. Even now there aren't many phones that can play 1080 p seamlessly in budget range.

Yes for my Lumia 625 when I fast forward a video, turn off the camera and turn off a flashlight app

No matter how well phones sell like hot cakes here in India ..they wont give us bundle offers like uk us!!!

Bundle offers? You mean pay for the phone over a 24-36 month period?

I meant free accessories along with mobile device!!

I've only ever heard of the 830/fitbit bundle in the US. What do you want it to come with?

They didn`t even create bing translator to major local languages like tamil, gujarathi. They didn`t make cortona to available here, How can they provide bundle offers to you, You expect too much!

My Lumia 520 still rocks in India and globally too. Long live Lumia 520.

And the 625 good Quality Phone 4G, 1080 HD, Camera & Video excellent & it's running denim

@Yasin Agreed. It actually has been the backbone of WP market share.

L520 Saves your ass from bullets as well... The worthy successor to the mighty 3310. Posted via the Windows Phone Central App for QWBASIC :|

Because flagships are not so popular. Entry and medium levels are the point of the business

Well. You need to sell 9-10 NOkia 535 or 1 Flagship phone. profit is made in the flagship segment. they are also more likely to pay for apps in the store and accessories

Flagships = Profit
Low+Mid-Ends = Market Share
Yes, both are required, at right times.

Yep, especially in India.

Sure, low end is very well served by Windows Phone. They should definitely be aggressively pursuing this low hanging fruit. And they are and have been. But we still need flagships... otherwise WP is the "cheap" os, never getting press attention, and not having the same type of loyal fans aggressively pushing it. Right now there are no Lumia flagships to be had in the US, other then the remnants of remaining 1520 stock if you find a six inch phone acceptable. So people trade in their 920 and move on to Android. Incredibly stupid on Microsoft's part to force out their most loyal fans (who evangelize the platform to their friends and family) by not even offering a phone that suits their needs, while simultaneously releasing two new budget phone designs a month.

I think it's more of a case that there are so many 920 and 925 owners who are holding tight and waiting for a true upgrade option. The 1020 was essentially the same with a better camera, the 1520 quite too large to be a mainstream success (not to mention being crippled in the US by AT&T), the 930/Icon being an exclusive in the US and, when it finally came out in other markets was already feeling stale. The HTC One for Windows is another case of being too late to the party and feeling stale at release. 8.6% of people are waiting to replace their two year old phones, and Microsoft hasn't given them something they feel like is worth keeping another two years...

Are we 820s lost to the world? ...sniff...

There there Posted via the Windows Phone Central App for QWBASIC :|

I think 520, 530 & 535 provided much better hardware compared android phones at same cost.

520 hangs a bit, 530 never, I have used it personally. And 535 is obviously a hit with 1 gb ram

YOur hanging issue might be after 8.1 updated. The spec with 512MB Ram with dual core are basically for 8.0. To run 8.1 smoothly you need 1GB with quad core.

If that is true, then 512mb ram phones won't be getting W10

No question about that when OS performance is considered. The 520 is still a very usable phone on the newest OS after almost 2 years but that's unheard of on Android. The 535 should do even better because of it's over the top specs for the price.

The 530 only provides better hardware for the price when they pay you to take it. Otherwise it is an abysmal device on all counts

Then they must have paid a lot of people to take it because the 530 is the fifth most popular Lumia worldwide.

Moto G or E? Plus the many low ends of Xiaomi? Their are lots of great low end android phones. Posted via the Windows Central App for Android

I suppose at least two flagships should be announced one around 5" and a new phablet (with stylus :D ).

While I'm happy for them... Please get rid of the 520, 521, 525, 530 and give people the 532!
Those old models should be completely discontinued and replaced with the 532.
I, for one, am happy with my 1020, and eagerly waiting for the 1030 :P

The 930 and 1520 can't make an impact because they have such limited availability. No 925, 930, or 1520 in Canada. Neutered version of 1520 limited to AT&T in the States. I would have been a day 1 buyer of 1520 in Canada if it had been released here on all carriers (Bell).

The question I have is, will a flagship help bring app parity? Several flagships are what the platform needs but will that bring parity? Mids haven't done much and low end phones have not faired any better.

I don't think so. The low end volume is what helps most with that, and it IS helping. But we still need high end for many reasons.

Windows Phones have a great change for becoming a success in India. Keep bringing more features and apps.

535 is a great budget device but even after the update they didnt fix the multitouch bug..my local nokia care said MS is working on a 2nd update but no official words yet.

No matter how well phones sell like hot cakes in India ..they wont give us bundle offers like uk us!!!

That's basically because we're not carrier controlled. You can of course check Microsoft's online offers at Amazon India if offers are your concern. They offer pretty good deals during holiday seasons.

It isn't just about offers they get free accessories along with mobile devices .. Like wireless charges.. CP Cases..etc

The lumias I have bought don't even come with headphones like you get in India. My latest 735 did come with a free fitbit, but this was a Microsoft offer, not provided by the carriers. Posted via the Windows Central App for Android

Better you dint get a earphones ..i bought L930 last October d earphones I got with mobile was the one usually you get for low end Nokia Symbian phones .. Even that's the case for L730!!!

Good article and tellingly, a sensible last paragraph. All of you screaming "Want Flagship!" like two year olds, read and understand.

Certain regions need a flagship to make a name and break into the market like the North American region and with broad availability. As for me, if no flagship ever, I'll use my 1520 until it drops dead, then hop over to the iPhone (with struggle).

My one year old yellow 1520 has cracks on the USB charger slot and one huge crack just below the rear cam. Hang on there, 1520 until the "Surface Lumia phone" comes later this year!!

Sure. The Windows phone mantra. "Wait another ten months and we'll get you something great.". And WE'RE the two year olds. Ridiculous... there is no argument that can be made that makes sense to NOT have a flagship out there. When people lose their phone or their phone breaks, they don't have the option to simply wait another ten months. They move on to a platform that offers something to them. And they're not likely to come back. Likewise when their contract is up. They head to the store and see what's out. Oh, no Lumias? I'll have to get an Android like all my friends have.

Who's to blame? MS or the carriers? The M8 windows would do well in Europe ( uk please). Have to wait and see.

I doubt it would. It has the power of the three largest us carriers and no other competitor from windows phone side and still isn't exactly relevant in the us. Something tells me it won't be much different in Europe....especially when Nokia, who usually does well in Europe isn't relevant with the 930.

Being the 535 to America already

At least, perhaps instead, 435 appears to be coming (see below).

I have a horrible, buggy, crashy HTC 8x Last week i bought an LG G3 and returned it, i then bought an iPhone 5s and returned it. Windows Phone is definitely the mobile OS for me... So with the lack of any other options and a need to get rid of the 8x I've ordered myself a 930, even though i am 99% sure i will replace it with Microsoft's flagship in the summer. I don't really like the 930... but I've got no other options at the moment

what about the 930 you don't like

There is a slight lag between pressing the lockscreen button and the screen turning on, my 8x is faster at this. I dont like the whites on the AMOLED screen, they are too warm and yellowish for my liking, even after fully adjusting in the settings. I would like it to have Glance and SD support but thats not such a big deal for me. Its damn heavy. The capacitive buttons are a duller, more yellow colour than my 8x which has cooler, bluer capactive buttons. Apparently the battery life isnt as good as it could be, and it gets very warm. This is just what i have found from having a play with a relative's 930 (My biggest gripe would have to be with the whites of the screen, appart from this the 930 is a definate upgrade and should serve me well until Microsoft's flagship arrives, can't wait to use the awesome camera with Denim improvements)

I hear complaints about SLIGHT LAG and esthetics (whites on the screen, yellowy buttons), battery life (could be better) and weight (??). Glance and SD are no dealbreakers. Your main problem seems to be whites on the screen. But I gather that the 930 is better liked by you than an Iphone or an Android LG3. I wonder what your complains were about those two?

If he's like me, then nothing really wrong with Android or iOS. But as he said "Windows Phone is definitely the mobile OS for me". I too just prefer Windows Phone. I came from Android since Eclair days and no complaints. It's just that I prefer Windows Phone. Go figure LOL!

Oh yea , I think the new Lumia flagship will also have the new Intel chip set for mobile moving away from snapdragon. So naturally, starting to build flagship from scratch. It's make perfect since to start with new entry level phones, capturing market share. Now CES is over , Windows 10 briefing is done , we are closer to Flagship release, and I think when that happens its going to be Amazing!

Intel. Was that a pig flying by?

930 is @6,3% in Germany - mine is one of them :-)

No surprise. If the carriers in my area carry a windows phone at all, it is one of the low end budget models. It is literally the only phone you can buy unless you buy one off the internet.
I wish they'd break down the "other" category more. 35% is a lot. How many 1020's are out there?

I personally believe its a toe in the water concept, the majority of the general populous didnt even know windows came as a phone untill recently. For that reason alone carriers aren't sure they can sell a product with little to no publicity or reputation. Honestly if it were named anything else I wouldn't have even bought mine, because i didnt know what it was. I had no clue wp was around before 2013. Its all about commercialism

I think surface phone means angular and metallic, not rounded, colorful, or polycarbonate.

Lumia 930 came in black or white, had angles. Had metal. No, "Surface Phone" means whatever you want it to mean. Everyone has their own idea of what it should be. It's a unicorn phone, a blank slate to which you can paint your phone fantasies on, which is why it is meaningless.

Love that - unicorn phone!

Feisty today. I did say " I think".
That's what I would want and I've been rocking a yellow 1020 for a year plus, and a cyan 900 before that. For me, it's time for something different.

Nah, not meaningless. CJ Thunder is fairly accurate in his description and for that reason the 930 is as close as we've come to a "Surface" phone. The two most signficant features would be a metal case, especially a VaporMg and square edges. I expect a large survey of features that people would expect of a "Surface" phone would reveal those two features as being the most frequent. There's meaning to such prevalence, as to whether VaporMg would be an appropriate phone material or are square edges really best, is another idea entirely.

MS should take a poll to customise our own flagship and based on the results/feedback, they should launch a few phones

I don't think people generally consider a flagship of Windows phone (they generally consider Apple). Hence only affordable windows phone are sold in good qualities.

A flagship with great features and marketing would sell. We have neither. The Surface Pro sells because it has both of these.

Bring on the Surface Phone! One phone to rule them all. The world is ready, I am ready, and so is my wallet!!!

But the budget conscious regions aren't ready.

They have enough budget Lumia's to choose from.

I agree with you john.
(but my wallet isn't ready. Please gift me a Lumia 830, or a 730. XD)
I do love my 720, but its old now.
Very old.

Lolzz! They sure do! The question for you and I is, will we have new flagship phones to choose from and if they do, will your choice of carrier take it?

We Indians are lucky in that sense. No carrier BS. Everything is factory unlocked and available to everyone. Posted via the Windows Phone Central App for QWBASIC :|

I think Microsoft should drop the 8xx series. Today, consumers are either looking for a flagship or an affordable and solid phone. The chart reflects that reality, too: no Lumia 8xx has enough market share to be shown.

I really like the 830 design. If they upgraded the processor and front facing camera it would be my ideal phone. Posted via the Windows Central App for Android

Does Microsoft own Nokia? It seems like every windows phone is either Nokia or HTC. They really need more phone brand options.

Microsoft bought the hardware division from Nokia, so yes. Nokia no longer makes phones.

Thank. God. Lol i was gonna say, this really isn't a bad phone, its actually pretty high end for the low end of wp. Cant hate on a dragsnap processer ;) but yea i hated nokia before lol

No. They bought Nokia's D&S division and fired half the people. They are, however, now the responsibles for the entire Lumia line. Nokia legally can't make phones until 31st December 2015. After that it's fair game. Posted via the Windows Central App for Android

They already have I thought?

No. The Nokia N1 is a tablet. Tablets weren't included in the deal. Loopholes ;P Posted via the Windows Central App for Android

Ah thnx , well then...duely noted

I remember that restriction was about using Nokia brand on smartphones and even after that restriction ends Nokia will most likely stuck with technology & brand licensing for the time being.

After the restriction ends Nokia will follow its new scheme (the one already used on the N1) for phone production which is almost exactly the same scheme that Apple uses. The only difference is that it's not a Nokia division to handle consumer support and sales. Which means if the phones don't sell, it's not Nokia losing the money. Posted via the Windows Central App for Android

Can't wait for windows 10 and the flagship of this year for Microsoft...... +.+

We all know this. Fall is forever to wait. Its ridiculous. Not waiting. I hope HTC M9 comes out soon and HTC doesn't make WP wait

The flag ship which is coming shouldn't lack any thing like less vibration , no glance then only it will be a flag ship to represent Windows platform........

Here in India, the 535 is a hit because it has a big screen and a 5 megapixel front facing camera. Companies like micromax provide great specifications for a low price, and the Lumia 535 on paper looks like a very good device. In regards to a surface phone, it's a dream really, and I think it will provide Microsoft with a lot of positive media attention, due to the surface pro 3. Hope a fantastic high end phone comes in time and everyone will be happy with it. :)

So Lumia 830 and 930 are big flop phones !! :*(

830 was too expensive for the performance.

It is a beautiful phone, but I agree. With that CPU it should've been $200 less.

930 is an amazing device. It would've been a bigger, or maybe biggest hit if only it had SD and Glance.
Glance isn't really something you can't live without, though.
About storage, cloud storage is preferred in already-developed-nations like the US. However, the absence of SD card is a deal-breaker for a lot of users, especially those from developing nations like here, in India, where people don't have enough access to high-speed internet availability that could serve them purpose, all the time. It's not that people will always use up the whole 32GB storage but it should be understood that those going after flagships are mostly the power users.

I wouldn't say cloud based is preferred at all. It's practical yes when you are the go but when the servers go down or you have spotty connection and no WiFi, there goes your cloud servers with your date. At least with the SD card slot you'll always have your data on hand. I say SD cards slot are still relevant and important. Posted via the Windows Central App for Android

It was the memory that stopped me from upgrading my 920. If they'd made it 64Gb or put an SD card in I'd have gone for a 930. Without it wasn't enough of a step up for me.

Oh and I'm in the UK with a good 4G tariff so cloud wouldn't be a problem. But for video like having it on memory so contention and patchy signal on commute isnt an issue.

Hopefully they check with the engineers before buying the cheapest screens next time. What a mess, forgetting to include a major feature from the previous gen.

Gautam Kabiraj, I ABSOLUTELY AGREE with you. If the Icon/930 had Glance, a SD Card Slot and wide availability in the US I think the current market situation would have been much different and we would not have had quite the whining about "no flagship" as we've had. Personally I think it takes just a little to make a product a miss rather than a hit and the two features you've pointed out combined, makes the 930 a miss.

The 930 is a piece of sh*t. If the lack of SD card wasn't bad enough, the phone is plagued with hardware problems. It's not a worthy successor to the 820 let alone the 920.

Flagships are planned to announce together or after buying a flagship, they will announce something else when summer is over? I hope MS has enough time to launch a flagship like 920 which will be high in specs/quality/adoption/looks!

And availability. You could get a 920 basically anywhere which really helped adoption rates

Microsoft needs to do a better job at making sure phones are widely available on all markets, and support the required frequencies in their respective markets. I know many people who often say they would have gotten a particular Windows Phone device but didn't because it was not out in their country, or didn't have the bands they required.

Here here! If people dont like nokia or HTC and there like nahh its cuz they need more contracts with different options

Even lumia 730 is a hit in india :)

Agreed! It sold like hot cakes on Flipkart!

So where's lu 1330 after some reports? It's cancelled ?

Likely Mobile World Congress in March.

If only 1520, 1320 and 1330 were 5.5 inches. Posted via the Windows Phone Central App for QWBASIC :|

For me last paragraph is everything. Daniel has got some info about true flagship.

Sad to see Lumia 930 and the 1520 in the others section. I upgraded to the 1520 from the 520 a while ago, and I remember being surprised how it was a totally different and pleasant experience. More and more people need to see the performance and speed of this OS on high end phones. Some apps were such a pain on my 520, and they run seamlessly without any issues on my 1520.

Flagship coming in late summer.I don't know if I'm ready to lay down five to six hundred bucks on WP10 device.Need to see some significant growth in the app department before I shell out my hard earned money on another WP.

That is a huge obstacle for sure. There's always this feeling that the phone might not even be supported for the duration of the contract period. That feeling has been there for years now though, but it lingers.

On top of that,with all the issues that I had with my 1520 don't know if I'm willing to take that gamble on a flagship device from Micro.App gap,Bad hardware. I'm kinda in a wait and see mode on buying another WP.

Inspiring words Daniel =)

No surprise re Lumia 930 and 1520. One is riddled with issues (from the display to over-heating to battery life) and doesn't have Glance. The other is just plain mammoth, and has a very annoying tap/swipe/scroll bug. Still great phones, but Nokia/Microsoft essentially shot themselves in the foot with these flaws. All avoidable... especially not putting a display technology compatible with Glance on the 930 and making the 1520 gargantuan.

My 1520 had all these issues,but the worst one was it would go straight to voicemail and not ring.Had to power the phone off and on everyday for the phone to half ass work.

Having issues myself. Currently having dropped connections, the back button light comes on off, making calls causes screen to go black and can't doing anything without pushing the power button once or twice, still have touch issue no matter how many updates. Otherwise love the phone very much and will buy another if I had too.

Not sure if even without any of those issues they'd move out of "others". Lumias are mostly popular in markets (outside the US) where low end is the deal. I have observed people think that investing in a Lumia flagship is risky somehow or Idk not worth it. So they instead go for low end phones and end up complaining about how they don't get all the features with updates.

Lol my old 920 was a nightmare. Screen was faulty, case had noises etc. But my 930 is perfect.

hasasimo, you're absolutely right, there's really no surprise at all that the 930 and 1520 did not break out of the "other" category. The 1520 is likely a great phone but a six inch phone is necessarily at this point in the market, a niche device. An absolutely important niche device to have in one's catalogue of devices to sell, but again a niche device.
And the Icon/930 almost leaves me speechless. A phone that could have been a contender, however design decisions leave me feeling contempt. I have no idea what Nokia could have been thinking putting out a flagship without a signature Nokia feature, Glance. That was just amazingly stupid. And I feel that at this point in the market all flagships should have a SD Card Slot (and no I really don't care about Apple and it's lack of a SD Card Slot).

A surface phone this summer!!! Oooo... It could it could! Anything can happen! Windows 10 might change the market for the phone!

Preach it. I'm struggling using my 920 when I see all the new androids come out with awesome screens and are fast.

My Lumia 920 is much faster than crapdroids, even after two years...

Eh, I'm a proponent of Windows Phone, but I think it's expected that a phone with hardware that is over 2 years old will be slower than a brand new Android with modern hardware.

O please and so is my Nexus 5 and iPad Air after two years and my old rooted 2012 Samsung S3. But even compared to modern phones, they aren't anywhere near as powerful as they once were compared to the new flagships. Don't lie to yourself Posted via the Windows Central App for Android

My be unrelated....but its seems to be MS forgot to upgrade rest of devices to Denim in tempo of 21st event!!

535 would own budget market in us. MS should sell directly.

435 appears to be coming at least (See below).

I too am hoping for a "Surface Phone", but not just good hardware (the 930 has that covered as far as I'm concerned) but some truly standout feature. Something akin to iPhone's finger print feature, where it is something useful you can't really get on any other phone. The McLaren seems to have been that, and Microsoft seems good at keeping secrets for hardware if they so choose so... I have hope that something revolutionary can come out. Also, they really need to make their phones available in the retail channels and on at least 3 of the larger carriers. Having an excellent phone that isn't sold where people usually buy phones is completely useless.

Poor business from MS. A L930 with sd-card and glance screen would have kept most users happy while waiting for the new 10 device. Stupid way of annoying the leading group or pack, who go or decide not to go for the new stuff companies want the public to buy. Cyanogen replacing Google's hegemony at Android, and sophisticated device releases like http://www.mi.com/in/note/ will make it hard to keep the WP herd together.

TTAH, can't agree more. "Poor business from MS. A L930 with sd-card and glance screen would have kept most users happy while waiting for the new 10 device."

Slightly off topic but MS US site lists 435 as coming soon:
https://www.windowscentral.com/e?link=https2F%2Fclick.linksynergy.co...

Cheap phones sell well in the USA too!

I am very jealous with Samsung , HTC , Apple and other smartphone , because they will introduce high end smartphone in March 2015.
But there is still no news about the successor Lumia 1020 , I have PureView 808 and Lumia 1020...I appreciate the greatness of this two handset.
But now it is the year 2015 and now it's time successor Lumia 1020 to introduced .
But what is happening now is that competitors will introduce their great products earlier than Microsoft .
In this Mac at MWC Microsoft will not introduced high end Lumia , because Windows 10 needs to be prepared .
The initial design of Windows 10 for Windows Phone is not as good as the expected ( a little disappointing ) .
However it is still in the early development , hopefully Windows 10 for Windows Phone will update with a great and unique designs .

Did you see any high end Lumia in the table? Not one of them in th etop 10 except 920 and the 1020 in the last place and those are more than 2 years old phone. This means that high end Lumias don't make much money for the business, so why bother? 520 is selling, 535 is catching up, 630 has made it's way to the top. Way to go cheap Lumias! You're the bread and butter for Microsoft Mobile division.

High End Phone will come with a better camera technology . That's what I most need. Better technology , better hardware and more Megapixel. All it will only be included in the High End Lumia...that's why i must wait successor for Lumia 1020.

Poor analysis. No high end Lumia in the table except for a two year old 920 does not mean "why try". It simply could mean that the current attempts at a high end Lumia simply lacked "X" to become a hit. I think it's bullsh*t that WP cannot support a hit flagship (given the relative position of WP would indicate what a "hit" would consist of). Nokia and Microsoft have simply failed to market a phone with the right mix of features and design to sustain a hit flagship.

Coz Microsoft has lost its freakin mind!! They rarely advertised any high end lumia compare to low end.. Being sarcastic.. I can say Not an single Advertising is done for Lumia 830.. I've bought it just because i come to know from WindowsCentral and Nokia's Social media advertisements.!!

I remember seeing an awesome video of a commercial MS did for the Lumia 830 posted here on windowscentral and I have yet to see that commercial on TV. MS Fail!!

Yeah but I sure do hope Windows 10 changes this

The 60 second commercial that MS plans to spend millions on for the super bowl had better be something truly innovative and awesome showing off Windows 10 on all platforms. I do not want to see Hololens in this commercial or maybe just a short tease for it at the end.

I agree with you about not wanting to see Hololens in a SuperBowl ad at this time. At this point in the game it's a niche device in search of an application to run it. Pushing it now is fairly useless. Let all the tech geeks drool but the masses don't care too much and won't be happy to spend $400 plus on a device which let's them put icons on a wall and play Minecraft in their living room. NICHE NICHE NICHE

I see Lumia 635s more than iPhones now :) or at least the same numbers seen every day

Texas, USA. I also saw a couple of people showing off their Cortana against Google Now. Cortana got the best reactions from spectators.

Ok.. with all due respect I must say I doubt there are anywhere near as many 635s as iPhones out there. Sure you are not mixing iPhone 5C with the 635. ;)

Okay first of all. One can easily tell the difference between a windows phone and iPhone. Not even the same colors. Second, I never stated that there ARE more windows than iPhone. I said SEE more :)

why I used the ;) ok, you must frequent places of extra-ordinary WP phone concentrations then! :) MS Texas offices? :P

I've seen several recently too, actually. Gives me some hope.

That's cool. Over here I see practically no Windows Phone at all. My cousin had a old white Lumia 920 that was cracked and he replaced it with the new iPhone 6. I had a friend who had an HTC 8x but idk what happened to him and I have a cousin who has a old Lumia 520 but replaced his last year with a iPhone 5c. Posted via the Windows Central App for Android

I wouldn't go as far as saying more than the iPhone. However, we had a fire alarm at work the other day and I was pleasantly surprised to see the number of 630/635 phones that people were using whilst we were waiting to be given the all clear to go back into work. The green one was very popular, although I only buy black phones myself. Posted via the Windows Central App for Android

I bought a Lumia 535 last week for my Windows 10 preview experiment, and yes i have problem with touch sensitivity. My "double-tap-to-wake" doesn't work all the time and some links in the app store when downloading an apps don't work too. Is there anything I can do with it, or do I have to wait for an update or is it a hardware problem?

"I am convinced that Microsoft could have stamped their name on a high-end Lumia that was already in the pipeline, much like the Lumia 535. However, my guess is the company is going back to the drawing board after canceling their 3D Touch 'McLaren' phone. And why not?" MS absolutely should have stamped their name on a high-end Lumia in the pipeline - although not sure if there even was one. They seem to have been caught with their pants down when McLaren failed. As some have suggested they should have at least been able to do a quick reiteration of the 930 to address its slight specs flaws (and hopefully also shedding a little bit of the thickness).

McLaren was kind of ugly to me. 1020 too. Amazing cameras but the 20MP in 930 is more stylish and practical.

oh if it was indeed the one in the recently leaked pics, I tend to agree - although its always a bit hard to tell from leaked pics alone. 930 with slightly slimmed down body, glance, and SD card would have gone a long way.

"930 with slightly slimmed down body, glance, and SD card would have gone a long way." yup yup yup

Viipottaja, gotta say I agree with you more than I did with Daniel. I think an iteration of the 930 as you've stated would have been nice and I rather liked the pictures of the McLaren with the exception of that camera hump.

The Lumia 830 was priced around $100 - $150 too high and still as of today no sale from AT&T. I wish they had offered an option without the free Fitbit for $349 or less and I might have bought one on Next 12 before Christmas. This and the fact that it did not have real Denim or Lumia Camera 5 were dealbreakers for me. Now I have to wait patiently with my aging 920 until something better comes along. #Boo

530 is just scrap... Horrible display...

Yeah was bit of a disappointment.

It's a budget phone granted, but for around £59 in the UK, what do you want. It's a phone, let's you send texts, is a satnav, a music player with free music with the Nokia music player, camera, games console, and web browser. For the price I think it a very good device even if the screen is not the best. Posted via the Windows Central App for Android

I feel like touching shit when i use it...

I think the 930 is a wonderful successor to the 920 and I can't understand why it wasn't more popular. Im unsure why Daniel cites US carriers as issues, hardly any windows phones are sold there anyway I'd be more interested in knowing why it didn't do better in more developed countries with high windows phone volumes

Windows phone is bigger than iPhone in Brazil.

If the 930 or some variant of it had come to AT&T mid last year with Glance and SD card then it would have pleased a lot of AT&T 920 owners looking for an upgrade. Or they could have just beefed up the specs on the 830 for the price they were asking.

Just to note that AdDublex e.g. in September 2014 claimed the Lumia 521 (only sold in the US AFAIK) represented 5.4% of all Lumias. This would imply fairly significant volume. Then again, now, oddly, it doesn't even feature on the chart - they may have of course combined to the 520 share (then again, e.g. in the September chart the 520 was listed separately). More likely though, IMHO - AdDublex data is far from reliable to begin with.

I truly think Nokia, wrt flagships, was kind of flailing around near the end, flinging stuff around to see if something would stick, without any real coherent strategy. While not exactly "phoning it in", they were close. All of their upper level devices had compromises, and a unifying identity. As frustrating as its been with my Icon, however, it did come along at the right time to see me through the transition. Mine actually works flawlessly, and if Vzw never releases an update, it will still be a quite serviceable device through this year - at which point we'll know pretty much if Microsoft will survive another round in the phone arena or not.

ifs and buts were fruits and nuts it would be Christmas all year long!

Whatever is in the pipeline for a flagship, I am confident, will be worth the wait. I am still very impressed with the Lumia 1020 I use daily but admit, the lack of new luster and shine at the top-end is making it difficult to convince others to adopt... In Canada, where a newer flagship is no longer listed by any of the major carriers (save for Rogers, perhaps), this is especially the case.

one can only hope AdDubplex data is not very reliable (as I would guess is indeed the case) as the "other" manufacturers share of 0.29% is VERY worrying, given all the new OEMs and their phones supposedly already out there.

Windows 10 and flagship this summer is going to be the make or break/stay same for Microsoft in terms of phones. While there has been good and bad news from the earnings report, as usual the media/anaylsts tend to slam Microsoft. Although not likely the variable aperture feature that Myriam Joire requested would be great for the flagship (granted many maybe most users won't know what it is, this isn't going to sell the phone). I think the Lumia 830 nailed the design/size. What it needs is flagship hardware. The 830 is my favorite in design from Microsoft/Nokia. I prefer the boxed shape rather than the rounded 920 as I can lay the phone on its side if needed. Finally Windows 10 needs to solve the app issue. With losing apps especially something like Chase, it is really a sore point for Windows. Will existing Phone apps run on Windows 10 on tablet/desktop? I understand the need to rebuild a universal app, but if for example Chase won't work on its current app, I don't see them rebuilding an app. If I can run whatsapp on windows tablet, that would be great, until they rebuild it!

I always said 830 with SD800 would have sold well.

I can see More and more Lumia phones nowadays. Thats great.

Not surprising to see 535 doing well considering 730 is out of stock on most of the places

Perhaps the 830 should do better in the US if it were available on most cellular networks. Not everyone wants to be with AT&T. If I could get this for my T-Mobile prepaid account, I would buy it in an instant.

It will sell well if its cheaper

And cheaper. I'm not saying it's horrible but for what's it's packing and just 1 gig of RAM, at the price point it's at, it's not really worth it. Posted via the Windows Central App for Android

The problem the 930 faced was many who had jumped in on the 920 were then tied into a 2 year contract so it got passed by. Now that contract is ending there is no new flagships to keep us locked in

Lumia 520 is still most popularity and awesome phone. After 21th windows 10 event some users discuss in windows central forum windows 10 not come for windows phone 8 low end devices. But now I am 90% sure windows 10 comes to all windows phone 8 device include low end devices.

Going with the 930. I really wont have the money to upgrade to the next Windows phone, mainly because I am stuck with an iPhone for my main line (work). I will be purchasing a 930 (for my play phone) as soon as taxes are posted. I will be ordering my on expansys ASAP.

Lumia 730 is also as hit as 535 in India

can't wait for that flagship... buying it as soon as it hits the stores (if it will be any good) otherwise i switch my L920 for iOS or something... i don't want to do that... really.

Good analysis! I also think flagship phones can wait a little more at this stage. I think people would be pissed to buy a high-end phone now and 6 months, see they cannot run X functions on the phone because it was not optimized for Win10.

I like the idea of Microsoft influencing 2015 Lumia flagship. Lets hope it is worth the wait.

Flagship or budget/low cost, there is no balance in the Lumia handset range. More handset choice around the 8xx range would be better for alot of us. A quick refresh of the 1320 would be welcome ( whilst we await the new flagship device/s,) with NFC onboard. I would upgrade my ageing Lumia 820 to a model like that.

I still can't believe Verizon was the only US carrier to get a version of the 930, which was pulled from the website after 8 months. Is MSFT embarrassed by this phone or something?

ppl happy more with 535 but i thought ppl are mad more behind 730.

I think a big reason why high end lumia sales are so miniscule is that they don't offer the same bang per buck as the lower spec models. Sales of the 930 would have been a lot different if it had been built with either expandable storage or at least 64GB RAM. Off contract, the 730 has been priced as low as £130 in the UK; the lowest I've seen the 930 is £330 and I really can't see £200 extra value in the higher spec model. A better camera and slightly larger 1080p screen? I hope that Microsoft don't make the same mistake with the 930's successor or any 'flagship' phone they might release to follow the 1020.

2012-13 was the best year for WP flagships. After that its been all about budgets to be cheap about it...

Rarely is there ever such thing as a bad product... Just a bad price point/value... Lumia 830 is great... At $250 off contract... It blows chunks at $450... I got one for my wife, lightly used, international unlocked for $220, and we are very happy with it...

Been asking for a Surface Phone did years now. Maybe...

Exclusivitiy, availability, and comparable specifications for the existing "flagship" 930 is what hurt this model. 1520 and its descendants was, is, and will always be niche. Even Apple wasn't able to make BIG go mainstream (compare Samsung). The 1520 news isn't a surprise (speaking as an owner). As an early adopter and fan, I really am excited for the promised flagship Windows 10 device. If Windows 10 is imminent (i.e. this year), it does kind of make sense of why the flagship was delayed post 930. We should not expect the experience for a phone designed for and shipping with Windows 10 to be the same as devices which are "ready" or "compatible". Replacing my 1520 for the smaller 830 is an acceptable alternative that I am most pleased with. Bring on the flagship, its been a long time coming... woo!

I hope they bring the Surface brand to phones with Windows 10. Surface for high-end phones, Lumia for mid and low end phones.

Daniel, can we petition in any way to ask for a worthy flagship? Your article ended with amazing words and real encouragement to msft... And honestly I think your voice alone would be better heard than all of our voices combined..

This is true we have seen much innovation from Microsoft. I believe this new coming flagship will be impressive

Quote: "It makes you wonder why a company like Verizon would continue to push the Samsung ATIV SE (which is a superb phone) over a Lumia, where customers tend to gravitate." No wonder needed. Verizon is the UBER-Carrier and tells the customer what to want.

that's funny and perhaps also the reason for why I am not on Verizon.

I'm all for a flagship blazing new design trails, but it still should be said that the "same old Fabula design" remains the best, most beautiful, most durable, and most comfortable smartphone design that's hit the market. So I'd be loath to see the Fabula eliminated completely. Just to be clear, I am referring to the "true" Fabula phones, such as 800, 900, 920, 1020; not the bastardized stuff on the low end (i.e. 520) that do not share the same polycarbonate unibody and "2.5-D" rounded glass.

I recently bought the 630, not bad, at least better then that useless forgoten garbage 610 that i previously owned.

I love my 925. Still flying like its first day

How are used phones handled? I just bought a 1520 off eBay. Is that 1 to 1 vs new phone purchase?

My God! Does anybody buy Lumia high end phones??????

Back when Nokia was in charge I did. All the Lumias I had were high end (800, 920, 1020, 930).

Daniel, Absolutely DO NOT call the Surface a "meaningless" phrase. It is increasingly clear that MS recognizes the long-term value of x86 computing devices. With just a little bit of luck, MS will actually release a Surface Phone late this year using the Intel Atom Broxton SoC. As you well know, MS missed an enormous opportunity to be disruptive with the 830. Knowing that it would be 10 months before a real flagship showed up, all MS had to do was release the 830 for $299-325, and it would have sold extremely well, possibly more than the 920 The 830 has five main upgrades over the 535: Slim design, main camera, 720p, 2X storage, audio recording and Qi. But the main camera advantage is mitigrated some by the 535's 5 MP FFC, and the storage is a marginal upgrade given how inexpensive a 16 GB memory card is (less that $10). In no way is the 830 8.6 times the 635 I just bought off ebay for $58. The extent to which the 830 is OVERPRICED is beyond astounding, and your reporting via AdDuples clearly supports it being a flop.

This... I mean the 830 thing

wow, I agree that Daniel's got his panties in a bunch and really ought not to be calling a "Surface" phone meaningless, but my response to you is going to reinforce the idea that it is a unicorn device. That is I expect that a "Surface" phone should not be taken to mean a x86 phone, but rather a VaporMg case, and likely squared edges, simply an aesthetic feature and not a reference to a chipset. I think you've gone beyond what most people intend when they say "Surface" phone.

Just do what apple did with the iPod by adding a cell radio and calling it an iPhone. Then for the iPad they just made a bigger iPod. MS already has their "iPad" in the surface. Shrink it down, add cell capabilities and voila Surface Phone!

Why don't Lumia upper end phones sell? Mr. V

Bow down to the Lumia 920...

I love my Glossy Red 920. I'm simply sad that Nokia/MS has failed to create an appropriate replacement. Many of us have the same feeling...

"Surface Phone" = Giant Zune HD, mmkay?

Surface phone all the way for me :) !!!!

There are two things I don't like here. The comparison is between windows phone only, and that too conducted on the basis of data collected through (what I would call) 'not-so-reliable' method. Secondly, why so much fuss about the 'flagship'? The strategy is to target large number of users, who come from the budget end. With 10.5 million Lumias, MS shoudl have nearly three percent share in Q4 2014. This is likely to increase as 535 rolls out in more markets, and we have even lower priced 435 and 532 coking up. Then next in-line would be a proper mid-range 1330. I think this is good neough to rope in good numbers. Then having a proper flagship, which after so much of a delay will be something worth waiting for, towards the later part of the year. It all sounds pretty good strategy on MS's part, perfectly in sync with their plans for Windows10, Surface and Band.

I run a successful affiliate program on Flipkart and Amazon, selling mostly smartphones. While the Moto Gs and Desire 8xx series sell in huge volumes, I'd have hardly sold 5 Lumia devices till now. 830 is too expensive, while in the lower price range, the competition just beats Microsoft hands down. What they need is to price 730 at 12k and 830 at 16k..

Hey, hey, hey. I read a lot of negative press about WP and I still bought a L 1020, so don't insult me. And even though I am not a techno glitterati, i do try to define the trend with my L 1020. But let's get serious. Companies like Samsung, Htc and Huawei, like most other WP manufacturers, except Microsoft of course, think they can gain significant sales and market share with Wp by bringing one (or maybe two at most) smartphones to the market. Wrong, that's an insult to consumers and a disgracefull and sure to fail strategy. If you want to be seriuos about bringing Wp's to the market, you should at least introduce 3 Wp's to the market, in all ranges and get seriuos about promotion. The gripe of Tellco's with Wp is because of Skypes integration in Wp. Skype is seen as a direct competitor to the Tellco's. The Tellco's have never been happy with Microsoft's acquisition of Skype. There was high level discussions about Skype's integration in Wp's between Stephen Elop and the Tellco's after Skype's acquisition by Microsoft. Skype has more than 30% market share of all international calls globally. Furthermore Microsoft offers Skype for businesses, competing directly with the Tellco's. So the Tellco's are not eager to sell or promote Wp's in the US.

How do you explain Google Hangouts then? You can make free phonecalls from anywhere to anywhere whitin North Americ right? It does not seems to be affecting sales of Android handsets. And then there is Google Voice for US customers that alowed you to have a dedicated phone number to your Google account.

Stands to reason. Phones for the normal user. Many users like me flocked to Microsoft mobile for the low cost. I treat my high dollar Android POS like a delicate piece of glass. I throw Lumia phones around with little to no worry. Good course Microsoft!

because service and support in india sucks.... my friend brought lumia 1020 because of its amazing pureview camera... and it's a defective piece.. battery life sucks, phone oveheating, restarting .... submitted the phone many times and send the phone to main service center. he got device after 20 days and it's still same... here in india service center people know nothing other than software upgrade and changing parts and displays....

Hopefully, Microsoft is not just working on another spec monster, because that by itself will get them nowhere. At some point (and why not now) they need to start addressing pain points and solving problems for consumers. A few areas of oppotunity are: Universal Availability. A lot of people who want to use Windows phones, don't have easy access to the device they want. Another AT&T only release will fail. Exclusivity is synonymous with "beta" and people want a proven product. You'd think they have tumbled that by now... Unique/Useful new features. How about a phone with a back up battery that will let you swap batteries without powering off the phone? Other companies are already working on this but why not be the first to market? Multiple SD slots. Necessary? No. But creatives will love it. Between high megapixel cameras and 4K video, we need all the space we can get. Phones are between 4.7 and 6 inches now so the space is there. And you owe us for not delivering an SD card in previous flagships.

I wonder why everybody thinks that Microsoft should focus more on flagship phones. Don't get me wrong: I have a 930 and want some sort of 940 or whatever too. But that doesn't change the fact that it's a lot easier to gain market share with budget phones. It's very hard to convince Android users or even Apple users (well, imho, Apple is not a brand anymore anyway, it's some sort of religion) to change the OS and the eco system, especially if they fear they could miss some apps. It's a lot easier to convince feature phone users to buy their first smartphone from Microsoft, especially because a lot of them already have worked on Windows computers and they won't miss apps because they're just not (yet) used to apps. The Lumia 830 is great (flagship) phone for the price and it's not even half a year ago they brought it to the market, so it's not outdated, it's a great deal, it's nice & shiny... But they obviously didn't sell too much of it.

The flagship is Microsoft's chance to prove it has the superior OS. Microsoft has already proven that they can design a phone that most people can afford. What is left is designing a phone that most people want, and you do that with flagships.

The 730 is quick selling device as well.

No flagships because Nokia Lumia 930 is for INR37000 in India and in US it is for INR 24000 (USD 390) while 535 is roughly INR 9000 and INR 7000 in US The difference in lower models is still bearable but flasgship Lumias are way expensive. even 830 is INR 27000 Wish Microsoft did something about it.

WINDOWS 10 would be an excellent opportunity for a new Flagship Windows Phone! I actually just bought another Lumia icon after switching to an Android phone over my frustration of no new high end devices over the Holidays. With Windows 10 coming I;m hoping there'll be a new phone with all the bells and whistles! Don't let me down MSFT!

People will tolerate app shortcomings because the phone is cheap...Microsoft can get away with that. People will not tolerate the app shortcomings with expensive flagship phones. Microsoft should just continue what they are doing and focus on low to mid phones. Posted via the Windows Phone Central App for Android

The platform is dying. I'm done with it, so much wasted potential. Devs are fleeing and the only solution they have is to push 40 versions of the same glorified feature phones. My 1020 barely functions since the last update and all of the important apps are pulling out. This place has become an exercise is paranoid defensive groupthink; Apple is not conspiring with banks to pull out of WP, supporting WP is a waste of money with a small userbase without disposable income. . It will be 2 years between true flagship devices, with a bunch of confusing also rans and hundreds of colorful ghettophones. So disappointing. While I wrote this MS released another 500 series lumia, exclusive to prepaid carriers in Latvia.

It would really be nice if a carrier or two picked up the 535 here in the States, or if Microsoft sold an unlocked version through their website.

The article header sums it all. In low end phones WP rules due to budget devices. In the high-end segment flagships are scarce. There are three reasons, interlinked for this, that is: A) A flagship phone must be able to do things low end phones can't and differentiate themselves from the rest (HTC M8, Samsung Galaxy, Apple); B) Be supported by a sound ecosystem (Market, native software, UI, customizations, etc.); C) Since flagships do all this they cost a lot as they offer a lot. Windows phone is unable to offer decent customizations. You buy any lumia from 400/500 series and go up to 1520 (which is what i own) and they all look the same, do the same and work the same. Windows doesn't have an ecosystem. Flagships cost like a top notch Android but lack all the rest. You remain with huge hole in your wallet and a phone that lacks a lot of stuff. That is also why nobody is willing to invest in a platform you can't customize in any way. You are selling squared slabs all containing the same (lacking) software with the same (lacking) market. A whole universe of identical slabs with only marginal chances in the hardware and device size. Let's hope Win 10 fixes at least some of the issues.

Lumia 630 didn't received gdr 2.. Can anyone help me?? I want gdr 2 on my phone.. Pls reply
Windows Central Newsletter
Thank you for signing up to Windows Central. You will receive a verification email shortly.
There was a problem. Please refresh the page and try again.