Lumia 530 versus Lumia 635 benchmarks show which is the best affordable Windows Phone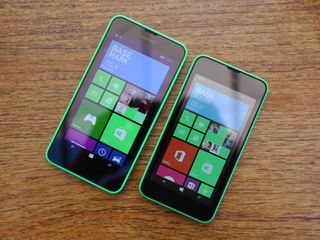 The low-end of the smartphone market is where Windows Phone truly has a chance to shine and gain significant market share. Yesterday we compared the king of smartphone affordability – the Lumia 520 – against the newcomer to the throne – the Lumia 530. We learned the Lumia 530 was a worthy upgrade to the Lumia 520, but should you opt for the Lumia 520 or the Lumia 635. We find that out today.
How does the Lumia 530 and its 1.2 GHz Snapdragon 200 chipset stack up against the Lumia 635 and its 1.2 GHz Snapdragon 400 processor? Does the price difference between the two add up to a comparable performance difference? Let's find out.
Setup
Like before, we'll be using the free and cross-platform Basemark II OS app to compare the Lumia 530 against the Lumia 635. The app was loaded directly onto the internal memory of each device and not the micro SD card.
Why use the Lumia 635 and not the Lumia 630? Well, they're the same phone. The Lumia 630 comes in either a single or dual-SIM model and tops out at 3G speed for data while the Lumia 635 has LTE, but only accepts one SIM card. Other than, the internals of these two phones are identical.
Both the Lumia 530 and Lumia 635 in this test are running the latest retail software available – Windows Phone 8.1 and the latest firmware – Lumia Cyan. The Lumia 635 it is currently rocking build 12359 while the Lumia 530 is running build 12397. Both phones were soft-reset prior to the test.
Basemark II OS was ran multiple times on each phone for consistency.
Results
As expected, the internals of the Lumia 635 outperform those of the Lumia 530. The overall system score for the Lumia 530 is 371, while the Lumia 635 sits at a higher 451.
The largest difference in the sub-tests is found in the Memory, which is somewhat unexpected. The Memory performance test in Basemark OS II looks at the read rate, write rate, and runs a fragmentation test. The Lumia 635 scored 707 in the Memory performance test, while the Lumia 530 earned a 497. Surprising because both devices feature 512 MB of RAM, though the Lumia 635 has 8 GB of onboard storage with the Lumia 530 only rocking 4 GB.
The Snapdragon 400 inside the Lumia 635 and its memory components clearly best the Lumia 530 Snapdragon 200 and its memory components.
Real world usage
How do the above benchmarks relate to real world usage?
When installing apps or games, they'll finish a few seconds faster on the Lumia 635, but this is only noticeable if you pull up a stop watch and time the two. The same results apply when launching a game with the Lumia 635 finish just a second or two faster than the Lumia 530. You won't see major differences like we did between the Lumia 530 and Lumia 520.
Once you're in a game, like Tentacles: Enter the Mind or Subway Surfers, you won't notice any major graphical advantage in the Lumia 635 over the Lumia 530. Games ran relatively well on both devices. The Lumia 635 has a Qualcomm Adreno 305 GPU, while the Lumia 530 has a Qualcomm Adreno 302 processor. In real world tests, they're neck and neck when playing games.
Display
In terms of the display, the Lumia 635 crushes the Lumia 530. The difference between the displays is worth highlighting and one that might influence your purchasing decision.
Both the Lumia 635 and the Lumia 530 feature the same resolution, 480 x 854, but do differ in size and display technologies. The Lumia 530 has a 4-inch display and higher pixel density at 245 ppi. The Lumia 635 has a 4.5-inch display and a slightly lower pixel density at 221 ppi.
However, the Lumia 635 display has one big advantage over the one found in the Lumia 530. The Lumia 635 has a ClearBlack display. With the ClearBlack technology inside the display you get higher contrast, better color saturation, deeper blacks and overall superior viewing experience. The display on the Lumia 530 looks washed out by comparison.
Neither the Lumia 530 nor the Lumia 635 has an ambient light sensor, so you will need to manage the brightness of the display manually. Not a deal breaker, but something to point out when comparing the two displays.
Camera
The camera is better on the Lumia 635, though not by much. We didn't compare camera benchmarks since the Lumia 530 was unable to complete the test in Basemark OS II.
Both phones feature a 5 MP sensor, but the Lumia 635 can auto-focus, while the Lumia 530 has a fixed-focus. You won't find a flash on either device. Neither phone has a front-facing camera, so you don't count on being able to do Skype video calls.
Conclusion
Does the difference in performance reflect the difference in price between these two affordable Windows Phones?
Short answer? Yes.
On average, the Lumia 530 can be yours for just $100 (£60/€75) while the Lumia 635 can be picked up at $168 (£101/€127). However, we've already seen the Lumia 635 show up on sale in the United States from $80 at Fry's to $105 as a Newegg flash sale. Prices will, of course, vary in your region, but these two phones should prove to be affordable no matter where you are.
However, if it was our money we'd spend a little bit extra and go with the Lumia 635 (or the Lumia 630). Sure you get somewhat comparable specs on the inside and similar real world results when using apps and games. We just can't see ourselves using the display on the Lumia 530 for extended periods of time.
The Lumia 530 is a good choice if you're on a budget, but do your eyes a favor and spend a little bit extra for a much better display in the Lumia 635.
If you're like us, you'll spend most of your smartphone time looking at your phone, make sure the display is attractive.
Full reviews for the Lumia 530 and the Lumia 635 should be up shortly. For now let us know which device you'd go for and why.
Hey sam, can you show about nokia lumia 625 vs 630 or 635 ?

The l625 feels the better phone than l630 looks better I wouldn't swap mine I use mine more than my l925 I don't know why

I'm a big fan of the look of the 620. The dual-shot color shells were particularly fetching. The screen on the 620 is tiny by today's standards, but the other features of the phone were a nice package. FFC, flash, ambient light sensor, etc. At least in the x20 wave of Lumia's, the 620 was a real standout IMHO. The 630 looks more like a spiritual successor to the 520, with only perhaps a slight similarity in the looks department to the 620 (there are dual-shot shells that are somewhat similar). There seems to be a good amount of shifting going on in the x30 lineup. The 730 looks closer to an 820 followup. And the 830 looks closer to a 920 followup.... Yeah the 930/Icon is a great phone, but loosing Glance capability is a pretty big deal to some of us.

Agree with you 100% . 620 was much better than 630 or 635. The 30s lineup don't do justice at all. Microsoft has made it more affordable, that's true, but the quality, it has really decreased, :'(.

My 625 scores as so: Overall: 409 System: 377 Memory: 718 Graphics: 253 Web: 410 Somewhat surprising compared to the 635...

The l625 is a much better phone overall than both of these. Costs about the same as a l635...

Yeah I'm not too excited that the 63x series lost the flash and ffc.

It pretty much matches the 635 in benchmarks. But I suspect the 625 would be faster in most real world scenarios as it has 2 krait cores which are more advanced

For the price, the 530, but I think the 635 gets the rest

forget 635 ... check out xolo WIN Q900s here https://www.youtube.com/watch?v=H4HBtM99xf8

I really like its specs. 1Gb RAM, 2MP front camera, 8MP rear camera with flash, replaceable battery, 720 display and the super light weight. If its quality holds up, it could be a potent threat for all the low end phones. It should do well. Hopefully, it will come out a 4G/LTE version.

The Xolo is very nice. It has a great looking screen. I find it kind of odd that the search and back keys are reversed, but that's a relatively minor issue.

Can we have a full comparison between the flagship phones, the M8 WP and the 930? Like someone has said in the comments once before, we want to see full comparisons, in article and video. Pocketnow is pretty good at comparisons.

I agree pocket now always does it excellent Posted via Windows Phone Central App

CNET does it too, but they suck. I love pocketnow, they make EXCELLENT videos!

Michael Fisher and dat voice tho

We did the difference in the performance between a 520 (which we did yesterday) and the 525.

Daniel bro please read my big comment a little below and please reply .. And if you had really done a comparison of Lumia 525 with the others like Lumia 630 or Lumia 530 then please send the link .. Please ...

Here is a small comparison between 525 and 530. They also did one on their cameras (or maybe 630 vs. 525 camera, cant recall): http://www.nokiapoweruser.com/2014/08/26/lumia530-vs-lumia-525-speed-per...

Show performance of 625 vs 630 .. Just to show is the new one better than old.

Considering how all the comments so far are off-topic, treating this like a request line, I'm inclined to never do these again, TBH.

Y'all should have known better. This is like asking who would win in a fight, Hulk or Doomsday (or insert other anime/comic/videogame character). It always turns into an infinite loop.

Doesn't that just show that folks like these and want to see more of them? :)

LOL, just put out as a forum post.

I don't really understand why requests for more articles of this type would inspire you to never do another. Seems like a strange statement... there is a lot of interest in the relative performance levels of the Lumia phones, and very little statistical data out there. IMO this is the type of thing WPCentral should be addressing.

Don't hate them Dan, they just want to know the best of the top-brass, it's like the premier league of phones :D

I agree Daniel. People need to learn to frakking read.

Yes please. 630 v 620 v 625 v 635 :)

I'm not sure are those results trustable. First time when I've used this Benchmark OS II on my HTC 8S I got overall score 305, second time it was 180, and on the third it was 256...

Three points (1) We generally have had consistent results with our tests (2) I am not aware of any other benchmarks to use to evaluate (3) We talk about real world usage to respond to such criticisms

You could do web browser benchmarks like sunspider.

It's best to soft reset your phone before every time you run Basemark OS II, that way you make sure the same software components are running each time (and you don't have some bit of Facebook Beta soaking up your CPU). Which is what Daniel and Sam et al do every time they run it. You get much more consistent results that way.

Guys its a request please do make a comparison of the rare Nokia Lumia 525 and the Lumia 530 or the 630 ... Having the 1 Gb Ram does the 525 gets an upper edge above the other two or does the dual core ruins it's party and makes 530 a winner ... Please I need a comparison... As of now I'm a 525 user on India... So please should I exchange it with the 530 or should I go for a 630 ..... Please guide me.. Playing games like FIFA 14 or gt racing 2 are my priority.. So wont the 1 gig help me .. Or is it quiet possible in the 530 or 630 also...

If gaming is a priority, stick with the 525. If you really need to upgrade, wait for the Lumia 730. :)

Buy that's way too pricy.. nearly double than that of 525 .. That's really a concern f for me as I'm just a college student ..

Then there is no 1gb phone coming for price like 525. Wait for 730 to release, when it comes buy using emi options, It Will be useful for u.

Im a college student but I bought 1020 with my life time savings. Get the Lumia 636. It has 1 GB ram. We have them in the Philippines

You just answered your mother ducking question. You're a college student and yet you still ask this kind of questions ?

That's y 630 should have 1 gb ram. Ram and processor is the main feature considered in India thsra y Lumia 525 was a hit. Now with,530 Microsoft hasn't started advertising yet. 530 will be a flop here then.

Aashish plz do read my comment above and please help me out my doubt

I have a 520 and a 635. Its like night and day.

Does it bother you that they dont have a front facing camera at all?

Its nice to know the s 635 got about the same score as my L925 when WP Central did it lol.....

This is what I'm curious about... how do the new, lower cost models compare to the older flagships that people have? If I switched from a 920/1020/etc to a 635 would it be a performance improvement?

I ran three tests on my 925 running dp 8.1.1 restarting the phone before each test. All three tests the numbers were within 5 of each other. Overall: 521 System: 473 Memory: 960 Graphics: 377 Web: 429

Thanks for the benchmark tests and a comment on 635 prices, from my experience. I paid 99 bucks for my 635 at ATT about a month ago which was not a sale but the "regular" price. I believe it's 99 at the Microsoft Store too. And BTW, I am very pleased with the 635.

Real "Word" Usage. Thats a typo

On a somewhat related topic, why does this "Basemark II OS" benchmark app say my 1520's screen resolution is only 720x1280?

Can y'all compare these to the 620? I love the size of the 620 and was hoping for something similar size wise.

630 of course, the price isn't bad at all, but a front facing camera would seal the deal. So, I am unhappily looking at the 730, so much more money just to get a dual simm with a front facing camera. Almost makes me want to turn to a BLU Android phone.

My Lumia 920 is faster yet, 516 overall, 952 memory and 362 graphics...

My 920 running 8.1.1 score a 405 overall, 362 memory, 370 graphics and 420 web.

Fairly consistent on the second run of my 920. I am running the DP so there is probably some optimization needed.

To reiterate Daniel's comment above: why all the OT comments?

Ran the test on my 620, got 185 overall, everything was much lower than these two, except for graphics, got 248 in that (also, didn't do any resets or even a restart, maybe that would of helped a bit :D)

Got 171 overall score on my Lumia 720 running DP 8.1 Update 1 while my 520 running official Cyan update managed 313, something is wrong :O

Did you install the basemark app on sdcatd?

If only they had been smart and shipped 1gb RAM in the 635, that phone would have gained some serious market share.

Why? My 635 works just fine and it in NOT memory starved.

I really feel there is a necessity to develop a generic and consistent benchmarking tool on windows phone like what we have on competing platforms. I strongly believe it should be developed by Microsoft itself. It would really help us in evaluating different devices

Low end WP's look a lot nicer then there low end Android counterparts ;)

Like we have it on our PC for years. Windows experience index?

630 over here. First dose of WP and I'm hooked.

I'd never buy a low end Android phone. But the low end Lumia's look just great, feel great its never a cheap feeling. That's something that could never be said from the low end lines like Samsung Galaxy Ace ore something like that! Those look like crap, feel like crap and work like crap.


I love my 635, much better phone than the 521 I had. It's much faster. It's far easier to hold in your hand and the screen is fantastic for such a cheap phone. The only gripe I have is that the 635 has no physical camera button and the 521 does, makes it difficult to get a still shot with no blur, but you adjust.

im always wondering why would somebody buy a phone like this if there are refurbished last year flagships for almost the same price, the L928 runs for ~180$ and I even saw the 920 on ebay for 140$ !

Refurbs are scarey. I'm on my third 920 from Nokia. Warranty has run out and my power and camera button went out. My sim card started acting up. No more 920s for me, thank you.

I always thought the Memory test in BMOS II was testing the on board Flash, not the RAM. So it should really be called the Storage test. This could then explain the big leap in Memory test result, the Flash is in 4GB modules, there is one in the 530 with a single read/write channel, and there are two in the 630/635, with a read/write channel to each one. This is a common way to speed memory or storage access, dual channel striped/interleaved storage. Gives you a bit less than double speed up usually. There are a few other things about the 630/635 that justify the extra cost. Gorilla Glass on the screen. An IPS panel instead of washed out TFT. I'd say only buy the 530 if you absolutely, positively cannot afford the 630. The 530 only exists to battle the Taiwanese no name 'droids that sell in India and China.

I recently upgraded from Lumia 520 to a Lumia 630 and theres a big difference in every aspect! I love this device, Nokia did a really great job. Design is amazing, performance is great, just the camera that sucks. Also I paid 180$ for it so the people who have the possibility to get it for only 100$ should totally get it, it's a steal for the quality you get.

Im getting the Canadian Koodo Lumia 635 on Tuesday, so this article just reinforced my decision :P Thanks Sam!

I love it when the results are in line with the price, it does that Nokia aren't just making prices up for the different ranges

The better phone is the one that isn't going to be screwed out of timely updates first. Given the market fragmentation these two overly similar phones is going to cause I'd say it will probably be a wash. The thing that may tip the balance is whichever of these phones ends up actually being available in stores; the Lumia 530 being the likely candidate.

I would like to see this same comparison run against the Moto E and G smartphones since those are going to be the direct competitors in the market.

I was curious, so I installed it on my wife's moto g. I was pretty suprised. Overall: 470 System: 728 Memory: 253 Graphics: 403 Web: 658

Thanks. That's good info.

I would again like to request a test between Lumia 525 and 530! I own the 525 and so I wanna know if 530 is better even with the 512 RAM but quad core processor!

I cannot imagine how you guys live without light sensor? Always keep changing the brightness inside settings app when going in and out door? This is insane.

It doesn't make sense to translate the street price of European phones into U.S. dollars along the straight exchange rate. European prices include a minimum 20% sales tax. So you need to drop the European price by 20% (the legal minimum sales tax rate included in the price in the European Union), and then adjust for currency exchange. So instead of the Lumia 530 being the equivalent of $100 U.S., it's actually $80 USD.

If I'm deciding between the Lumia 530 and the Lumia 635, the cameras and the screens are the last things on my mind. My first question is, do I want/need dual-SIM capability? Go for the Lumia 530. Do I want/need LTE and broader frequency support? Go for the Lumia 635. It's only if the answer to both questions is "no", that any other considerations come into play. Fair enough for the article to focus on secondary questions, but a surprise that it doesn't acknowledge that that's what it's doing. Because if I need dual-SIM, any advantage the Lumia 635 has is irrelevant. And if I need LTE and/or much better frequency support, the cost savings of the Lumia 530 isn't going to mean much.

The good news is that both of them are better than 520 the most popular one. with cheaper price for 530.

I got my att go l635 in Microsoft store. Cost $99. Replaced my HTC8x. This phone is excellent in every way. Battery life. Light weight blue tooth. Love the display. With 64gig expansion I have my complete music library and world offline maps. Camera is great. Att unlocked my sim to use internationally with local sim cards which I use often. And I'm contract free. I'm considering getting another one to avoid swapping sim cards. WP 8.1 makes it easy to change brightness. This phone is a nice upgrade from the previous generation expensive phones.

Was it difficult to get ATT to unlock. Any advice? I want to get this for my father but he travels a lot. Need unlock right away...

One more thing. Cortana. She understand my speech. And she find for me what I want.

HTC 8X 501 494 982 296 437 Not too bad, I could keep my 8X a little longer, unless I had a cracked screen and the fact that the Lumia 735 looks as good as the good old Lumia 900 I wanted in the first place (turned it down because of WP7 only). So, cue the Lumia 735 then ... :) AO

Nokia Lumia has problems detecting Micro SD Cards and Nokia Lumia 530 has problems corrupting data on Micro SD Cards so steer clear if you don't want to buy a PROBLEM.
Windows Central Newsletter
Get the best of Windows Central in in your inbox, every day!
Thank you for signing up to Windows Central. You will receive a verification email shortly.
There was a problem. Please refresh the page and try again.