Lumia 625 and Lumia 1320 now getting the Denim update in India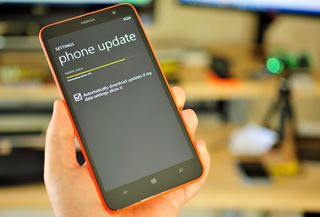 If you are in India, you will be excited to know that the Lumia 1320 and Lumia 625 are now getting the full Lumia Denim update.
Reports are coming in from people on Twitter about the update. Additionally, Microsoft has now updated the release page to reflect the new OS update.
India is one of the few territories where there are still outstanding devices not getting the Denim update. The Lumia 630 and Lumia 730 are the last two holdouts in India, one of Windows Phones' strongest markets.
The updated software includes:
Lumia 1320 OS build 14234 (new) and firmware 1424 (unchanged)
Lumia 625 OS build 14234 (new) and firmware 1424 (unchanged)
Users are encouraged to check for updates by heading into Settings. More details can be found at our how-to page on installing OS updates. Also, in this case unregistering from the Preview for Developers program may help in checking for an update.
Source: Microsoft (opens in new tab); Thanks, Aakash S., and Daniel F., for the tips!
Daniel Rubino is the Executive Editor of Windows Central, head reviewer, podcast co-host, and analyst. He has been covering Microsoft here since 2007, back when this site was called WMExperts (and later Windows Phone Central). His interests include Windows, Microsoft Surface, laptops, next-gen computing, and arguing with people on the internet.
No I came from the future..India will be chindia

So in future you guys shall be asking us ..."when in chindia?" Doesn't sound interesting

Actually, he don't know spelling of India :D

Actually he is very excited because of the update.

Shut up.and stop day dreaming

Dafuq...waiting desperately for the technical preview update -_-" Its been a month since I'm seeing the same things....I WANT SOMETHING NEW

Update your resume, get some skill and land a job in MS. You will get plenty new. :/ I don't know if there is any other platform which is giving this much to its consumers. Prevew builds, Early Preview.... looks like they are never gonna make you happy.

To have even got this opportunity to take part in OS development is a great thing in itself.

Lol! Daniel Rubino warned to delete irrelevant comments and ended up deleting his instead.
Appreciate the efforts of making comments section relevant though, it's just like MS trying to make their phones relevant in the market.
Hope one day this shared dream of MS with us will be reality.

Uncheck Dev Preview program.

how? as i didn't get denim till now for my 720 in india. im on dev preview with firmware cyan.

Go to PFD app. Uncheck. Then check for updates. May take a few attempts or a restart after you uncheck to find update.

Did you already have it before I mentioned it?

No. After you mentioned I unchecked and it shows denim in extras+ info. Although it didn't make any difference.

No no. That's the bug with the recently updated extras info... You are not on denim. Same thing happened on my L920 Posted via the Windows Phone Central App for QWBASIC :|

Cool waiting such a long time... Finally it hads came for my Lumia 625... Thanks alot developers...

I am getting error 80072ee2

Its because you don't have enough space to download the update

Congrats Dhalsim Yoga flame

Lumia denim reaches middle east. Today I update my L1020 in Saudi Arabia

Yes, we're getting to that shortly.

Yesterday Lumia 920 country variant Puerto Rico got the denim update

But no changes from pfd :(

My L920 purchased in Dubai and using in India is downloading an update... At last... Posted via the Windows Phone Central App for QWBASIC :|

The 625 Cyan firmware was build 1424

He just means it's not new, I can see how it could be inferred that I'm saying it is (although obviously it ain't).

I get it. But you guys already posted about some phone not getting new firmware.

Eastern Europe 625 got Denim too! :)

Denim for 1020 in Italy pls!!!!

I'm feeling so bad. I mean 630 is gonna be the last one to receive this. I hate signing up for previews. I'm on Lumia cyan since I bought the phone & Lumia denim was announced 6 months ago. N it still is waiting here. This way Windows 10 rollout will be even more slow.

LOL atleast you are not left out ! you will get it at some point or the other unlike lagdroid.
MS treats everyone equally.

Android users cry for update . Bcoz ex:-only Xperia Z lineup will get lollipop , not even Xperia C3 and T3 .
.
.
Nokia Lumia 520 is 120$ smartphone which got Lumia Amber , Lumia Black , Lumia Cyan , Lumia Denim and GDR2 of 8.1 and Windows 10 Mobile... .
.
. But these guys blame for slow updates , better guys like you to be controlled by scroogle

It's sad to say but that's how things may go

The first to come with Windows 8.1, the last to get windows 8.1.1!

Will Lumia 920 get the update for the middle east countries any time soon?

I got denim for my Saudi L920 yesterday

I like im kuwait and i just recieved the update ... Thank anyways!

Even UAE got Denim for L1020 today

Still waiting for denim update in my Lumia 730.it has lot of bugs

at this pace, maybe I can get denim before the sun explodes

Denim for 635 at&t please

When for L 630 in India??

I think it is coming very soon within 2-3 days, me also desperately waiting for denim update in my Lumia 730

Its coming bro just have patience

When in UK?
Sorry, I had too...

I have a question why people in the US don't get the update until later? Sorry if this has been addressed before im kinda new

It has to do with "Carrier Testing". HOWEVER, if you want to get the updates, Early or test, sign up for Preview for Developers.

Do i lose any information when I do that??

If you haven't backed up your phone to OneDrive recently, Yes.

So if it is "CARRIER TESTING" as you state what is the big differentiator between country variants that is making this rollout so fragmented?

I don't know. You'd have to Ask Microsoft.

Yeah I'd probably have better luck talking to a brick wall in regards to getting a straight answer on that one.
That's what is frustrating, can't see one phone variant having something so obscure that it takes months to reach one specific model in its entirety... Did see a couple of posts where some say their Denim update version is greater than what was anticipated, if that is the case obviously MS isn't satisfied but then neither am I. ;-)

Other countries eg. From Asia and Europe mostly don't have carrier restrictions on their phone. They are factory unlocked so MS takes the call on updates. In US, carriers have the last say when to and when not to and what features to pass on their customers. Posted via the Windows Phone Central App for QWBASIC :|

My sneaky suspicion, that has some substance, it's MS who's been holding out on "all" Lumia devices, carrier specific or not.

I'm from Chile. Finally got yesterday the Denim Update with Lumia 1520 on Movistar. Good Update.

Hi team update status for Lumia 638 this model also available in India....
After many complaints my device added into Microsoft portal...

It's showing Not available yet.

Can we just have one article titled "Everyone But You Is Getting The Denim Update". It would save a lot of typing.

Pls open new forum page for Lumia 638 model pls... Coz this device available only chains & our country....

What's the size of Lumia denim update ?

lumia 830 when to Indonesia

Does this mean w10 will be rolled out 10 months later after it's released?

Uncheck the preview for developers and then check for updates. Your phone will start downloading updates as per your settings. I have got the update this way. My L625 will be on denim soon with no firmware improvement :/

I got denim on my Lumia 920 (India) in late February. No new features but lost the 4G option from highest connection speed :(

Similar thing happened with my Lumia 625 soon after Cyan update, don't know why, though.

Lumia 730 has the strongest hold in India... Still they are not updating..

I have 730. It is already on Denim. What you talking :O

Lumia camera 5.0 for L730!
I don't care for other updates!

No updates Lumia 720 as of yet.....

Lumia 720 (in India) already has Denim. Use wi-fi for updating your phone.

And uncheck preview for developers if you are on it ..and then hit check for updates

Finally. I have them both ;)

Me also got it yesterday but nothing changed ##no Mass storage#can't charge while it's off

Plz tell size of update plz ?

Wen in India??? (It is old style trolling without reading the article. Get to the new style of trolling without even reading the title ;-))

Lumia denim update is approximately 3gb in size.

Oh! It was just 28Mb in size. Actually I installed dev preview update already..

Oh I see m.. I meant devices without jailbreaks

Ahh...finally for NL 1320...Was waiting for weeks...

I am getting server error in 625

Finaaaalllly denim on my L625 :)
Any rumours about the march build TP date? Deperately waiitng for it.

Do u get Lumia camera 5.0 or its showing not available

Guys if you have preloaded denim on ur device then the recent updates would be aroung 520 to 550 mb ... And if you are switching from cyan to denim it would be 3 gb approximately ..., and after that additionally you have to update applications at settings ....

Finally got denim now I can discuss over it :p

First to get cyan update for my Lumia 625... And now last to get the denim update...

I have denim but y its showing Lumia camera 5 is not available

Abbe Microsoft what's wrong with you I can't swipe right now to get the list of apps after updating to denim

wen india??? LMAO i couldnt resist

Does anyone know if denim is released on 635 AT&T? I am on WTP10 but wanted to know what is all the fuss about.

How can report when the update be released in Chile, because I see gives too much coverage to India but south America looks like don't count to windows central

Relax its not a competition , certainly not a close one anyways !! The population of Lumia devices in India is more than that in all other countries put together...So its apt that India gets morē focus here !!

Mobile operator 000-55 means which place

Finally MS India has shown some mercy to the Indian Lumia 1320 & 625 users. 14 days delay in the rollout. I hope they do better next time. ;)

This is not acceptable.. Lumia 630 is the first phone to launch the Cyan update nd its going to be last Lumia phone in India to get the Denim update.

620 already has got denim in india

But I have installed Windows 10 on my Lumia 625...... :) :)

how....??/ would u like to share...?

When for 730 in India.. :/

Lumia denim,is not properly working such as App corner, Cortana

Dear friend my personal experience is Lumia denim is not good, because of camera, in Lumia cyan camera has special feature of touch click any where on screen but in Lumia denim has not such feature, and app corner & Cortana is not working

Now I am anxiously waiting for windows 10, hope it will released soon.

lost intrest for denim update ,waited for so long for 1320 Arghhhhhhhhhhh

Lumia 625 Denim update in India
changes:
OS version: 8.10.14234.375
Firmware version: 3058.50000.1424.0003
Apps corner
Live Folders
Cortana
Phone Update > preferred installation time
Everything is working fine.

No camera upgradation for 625?

Hey man how activate Cortana in India after today's denim update

Finally Got denim for my 1320. Thankyou very much..

What are the new feature in denim update for 1320?

In India 1320 got 8.1 cyan update on july29th and today i.e march14th 2015 Lumia 1320 got denim update . It takes almost 8months to get a new update. I think we need to wait for a long time to get windows phone10 .

What about 730.......????

Nothing is new in this update

Still not getting the update

How get the New Lumia camera 5 after I updated my 625 to denim?
I don't see any updates for my camera app! The same old app ! Help anybody?

Lumia 520 in Bangladesh :(
Plz don't smash or emotion :(

Any one no why I still don't have denim on my Lumia 1020 Vodafone uk

Try linen instead.. Posted via the Windows Phone Central App for QWBASIC :|

Last night I got denim update...but extras and infos still shows me that I am still on cyan...i don't understand.
625
India

What is new after lumia denim in lumia 625 . There is no change in my Device...

My phone Lumia 920 after all the updates still shows Lumia cyan. What to do?

if u have apps tab in settings , you probably are on Lumia denim. the info on extras plus info will update in a few days !!

Updated my 1320. Didn't find any drastic changes though. Pls let me know changes

New features in denim:
1. live folders
2.cortana alpha version
3.Apps corner in settings
4. Mobile data toggle added in notification center.
5.individual selection option in dailer list and messages.

Hey
These features were also there, before denim

I'm facing battery draining issue with 1320 after the update of denim

are u sure its not the HSPDA ?

I'm using 625 but not getting denim some one please help??

If you're rolled into the Preview for developers program,uncheck it. And if you've set your Region to US for Cortana or any other reason, change it back to India. Reboot and recheck for update.

Can I expect a longer battery life with the update? I was told my battery drain rate was more than normal due to the PFD. Will it be alright now? The 625 has a 2000maH battery and lasted for 2-3 days on WP8 and hardly for a while day on WP8.1.

Is there any problems after the denim update in 625?? Or is there any good changes??

If you were in the Preview for developers program, you won't find anything new.

Updated Lumia 625 : Denim
Can't see any changes ,no hey cortona and no 4k video
What's d problem- in India

Please give update for thailand

didn't get upadate on my 625...when update release...why...from india

Update came
Uncheck preview of dev.

how to uncheck it...i'm new here...can you please help it

Go to ur preview dev app &den uncheck it by removing d tick mark over there

ok...thanks a lot...let me try it

In my lumia 625 i got denim update after uncheaking pfd . But after update when chek the pfd box..its showing Cyan again in extra +info...it war also shwoing denim before update when uncheaked pfd box.

Don't register to preview dev again

But will that prevent me to download early updates?

didn't register in preview for developer...but no update yet...

Anyone there with denim update on Lumia 625 & seen changes

I just updated my Lumia 625 cyan to denim and it required only 24 MB to update. But I didnt see any changes on the new updates and seems to be more faster in the whole process.

i also use L625......i wanted to how much internet data required to update.....is it really just 24 MB.....really no visible change afterwards!!!!

still no update for me on 625...didnt register in pfd..update can't be received...can anyone pkease help me

Hi. I have Nokia lumia 1320. When I am trying to update it to Denim it is giving me error "8007000d". I have around 4 GB of free space. I did give it try couple of time but it is still showing me error. Can you guys help me out?

my mobile is 625 i got update but when after pressing install button it is switching off and stucking at spinning gears and freom here it is not going forward ........ i made hard reset also many times still the same problem again. please help me.

Still its a pity that this device cannot be locked to 3G band like Android. Sigh :'( I will unwillingly switch to Android with next phone. (Galaxy Note or Sony Xperia)

Please release update windows 10 for 625
Windows Central Newsletter
Get the best of Windows Central in in your inbox, every day!
Thank you for signing up to Windows Central. You will receive a verification email shortly.
There was a problem. Please refresh the page and try again.