Lumia 630 removed from Vodafone Australia's Windows 10 Mobile update list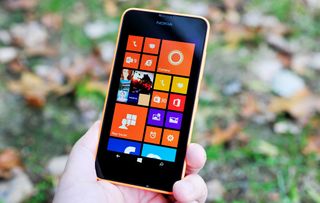 The Lumia 630 will no longer be updated to Windows 10 Mobile by Vodafone Australia. The carrier has removed the smartphone from its list of Lumias that it plans to update to Microsoft's latest mobile OS.
The support page for over-the-air updates on Vodafone Australia states simply, "The Lumia 630 has been removed from the Windows 10 update program." There's no word as to why this decision was made, nor if it is just for Vodafone or if it will affect all Lumia 630 units. Vodafone stated they were testing the Lumia 630 for the Windows 10 Mobile update as early as November.
The carrier is still testing the update on the Lumia 640, the Lumia 640 XL, the Lumia 730 and the Lumia 930. There's no word on when Vodafone Australia will begin rolling out the Windows 10 Mobile over-the-air update.
Source: Vodafone Australia (opens in new tab)
Can still use the Insider program, but 512MB devices are not great on Windows 10 Mobile. Edge struggles too much in low memory. I suspect this may be the start of a pattern.

I think you may be right about 512 MB ram Windows 8/8.1 smart phones being excluded from Windows 10. in this case maybe Microsoft could give discounts to those who have these smart phones to upgrade to at least a Windows 10 lumia 550 which is microaoft Own first low end Windows 10 smart phone

Not all Lumia 630 are 512 some are 1GB Ram. I have a 630 onW10 512mb ram it handle every well, I also have a Lumia 625 512mb ram, now this phone doesn't run so clever with the, W10. The difference I think is the l625 Dual core SD S4... l630 Quad core SD400 That's my opinion

Haha I have Telekom Lumia 630

Typical vodafone AU, months behind and slow as hell. This attitude and low priority for windows is why they are the low cost provider. No one who can afford it will go with these crackheads.

It's gone from low priority to zero priority. seems they've dropped Lumia from their lists all together.

I hope Vodafone Portugal doesn't do that

Will stll get through WI app but wat abt firmware?

It will be ok it will work it self out the 630 is a very capable & popular handset underestimate at there own peril.

Most likely it was the first that finished testing. Result may be the same for the rest as well considering how buggy Nadellas OS is.

They started testing it in November with an old build, they should test it with the new one

Lamentável ver a microsoft deixando de lado seus aparelhos de 512 mb pra 2º ou 3º plano com tais atualizações.

A MS tem interesse em que todos aparelhos passem a usar a W10, aliás é a meta dela. SE alguma operadora não liberar para algum aparelho vinculado tem de reclamar com a operadora e não com a MS que não tem nada a ver com isso.

Mother of Kangaroo HaHaHa

Vodafone AU have a history of not updating phones ... Remember the 8X? Although HTC released 8.1u, they refused to carry out the update... There was a Lumia phone as well, but I can't remember what it was.
___
But in this case I'll give em the benefit of the doubt. The 630 wasn't exactly a powerhouse & W10m might be too resource-heavy to run smoothly on it

CONCLUSION: They realised how bad this OS is. Microsoft, we're sick being ALPHA TESTERS!

You can always go pre-alpha with that community technology preview Insider program.

didn't we already know 512mb phones will not be officially updated?

For low-spec devices, it's better to stay on 8.1 then get a higher-end device later, than to use 10 through Insider on the low-end

Bad advert for Windows 10.
Bloated & laggy...

W10M is as good as 8.1 on my L720. Anyone who tried W10M will never go back to 8.1. If you have a low end device stay with 8.1 and keep rocking!

they test lumia 640 really wtf the 640 was the first wp to get win10 and it is win10 device why they are testing it oomg.... i have 640xl no carrier and i hope win10 update come fast to greece!!!

All these providers are pain in the ass. Just making problems and finding ways how to screw with us. Do not buy hardware from them if you don't have to - do not support them.

I'm using Windows 10 Mobile on Lumia 630 form past week and every thing look good Accept "Battery Life" and about Performance it is quite usable. Maybe I'm using white theme so that's a reason for battery drain.btw everything working fine if you use it with little bit of patience. ☺

I've been using W10 on 630 for a week now. If you're considering to upgrade, I suggest you better off stay with W8.1. As much ai like the new OS, I have to restart the phone 2-3 times to get through my day. As Yash mention, you seriously need some serious patience to get through the day too. As a main driver phone for business is just not what I would recommend.

Well I'm sorry to say there must be something wrong with your phone mine was the same heavy on battery I ran it through the trouble shooter, it has a few settings for charging & how it charges, then there's what runs n the background you will be surprised. Then it does a restart there's abig difference.

Strange. Been using it on my 630 and it's perfectly fine. Well, other than the fact that the OS itself is a buggy mess.

I am going to take the risk and update my 630 with win10. I'm hoping the final version is gonna be better than the buggy preview version. I mean I could roll back to 8.1 if win10 is ****** on 512mb phones, right?

It looks to me like Vodafone Australia is dropping Microsoft Phones. Visited 2 stores and online, NO Lumias in sight

Not just Vodafone in Australia, even in Singapore, Singtel, StarHub and M1 stopped selling Microsoft's Lumia phones in their own shops. If you want to re-contract your mobile plan in Singapore with a Lumia phone you can only do so in the Singtel exclusive retailers, StarHub or M1 authorized retailers. Posted via the Windows Central App for Android

It was said by Microsoft last year they were seriously considering removing responsibility from carriers for updates due to the nature that carriers mess with updates.

I guess i will keep using lumia 630 as Preview device. For me only MS Edge don't work(as in slow and buggy) OS itself is pretty smooth.

Run your phone through the trouble shooter it will check your settings
Windows Central Newsletter
Get the best of Windows Central in in your inbox, every day!
Thank you for signing up to Windows Central. You will receive a verification email shortly.
There was a problem. Please refresh the page and try again.