Lumia 640 GDR2 changelog reveals a laundry list of changes for the device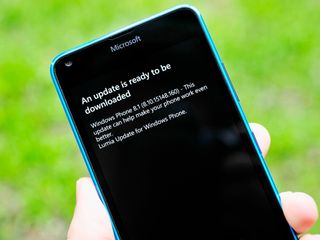 The changelog for the Lumia 640 GDR2 update has leaked out, revealing just how many changes the update brings to the device. From improved camera sharpness to improvements for touch behavior, the folks at MSMobile.pl got their hands on all the improvements. Here is a full list of the changes.
As you can see, this update addresses a ton of different issues that users may have faced with the Lumia 640. Hopefully we begin to see the device more readily available, but until then be sure to check out our full review of the device.
Source: MSMobile.pl: Via: WMpoweruser
Windows Central Newsletter
Get the best of Windows Central in your inbox, every day!
Jared started off writing about mobile phones back when BlackBerry ruled the market, and Windows Mobile was kinda cool. Now, with a family, mortgage and other responsibilities he has no choice but to look for the best deals, and he's here to share them with you.
This time Microsoft has not offered this update on preview for developers channel.

Seems they have forgot about it.

But it's available through windows insider. Been quite a while now. At last for my 920

Windows Insider offers the beta builds. Preview for Developers provides OS updates pending for OEM approval, it is just more stable.

It was announced that Preview for Developers is being phased out in favor of Windows Insider so there will be one service for all platforms.

This level of change documentation should be made available for every Windows Phone/Lumia update.

I certainly agree with you

Curious if the camera improvements are device specific or brought to all/most devices getting Update 2. Posted via the Windows Central App for Android

Priority order for cellular and wifi...wow

What does this even mean...? You'd think any data would always use WiFi if it were connected. Posted via the Windows Central App for Android

Sounds like a UI option somewhere

Some Wi-Fi networks don't have Internet access, but you might still want to be connected. E.g. Company or GoPro Wi-Fi networks are two examples I can think of. One of the WP updates already added the ability to use data when Internet access isn't available over Wi-Fi but this update must add more control.

Correct the spelling of "changelog" in the title..

Now if only we can get it in USA.

Nice, just replaced my old 920 with a cyan 640, like it a lot, especially at the price its at.

why did you downgrade? just asking.

I replaced a 920 with a 640 too, but that was because I lost my phone. I don't think its that much a downgrade. Sure, I miss the PureView camera and QI charging but that's all, everything else is just like or better than on the 920 which honestly is almost 3 years old and that's a lot in tech.

Windows central is too slow these days.. This article was posted in wmpu yesterday!

Agreed.. But articles r too many available to read.. Then any other website or app.. That's an advantage

Why Android phones with performance specs like Lumia 640 come with 16GB or 32GB of storage while the Lumia 640 and 640XL only comes with 8GB, I think this is the main problem of WP customers, we don't want to buy new phones that only come with 8GB, microSD cards are not reliable and can die at any time making you to loose valuable information, apps and pictures of your family if you don't store them on OneDrive. If Microsoft can launch a Lumia 640XL with 16GB for ($50 more) and a 640XL with 32GB ($100 more) I would not doubt it and purchase the phone right away. Just my 2 cents.

Can you install apps on a SD Card with Android?

If you mean to install apps on a SD card then yes you can do that.

You would pay an extra $100 for an extra 24GB of space?!!!! That's utter madness.
Just buy a SD card from a reliable brand...job done. I've been running a Samsung 64GB card in my 820 - it's working as well as it did the day I bought it (10 months ago). It cost the equivalent of $30!
The reason Android needs bigger internal storage is because the OS is so poor at supporting the saving of apps to the SD card. So everything app related has to be internal...forcing you to save your actual user data on an SD card anyway!

A Samsung SD card eh? That sound like it should have much more durability than my last card which was from Kingston a 32GB one. And I agree with what you about all you say about Android, it is a very poor OS compared to WP, it's more laggy on a Galaxy S5 which has 2GB of RAM than my Lumia 625.

I also have a 32GB Samsung in my GoPro, and a 64GB Integral micro SD in my Windows tablet. They all get a pretty hefty amount of use - but no problems to report so far!
So yes, buy a good brand, test it using H2Testw...then fit it and forget!
Micro SD is the way forward.

because for the most part, you can run everything off an SD card. I have a 640xl, and i was a little concerned with the 8gb, but running everything off the sd card makes it a lot easier to work with.

Everyone make mistakes guys no one is perfect.

Does this have support for Openvpn? Anyone know?

Is that a no? Good grief it's getting ridiculous.

Wasn't this coming with Windows 10? Or am I making things up?

I hope you're right - would be a glaring privacy omission otherwise.

My. Lumia 640 has very poor 2 finger tap to zoom. Even my 435 is better. My 820 did this perfectly

Do you guys know how I can manually trigger this update? Since I am using it over T-Mobile in the US without them having released it yet, I don't think I will get it OTA. I haven't even gotten the last update yet.

Did you ever notice battery saver issue with your Lumia 640

Is this only for Lumia 640 or even for Lumia 640xl?

Sometimes I ask myself............are these writers so desperate to release the "news" that they don't even bother to proof-read it before? My guess is yes.

I bought Lumia 640 a week ago from Flipkart and this update was preinstalled on my phone.

Same with mine.. Do you face any issue with camear on low light? With in room, it is not reproducing color properly

Its not clear and mostly sensitive to shake.. I think my old Lumia 620 Captured better images inside room.

Yes I am facing this problem, every picture is grainy and noisy in rooms specifically even Lumia 620 does a better job

Does anyone know if there is a llist of phones that will get this update?

My 1520 also freezes when its idoling

Wait, doesn't Lumia 640 already came with Windows Phone 8.1 Update 2 out of box?

Guys in 640 windows 10ready means do you think it can be upgraded without insider app

In my 640 Lumia,it shows phone update >download update connect to Wi-Fi....what do you think this update is???

I have got a update today and I update my phone and the remarkable thing to notice is the speed of the phone as well as touch, I don't know why I only get the update because non of my friends who have 640 got the update, but I maild microsoft about the touch issue with the phone, might be because of that I got the update

Hello, Do you know there is any correction for the bug random reboots on Lumia 640 LTE device ?

Just got the last update for my 640xl.
Seems fine besides a bug in app store, it's now impossible to swipe right to left. Not a big deal but irritating none the less.