Lumia 640 XL goes up for purchase at Microsoft's retail stores in Canada
The 5.7-inch Lumia 640 XL is now up for sale through Microsoft retail stores in Canada, with the device available for CAD339 ($272) unlocked.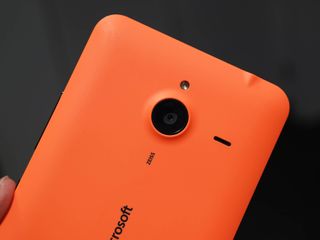 The Lumia 640 XL is yet to make its way to Microsoft's online storefront, but we'll let you know as soon as it does. It looks like the white color variant is available for purchase at this stage, with no word on when the other colors will be made available. As a refresher, the Lumia 640 XL offers a 5.7-inch HD display, 1GB RAM, 8GB storage, microSD card slot, quad-core Snapdragon 400 CPU, 13MP camera, 5MP front camera, Wi-Fi 802.11 b/g/n, DLNA, NFC and a 3,000mAh battery along with Windows Phone 8.1 Update 2 out of the box.
Via: MobileSyrup
Thanks David!
I got my Lumia 640 and i love it...

Seems like every country in the world except America is getting the L640 & L640XL. MS should not announce stuff until they are ready to release, this waiting game is getting ridiculous by now. They should also make the Lumia line like Nexus (Google) & iPhone (Apple) by releasing the phones carrier free with support for all gsm/cdma bands and no bloatware onboard.

Every Indian should read this comment dude.....

When did they announce the devices for the US? I'm with you, it really is getting ridiculous and annoying...

All US carriers insist on getting VoLTE working. The software was released last week, so it may be coming soon.

640 is only available in ecommerce sites.

You can buy them in the US, I could buy a 640 right now if I wanted, Cricket is selling them. Don't blame MS, blame the carriers.

Well, I won't blame anyone, I'll just stick with Android because I can't get a WP device on Sprint. I'm not very happy about the outcome, but I guess MS is right?

Your loss then for sticking to the shittiest carrier in the US.

Can't you get one unlocked? Contracts are a waste of money.

I am actually shocked we got this. Up until now, the newest device we could get in canada was the 830 or the blu win hd lte

It's still not a the flagship I was looking for to replace my Lumia 1020. That said, Ill probably grab one.

Canada has it, unless they are an african or european country.

The announced the 640 so long ago and were're waiting, waiting,waiting,waiting,waiting,waiting,waiting,waiting, yeah wake me up when it arrives.

Still waiting on T-Mobile.

Youre not alone. Tmobile is taking FOREvER.

I need to get down to Carphone Warehouse to get an xl in my hand. I want to see how a device that big feels.

Carphone only sell Lumia 640

Oh.... Quite surprised at that. I know the 640 is available and for only around £109.

Damn.....i need to get one! 640 looks great

Qualcomm.... Stop Snapdragon 400 processor before Lumia 740 & 740 XL breaks the covers

It will come with s615. 840 with 808

This does seem to be the only soc that has been implemented for volte lately

And yet TMobile is still lagging. Why can't Microsoft just sell the phone unlocked supporting all bands and call it a day?

Don't get too excited everybody its only 3G

3g is more than fast enough for almost 99% of the world its not a big deal. Hell you can stream 4k on 3g so why do you need 4G ?

Not in Canada at times it feels shit slow in the sticks

the 640 XL supports LTE, 3G and 2G

You have to be F***ing kidding me. When are they releasing this in the US already!? Maybe they'll release it in Mexico next, drag it out for another month, monthandahalf, THEN put it in stores here. Jesus.

Cricket sells the Lumia 640. Hopefully Cricket also gets the Lumia 640XL. Let's pray.

Is there a wireless charging case for this device?

It doesn't come with wireless charging, but it has the contacts to purchase a rear cover. Yet no cover has been made.

Exciting, maybe Microsoft is finally working to end Canada's reign as the worst country in the world for Windows Phone. The game changer will be if we actually get the 940. No 925, 1520, or 930; let's see if they finally break the losing streak.

I know! Its ridiculous how no high end phones have come to canada since the 1020 which was basically a 920 with a better camera and more ram. So annoying that the best windows phone here is the 830...

Agrees.. I have a telus 1020

My last carrier device is a sgh-t899m but then in april 2014 I imported an icon

To all Americans, just cross the border :)

Been dying to upgrade my mom's L920 that I handed down to her a few yrs ago. I was hoping the 640XL was a worthy device but she's on Wind Mobile (the most incompatible carrier in Canada) so no idea if this will work for her.

The Lumia 635 and Lumia 640 LTE will both work on Wind. The 640 XL doesn't support HSDPA Band 4 and won't work on Wind Mobile. edit: The Lumia 640 XL LTE Dual SIM (RM-1113) will work on Wind, Expansys.ca has it for $240 CDN

Awesome, thanks timster01 for the tip!

Finally they're selling it! Too bad there's no Microsoft Stores in Montreal. Can't wait for them to make it available online.

Can't wait to touch it. Planning a trip to Edmonton next weekend. I may have to stop at the store..

Jeesh, enough with all these mid level Lumias! When can we expect successors to the 930, Icon, 1020, and the beast that is 1520??

I just checked with the Eaton Centre microsoft store. The phone is coming in a few days. Its not yet available.

If I recal correctly, the 535 sowed up in the Canadian Microsoft Store a short while ago. A few days later, it appeared in the U.S. store. Let's hope for the same with the 640!

Couldn't wait and bought a Lumia 830. Hope that was the right decision.
Windows Central Newsletter
Thank you for signing up to Windows Central. You will receive a verification email shortly.
There was a problem. Please refresh the page and try again.