Lumia 650 is coming to India soon, and you can now pre-order one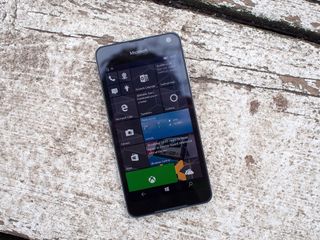 While there has been no official word from Microsoft India, sources indicate that the Lumia 650 is arriving in India in the first week of April 2016 – that's just a few days from now really.
If you're interested in picking one up as soon as it hits the shelves, you can pre-book one at a Microsoft Priority Reseller Store. You can pay ₹1,000 and reserve one for yourself in the first batch of devices. While I confirmed this from stores in Gurgaon and Delhi, different stores might have a different advance payment amount. No, the store owners do not have a clue of the final pricing just yet.
The Lumia 650 is a Windows 10 Mobile device similar to the Lumia 550, with the primary difference being the larger screen size. The Lumia 650 features a flat chrome band around the top and sides, with both white and black variants in the mix reflecting a new design language.
Lumia 650 Specifications
Swipe to scroll horizontally
Category
Specification
Operating System
Windows 10 Mobile
Display
5-inches
HD (1280x720) AMOLED, ClearBlack
Rear Camera
8MP
f/2.2 aperture
720p Video Recording
Front Camera
5MP
Still image capture
Video call
Video recording
Processors
Qualcomm Snapdragon 212
Quad-core
1.3GHz

Memory & Storage
RAM: 1GB
Internal storage: 16GB (expandable up to 200GB)
Network
GSM Bands: 850 MHz, 900 MHz, 1800 MHz, 1900 MHz
LTE Bands: Band 1, Band 3, Band 7, Band 8, Band 20
Wi-Fi: IEE 802.11 b/g/n

Sensors
Accelerometer
Ambient light sensor
Proximity sensor
Location
A-GLONASS
A-GPS
Cellular
Wi-Fi network positioning
Dimensions
6.9 x 142 x 70.9 mm
Ports
Micro-USB
Battery
2000 mAh
Other
NFC
Bluetooth 4.1
The Lumia 650 is a solid phone with sleek looks. If Microsoft prices it right, it will find a lot of takers in India. Would you like to pick one? Remember, you will need to hit up a Microsoft Priority Reseller Store in to pre-order.
Check out our full review of the Lumia 650 here.
Get the Windows Central Newsletter
All the latest news, reviews, and guides for Windows and Xbox diehards.
10-11k will be nice.. But that wont be the price.. It will be 15k n above

below 10k is what I want.....but we all know it cant be

Taxes.. Otherwise it would've launched at 10-11k and would go down to 9-10k within a mnth :(

bro.. phones which cost 16k are imported at 6k in India... check it on zauba.com .... search for any latest model and they give you details... I was shocked.. rest are their profits.. which are double than import price..!!!

6K is the price +30%import taxes + custom clearance and charges and finally some profit.

why don't they "make in india"

Nops..they are imported and purchased by dealers at 6k.. After that its profit...

companies selling high end phones in india at cheap price are manufacturing in india...
MS should think about it.

I asked my dealer friend he said the price which is coming is ₹15,200 ! And he said the device will be available tommorow for those who pre order @₹1000 today ! And in both colours as well !

damn..
if it had some more juice in battery and even a 400 processor, I would have gone for it.

I have seen many vids...comparison between SD212 and SD400...but the 400 is little faster.
on paper it seems SD212 will have the edge, but in real. NO

Although it is a low end CPU, but most of spec is better than sd400, but only the gpu is better on sd400

I think he meant a current generation 400 series processor. And I agree. This is not even marginally better than the 550 in terms of performance. This phone does not fit into their streamlined portfolio strategy. They could have called it a 550 SE (sexy edition).

SD400 is from 2013 and we are paying for something that's not better...
Phones with hardware from 4 years ago was abandoned. What about a phone with the performance that is the same as a 2013?

There's more to it than numbers. Sent from my Windows 10 PC.

at least there's no more saying ' When India' eh. Posted from 'the land down under'

What price in India now. XD +830. Win10.

probably I will use it as my secondary phone! ~DheeraJ~

Only if it's priced down right cheap less than ₹10k

less than 10? this is kind of premium looking phone! the specs are not very low. ~DheeraJ~

Lol
Snapdragon 2xx is the lowest u can go
At this price range it should have had at least the 64-bit snapdragon 410/412

Every inch of the phone is perfect for a mid range Lumia device except the snapdragon 212....

I would buy 2 if they make it 10k. And I am not sure they are going to do it which will be problematic area. Posted from Windows Central for Windows 10

The price shouldn't be more than ₹9k. Sent from Windows Central for Windows 10 Mobile

lol...u must see its price globally...and in India it will be more costly

I know. But to succeed in indian market with SD 212 the price should be hardly 10k or less. And you know the situation. Almost 50% Lumia is not getting W10 even after promise from Microsoft. So those customers will not pick up windows phone again I think with high price for such spec.

yeah..too many things that have let me down.
availability of W10 software...and now availability of good hardware lumia to buy.
none of them in the current scenario.

And now we know that W10M is a heavier OS than 8.1. So good HW/processor is required to run W10M smoothly as 8.1 Sent from Windows 10 Mobile

I think 1GB ram and quad core procs can do the job, but MS really need to improve the performance. optimization is needed. it all because of the OS bugs.
they need to eliminate overloaded graphics.

Yeah quad core is fine but not SD 212. at least 410 or higher is required with better GPU. Application loading time are very much high presently.

Yeah...as compared to wp8.1 ...launching+starting time is more.
But I think ms can improve it by good margins with future updates.
And don't forget,firmware updates for every specific phone are yet to come. I hope they will enhance the scenario.

Even for core system apps like phone, messaging, people, photos

Wait for firmware updates

Yes. My blu win Hd lte has the same cpu sd 410 but no win10 upgrade availability yet. Bought this phone @6000 INR in Jan and now the price is 9500 INR.

Win 10 update has been confirmed for blu win hd lte
Yeah amazon sucks they are charging almost 3,500rs more than original release price

I'll never ever buy a windows mobile as my primary phone. The only reason is MS broke the promise they again did almost the same thing they did with windows phone 7

whats done is done.
w10 is a service now, they will keep on improving it..so now buying a windows 10 mobile wont hurt you I guess.

For this specs I'll give them just ₹8k-₹9.5k the OS is one compromise(because of bugs) and tthe other things is the processor is outdated(in my opinion) and just 1GB RAM? I expected 2GB RAM for better windows 10 experience. So the design is great for design I liked the device but for internals clearly not my choice. Below ₹10k is the great price

It will be at least 14k. +830. Win10.

What it takes for Microsoft for installing a compass in phone.. Its a necessary device,for a map navigation. :( I will still buy only if priced around 10-11k max.

There's no compass??! DheeraJ

I hope they advertise it!

I know right! +830. Win10.

Thanks but no. I'd rather pick Lumia 640 which obviously has better hardware for lower price

Snapdragon 400 is outdated
If u are not a lumia fanboy buy blu win hd lte . It has a 64-bit snapdragon 410 . Performance of 410 is superb
It runs games like a boss & even multitasking is a breeze & win 10 update is confirmed for that phone

Agree the phone is way better than lumias at sane price except camera and lack of service centres

Blu has a tie up with HCL for the service in India. If you are in Mumbai then service center is at Hcl tower Marol Andheri east.

I hope blu comes with more devices... I have lost hopes in Lumia :( Posted via Windows Central App for Windows 10/Android

Microsoft should release a special
Edition with snapdragon 410/412 for India
Like they released 1 gb special edition Lumia 636 & 638 for china
Whereas other countries it was 512mb

Yes... Market is flooded with high specs android devices at very low price. So MS really need to do something about it.
A phone with 410/412 SD atleast.
I'm waiting since 6 months to buy a phone. Offcourse windows phone

12k or below - insta buying

Not worth a single paise above 12k

I think they will give the price tag of 13k.... ughhh this phone is not suitable for gaming

Microsoft has told that they will separate phone into 3 categories 1.business (650) 2.higher end (950&950xl) 3. Midrange and where is the midrange phone ????????

Looks like 650 is mid range for them lol
& 550 budget

Actually it was just two categories. +830. Win10.

Nope. It was 3.
And two phones for each category.

That was the old one. But later when they changed that strategy, it became just two phones entirely. One high end. One low end. I read that interview with Satya. So am able to say that. I may be wrong. But that was the last interview of his. +830. Win10.

Too low specs for my liking. I'll stick to my 640xl for now. Besides windows 10 still needs some ironing out, I've found out after upgrading to it.

Microsoft could have used snapdragon 430 instead of 212. Then 14k-15k is a good price.

... yes dennis. i think they release midrange by the end of 2016 lol

Only 2k mAH battery for a 5incher. Sad. I think this will be priced at 16k as usual. The only advantage over 640 is its amoled and has 16GB internal memory

I'd buy one and I'm not even in India.

You do know that it's one of the thinnest Lumia, right? How can you expect a bigger battery shipped with thinnest piece of revolutionary like this? Lol.

Waiting this phone at Malaysia. Want to buy this for my mom. Replacing her old Lumia 625. Posted from Windows Central for Windows 10

:-p when in India. Lol. We haven't had one for a few days....Nice little phone though. Don't know why the 950/xl couldn't carry the same design though. Hands on, these feel much better in the hand.

Its a distant planet DheeraJ

In INDIA every ₹10k smartphone has at least 2gb of RAM and SD 4xx series processor. Good luck Microsoft with such hardware on L650. Lumia 650 doesn't have everything that 640 had. Eg - Compass etc.

Why anyone would buy this phone ? A distinctive feature of this phone is ? Anyone help me. Please do not say, OS, it is half baked, and products are bought in present not in future.

MS hasnt done market study in India. Thats the only reason for such device. Else no one would have priced it... I remember paying ₹15k for L620 and L730... Wch had way better specs n design at its tym.. Posted via Windows Central App for Windows 10/Android

To answer your question why anyone would buy this,
Os. Yes. That. It is not 'half baked '. It is pretty much ready to use and works like a charm on devices with 1gb ram.
The looks. Well. Nothing to say here. If you don't like how it looks then I feel sorry for you. But otherwise it looks better than 90% of other phones in that range.
The camera. For that range, Lumia cameras are always amazing.
And all what I said is ****, if they price it above 13k. (and i know they will. Coz well. They are MS. Also they will forget to advertise.)
So. If above 13-14k, I wouldn't personally buy it. +830. Win10.

Pricing it correctly would only give them some sales.

Hundreds of 'when in India' posts, they get something and spend most of the time slating it. We ALL know it's not the best, but it was designed for the enterprise market, not for consumers et al. The thing that annoys me with it, is that it feels nicer than the damned 950's / 950xl's I've got. So annoying that they couldn't have but a tiny bit more effort in to the 'flagship' design.

I think I will buy it but Xiaomi Mi 5 is stopping to do so....!!!

Yeah 620 was quite a good phone. Sigh.

I still prefer Lumia 730 (which I already have it) as compared to Lumia 650.

Probably on 3rd April Posted via the Windows Central App for Android

I have a BLU Win JR LTE purchased for INR 3k which is better than this shiyt.