Microsoft Lumia 650 review: Sleek looks, low price
By Richard Devine last updated
The newest phone from Microsoft is the best looking Lumia in a long time, with an attractive price to match.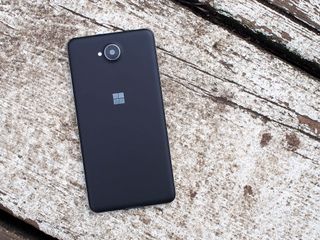 Update: Shortly after this review was published, the Lumia 650 received a software update which has improved the overall experience and eliminated some of the issues experienced during the review period. You can find out more in the software section of the review.
The Quick take
The Lumia 650 is a step forward in terms of design refinements, but it doesn't leap so far ahead on the inside as some might hope compared to its predecessor. This phone is very much an incremental iteration.
If you want a well put together phone, for £160 the Lumia 650 is certainly attractive. While the software still has many quirks (or bugs, depending on your outlook), and while there's nothing to knock your socks off aside from the outward style, it's a solid phone at a solid price.
Pros
Great-looking display
Design and construction is superb
Solid camera
Slim and almost unnaturally light
Cons
Can chug from time to time, especially in games
Far too much bezel on the front
Windows 10 Mobile still 'quirky'
Lumia 650 specifications
Category
Specification
Operating System
Windows 10 Mobile
Display
5-inches
HD (1280x720) AMOLED, ClearBlack
Rear Camera
8MP
f/2.2 aperture
720p Video Recording
Front Camera
5MP
Still image capture
Video call
Video recording
Processors
Qualcomm Snapdragon 212
Quad-core
1.3GHz

Memory & Storage
RAM: 1GB
Internal storage: 16GB (expandable up to 200GB)
Network
GSM Bands: 850 MHz, 900 MHz, 1800 MHz, 1900 MHz
LTE Bands: Band 1, Band 3, Band 7, Band 8, Band 20
Wi-Fi: IEE 802.11 b/g/n

Sensors
Accelerometer
Ambient light sensor
Proximity sensor
Location
A-GLONASS
A-GPS
Cellular
Wi-Fi network positioning
Dimensions
6.9 x 142 x 70.9 mm
Ports
Micro-USB
Battery
2000 mAh
Other
NFC
Bluetooth 4.1
Lumia 650 hands on
Lumia 650 hardware
The Lumia 650 is gorgeous. There's nothing too radical about the design, literally all it took is a metal frame, but it works. It's easily the best looking Lumia in the current lineup. What's more remarkable, and also confusing, is that Microsoft went down this road with a cheap phone and not its all singing, all dancing flagship products.
This is how the Lumia 950 should have looked.
The rear of the phone is still plastic, and still removable, with the battery cover coming away from between the metal frame to reveal the important parts beneath. NanoSIM, microSD card slot and a removable 2000mAh battery. Unlike on the older Lumia 830, the removable panel is incredibly thin. It's very pliable, and houses the phone's NFC contacts.
When attached to the phone, the rear is completely flat, save for a slight hump where you find the camera. The Lumia 640 didn't have a camera hump, but the 650 is very much slimmer. And that's why we have one now. The phone is so slim that it was unavoidable.
What Microsoft has avoided in the Lumia 650 is any unsightly antenna lines breaking up that sleek metal frame. How? There are plastic inserts that surround both the charging port and the headphone jack. I think I prefer this, frankly, and there's a little added protection when you're poking around trying to plug in a microUSB cable in the dark. I've scratched many a metal phone in the past by dragging a charging cable around looking for its home.
One thing that's also worth highlighting early on is the choice of colors. The days of bright colored Lumia phones still seems to be a thing of the past, and the 650 comes in a predictable, perhaps boring even, black or white. I think the black one looks a lot better, mostly because the white one has a white front. A white rear with a black front would have been so much better.
But let's also consider Microsoft's apparent target audience for the Lumia 650. It's being touted as the business phone, the commodity item to be bought up by corporate IT departments. Those kind of customers aren't going to be impressed by a bright green phone. So maybe it makes a little sense. Maybe.
But the combination of the matte finish on the rear, dull metal frame and the black front on the one I have here makes for a very sleek, elegant even, smartphone.
Inside things are mostly good, too. You shouldn't expect a whole lot for a phone at this price point but we do at least get 16GB of internal storage this year. If you're making a cheap phone, 16GB should still be the baseline. There's no excuse for an 8GB smartphone. It's paired with 1GB of RAM which still seems to be fine for most purposes when using Windows 10 Mobile.
The processor choice has garnered a bit of negativity from the hardcore community, with a Snapdragon 212 being very much towards the lower end. But it's one of Qualcomm's newest quad-core chips for cheap phones and most of the time it does just fine. If you're thinking automatically this is a step down from the Lumia 640 because 2 is less than 4 (as in Snapdragon 400), then stop right there.
Most of the time there is nothing to complain about. I'm not going to say it's perfect, because it isn't, and it does chug a bit from time to time. Inside Out Thought Bubbles (don't judge) isn't exactly a graphical extravaganza, but the Lumia 650 lags way too much while playing it. General every day tasks are handled just fine, and you get the trademark smoothness in most parts of the operating system. The internal hardware does struggle at times though when things get more demanding.
Equally, this phone costs £160, so if you were expecting to crush some Overkill 3 on it and have a good time, then you're not looking in the right place.
There are also cameras on this phone, two of them to be precise. And they're not bad. You've got 8MP round the back and 5MP round the front. We'll cover the camera in more depth a little further along.
And finally, the display. As with Microsoft's other, new, cheap phone, the Lumia 550, the display is 'only' 1280x720 resolution. It's a little bigger than that on the 550 at 5 inches, but no less impressive to see on a cheap phone. It's got great colors, decent blacks and text is sharp enough to read without seeing fuzzy edges. It's also much less reflective than that found on the 550, with a much more pleasurable viewing experience overall.
You have to compromise somewhere when making a phone that meets this price point, but the display is the thing you spend the most time with. It continues to be a credit to Microsoft that even at the lower end you're getting a great screen to glue your eyes to.
The point I find myself at is one which has been said before of Microsoft's cheaper smartphones. The hardware to price ratio is extremely compelling. Most of the major boxes are ticked, and while performance does stutter and drop off at times, for the most part its business as usual.
Only this time, business as usual has a much better wrapper. The bright plastic of old has gone, and in has come a new, sleek, sophisticated look for the lower end. And I like it a lot.
Windows 10 Mobile on the Lumia 650
Update: Shortly after this review was published the .164 operating system update was pushed to the Lumia 650 that seems to resolve the issues mentioned below. The hotspot feature seems to work as intended now, while crashes and freezes as a whole are now virtually gone. We felt it necessary to provide a brief update given how close the software came out to the review since it makes a good difference to the overall feel of the phone. It doesn't however, eliminate issues discussed in the hardware section, as sometimes you just need horsepower. The original text follows.
When I reviewed the Lumia 550 and came to the point in the tale where I had to talk software, things took a turn. The out of the box experience on that phone was pretty appalling. By any standards, the first hours and days were not a happy time.
So you'd forgive me for being a little cautious going into the Lumia 650. Once again, we're not dealing with a pre-release review model here, this is the real deal. A proper retail product, bought from a proper retail store.
Which means I get to see exactly what anyone reading this review would see upon buying the phone.
The good news is that things were much less painful, as I'd expect them to be at this point. Numerous updates have rolled out since I reviewed the 550, and Windows 10 Mobile is at least becoming less buggy with each one. There was still an OS update to install on the 650 after first setup, not to mention every single pre-installed app needed updating, too. Including the Store, and sadly updating a large volume of apps at once still seems to be a struggle.
But once into using it, the Lumia 650 has been my best overall experience of Windows 10 Mobile yet on any device.
There are still bugs, random times when things just freeze up completely and when trying to select photos the phone doesn't seem to have a clue what you're actually tapping on and gives a completely different picture. I would love for all the annoying quirks to have been ironed out by now, but I'm almost resigned to accepting it at this point. The worst bug I experienced personally was while trying to use the phone as a hotspot while out at Mobile World Congress. Most of the time I had to reboot the phone to establish a successful connection.
But, it's still the best overall experience I've had yet. Having used the Lumia 950 and 550 recently, too, I'm still comfortable in saying this about the Lumia 650.
Microsoft still has work to do, though. Its own apps frequently slow up on the 650, especially the Xbox app, and the Store remains something that needs a serious boost of adrenaline.
But when you're not fighting the remaining bugs, it's a smooth, mostly snappy experience. Consistent performance across all devices has been a Windows Phone trademark for a long time, and it's the same now we're up to Windows 10. The Lumia 950 will be faster, because horsepower, but the general experience on the much cheaper 650 is by no means a second class citizen by comparison.
Lumia 650 camera
Last year's Lumia 640 surprised us in having a camera that performed better than the price attached to the phone would have suggested. So then, reason enough to be cautiously optimistic for the 2016 release.
Around the back there's an 8MP shooter, and flipping around to the front you're capturing your glorious selfies at 5MP. The front camera actually stands out a fair bit when you're looking at the phone.
But here's the thing: Even folks buying a cheap phone nowadays want, and can get good cameras. And Microsoft, thankfully, seems to have delivered.
All of the images above were shot at the recent trip to MWC, which was a great chance to use it in mixed conditions. Outside in the Spanish sunshine, inside press conferences, low light, overcast and pointing at some mountains. With Rich Capture turned on all the time, the results are pretty good.
It does seem to produce images a little on the warm side sometimes, and a with a tad of over saturation. Equally that could also be Rich Capture getting a little crazy and could be relieved by using the manual white balance controls instead.
But the pictures look good. Nothing exemplar — it's still a £160 phone after all — but good. The only real area of disappointment is indoors in low light, such as late at night, when it falls apart pretty badly. But the Lumia 650 isn't alone in that regard. Much more expensive phones struggle just as much in these circumstances.
The front facing camera is pretty good, too. If you're a selfie aficionado, or even just someone who likes to look at the people they're talking to during calls, you'll be pleased with the results from the 5MP unit on the front of the 650. It won't make you look like me though, promise.
But what we've got is another surprisingly good performance in a cheap phone from Microsoft. At this price point having pictures this good isn't a given, but with the camera fast becoming one of the main selling points of any phone, it's an area that we're pleased hasn't been ignored in keeping the asking price low.
Lumia 650 battery life
The bulk of my testing of the Lumia 650 took place during MWC in Barcelona. However, I was using a local SIM from Vodafone ES, so sketchy roaming performance hasn't factored in. And during that week of total chaos, using the phone as a hotspot and snapping photos all over the place, it always got me from leaving the apartment to coming back to it at the end of the day. By contrast, I had a OnePlus X with a 2525mAh battery in the other pocket that was roaming and it was usually dead before 3pm. And it wasn't being used as a hotspot at all.
All day battery life is just fine, and it's been even easier to make it through the day when back in the UK on O2 and not using it as crazily. There is also the added bonus of the battery being removable, but as with the Lumia 550, that hinges on being able to actually buy a replacement battery. You'd expect to be able to, but still.
It's comforting that you shouldn't have to actively worry about conserving battery during the course of a regular day. The business crowd that it's apparently targeted at don't want to be running out right as an important call or email comes through before they leave the office. And the rest of us want to be able to get home and not need to carry a battery pack. Unless you're using the camera a lot or watching a bunch of Netflix videos on it, you should be fine.
Lumia 650 pricing
What Microsoft has with its Windows 10 Mobile lineup of new Lumia phones is a distinct price divide. You've got the Lumia 950 and 950 XL at the top, and then a long way below is the Lumia 650, then 550. The Lumia 650 is available now in select markets like the UK, priced at £160 from the Microsoft Store.
Deals are always to be found, though, and our unit was bought for £139.99 from Carphone Warehouse, though a new O2 SIM and £20 of pay-as-you-go credit was required along with it.
At this time there's no word on availability in places such as the U.S. or India.
Lumia 650: The bottom line
The Lumia 650 is a good, cheap Windows phone. It looks fantastic, has decent battery life and a camera that's still surprisingly good. It's a shame that the outward beauty hasn't been met with some raw performance inside, but that's just where we are right now. Microsoft's best looking phone is a £160 budget model.
The decision to change up the design a little is theirs to make, and the 650 benefits from it greatly. While its predecessor was a great phone, it was still just another box decked out in brightly colored plastic. The 650 is Lumia grown up. It's sleek, sophisticated, and it'll look great next to the suits of the business users Microsoft is hoping will be buying up this phone by the bucket full.
For the average person buying a phone that costs this much, there's not a whole lot to dislike. It's pretty bad that casual games like Inside Out Thought Bubbles cause the phone to grind as badly as it does, but the core experience is generally good.
But the software still needs work. The Lumia 650 has behaved much better during my time with it so far than other new Windows 10 Mobile toting Lumias, but there's still moments you will pull your hair out. Not being able to have a working hotspot without rebooting every time I wanted to use it was mine.
Unless you obsess over hardware specs, the Lumia 650 is a fine phone for not a lot of money. If you do obsess over hardware specs, you're probably already looking elsewhere.
Should you buy the Lumia 650? Sure
This has been the easiest new Windows 10 Mobile phone to recommend to buyers. If it fits your budget and you want a phone that looks great and will perform well enough for most things, give it a shot. It's not perfect, not at all, but it's been the least frustrating new Lumia since the updated operating system hit.
You do still need to be prepared to take a little risk with Windows 10 Mobile though, especially because of the remaining quirks. It's better than it was when we reviewed the Lumia 550, but there are still moments.
Where to buy the Lumia 650
Availability is still pretty limited right now. If you're in a position to buy from the UK, both the Microsoft Store and Carphone Warehouse will be able to help you out. If you find any particularly good deals anywhere, be sure to drop them into the comments below!
See at Carphone Warehouse
Richard Devine is an Editor at Windows Central. A former Project Manager and long-term tech addict, he joined Mobile Nations in 2011 and has been found on Android Central and iMore as well as Windows Central. Currently you'll find him covering all manner of PC hardware and gaming, and you can follow him on Twitter and Instagram.
So far, I'm a big fan of this phone. I do wish my unlocked (UK) variant has AT&T LTE speeds, but AFAIK it's just '4G' so far. Otherwise, the processor, while slow is not nearly as bad as I thought it'd be and Microsoft did a pretty nice job with optimizing everything. Besides the camera being 'ok' I have no issue using this phone and even prefer it at times to my 950 or XL. No software issues either especially with build .122 and now .164. The display and design are just top notch.

Thanks thanks for the info Posted from Windows Central for Windows 10 mobile

Using 520 for years, waiting for better WP, i want 640XL but the LTE version not available on my place. I thought 650 XL will be my next phone. But it doesn't release. So im just sitting here wait for my dreams happen.

I'm sorry but why do you like the 520 so much? I had one for a year and a half and I cant tell you now I hated every day of it. The phone is just soooooo slow. Can someone please explain to me the hype around such a terrible phone. I mean, you get what you pay for but honestly that thing was a nightmare to use. I'd prefer my 830 anyday.

I sitll have my 520 and it a gem of a phone iwould place it in the class like nokia 1100 there are soemthings taht just have a charm! I have lumia 640 now for wm10 but, 520 still ahs it place, it jut nice inthe hands and the one thumb operation, and also remeber it came at a time when droid phones having 1 gb ram used to lag and this one use to be so smooth with 512 mb ram, im using it extensively even today with lot of apps, never een it really hamper anything! As logn as oyu keep you r expectation reasonable and operate only a couple of app at a time you should be fine!

520 is a gem, get 640 its a top phone andwithin budge!

While I can understand it being a solid phone, why would you ever prefer it over a 950? What would you gain by using it over the 950? Just the nicer design?

You save some money buying this instead of 950 :p

what? 950 and nicer design? Dammmn Daniel i have a 950XL and the cheap plastic makes me SICK!!! I want the metal case with the Microsoft logo at the back - no, I dont want the Mezzo case

Send it to me, I don't mind

I want something I don't want either! Posted from WC 920, 1520, 920, 635, 640 or 950XL

At least MS or Mezzo should have given the option to customize it wi a MS logo or customized one from the buyer. They didn't get how those small options will have been a big win for them.
A MS lose publicity when the 950 with a mezzo cover it's out there.
The phone lose part of its identity. Out of context: For the great worshippers of the one screen home button. I can see the Samsung and Apple followed the hype with their next flagship.

Yeah I was wondering the same. Latest builds on 950 are almost perfect, only minor problems with legacy apps like wahtsapp. Like one crash every 4 days when using whatsapp a lot and that's about it. But you gotta know that Daniel hates the 950 go back and read his review it was pretty bad for a windows mobile centric site :(

I was going to buy the 650 until 3 march when I bought the 550. Should had waited Sent from Lumia 550, HTC Desire 816 or Dell Inspiron 5122

"When you act like this unfinished os is the ... blabla" what?? LOL it hursts their image saying that latest redstone on my 950 works very well? Try and consider that my experience may differ from yours (if you actually have a 950 with latest redstone and are not talking randomly)

Jeez you really must have some problems but since we are at it: -"First of all that's not what you said, so don't try to backtrack on your opinion unless you're going to apologize for having the wrong opinion." what? should I state each time that I express my opinion that that opinion is my opinion? LOL -Your groove stutters too: not much of a groove user, used at a party and no problems -Your OneNote has the copy bug too: not noticed maybe it's there, I don't copy to it I write and delete -Your outlook app forces reminders on appointments too. Your outlook can't manage tasks either. Don't know what you are talking about guess it's something I don't use the same way you use it -Your people app stopped updating the live tile too: nope it didn't So: 1-by your attitude you must be having a bad day, chill 2-as demonstrated by my answers your experience is not everyone else experience, people use the phone in different ways and may not have your problems 3-experience may vary from phone to phone depending on many factor. One factor might be that I hard reset from time to time. Anyway your attitude is not good. Being satisfied about something is not being "blind apologist" since you seem so full of it I tell you what grown ups do: grown ups satisfied by a product keep it, people not satisfied sell it. If I wasn't satisfied by a product I would buy an andorid and I wouldn't be following this site. Same applies to most people, normal people follow a site if they like a product, so it's obvious you'll find poeple happy about windows on this site. Take pills, it's gonna be fine, let it go, calm, calm... (ps never said that this is the best they can do, and when I found a problem I discussed it in the forums, so you are creating your own crusade based on nothing)

LOL it's a product not a religion, if I don't like it I move on. You can't see this then it makes no sense explaining. And the fact that you use something doesn't make it critical for me. It's that simple. Oh and do you want a video of my people large tile with the circles containing facebook photos floating around? You really are funny (oh and sherlock, like you stated, if it really didn't work lying about it wouldn't really make sense because as you stated everyone would know I'm lying LOL)

Using it for years (since 8.0) and developed for it for a year now . If by not updating you meant not showing certain things ooook, but it shows people from my contacts with their updated photos so the live tile is updated. I couldn't immagine that you wanted an old feature and referred at it as "the tile doesn't update". Never said they are not critical in certian usecases like apparently yours, what I said is that you try and contradict me attacking MY opinion of MY usage of win10. For me it is working very good. For you it has some problems. Everyone brings his/her experience and the state of the product is the avarage of our experiences. You attacked the wrong person with your load of useless anger nobody cares about. I've answered to all your points all the times, I didin't even want to prove you wrong, you are not even grasping the point of the discussion so you can't technically be wrong.

Let me recap this to you angry boy. 1-Article about lumia 650 review 2-commenterA said that W10 on 650 works better than on 950 3-I said that on my lumia 950 it works very well and I'm enjoying it 4-wpkevin arrives and starts with a completely out of context comment "When you act like this unfinished os is the best that Microsoft can do, that hurts their image" and goes on stating problems that are common to 650 and 950 alike and anyway, even if it was not related to the matter at hand, I tried to explain that my experience is good anyway because I'm not encountering them 5-wpkevin continues his crusade by "educating" poor stupid users about how they shouldn't be happy about their experience with windows 10 mobile. He even states that I'm pretending I don't see a problem with the contacts tile not showing some random contacts are doing on facebook and can't even understand that a lot of people couldn't care less about that feature and that's why they can't even remember that it's "missing". If I'll switch to another OS it will be because of the app gap and not due some bugs here and there, I and many w10m users I personally know feel the exact same way. You are making yourself a bit ridiculous, please go on :P

It's was a fair review. 950 was supposed to be ahead of the curve, maybe Daniel didn't think so. We can't compare 950 with Samsung S7 or the next or new Iphone because windows 10 is still having hiccups. Recently they try to salvage what was left of the 950 with a camera comparison, frankly we lost that edge too, unbelievable.

will microsoft release windows 10 ROM for xiaomi mi 5. I am eagerly waiting

Sure. Just wait for it. Oh wait, Xiaomi will even release it in 2 variants, one with Android, and the one with Windows 10.

That would be great. If they do, I buy.

Was there ever a Windows Phone that you weren't a fan of?

950 and 950XL go and see the review :D Untill he got the mozo case, then he felt a bit better about them.

You are like the only person who noticed. Most people just saw the old snapdragon 4 become 2 and they all screamed murder!

For what can i see. My 1020 it is much faster on win 10.

"Low price"??.... Really??
Wait for it to arrive in India and it will be competing against 3GB ram, octa core processor phones at that price range...
No one would buy it..

Problem is that all those octacores are using Crapdroid

No one will go for SD212 and 2000mah at 14-15k.
MS problem since starting

i guess you ment its just 3G as the EU version of 650 wont get real 4G in USA as it lacks most of the LTE odd bands for USA networks mobile operators renameing high speed 3g H+ (DC-HSPA+) and calling it 4G does not make it 4g :) (apple found out that mestake in australia saying it supports 4g when it does not support real 4g LTE) DC-HSPA+ is not a new network LTE is (like 2G is as well)

I don't know if I keep missing it, but does this phone support Miracast? I can't see anywhere that it does...but my 640 does and if the 650 is an upgrade I expect it to support it also. +640/Win10

The phone does come Miracast Enabled. Most Lumias are now.

The 540 doesnt Posted via the Windows Central App for Android

It does the 650 does things processor wise the 640 can't even dream of

Like what exactly? Posted via the Windows Central App for Android

I wish it could come to africa soonest Posted from Windows Central for Windows 10 mobile

If your in SA. You can buy it now through Orange

The comment about the Photos app not being able to tell which photo you're tapping on is interesting. I have that same problems sometimes on my 950, and it's infuriating. Can't believe they haven't fixed that yet.

Yeah.....i noticed that on the 950 I tried. Didn't realize it was a widespread issue.

Yep, same on my L635 and L435. I noticed that it happens when the Photos app has not synced up for long time or just after I deleted some photos and sync did not finish running yet. I tap a photo and a completely different one opens, which was supposed to move into the position of the deleted photo, but simply was not displayed yet - it's like I tapped an invisible ghost, whcihw as not yet there. If I manually sync the photos app first and then tap any photo, the issue never occurs for me. Ever. So, I'm nearly positive it has something to do with internal buffering of the app itself or slow syncing to OneDrive. Or both.

a little workaround for that is to change device orientation back and forth (or you can simply choose it when it's in landscape)... works everytime, but still it's quite annoying

This is why we need to give it time to get more bugfix before pushing the update to everybody.
It's really causing a head scratch on some of these bugs that are so big nor obvious that they haven't fixed it yet sooner. No wonder that every W10M devices being reviewed I saw always mention the W10M bugs, which is a solid indicator that it still needs a lot of work.

I'm a user of a Lumia 640. I have to say for a cheap phone, it's really great in its class. The 650 looks like nice. I Really like the new body. But you can get a 640 for $30 now. Dropping $200 on this one for a few upgrades is kinda a big gap between the models. But do have to say, The Body looks very good. I wish they added that body to the 950. :-D

I don't know why anyone would pay $150 more for a 650 when the 640 is 80% cheaper with a better processor.

It's been said before. The 640 is around 180 USD in the rest of the world (it's just heavily subsidised in the US). The 650 is in fact cheaper for most people. So there's your answer on why someone would get the 650 instead of the 640. And in my humble opinion, the 650 is a much better looking device. Windows Phone doesn't impress me either, but Windows 10 Mobile does (as a former iOS/Android/BlackBerry 10/Meego user).

It must be noted that the 650 has a better screen.

An AMOLED screen is featured on the 650 but the 640 has an LCD screen Posted via the Windows Central App for Android

If the Lumia 640 was really $30, Android wouldn't exist anymore.

640 doesn't even exist in India.

"Low price"??.... Really??
Wait for it to arrive in India and it will be competing against 3GB ram, octa core processor phones at that price range...
No one would buy it...

stores in australia sell the 640 for like $295 Posted via the Windows Central App for Android

Except that the processor isn't actually better Posted from WC 920, 1520, 920, 635, 640 or 950XL

Battery is also not batter...
Looking at this point of time

If you use it for personal use then the battery would last for most of the day Posted via the Windows Central App for Android

Nice phone for the price but disappointed that there is a trend to more and more bezel. I would prefer to see less bezel, please.

ergonomics, if that's the correct english word

While the design may be improved on previous Lumias, I can't agree with the 'low price' remark. 640 was cheaper when it came out and is arguably more specced-out even today. I could not recommend this over 650 especially, since the price of the 640 has gone down even more over time. 220 euros is way too much for this device, when the 640 now costs 100.

Where I live and bought this the 640 cost me more from the Microsoft Store. £10 more than the price of the 650 if I remember correctly.

Yeah, I can agree the prices may vary, from place to place, in which case that has to be taken into account. The ones I mentioned are from a European country for unlocked phones, without any carrier interference on pricing or tying the customer to a contract (of course these options are also available).

well the 650 is equal to 640 if not better... don't let the lower series number of the SoC fool you: slightly better CPU (1.3 vs 1.2), slightly weaker GPU (Adreno 304 vs 305)

Neowin has a very detailed comparison between the 640 and the 650, including benchmarks: http://www.neowin.net/news/microsoft-lumia-640-vs-lumia-650-comparison-i...

On a serious note Richard, as a person who has access to the best and worst of both Android and Windows Mobile, what do you think? Does Lumia 650 have any chances against its Android opponents like Huawei Honor 5x or say Gionee S6 (3 GB ram and 32 GB internal storage with a far better battery) or even the like of Lenovo Lemon (K5/K5 Plus)? How does it stand against them? Honestly, if some relative or a friend of yours who is not as informed as you or us nerds, asked you for a new smartphone, would you recommend Lumia 650 or go with the other options which I mentioned above??? Posted via my Samsung Galaxy S3 Neo which isn't as much abandoned as any Windows Phone on the Windows Central App for Android

Ok you were asking Richard and not me, but I would say that the 650 is not competing with those phones at all. It's aimed primarily at corporate buyers (where it can be remotely managed by IT depts) and not the normal buying public, in line with MS' "retrenching" from the consumer market. So I don't think it really matters how it compares as long as it makes some money for MS and who knows, it may just take 10,000 units or something silly to do that!

In italy they started marketing the 650 in radio commercials so I guess they still want to sell them. That's why it looks good, they understood, looking at apple, that if your product looks good it doesn't metter if you put cheaper hardware inside for 9 out of 10 people :)

"This is how the Lumia 950 should have looked." Nadella sacrifized the Lumia flagships in return for (so far) one, future, limited availability flagship from HP and a mid-ranger from Azer. Oh and the Japan only thing. Mastermind.

Windows Phone had no presence in Japan since Nokia walked out of its market in 2012
it's a good thing that many local OEMs here are embracing Windows 10 Mobile

I don't even think that will stop them releasing at least better looking 950 series flagship. At least it gives the new wave of W10M devices to be an attractive phone to look at and buy, something to justify with the price. They just make the new flagship Lumia another compromised device when in terms of aesthetics that it takes buying a 3rd party shell (which is actually great btw) to mostly 'fix' the looks, not just enhance it. Buying a 3rd-party shell became just like a rule to get. On that regards it's not a good impression to the device. Still I'm glad HP and Nuans realising compelling looking devices for W10M family.

Yea I have to agree the the 950 should have looked like this. I don't think its an upgrade from a 640 either. Its kind a in its own class

Can't agree with you there. Having seen both in real life I prefer the 950 over the 650, it feels better in the hand in my opinion. In truth I still prefer the 830 design over both of them. Posted via the Windows Central App for Android

I've always thought that the"plain look" of the 950 and XL was to allow(and encourage) people to personalize them with the replaceable backs like the mozo ones. Putting some thing expensive on there from stock would have made the phones cost more and folks less likely to switch backs

Have a look at alcatel idol coming later this year, top end specs, great looking (arguably better than HP), great camera (far better then HP and competing with 950s)

I guess there's no support for AWS ? Can't use this on T-Mobile.

You would have to take your chances with the US version in order for that to happen.

The dual-sim currently on pre-sale at the MS store has the AWS bands for us T-Mo folks.

Also, Daniel Rubino, waiting for your honest take on Galaxy S7? Can you get it for 2-3 weeks (burrow from Phil or Andrew) and use it as your daily driver for that time and then give your verdict being a Windows enthusiast.?? Posted via my Samsung Galaxy S3 Neo which isn't as much abandoned as any Windows Phone on the Windows Central App for Android

What kind of troll signature is that? 98% of android phones hasn't gotten an update. Posted from Windows Central for XL

Got the s7 Edge. Great phone but I don't like the store on Android and some apps are actually worse. Like fitbit, Xbox app, outlook and so on. Posted via the Windows Central App for Android

Isn't the new Samsung just the same as the old one only waterproof and has expandable memory?

Isn't the new Samsung just the same as the old one only waterproof and has expandable memory?

Rich, I figured out why the photos app sometimes doesn't understand where you are touching when selecting photos (as you mentioned in the review). If you have been looking at photos in landscape and exit the photos app without returning to portrait, it will continue to run in the background in landscape. If you then invoke 'photo selection' from a different app in portrait orientation, the selection screen will display in portrait, but the touch points will still be set as landscape from the other 'photos' process running in the background. Holding 'back' and closing the photos app that was used in portrait fixes the bug in the photo selection screen.

a simple change in orientation can fix that bug...

Yes, but it depends on the app you originate from. Some apps will not allow the 'photo selection' screen to change it's orientation. Otherwise yes, it is a simpler solution.

Interesting Richard. My wife and I both own AT&T Lumia 950s, and we never experience lock ups or unexpected freezes anymore. Really, it's been pretty smooth since build .36 was released. Installed .167 just about an hour ago, and think it all seems pretty solid. It's unfortunate that you are still experiencing "quirks" with your Windows 10 Mobile devices.

Is this phone a good upgrade from the ATIV S? Posted from Windows Central for Windows 10

Not really an upgrade, persay, more like a sidegrade. You're getting newer and more polished hardware with guaranteed software support, but this phone is definitely low end.

I don't have high-end phone money right now, so I think this'll be my new phone for a while, at least until I see some new phones from Microsoft or other OEMs.

I would have liked to get this phone for my girl but if it hangs on her playing any of those light games I know she'll send it like a missile through the window.

Quite a girl you've got there. If she asks you a question and you can't answer, will she send you like a missile through the window?

Lol nah she had a bad experience with her 720 Lumia she ended up giving it away after 6 months and going back to her bbz 10.

640 is still better and cheaper for 30$

The Lumia 640 is not better in any way except for slightly better GPU performance. It's certainly a better deal, but it's not like the phone cost $30 when it was released. Oh, the Lumia 640 might have better battery life, but other than that the Lumia 650 is the better phone.

What did the Roman do for us? The 640 has better battery, GPU, CPU, Compass, 1080p@30fps and a lot cheaper even when new. Currently theres a massive price difference. The 650 has 16GB, a better screen, better selfie camera, slimmer, lighter and a much nicer chassis. The 650 though isn't competing with the 640, its competing with phones like the 2GB/16GB (13mp) Moto G 3rd gen with a its the same price point. I don't see where a low end business market will magically appear for the 650. Every place I know which had WP as work phones has already switched to Android/IOS. Not at the 650 price point either, they are usually contract phones so they are much higher end phones than the 650.

The Lumia 640 does not have a better CPU. The Snapdragon 212 is actually a faster CPU, but a slightly slower GPU.

That price point is MS shooting themself in the foot though. I dont understand the naming of this device, it should have been 550, not 650. Spec for spec, the 640 is better than the 650 and cheaper to boot. I just brought a 2nd 640 phone from BestBuy for $30 brand new (max price for unlock at MS Store is $130) so you are basically paying $70+ more for better looks?

The Lumia 640 is definitely not better than the Lumia 650, especially not "spec-for-spec". The Lumia 640 has a larger battery, slightly faster GPU, and slightly better video recording capabilities. That's basically it.
The Lumia 650 has a far superior, premium design, a better display, a better camera setup, a faster CPU, faster theoretical LTE, more internal storage. The Lumia 640 is definitely a great deal right now, but don't you think for a second Microsoft is making ANY money off the Lumia 640 at $30 a pop. It didn't cost that much when released, but now it's old, replaced, and no one is buying them in droves. This phone is a solid, affordable option and a pretty great phone. You're just looking at the numbers out of context and going "right...2 is lower than 4...640 IS BETTER PHONE." The Windows Central Universal Application for Windows 10 Mobile on a Nokia Lumia 830

Hoping this comes to US (ATT) soon, would be a fantastic upgrade from my 635!

640 is a fantastic upgrade (and cheaper) too.

Might just get this since the next flagship will most likely be launched next year

lovely phone i want to buy it for my wife instead of HTC 8X.... i have 1520 and i'm waiting for Surface Phone to replace it!

Great review, thanks Richard. Very interesting how solid this phone sounds right now.

Quite funny that Windows Central does a review of this device when everyone is reviewing the amazing Android devices from Samsung: Galaxy S7 & S7 Edge. Glowing reviews for both devices even on iVerge

Who the **** wants to read anything about a shitsung lagdroid phone on a site called WINDOWS central??? If I'd want it, I'd go to android central, or some other droid reviewer site :D
Posted from Windows Central for Windows 10, on HP 250 G1 notebook

http://www.windowscentral.com/samsung-galaxy-s7-gets-reviewed-should-win...

all other who are not blind fanboys like you! S7 a ****** lagdroid? have you ever used one? or touched one more than a minute?...pfff fanboy

Get a life..... Stop being such a blind windows phone fan. I suggest you better start to learn using Android because soon, windows phone will be dead.

Lol, no Posted from WC 920, 1520, 920, 635, 640 or 950XL

You are an idiot. Hell you even capitalized the W in Windows Central so you should have it figured out. But if you need help figuring I out; head over to android central, which is the OS the Galaxy S7 runs.

I think your internet access should be legally barred. Good god what an idiotic post you just made, I hope it ruins your sleep.

I see that the troll from Panama is still making the rounds. I was so happy when you disappeared from TR.

I see no reason to care for those.. They are just the same current gen android devices as everybody else releases. Posted from Windows Central for XL

Android d3vises suck . The kets on rhe key board are tiny and you always get an error typing. And the widgets necer uphdate Posted via the Windows Central App for Android

Stay tuned for the review of the Samsung Galaxy stab Pro S which will get a glowing review here but on iVerge it will score lower than the reigning champ the iPad pro

This "click here to continue reading and leave comments thingy just kills me :D I don't want to use the browser to read wc articles, that's why I installed the app :D I hope you guys won't do it very often :D Posted from Windows Central for Windows 10, on HP 250 G1 notebook

Don't worry, the article just got an update that's all.

Came to windows 10 app of windows central to see if it can render reviews in app instead of going to the browser like WP8.1 app- which seems counter productive to me. Apparently, not. Oh well, let me jumpy to the user voice page. Sent through Windows Central app for Windows 10 from my Lumia 525.

Funny thing is: I can read the review just fine with the WP Central Android app... Go figure. Posted via the Windows Central App for Android

It's funny, with all the phones that came out with the SD400, I hoped that MS would give us something other than that chip... and I should've been careful what I wished for lol. While the 212 does seem to perform admirably, and this phone just looks drop-dead gorgeous, the fact that it can't record 1080p video makes me shy away just enough to want to buy this outright. Personally, I don't understand the 'business' connotation when it can't use continuum, since the latter feature screams business, but then again, that's just me. Maybe I'll change my opinion if I can ever get my hands on one in the US.

Beware.... It may be another traop set by Microsoft. Comes another windows phone update, MS may state that all SD400 phones are not going to be updated anymore..... who knows?

I'd also worry about how long before the 2xx series will not be good enough. The head of development at a mainframe company told me 'it's eaier and cheaper to throw hardware at a problem than people to make it run".

Now tell me, Microsoft, is it so hard to make a phone this beautiful? Why didn't you do something like this with the 950/xl? Instead, you have us two "flagship" phones which are just downright ugly at worst and bland and boring at best...

Stop complaining. The Lumia 950 and 950 XL's were recycled Nokia designs. If you wanted a more premium design, you would have had to wait another year for Microsoft to do it.

hahahhaaha and you belive in that? Nokia always gave us beautiful phones.

Yes I do, because it's true.

yeah right :)))...I won't believe anything MS says...they are trustless!

Yeah but the old 7.0 and 7.5 models they put out looked funky and disproportionate, it took them a while to nail the design at all. their 800 looking better than some of their other earliest models.

If Microsoft had invested just $10 per phone in a better CPU, the Lumia 650 would be serious competition for $200 Android phones. Instead, Microsoft chose a CPU designed for $50 Android phones. So, I will be staying with the Lumia 640. It sells for $30 and it has the same CPU as the $180 Motorola Moto G. That makes the 640 the best smartphone deal ever.

Yeah the 640 is quite a steal for what you get.

The Lumia 640 definitely was not $30 when it was released though, or the whole world would've bought it in droves. It's simply a year old now, and thus the price has fallen dramatically. I'm sure this phone will be at similar prices a year from now. I do wish Microsoft had put a Snapdragon 410 in this phone but the Snapdragon 212 is hardly a bad processor and you're hardly going to find it in a $50 Android device. In a device that cheap you'll likely find a terrlble Mediatek chip.

Metal does the job. What would the surface phone look like. Its gonna be a big surprise.

I think all they need now to complete the *50 line-up is an 850 which focuses on being a slimmed-down, sexier version of the 950 without stuff like the liquid cooling and a cheaper screen. In the future i would phase out the 9** series altogether and have a Surface-branded device/phablet at the top end, 5** series at the bottom and 6** to 8** in between. That way MS can focus on creating refined, iterative hardware and leave the gaps to partners.

A Lumia 850 with a 5-inch 1080p AMOLED display, a thin and compact design, physical camera shutter, Qi wireless charging, a Snapdragon 650 or 652, 2 GB of RAM, USB Type-C, and a 13-16 MP PureView camera with OIS is my dream phone right now. Even better, a Lumia 850 XL with a 5.7 inch 1080p display.

Don't forget the camera button too if its a PureView device! A legitimate device upgrade from 830.

Obviously! That would be a must. And microSD card support with 32 GB of internal storage.

Ah yes! MicroSD should be ALWAYS there too. Though for the sake of the cost, I don't mind having 16GB internal as long as we have MicroSD card support anyways. We need a device that isn't too expensive for its class and affordable to be really attractive. Lumia 830 was a victim of this within its launch that it was quite too expensive for what it is.

I could live with 16GB easily I just feel it would be easy to do everything mentioned above, have 32GB of internal storage and still keep the price around $400

Definitely not for 400...Microsoft was selling the unlocked 830 for 450.

The Lumia 830 was overpriced, which was generally known knowledge. It's a beautiful, great phone with an amazing camera, but it was only worth about $300, unfortunately. It's a good deal nowadays for how much you can get one for but it was definitely overpriced at launch.

Maybe I missed it, but does it have wireless charging?

Unfortunately, it does not. One of my only qualms with this device.

The Qualcomm Snapdragon 212 is actually a stronger CPU performer than the older Snapdragon 400. It's GPU performance where the Snapdragon 400 pulls ahead ever so slightly. Than the Snapdragon 212 is more efficient and brings some other previously-4xx-range features like LTE down to the low end. It's a solid processor and it's not terrible in a phone this price. My only issues with this phone is the large bezels and the lack of Qi wireless charging. The lack of a physical camera shutter is a shame too.

Low price?! A 160 phone with a snapdradon 212, 1gb ram and 2000mha battery, low price? It's ridiculously expensive for the internals. I'm not a fan of android, but you can get phones with 2x the horse power for the same price. Anyone who buy's this instead of a lumia 640, it's making a mistake. Want even lower price, get a 550, with basically the same internals as the 650, but wit a much fair price.

Yep, they're just recycling now, and clearing out old parts.

This is as ugly and unattractive as an iPhone. And boring white or boring black? Please bring sassy Nokia greens and oranges back! Beautiful plastic covers.

Got the chance to see this phone. Looks great, metal makes the difference. A 650 XL version would be great

But, but, 1 gig of ram... W10M would scream with 3.

I was in Barcelona at the same time as you guys, on an architecture study trip which was amazing but at the same time I can't help but feel like the universe was just taunting me with MWC happening so close by..... I have to go back in a few years for MWC now :D Mount Juic was so beautiful and on the tech side of things, My Vodafone Smart 4 Turbo did amazing always lasting a full day of pretty heavy usage :D

Microsoft please release this phone at Malaysia. I'm waiting for this phone.

Pricing to make Windows phones relevant again: L550 49€, L650 99€, L950 149€
Would even be profitable with enough units sold. Currently windows phones are way overpriced and mobile device management works with ios & android as well.

Haha, nice one, but I think your suggestion for the lumia 950 is too low in price. However I do agree the low price can drive the sale and turn profit from low pricing.

Yesteryears specs. Creaky cheap construction. Buggy beta OS with no apps and no future. 149€ is still a lot of money to throw away like that.

It depends on you. Lumia 950xl spec is more or less the same as the high end when it was announce. For me my view of smartphone has change since I use Lumia 950xl. It's not only spec, exterior design and app that define the good experience with the phone. For me, Lumia 950xl give me what I need and more. For me windows 10 mobile is tremendously better than windows phone 8.1 in every way except the smoothness which I believe will become good with every update. The Lumia 950xl also makes me not regret giving my Lumia 1520 to my wife with windows phone 8.1 in it. The office app is better plus I can use it with my spare monitor, mouse and keyboard, the camera is better, the size is good, the screen is accurate in color, the maps is better, the photos app can do more, and a lot off UWP app that coming making me happy with the purchase. Your experience may vary. Posted from Windows Central for Windows 10

Well fans pay any price :) But there are not many left and market share needs to grow in stead of sharp decline.

Saying MDM works with iOS is a point why they should lower the price of 950, while 950 even now is cheaper than the iPhone 6S doesn't seem to hold well. Most of the Android phones with same specs are also with the same pricing. Am I missing the idea or something? Other fun fact -> it's not MS that makes the phone expensive, all the compenents used nowdays have much increased performance and price. And seing how different shops aggressively dropped the initial price of the device, from where do you thing they have cut - their margin or MSs?

You have no idea about device management in big corporations do you? Honestly now... Posted from Windows Central for XL

Still waiting for mid range from Microsoft (which is not going to happen :\)

What about the elephant in the room? Why get this instead of the significantly cheaper 640?

Way older hardware? Posted from Windows Central for XL

No way..the phone looks awesome, but it's overpriced! and the OS is a bummer...still a buggy mediocre mess.

In India it will be of same price as lumia 640xl I.e. 14k
Would rather buy 640xl because of the processor and storage.. Posted via the Windows Central App for Android

640xl has smaller storage (8gb vs 16gb)

So you would pay the same for a worse soc, less storage and worse screen? Posted from Windows Central for XL

these people go by the theory.. 400>212 .. thus, 640 is more powerful.. right? RIGHT?

What? Posted from Windows Central for XL

You can buy three Lumia 550s for that price.

To be frank, the camera on 850 looks pretty good to me - especially in good outside lighting situations. I really think there's value in the camera alone.

Put any phone in a protective case and it's external looks goes completely away.

I hope the specs on the Microsoft website are wrong. The 4g LTE bands listing omits 700mz, Band 28 on AT&T and 700mz Band 12 for T-Mobile. Those 700mz bands are essential to obtain a strong 4g LTE signal indoors. Even $50 android phones sold im 2016 have those bands. The Lumia 640 has both 700mz bands, a faster CPU, and a bigger battery. It costs $30. The Lumia 650 is a big step down and sells for $199. What is in the water at Microsoft?

How is this phone any more specific to business/enterprise than any other Lumia?

What about "HEY CORTANA " in 650

beautiful hardware but i am worried about the software.

Hmmm...this 650 will probably replace my wife's 635+WP8.1 (which replaced her HTC Trophy+WP7.8). I'm waiting to see how the HP Elite x3 compares to the 950XL and possible Surface Phone unicorn...In the meanwhile I'm still enjoying my Lumia 929 (personal), Nexus 6P (developement) and iPhone 6S Plus (work-issued).

Why is everyone interested in the HP and no one in the alcatel idol? HP has a design and a camera which look business oriented while the alcatel has better specs, great look and great camera.

If only I could afford one, I'll give it to my girlfriend Posted via the internet

Smart... Posted via the Windows Central App for Android

Can I put Android on this please? Posted via the Windows Central App for Android

Just picked up a 640 for $30.00 US dollars at WalMart and running Redstone on it. I just wish that the 650 offered better hardware to justify the extra money for it.

My one and only problem. USA LTE Bands. It is missing all of the newer low frequency bands like 700.

I'd buy this if I hadn't bought the 640 three months ago

What's the pont of the aluminum strip around the edges? I personally don't care about that. I care more that they made it slimmer than the 640 when they didn't need to. I would prefer to have the same thickness as the 640, with perhaps a bigger battery. What's the point of making these phones slimmer and slimmer and slimmer. I don't get it.

Because that's what people want.

Aluminium is lighter and more premium than plastic Posted via the Windows Central App for Android

I wish MS would release a mid-range phone with physical camera button. My girlfriend's 625 has it but my 640 doesn't

In Mexico this will cost 4400 pesos aprox, compared to the ZTE Blade V6 I'm going for Android this time because of price. The ZTE just costs $2900 pesos. You get pretty much same specs on this phone 2GB RAM, 16GB storage, 13MP camera with dual flash and HDR, metal body, HD display. Sorry Microsoft, but if this was less expensive I would have chosen it, the photos at daylight look to be better on this phone than ZTE Blade V6.

Yeah you are right, I got the 640xl for just $3000 mx. The 650 is overpriced here in México, it's slim and looks great, but that price! Besides, I'm not fan of metal on phones, so it's not a big deal.

Yes, if it has a camera, it should have a camera button-something that is much more useful than a feeble flash!!

Why suddenly this article came to be on top of the all new article? And I get a lot of notification even though the comment is not for me? I already deselect the option to receive the notification. Anyway I'm waiting for this phone to arrive at Malaysia so that I can replace my mom's Lumia 625. Posted from Windows Central for Windows 10

To be honest with all the norms of a low end phone, they should have put on more appealing features on low end phones besides expendable memory or premium body. Where's the innovation? What about faster internal memory speeds? Less bezels? Unique materials? Better battery? I'm not an engineer but if there's nothing new to show don't give the fans the same thing in a different body.

This isn't for the fans. If you want something for the fans, check out the new Lumia 900 series.

Although they are particularly targeting enterprise users, I doubt it would succeed in a way that would force/attract people to use this in a business centric environment, too many hiccups in a "released" RTM build especially out of the box. Especially when Android devices lurking around the same price range is much more robust in features and way snappier.

720p recording" lol this phone will be left for dead after whatever comes after redstone thanks to mediocre stingy hardware, ms wont cease to amaze

Which is better in camera ? Nokia lumia 830 or lumia 650?im thinking which is my best choice.pls help.and i wish make a camera shot comparison.

I'm pretty sure 830 camera is much better Posted from WC 920, 1520, 920, 635, 640 or 950XL

830 has a better camera cuz it is a high end phone Posted via the Windows Central App for Android

please stop supporting lumias. These are just crumbs that microsoft put out there. Support 3rd party hardware phones so they wont shy away from Windows 10 OS. We need to let these 3rd party companies know that we have confidence in windows 10 OS. Microsoft survives by 3rd party support, theyre not apple; theyre more like Android. This is why android is king right now

They can only attract second rate no name oems having no android business to confuse their customers. Only way to bring this dead OS back to life is that Microsoft goes all in hardware & software. Just like Apple.

that was the attitude of Steve Ballmer. He wouldnt share Office to everyone but microsoft products. Look at Office now, it is acting as an android to windows.. a trojan horse. It's on every platform and theyre banking on subscriptions. It's foolish to think microsoft will survive without 3rd party. Apple is actually losing to Samsung which runs android. To win the game, you need to adapt to androids model. penetrate every single hardware out there.

This will be my next phone when it gets cheaper, like under 200€. I'm still using Lumia 520 over 2 years now so this will be a big upgrade for me. this one has Front facing camre, 1GB of ram which is decent (I'm not gaming with phone). and it just looks so nice! :P

Cuz pink mixed with gold is stupid
Keep the lumia colours original Posted via the Windows Central App for Android

Anyone who thinks the 650 is good is absolutely stupid. The battery life sucks on it and have to charge it 3 times a day. I can lose 10% battery in flight mode and with the display off. I can't wait to get shot of it. This phone is supposed to be directed towards business users yet it doesn't support continuum. Epic fail microshit.

A lumia 655 would be a good idea. By supporting continuum and windows hello Posted via the Windows Central App for Android

640 doesn't even exist in India

"Low price"??.... Really??
Wait for it to arrive in India and it will be competing against 3GB ram, octa core processor phones at that price range...
No one would buy it.

Well, I am in India........and I have bought the phone....... I don't care about Lagdroids with large RAM and octacore processor. I want a phone that works for me without worrying about security, lag and performance and the L650 is good enough for me.

I must say that I am really excited for this phone to come to the states. At first I was completely uninterested. But, after reading reviews I will say that I will go check it out at my local Microsoft store. However there is no way I will be able to justify $200 for it when my 640 is now $30. This phone will be mine, but in good time.

Seriously how can anyone say this is better looking than the 950xl, terrible thick bezels and 5 year old styling. The 950xl looks very professional especially with the leather back cover. 3 months of use and still loving it.

They're saying that because of the metal edges Posted via the Windows Central App for Android

Oh, please, this thing is just as cheap and ugly as the 640, 635 and 950. Did everyone lower their standards?

Which is better lumia 640xl or 650 have a comparision between 640xl and 650

Still confused between lumia 640 or lumia 650.

The 640 runs on snapdragon 400 which is worse and older than 212 which runs the 650, the 650 has 8gb more storage than the 640. The 650 may not respond to your finger all the time mainly because windows 10 mobile is still being worked on Posted via the Windows Central App for Android

I'm am thinking lumia 655 which if you know the last digit means there is an improvement on the 650. As it is a bisiness phone it could have winows hello and contiuum supported Posted via the Windows Central App for Android

Available in India for 15500 INR

Awesome phone, have bought it on Amazon to replace my Win Q1000.

Got me one on order will see how it goes...figure i try this and see if i like windows 10 before getting the 950.

On special with O2 for £100 at the moment... only to Apr 27th

Purchased the Lumia 650 from Cricket (USA) on 15-MAY-2016 for $125 US. I was hesitant to buy after reading the profressional reviews. All the reviews slammed the Qualcomm Snapdragon 212 processor. Cricket offers 7 day return policy so I figure what the heck, I'll give it a try. To my surprise (after reading pro reviews) I have not experienced any processor lags. The touch screen is responsive. All pre-installed apps are responsive. All downloaded apps are reponsive. I have not noticed any camera lag when taking pictures (several of the pro reviewers complained about this). Speaking of camera, the backward facing camera takes great pictures. Love the OLED 720p screen. Images and colors are great. Case design looks and feels like a high end phone. The phone is super light and kind of wish it weighted a little more. Guess this could be resolved by adding a protective case but do not want to detract from the OEM design. I really can not find any complaints with the Lumia 650 at the $125 US price range. The front facing camera could be improved but sufficient for the current price point. Long story short, I'm a happy customer.
Windows Central Newsletter
Get the best of Windows Central in in your inbox, every day!
Thank you for signing up to Windows Central. You will receive a verification email shortly.
There was a problem. Please refresh the page and try again.