Microsoft Lumia 650 review: Sleek looks, low price
The newest phone from Microsoft is the best looking Lumia in a long time, with an attractive price to match.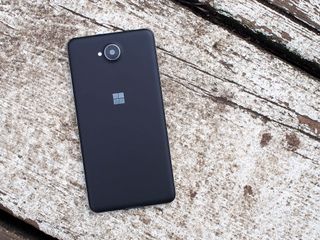 Update: Shortly after this review was published, the Lumia 650 received a software update which has improved the overall experience and eliminated some of the issues experienced during the review period. You can find out more in the software section of the review.
The Quick take
The Lumia 650 is a step forward in terms of design refinements, but it doesn't leap so far ahead on the inside as some might hope compared to its predecessor. This phone is very much an incremental iteration.
If you want a well put together phone, for £160 the Lumia 650 is certainly attractive. While the software still has many quirks (or bugs, depending on your outlook), and while there's nothing to knock your socks off aside from the outward style, it's a solid phone at a solid price.
Pros
Great-looking display
Design and construction is superb
Solid camera
Slim and almost unnaturally light
Cons
Can chug from time to time, especially in games
Far too much bezel on the front
Windows 10 Mobile still 'quirky'
Lumia 650 specifications
Swipe to scroll horizontally
Category
Specification
Operating System
Windows 10 Mobile
Display
5-inches
HD (1280x720) AMOLED, ClearBlack
Rear Camera
8MP
f/2.2 aperture
720p Video Recording
Front Camera
5MP
Still image capture
Video call
Video recording
Processors
Qualcomm Snapdragon 212
Quad-core
1.3GHz

Memory & Storage
RAM: 1GB
Internal storage: 16GB (expandable up to 200GB)
Network
GSM Bands: 850 MHz, 900 MHz, 1800 MHz, 1900 MHz
LTE Bands: Band 1, Band 3, Band 7, Band 8, Band 20
Wi-Fi: IEE 802.11 b/g/n

Sensors
Accelerometer
Ambient light sensor
Proximity sensor
Location
A-GLONASS
A-GPS
Cellular
Wi-Fi network positioning
Dimensions
6.9 x 142 x 70.9 mm
Ports
Micro-USB
Battery
2000 mAh
Other
NFC
Bluetooth 4.1
Lumia 650 hands on
Lumia 650 hardware
The Lumia 650 is gorgeous. There's nothing too radical about the design, literally all it took is a metal frame, but it works. It's easily the best looking Lumia in the current lineup. What's more remarkable, and also confusing, is that Microsoft went down this road with a cheap phone and not its all singing, all dancing flagship products.
This is how the Lumia 950 should have looked.
The rear of the phone is still plastic, and still removable, with the battery cover coming away from between the metal frame to reveal the important parts beneath. NanoSIM, microSD card slot and a removable 2000mAh battery. Unlike on the older Lumia 830, the removable panel is incredibly thin. It's very pliable, and houses the phone's NFC contacts.
When attached to the phone, the rear is completely flat, save for a slight hump where you find the camera. The Lumia 640 didn't have a camera hump, but the 650 is very much slimmer. And that's why we have one now. The phone is so slim that it was unavoidable.
Image 1 of 3
What Microsoft has avoided in the Lumia 650 is any unsightly antenna lines breaking up that sleek metal frame. How? There are plastic inserts that surround both the charging port and the headphone jack. I think I prefer this, frankly, and there's a little added protection when you're poking around trying to plug in a microUSB cable in the dark. I've scratched many a metal phone in the past by dragging a charging cable around looking for its home.
One thing that's also worth highlighting early on is the choice of colors. The days of bright colored Lumia phones still seems to be a thing of the past, and the 650 comes in a predictable, perhaps boring even, black or white. I think the black one looks a lot better, mostly because the white one has a white front. A white rear with a black front would have been so much better.
But let's also consider Microsoft's apparent target audience for the Lumia 650. It's being touted as the business phone, the commodity item to be bought up by corporate IT departments. Those kind of customers aren't going to be impressed by a bright green phone. So maybe it makes a little sense. Maybe.
But the combination of the matte finish on the rear, dull metal frame and the black front on the one I have here makes for a very sleek, elegant even, smartphone.
Image 1 of 2
Inside things are mostly good, too. You shouldn't expect a whole lot for a phone at this price point but we do at least get 16GB of internal storage this year. If you're making a cheap phone, 16GB should still be the baseline. There's no excuse for an 8GB smartphone. It's paired with 1GB of RAM which still seems to be fine for most purposes when using Windows 10 Mobile.
The processor choice has garnered a bit of negativity from the hardcore community, with a Snapdragon 212 being very much towards the lower end. But it's one of Qualcomm's newest quad-core chips for cheap phones and most of the time it does just fine. If you're thinking automatically this is a step down from the Lumia 640 because 2 is less than 4 (as in Snapdragon 400), then stop right there.
Most of the time there is nothing to complain about. I'm not going to say it's perfect, because it isn't, and it does chug a bit from time to time. Inside Out Thought Bubbles (don't judge) isn't exactly a graphical extravaganza, but the Lumia 650 lags way too much while playing it. General every day tasks are handled just fine, and you get the trademark smoothness in most parts of the operating system. The internal hardware does struggle at times though when things get more demanding.
Equally, this phone costs £160, so if you were expecting to crush some Overkill 3 on it and have a good time, then you're not looking in the right place.
There are also cameras on this phone, two of them to be precise. And they're not bad. You've got 8MP round the back and 5MP round the front. We'll cover the camera in more depth a little further along.
And finally, the display. As with Microsoft's other, new, cheap phone, the Lumia 550, the display is 'only' 1280x720 resolution. It's a little bigger than that on the 550 at 5 inches, but no less impressive to see on a cheap phone. It's got great colors, decent blacks and text is sharp enough to read without seeing fuzzy edges. It's also much less reflective than that found on the 550, with a much more pleasurable viewing experience overall.
You have to compromise somewhere when making a phone that meets this price point, but the display is the thing you spend the most time with. It continues to be a credit to Microsoft that even at the lower end you're getting a great screen to glue your eyes to.
The point I find myself at is one which has been said before of Microsoft's cheaper smartphones. The hardware to price ratio is extremely compelling. Most of the major boxes are ticked, and while performance does stutter and drop off at times, for the most part its business as usual.
Only this time, business as usual has a much better wrapper. The bright plastic of old has gone, and in has come a new, sleek, sophisticated look for the lower end. And I like it a lot.
Windows 10 Mobile on the Lumia 650
Update: Shortly after this review was published the .164 operating system update was pushed to the Lumia 650 that seems to resolve the issues mentioned below. The hotspot feature seems to work as intended now, while crashes and freezes as a whole are now virtually gone. We felt it necessary to provide a brief update given how close the software came out to the review since it makes a good difference to the overall feel of the phone. It doesn't however, eliminate issues discussed in the hardware section, as sometimes you just need horsepower. The original text follows.
When I reviewed the Lumia 550 and came to the point in the tale where I had to talk software, things took a turn. The out of the box experience on that phone was pretty appalling. By any standards, the first hours and days were not a happy time.
So you'd forgive me for being a little cautious going into the Lumia 650. Once again, we're not dealing with a pre-release review model here, this is the real deal. A proper retail product, bought from a proper retail store.
Which means I get to see exactly what anyone reading this review would see upon buying the phone.
The good news is that things were much less painful, as I'd expect them to be at this point. Numerous updates have rolled out since I reviewed the 550, and Windows 10 Mobile is at least becoming less buggy with each one. There was still an OS update to install on the 650 after first setup, not to mention every single pre-installed app needed updating, too. Including the Store, and sadly updating a large volume of apps at once still seems to be a struggle.
But once into using it, the Lumia 650 has been my best overall experience of Windows 10 Mobile yet on any device.
There are still bugs, random times when things just freeze up completely and when trying to select photos the phone doesn't seem to have a clue what you're actually tapping on and gives a completely different picture. I would love for all the annoying quirks to have been ironed out by now, but I'm almost resigned to accepting it at this point. The worst bug I experienced personally was while trying to use the phone as a hotspot while out at Mobile World Congress. Most of the time I had to reboot the phone to establish a successful connection.
But, it's still the best overall experience I've had yet. Having used the Lumia 950 and 550 recently, too, I'm still comfortable in saying this about the Lumia 650.
Microsoft still has work to do, though. Its own apps frequently slow up on the 650, especially the Xbox app, and the Store remains something that needs a serious boost of adrenaline.
But when you're not fighting the remaining bugs, it's a smooth, mostly snappy experience. Consistent performance across all devices has been a Windows Phone trademark for a long time, and it's the same now we're up to Windows 10. The Lumia 950 will be faster, because horsepower, but the general experience on the much cheaper 650 is by no means a second class citizen by comparison.
Lumia 650 camera
Last year's Lumia 640 surprised us in having a camera that performed better than the price attached to the phone would have suggested. So then, reason enough to be cautiously optimistic for the 2016 release.
Around the back there's an 8MP shooter, and flipping around to the front you're capturing your glorious selfies at 5MP. The front camera actually stands out a fair bit when you're looking at the phone.
But here's the thing: Even folks buying a cheap phone nowadays want, and can get good cameras. And Microsoft, thankfully, seems to have delivered.
Image 1 of 19
All of the images above were shot at the recent trip to MWC, which was a great chance to use it in mixed conditions. Outside in the Spanish sunshine, inside press conferences, low light, overcast and pointing at some mountains. With Rich Capture turned on all the time, the results are pretty good.
It does seem to produce images a little on the warm side sometimes, and a with a tad of over saturation. Equally that could also be Rich Capture getting a little crazy and could be relieved by using the manual white balance controls instead.
But the pictures look good. Nothing exemplar — it's still a £160 phone after all — but good. The only real area of disappointment is indoors in low light, such as late at night, when it falls apart pretty badly. But the Lumia 650 isn't alone in that regard. Much more expensive phones struggle just as much in these circumstances.
The front facing camera is pretty good, too. If you're a selfie aficionado, or even just someone who likes to look at the people they're talking to during calls, you'll be pleased with the results from the 5MP unit on the front of the 650. It won't make you look like me though, promise.
But what we've got is another surprisingly good performance in a cheap phone from Microsoft. At this price point having pictures this good isn't a given, but with the camera fast becoming one of the main selling points of any phone, it's an area that we're pleased hasn't been ignored in keeping the asking price low.
Lumia 650 battery life
The bulk of my testing of the Lumia 650 took place during MWC in Barcelona. However, I was using a local SIM from Vodafone ES, so sketchy roaming performance hasn't factored in. And during that week of total chaos, using the phone as a hotspot and snapping photos all over the place, it always got me from leaving the apartment to coming back to it at the end of the day. By contrast, I had a OnePlus X with a 2525mAh battery in the other pocket that was roaming and it was usually dead before 3pm. And it wasn't being used as a hotspot at all.
All day battery life is just fine, and it's been even easier to make it through the day when back in the UK on O2 and not using it as crazily. There is also the added bonus of the battery being removable, but as with the Lumia 550, that hinges on being able to actually buy a replacement battery. You'd expect to be able to, but still.
It's comforting that you shouldn't have to actively worry about conserving battery during the course of a regular day. The business crowd that it's apparently targeted at don't want to be running out right as an important call or email comes through before they leave the office. And the rest of us want to be able to get home and not need to carry a battery pack. Unless you're using the camera a lot or watching a bunch of Netflix videos on it, you should be fine.
Lumia 650 pricing
What Microsoft has with its Windows 10 Mobile lineup of new Lumia phones is a distinct price divide. You've got the Lumia 950 and 950 XL at the top, and then a long way below is the Lumia 650, then 550. The Lumia 650 is available now in select markets like the UK, priced at £160 from the Microsoft Store.
Deals are always to be found, though, and our unit was bought for £139.99 from Carphone Warehouse, though a new O2 SIM and £20 of pay-as-you-go credit was required along with it.
At this time there's no word on availability in places such as the U.S. or India.
Lumia 650: The bottom line
The Lumia 650 is a good, cheap Windows phone. It looks fantastic, has decent battery life and a camera that's still surprisingly good. It's a shame that the outward beauty hasn't been met with some raw performance inside, but that's just where we are right now. Microsoft's best looking phone is a £160 budget model.
The decision to change up the design a little is theirs to make, and the 650 benefits from it greatly. While its predecessor was a great phone, it was still just another box decked out in brightly colored plastic. The 650 is Lumia grown up. It's sleek, sophisticated, and it'll look great next to the suits of the business users Microsoft is hoping will be buying up this phone by the bucket full.
For the average person buying a phone that costs this much, there's not a whole lot to dislike. It's pretty bad that casual games like Inside Out Thought Bubbles cause the phone to grind as badly as it does, but the core experience is generally good.
But the software still needs work. The Lumia 650 has behaved much better during my time with it so far than other new Windows 10 Mobile toting Lumias, but there's still moments you will pull your hair out. Not being able to have a working hotspot without rebooting every time I wanted to use it was mine.
Unless you obsess over hardware specs, the Lumia 650 is a fine phone for not a lot of money. If you do obsess over hardware specs, you're probably already looking elsewhere.
Should you buy the Lumia 650? Sure
This has been the easiest new Windows 10 Mobile phone to recommend to buyers. If it fits your budget and you want a phone that looks great and will perform well enough for most things, give it a shot. It's not perfect, not at all, but it's been the least frustrating new Lumia since the updated operating system hit.
You do still need to be prepared to take a little risk with Windows 10 Mobile though, especially because of the remaining quirks. It's better than it was when we reviewed the Lumia 550, but there are still moments.
Where to buy the Lumia 650
Availability is still pretty limited right now. If you're in a position to buy from the UK, both the Microsoft Store and Carphone Warehouse will be able to help you out. If you find any particularly good deals anywhere, be sure to drop them into the comments below!
See at Carphone Warehouse
Get the Windows Central Newsletter
All the latest news, reviews, and guides for Windows and Xbox diehards.
Managing Editor - Tech, Reviews
Richard Devine is a Managing Editor at Windows Central with over a decade of experience. A former Project Manager and long-term tech addict, he joined Mobile Nations in 2011 and has been found on Android Central and iMore as well as Windows Central. Currently, you'll find him steering the site's coverage of all manner of PC hardware and reviews. Find him on Mastodon at mstdn.social/@richdevine