Lumia 650 reportedly will be free for new Cricket Wireless customers starting Oct. 7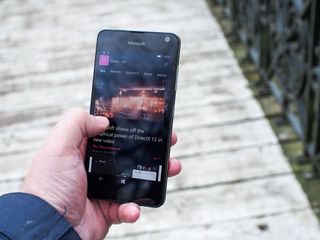 A tipster on the Windows Central forums says that no-contract carrier Cricket Wireless will begin selling Microsoft's Lumia 650 phone with Windows 10 Mobile for free for new customers who switch their old phone number from any carrier other than AT&T.
Cricket is currently selling the Lumia 650 for $129.99 (opens in new tab) but has lowered its price down to $49.99 in recent sales promotions. Windows Central forum member "RumoredNow", who posted the tip states that this new free offer for certain users will be available both online and via Cricket's retail stores. Some of those stores could waive the normal $25 activation fee as well.
The post adds that existing Cricket customers, or people who add a new Cricket number or bring an old one over from AT&T, will still get the Lumia 650 at a discounted price of $49.99. There's no word on when this promotion will end. The post points out that buying the Lumia 650 from Cricket will lock the phone down on the carrier for six months, or for one month if the user signs up for the $70 unlimited plan. Keep in mind that Cricket Wireless has yet to confirm this promotion and that plans can change.
Thanks again to RumoredNow for the tip!
See at Cricket Wireless (opens in new tab)
Windows Central Newsletter
Get the best of Windows Central in your inbox, every day!
Would love to pick one of these up on the cheap/free, but I don't know if it is worth leaving T-Mobile for it. I'd have to check into Cricket's plans and coverage in my area compared to T-Mo. Also, does anybody know if I could port this phone back to T-Mobile after the six month lockdown and have it work fine? Does the phone support all the same LTE bands and such? Etc.

This phone has bands 2, 4 and 12, all the bands you'll need on T-Mobile.

I didn't think this one did band 12 when I was looking it at. I guess I remembered wrong.

After unlock it is a perfect match for T-MoUS as it has all the bands you need including Band 12 LTE and Band 4 AWS on H+. Cricket probably covers you as well or better than T-Mo... Check their coverage maps and ask friends and coworkers if they use Cricket and how it is for them. https://www.cricketwireless.com/map.html

Do the one month at $70 unlimited plan to get the device unlocked after one month and then switch it back to T-Mo or to a cheaper plan on Cricket if unlimited data isn't required. If AT&T service coverage is good in your area I think you'll be happy with Cricket, unless a heavy user of T-Mo's unlimited music and video streaming.

Between this and the bands info, I'm going to pop in to my local Cricket store this weekend and give it a go. Not sure if I'll do the one month unlimited or ride our the six yet, but who knows? If I like them enough after the test period, maybe I'll stick around. Thanks for the help!

I don't think, it uses band 12 otherwise I would have gotten one a long time ago

The Cricket Variant absolutely states LTE Band 12. Check page 132 of the user guide: https://www.cricketwireless.com/content/dam/aio/Support/DeviceSupport/mi... GSM 850 / 900 / 1800 / 1900
WCDMA 850 / 900 / 1700/2100 / 1900 / 2100
LTE Band 2 (1900) / Band 4 (1700/2100) / Band 5 (850) / Band 7 (2600) / Band 12 (700) / Band 28 (700)

Since Cricket is owned by ATT, they use the same network. I was on T-mo, but got tired of dropping to 2G between major cities. For $45/mo I gwt 5gb data, and since I'm neer the Canadian border, I get LTE service when I cross the border. On T-mo I only got 2G service. I've had no issues at all with Cricket, I highly recommend them. I'm using a 640 now, I may jump to a 650 if this deal comes thru.

Yeah, lack of widespread coverage outside of cities forced me off T-Mo as well.

When in india?!!!!!!!! Posted via the Windows Central App for Android

What? When T-Mobile USA offers a "free" 650 in India?

I am not talking about a foreign carrier doing that in india.
And it's cricket wireless and not t-mobile USA Posted via the Windows Central App for Android

So what are you asking fot?

And tht phone is $240 in india! Wth Posted via the Windows Central App for Android

Msft retrenched its first party devices from India and Brazil.

Wow, maybe next time Microsoft will actually pay people just to use this phone

Thanks, John. A little cricket whispered this to me. It's an outstanding deal, IMHO, and I thought I would give WC users a heads up. I appreciate you helping spread the word. It is a great chance to grab what may very well be the last Lumia ever made and a pretty cool phone in its own right. Made for W10M has advantages that smart budget phone shoppers will recognize.

Did this 650 get its DTTW firmware update already?

I have not gotten the new firmware as yet. I keep checking tho. Posted via the Windows Central App for Android

No, it hasn't over the air or with WDRT. RM-1150 (single SIM) firmware is available for Canada, Mexico and South American variants. I'm ready to try flashing such firmware to my RM-1150 Cricket variant today and will post success or failure.

I received OTA DTTW firmware last week on my Lumia 650 dual sim (South Africa)

Hey, I'm also Also from South Africa. Where did you purchase your Lumia 650 dual sim? I'm really eagered in getting it end month. Did you Order it on Orange online store? :)

Hey, I'm Also from South Africa. Where did you purchase your Lumia 650 dual sim? I'm really eagered in getting it end month. Did you Order it on Orange online store? :)

When I got mine from Cricket in May the store rep said I was the first person to buy one. They have probably sold a couple more since then. Anyway it's a pretty good time to get one of the last Lumia phones ever. Soon be a thing of the past. It's a decent phone. Seems especially smooth since the .221 update.

I bought a L640 for $30 last Black Friday. It will be interesting to see what the L650 goes for this BF.

Not worth it. Better get real smartphone having apps.

Not everybody wants an iPhone.

Cost is the reason. If new iPhones were given out for free by Cricket, how many people would remain on Windows Mobile?


I would only get it to sell it as soon as I could. I'll be sticking with windows as long as I can. I really don't like iOS or android software. Heck I don't like the companies that make them either.

At least one. I have zero interest in an iPhone at any price. If I wanted a phone with a better ecosystem I'd go Android (already have a couple actually).

I don't chase Pokemon. But I do use Tune-In, the Fly Delta, and Office apps. Plus it syncs with my PC, including Outlook. All for a fraction of the cost of your Pokemon unit. But thanks.

Be aware that Cricket has a smaller max SMS size than Verizon and maybe others so they will frequently fail to deliver picture texts to you and nobody is notified of the failure. The sender assumes you received the message but you didn't and you never know that you missed anything. It's been very frustrating and it took a while to get them to admit to it. I'm about to leave Cricket for this reason and it's a shame because they've been great otherwise.

I've not heard that or experienced it. Have you ensured your MMS APN settings are correct? I send pictures with text all the time and have never noticed an issue. Usually I send from my 1520 so the pics can be quite large, but Messaging App seems to resize them anyway.

The problem isn't sending images but receiving them from my Verizon family and friends. Everything is setup correctly and I even had them go through it a couple of times and eventually they did admit it's a limitation on their end.

This is an excellent deal.

What is the mms limitation? File size or number of pictures attached? I get about as many picture mail as I do plain text messages. This would be an issue for me. Are you limited in sending too or just receiving and how about cricket to cricket?
Thanks Dan been a Sprint Customer for 16 years, but would like to save $100 per month on cricket.

In my Cricket MMS APN, max size = 10240kb

Soon all Windows mobile phones will be free.

Literally bought one yesterday. Oh well.