Lumia 800 Windows Phone available in black at Vodafone AU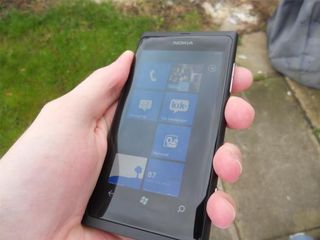 Vodafone Australia has the Lumia 800 available (only in black unfortunately) on contracts starting at just $29 /mo (cheapest plan includes a $10 /mo handset fee). The Windows Phone, which was reportedly hitting Australia in all four colours - black, white, cyan and magenta.
While a strong choice of colour is not present at Vodafone AU, the Lumia 800 is a superb Windows Phone that has received positive reviews across the board. Should you be interested in cyan though, Optus is sporting this choice on their product list and at a more attractive price of just $19 /mo.
Source: Vodafone, Optus; thanks to the anonymous tipster!
Rich Edmonds is Senior Editor of PC hardware at Windows Central, covering everything related to PC components and NAS. He's been involved in technology for more than a decade and knows a thing or two about the magic inside a PC chassis. You can follow him over on Twitter at @RichEdmonds.
Yet only one device for the US so far, and besides the 900 no other devices in the outlook past 2nd quarter. We need some new hardware on Verizon, sprint...

Not sure what's going on here in the US with WP7. For the most part, seems carriers and stores are happy not changing and are actively promoting against it.
I was in Radio Shack today, just today, and got into an argument with the sales guy and his manager about WP7 when he tried to sell me a phone (I was looking for a small preamp, dude wanted to sell me a phone). I said show me your WP7 phones, and both told me that Radio Shack won't sell WP7 because it had no apps besides what came with it, was too hard to use, and was going to be discontinued in 6 weeks. They told me that's what their company believed, and thats what their distributors were telling them and the Best Buy across the street (same distributor for both, I guess).
At least the T-Mobile on the corner has been showing it some love. Really ... Tmob should adopt every possible WP7 phone they can, promote the heck out of it and become the WP7 experts here in the US and let the others fight over Android and iPhone.

Nice phone, but we need the stronger colours to draw people in. Still it's good to see vodafone taking it up after a lack-lustre 1st gen phone

Hey guys!
I emailed you a few days ago (did you see it?) with a link to my Aussie Nokia Lumia Buyers Guide I have created:
http://www.wpdownunder.com/?p=4407
The page has carriers, plans, models, network bands, colours, prices etc for ALL retailers and Telcos in Australia for the Lumia range at launch.
It also includes links to current Aussie Lumia competitions to win devices.
Cheers
Sheeds.

"+$4 for Cyan WTF?"
Haha. $4 to stand out from the crowd :]

btw Rich - the Optus plans (and Aussie plans in general) have a higher monthly handset repayment on top of the Monthly plan cost the lower the plan value goes.
So - the $19 pm plan you quoted above has a $14 p/m Lumia 800 MRO or Mobile Repayment Option - bringing the total monthly cost to $33. For this you only get 100Mb - yep, thats correct - per month Data!
Cheers.
Sheeds.

I pay $5 /month for 150MB of vodafone data... with work & phone wifi always available I usually struggle to use 50 / month. It accrues each month so I'm getting close to 1 GB allowance :P

So my point is 100 MB per month should be plenty :P

Hmm, previous comment never arrived. Well, anyways, black isn't a bad thing. The hardcover/shell you can buy is the same that comes with the phone = a natural fit to use a cover and not even noticing there's one on. So having the most basic colour gives a good variety of colours you can apply. I didn't realize how the whole shell story worked until I got my first own Lumia 800. So only if you want a 1 colour no compromises thing going could it be bad with black, but I would then state that most don't know how the shell thing works....so to wrap it up. Base colour black isn't actually bad, its good. Many nice additional colours to buy as hardcase or shell (which is it to say?) ....but if every tiny tiny detail absolutly have to be Cyagen....well then its bad.

I hate all hard-cases I've ever seen, due to the extra bulk. I keep my HD7 in a leather pouch type case... It adds no extra bulk as you just slide the phone out when you want to use it. So, the actual colour does matter in that circumstance. But I'd have to see this shell in action to make a full conclusion

Yeah, i hear you. That's why im saying Lumia hardcases works different, you really have to see it. Bought the hardshell for my Titan and its no way close to a Lumia case.

the hardcover that comes with the phone, is the one wrapped around this lumia: http://www.wpcentral.com/sites/wpcentral.com/files/postimages/4213/dsmarket.png

That's actually pretty good! I'll still wait for the other colours to come out though :P

It's actually not that bad value on Vodafone. I got the Lumia 800 in black, it looks the bomb compared to the other colours anyway, on a 12 month contract. $59 a month plus $5 for the phone. That gives me 2GB of data, and $750 on calls, but voda to voda is free...most of my friends are on voda which works for me.
The rubber case you get with the phone fits perfectly, like it was made for it... ;-)
I have to say, it's a slick device! Only 2 problems I have with it so far...no LED indicators for missed calls and battery, and the sound quality through the headset is a bit tinny. Apparently they're fixing the latter through a firmware update though.
Windows Central Newsletter
Thank you for signing up to Windows Central. You will receive a verification email shortly.
There was a problem. Please refresh the page and try again.