Lumia 820 in UK, Ireland and EU receiving Lumia Cyan update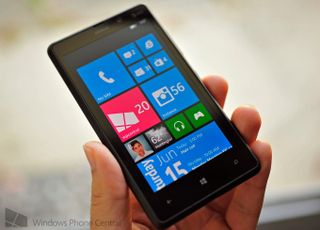 The Lumia 820 is the getting the Lumia Cyan update in the UK, Ireland and the EU, according to numerous tips we're received from our readers. In the UK and Denmark, the country variant of the device is getting the update, along with carrier variants in Finland (Sonera) and Ireland (Meteor). If you're on another carrier and are seeing the Lumia Cyan update for the handset, let us know in the comments below.
Considering that this is likely a staged rollout, it will be a while before all users see the update. If you have not received the OTA update yet, head on over to your device settings and manually check if one is available. Again, if you're on Windows Phone 8.1 Preview for Developers, you will need to downgrade to be eligible to make the switch to Windows Phone 8.1.
Lumia 820 users, how many of you have received the Lumia Cyan update?
Thanks to everyone for sending this in!
Windows Central Newsletter
Get the best of Windows Central in your inbox, every day!
Harish Jonnalagadda is a Senior Editor overseeing Asia for Android Central, Windows Central's sister site. When not reviewing phones, he's testing PC hardware, including video cards, motherboards, gaming accessories, and keyboards.
Come on guys, update the Lumia 820 for the Philippines! Ö

I already got Cyan here in the PH. If you want proof look at my thread started.

How!? Do you need to backup first and revert to WP8?

No need to revert just use Nokia Software Updater unlike before that software used to revert but now you can not revert instead direct upgrade to the latest version. Also you need to backup thats all.

yes! but in nokia website still in under testing.

It is now officially available in the Philippines based on nokia website.

Just checked it and yes it's finally here! Though can't update yet, waiting for the DP fix.

You guys are late with the news,i got the update in Italy over a week ago.

This news are not about Italy, there was previous article about it.

Last time I checked Lumia 620, 720 and 820 was "under testing" for Norway and Sweden, now only 620. I have a 620 :(

Please notification+action update with mobile data & much more not only 4 items but more what I am right???

Has the 1020 in the Uk been updated yet?

What carrier? The only one left is 3. http://www.nokia.com/global/support/software-update/wp8-software-update/...

What is that calender app?

The app is Simple Calendar

Looks a lot more like Chronos Calendar IMO.

There's an option in Chronos Calendar where we can customize its live tile, and the one in the photo looks like one of the themes provided. But I'll check Simple Calendar to find out if they're using the same theme.

Just went to the Store, and found that you were right. :)

Woot! As usual, EE has done it again by being the worst carrier of the lot when releasing their updates last! There's a couple of 3UK and Vodaphone on there as well. At least my wife's CV L820 is finally getting the update. :)

EE got exclusive rights to 920 when it came out. They never projected the phone otherwise it would have been lot better in uk. They are always late in updates. Worst carrier and service is crap. I am still waiting for Cyan update :(

totally agree. If I could get any other carriers signal in my village I'd leave fecking EE like a shot

Can't agree more. I haven't seen EE push 8.1 for any of the phones yet. What are they playing at?

Not exactly true. The 1020, 925 and 625 have been released. They just seem to have issues with the 920, 820 and 520. They still suck though.

Can wpcentral team release a data of how may devices on the globe are running cyan update now???

Just for your information: Ireland and the UK are both members of the EU.
What you did is like saying New York, Washington and the USA ...

I think it's more like: Japan, China and Asia.

The EU isn't a continent, though.

New York and Washington aren't countries either. :P

They are states though, although I'm not that well informed about how sovereign they are compared to the federal government. For example can the state of California sign agreements with the country Germany?

When did they became members of EU? They don't even use the Euro currency...

We (the UK) have been part of the EU project for more than 3 decades! We would have been a part of it for longer if it wasn't for Charles De Gaulle (what a prick!).
We have a Euro currency opt out. Any new member countries must also adopt the Euro.

Ireland and the UK both joined in 1973. The Eurozone =/= European Union. That said, Ireland also uses Euro. sources: https://en.wikipedia.org/wiki/European_Union, https://en.wikipedia.org/wiki/Eurozone

Got the update yesterday Lumia 820 cv in uk, only problem its buggered up my OneDrive, can't access it from phone!

Yes I also have problems with Onedrive and can't see photos in family rooms, which I assume is related. Anyone got any suggestions? I've tried a soft reset but I can't see OneDrive in StorageSens.

Got it yesterday on my Lumia 820 CV in Croatia.

So 820 you have to downgrade, yet with 920 etc you don't.

Really the UK,,,,,,wtf wat bout muricá,,, bullshit I've with micro since the beginning,,,,,,,,,,

Serbia, L820 received the update yesterday evening. Like...

Just recieved the update today for my L720 here in Philippines. My phone is currently updating and I hope the audio problem after BLACK update will be fix.

Will we, WP8.1 PFD users, be able to update our phones to Lumia Cyan without having to downgrade them to WP8 later on? Or do we really have to go with the downgrade?

U can downgrade now , or u can wait until the fix comes , for me I'm gonna wait

Thank you for letting me know that. I guess I'll wait for them to fix it, too. Hopefully it'll be worth waiting for.

So we really need to downgrade, is it really worth it? Im on DP already.

I'm gonna wait for the fix

My wife has cyan on her Lumia 820, I have Dev preview. In day to day use there is no difference. I am going to wait for the fix rather than go through the hassle of downgrading.

Fix are starting to roll out, read the earlier article.

No significant change, I'll wait for the fix then.

Can you backup the phone after the upgrade? Or are you getting that error message?


Lumia 820 CV (UK) - yesterday evening I got two updates that said 'this will make it easier to update your phone to WP 8.1', quickly followed by the WP 8.1/Cyan update.

My wife had hers last night.

Not getting it here in Ghana

Lumia 720 CV in Czech Repiblic - updated too. :-)

Plz fix the problem of of 620 in India

Lumia 820 T-Mobile Poland, theoretically I should download it, but I have WP 8.1 Update 1 PfD and I can't see it. :(

Not getting the OTA update...

Since when are UK and Ireland outsiders from the E.U?? These two country's are full members of the E.U. for decades!

What do you mean 'not really'?! The UK is a huge financial contributor to the EU project....and serves as an excellent brake on wider federalist ambitions!

Contributor, yes. But its a different thing. UK refuses to be an EU member before, I dont know now, i'm not in europe anymore. UK dont want to be dictated with many EU policies, and dont even want to downgrade currencies, what is Sterling vs Euro is a huge differences.

We decided not be part of the EU project and instead rely on the gold tariff/empire to sustain us. Well, that all fell away in pretty short order after the 50's -- when we did want to join the EU, De Gaulle blocked it.
& yes, we want to retain control over our currency (a wise decision given the current state of affairs). & of course, we do not want supranational unelected bodies to take power away from our government.
In that regard, we are an excellent counterbalance to some of the more ridiculous aspects of the EU project.

In Wales and Scotland we feel quite the same about Westminster.

I'm not sure why you as a Welshman would want further devolved powers. Under Plaid Cymru, the Welsh NHS has gone backwards at an alarming rate, as has your education system. I'm not sure Wales can claim to have benefited from devolution at all...? Obviously you are welcome to have independence when the time comes....it'll free up extra taxes for the rest of us. But despite Wales being a net drain on the UK's resources, I believe we - as islanders - are better off being a contigous landmass....one without barriers to trade and cultural exchanges. One where a Welsh person can still benefit from the economies of scale that we all accrue from being part of the UK. I also think that Wales and Scotland are a good counter-balance to the excesses of London and the south-east. It's good to have different voices in politics....especially as Britain's voice in the world stage is a powerful one. I do genuinely believe we are all better off together --- but fair play to those who don't. Engand will carry on as it always has....but it'd be nice to think that in a world with so many problems, these 3 nations can continue to forge a future together.

Firstly, Plaid Cymru isn't in government in Wales. Secondly, the Welsh NHS, while far from perfect, is performing comparably to the Scottish and English NHS, according to independent reports - don't believe everything you read in the English media. Finally, the benefit of devolution is not the removal of English interference in order to do things better. The benefit is to democracy. The benefit is to tailoring laws to suit Welsh needs, such as free prescriptions for our comparably poorer society. Introducing charges on plastic bags, and moving to an opt-out system for organ donation. Wales is inherently different from England in many aspects, and that's now being reflected in our choice of government.
Actually, one more thing. You state that Wales is a net drain on UK resources. While true that Wales' economy doesn't exactly balance the books, neither does England's. But we'd be a lot closer to a balanced budget if our water and electricity wasn't pillaged by our neighbours for free, if Welsh companies weren't registered as English tax resources, and if your Queen relinquished her claim to assets in Wales including our seabed.

This obviously isn't the right platform for such a discussion. If you want to continue, I'm on Twitter at the same username.

*I'm a bit late to the discussion* Im Scottish and voted Yes (postal vote) because it is a vote for democracy, and i hope Wales follows and NI unifies with Ireland within time.

A vote for democracy?!
A simple question....do you think your vote will have more or less power in an 'independent' Scotland that is full integrated with the EU? I.e., you will have no control over your borders (Schengen Zone), and you will have no ability to devalue your currency (the Euro).
In short, you have voted to become a satellite economy of the EU rather than a near fully autonomous part of the UK.
Not much of a democracy IMO.
Oh, and Salmond's plans are unfunded - so don't expect to suddenly wake up to a brave new (prosperous) world where everything is better. First, Scotland will need to actually join the EU, oh, and somehow stop the flight of capital to the rest of the UK (as has already been seen in the financial sector).
In a world with so many problems, fracturing an island for some false democracy seems like a completely unnecessary step into the unknown.
Unfortunately, this isn't Scotland's gamble alone. It'll cost us all a hell of a lot in the long run....and for what exactly?
Cheers Salmond - for selling Scotland down the river on a myriad of false promises.

Some reasons to have voted No...;
https://www.gov.uk/government/news/scotland-the-uk-10-myths-10-facts?utm...

You don't say: Hawaii, Alaska and the U.S. Just because they don't stuck on the U.S. borders.

Got the update, but not seeing any of the new features... :(

Update again. You have to update twice to got Cyan

I got it in Brazil CV yesterday!! WP 8.1 rules!

UK, Ireland AND the EU? The UK and Ireland are both EU states.

Cyan is out for Lumia 720 and 820 for a week in Brazil, Australia, France, etc and you guys do not say anything about it. What the hell is going on?

anybody received 620 cyan update in india..OTA

what carrier is cv gb
and what country and carrier do i need to look in when checking for lumia cyan my phone extras and info shows eu_euro1_217

CV GB is not a carrier. CV means 'country variant' - a device bought on the open market rather than purchased from a particular carrier. Some carriers may sell CV devices if they don't want to mangle the firmware. GB means Great Britain, i.e. the UK.

I find this whole update process highly frustrating. Every model and every country is different. Some markets are quick with almost every Lumia available, others appear lazy or whatever. I know about the even worse update-situation for Android-users but what about Apple? I have the impression they have worldwide dates and not this stupid random thing Microsoft is offering. Does anyone know about about iPhone update-policy?

iPhone update? Did you ever knew how many iPhone models are in the market right now vs. WP and Android devices? iOS updates vs. WPs are really irrelevant.

I do not know that's why I was asking. So are updates for iphones less or more annoying?

iOS is released without carrier approval.

On the nokia web page for availability it seems that for Lumia 525 got the update all over Asia. I will downgrade today to check that myself. Lumia 525 users that have been waiting the update can confirm this or try it now.

Ok I'm confused; yesterday Sam said in an article that the Lumia 1020 for AT&T as well as the 1520 was receiving the Cyan update including those with the Preview for Developers. Today this article states that in order to get Cyan, you need to downgrade back to 8.0. So, does this mean the bitlocker issue has been resolved or is there some sort of discrepancy?

Just for 1020 and 1520 like you say...

In Dominican Republic (The Caribbean) we get cyan for 820 too, I just update yesterday :D

Yeaaah, finally in Latvia.

Not just 820, it's like every lumia is now getting the update.

Lumia 620 and 720 is receiving cyan in Lithuania too.

Hey m using dev preview what shouldi do I don't want to go back to wp8

You'll need to wait for Microsoft to resume the updates for phones with the preview.

My Lumia 820 and 520 (x2) - on Three & EE in UK- all got update yesterday... but no Cortana :'(
Am I missing something here? She's not there via search, or settings > apps :(

You need 8.1 Update 1 (which is available via developer preview)....
The Update 1 will come to you later in the year.

Wait, so you mean the FIRST wp8.1 update is not "update 1" o.O

What you have with the Cyan update is Windows Phone 8.1.
If you sign up for Dev Preview, then you will receive Update 1 - which in the UK at least opens up Cortana (along with folder support etc).

I have PFD and how can I update windows 8.1 in Lumia 920 in India ND when...? Any one can reply

I have the same problem.
Lumia 820 (T-Mobile Poland) with Windows Phone 8.1 Update 1 PfD.
I have to downgrade to Windows Phone 8???

Just wait for Microsoft to provide a fix. Cyan doesn't bring much to our older Lumia's anyway...

Lumia 820 got update yesterday, Belgium - Proximus. All went smooth. Also reinstalled spotify towards Micro SD inside. Working well !

My Lumia 820 updated too in Brazil CV I will miss how favorite photos are displayed in bg of photo app, and I found a little bit stranger the facebook integration, early this morning i couldn't sync my contacts, it's ok now. But I really need more space to install apps, so, it's ok I guess...

I received Lumia cyan update. Lumia 820, unlock handset India

I'm still waiting on the 920 grr

Today morning I just started downloading the lumia cyan here in Brazil. I believe my device is a CV.

According to the EE community forum it will be mid September before Cyan is released to the 820...After spending several months on the DP I am sure it will be worth it not least for the battery improvement. I'm not going to downgrade to 8.0 until the last possible minute though. http://community.ee.co.uk/t5/EE-Community-Blog/Windows-Phone-8-1-updates...

Have receive the cyan update in Ghana Lumia 820,CV GB yesterday...wooooow can't wait to download it ....tanks ms

My Lumia 720 (UK country variant) recieved the Cyan update today as well!

Yesterday evening I had one update - probably the one before Cyan, because my phone says Windows Phone 8.0 in the About information. Today my phone does not recognise that I have turned on the wireless access. It searches for updates and inform me, that I ought to connect to a wireless network. It drives me mad! I'm hoping another wireless network will do the trick during the week-end. I am on Tele2 in Sweden, Gothenburg area.

People on Preview can get Cyan without downgrading eventually. AT&T US Lumia 1520s and 1020s got Cyan while on preview just recently and TMo 920s in one country in Europe.

Got it!! Netherlands here ;-)

Preview for Developers yes. Lumia 1520s and 1020s with USA AT&T and Lumia 920s with Germany TMo

Just updated my Lumia 820 to wp8.1 and cyan here in malaysia

I updated early this morning my Lumia 820 here in Cyprus

Got update for Lumia 720 in Lithuania

No cyan for german 820s yet

just found out that that lumia cyan update app has been giving me false info....it shows my primary device as AT&T lumia 820 us and no cyan update available but the nokia recovery tool shows the update

Are you running Dev Preview?

As far as I am aware, the only AT&T devices that will update to Cyan with Dev Preview installed are the 1020 and the 1520.
The 820 isn't eligible (yet). But it looks like Microsoft are finally getting round to resolving the problem...so I'm sure it won't be long to wait.

Just upgraded today to cyan in India. Lumia 820 dev preview 8.1 update 1 to Lumis cyan by using nokia software recovery tool. Phone country varient Israil. Now restoring my data.

i also install cyan update for my 820 yesterday...

My husband got Cyan on his L820 CV UK last night, but my L820 is still waiting (CV Germany).

Anyone received Cyan update for L820 CV in Germany

Received mine yesterday night. L820 CV

You can check cyan update availability on nokia website. For Europe follow this link: http://www.nokia.com/global/support/software-update/wp8-software-update/availability-in-europe/

I know, there are only three L820 CV's still under testing for Cyan in Europe. Those Germans are "gründlich" ;-)

Thanks, installing it now!