Lumia 830 announced by Microsoft at IFA 2014, high-end features in an affordable package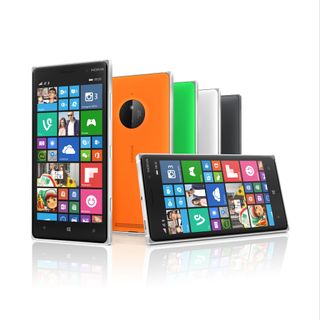 Berlin, Germany – Microsoft this morning announced the Lumia 830, a new Windows Phone with a high-end camera that's being marketed as "the affordable flagship." This new phone combines the best of Lumia with the latest from Microsoft. You'll get a 10 MP PureView camera with Zeiss optics, integrated wireless charging, and more with the Lumia 830. Look for the Lumia 830 to begin rolling out globally this month and with a price around €330 ($433 USD) before taxes and subsidies.
The Lumia 830 is the follow up to the Lumia 820, which featured a polycarbonate-body, swappable rear shells, 8.7 MP rear camera with ZEISS optics, and a 4.3-inch display with a resolution of 800 x 480. The Lumia 820 was a high-end smartphone for the time but was able to remain affordable. Microsoft is hoping to bottle those characteristics into the Lumia 830 – an affordable smartphone, with enough features in the high-end to satisfy consumers.
Microsoft addressed some of the bigger shortcomings of the Lumia 820 with the new Lumia 830. You'll find a vastly better camera, a higher resolution display, improved processor and more.
Lumia 830 Specifications
Windows Phone 8.1 Update with Lumia Denim
LTE RoW: GSM 850 MHz, 900 MHz, 1800 MHz, 1900 MHz; WCDMA: 850 MHz, 900 MHz, 1900 MHz, 2100 MHz; LTE: 1, 3, 7, 8, 20; Data Speed – Upload (Max) GSM: EGPRS/236.8 kbps; WCDMA: HSUPA/5.76 Mbps; LTE: 50 Mbps; Data Speed – Downlink (Max): GSM: EGPRS/236.8 kbps; WCDMA: HSDPA/42.2 Mbps; LTE: 150 Mbps.
Memory: 1GB RAM, 16 GB internal user memory; 15 GB OneDrive cloud storage, micro SD expandable up to 128 GB
Display: 5.0-inch ClearBlack IPS HD (1280 x 720) display, Corning Gorilla Glass 3, Curved Glass (2.25D), Lumia color profile, wide viewing angle,
Processor: 1.2 GHz quad-core processor Qualcomm Snapdragon 400
Main camera: 10 MP PureView with ZEISS optics and optical image stabilization (OIS), Video recording at 1080p 30 fps (Full HD), Rich recording
Secondary camera: 1 MP, 720p video Nokia Camera, Nokia Storyteller, Nokia Creative Studio
Size: 139.4 x 70.7 x 8.5 (volumetric) mm, Weight: 150 g
Connectivity: USB 2.0, BT 4.0, WLAN IEEE 802.11 a/b/g/n, AGPS and GLONASS, 3.5 mm audio connector
Battery: Removable 2220 mAh battery, exchangeable shell
Audio: 3 high-performance microphones, Nokia Rich Recording with surround sound capture (Dolby 5.1), Uplink noise cancellation for calls, 3.5 mm AV connector
You'll find plenty of impressive additions in the Lumia 830 with this 2014 update, including a speedier processor battery, higher resolution display, removable battery and a PureView camera.
The design of the Lumia 830 is similar to that of the Lumia 930, but it is thinner and lighter. The Lumia 930 is 9.8 mm thin, while the Lumia 830 comes in a little slimmer at 8.5 mm. The Lumia 830 is even slimmer than the original Lumia 820 (9.9 mm).
You'll find a beautiful display up front on the Lumia 830. Its 5.0-inch display comes with a resolution of 720p. It also features a slight curve to help feel improve the overall feel while holding.
The big selling point of the Lumia 830 will be its PureView camera. You'll find a rear camera with a 10 MP sensor and optical image stabilization. ZEISS optics ensures you can capture photos like more expensive Lumia handsets. You also get Rich Recording thanks to three microphones. This is recording technology we've seen in high-end handsets like the Lumia 930.
Look forward to orange, green, white and black as color options for the Lumia 830.
We'll bring you hands-on coverage of the Lumia 830 later today here at IFA. Have any questions? Sound off below and we'll get them answered for you later today.
This is a STEAL (at least for me) Way to go Microsoft!

Finally!!!
Nokia's brickish designs are gone!
Well done Microsoft. Nokia glad that you are leaving the building!

it takes 12-18 months for a phone to be made from the moment it's designed till the manufacturing stage. this was designed by nokia in -house. all the phones that you will see till q3-q4 2015 have started their life in the original nokia.phones that are being designed now with imput from the microsoft weill see the light of day in q4 2015

Wrong...That's a Nokia design...it was already in the pipeline...all phones are for a year atleast...MS fanboy you maybe...so am I... but atleast give credit where its due...

Yeah yeah... WP wouldn't even be where it is now if it hadn't been for Nokia's devices at the time, so I really don't understand your comment....

I hate to tell you this but the 830 is a brickish design.

Yeah what a miserable fail!!!!
Gflops
Adreno 305 = 19-21
Adreno 225 = 28 Fillrate
GP/s
305: 0.8
225: 2.8 MTri/s
305: 80
225: 125
The 830 just got demolished by the 820 which is 2years old. Only the mindless would think this phone is worth it.

Not everything is about specs. I'm not thinking about gigaflops or fillrate when I snap a picture and then post it to instagram, facebook and twitter.

Of course not you're much too simple for that. Marketing peole love your kind.

This is why I'm terribly dissapointed by the SD400 in the L830. It's overall slower than the L820, even more so now that it's pushing 720p instead of 800x480.

Adreno 306 any better? https://www.qualcomm.com/products/snapdragon/processors/400 They should have gone with the snapdragon 600 for a phone in this price range...

There's a flipboard tile in the image

I saw the that too, c'mon Flipboard, where u @

Sharp eye! Do miss Flipboard!!

I just want to know if this babe is coming to T-Mobile US

Most probably not. I was just looking at the LTE bands it supports. And it does not have Band 4 and upcoming 700 Mhz spectrum TMo acquired from Verizon. Which will be Band 12 from what I have read. So unfortunately, it does not appear that TMo US is picking up this phone. I have not checked Lumia 735 bands. But without checking, my guess is that TMo US will most probably pick that up for sale.


Also, for it to work as fake 4G (non LTE) on the 21 Mbps or the speedier 42 Mbps (HSUPA / HSDPA), the phone would need to support both the 1700/2100 Mhz frequencies. And the specs above show only 2100. It does have 1900 Mhz, so that is good. Which means it would work just fine as 3G/4G speeds in the TMo US refarmed areas where they started converting Metro PCS CDMA towers after buying them.

Didn't they say there were 3 different variants of this phone in the US for three different carriers?

Rolling out this month? ... globally?!
I may be the happiest man alive now :) Lumia 820 stole me from the Lumia ICON and Lumia 1520 with the balance, expansion and practicality that those two lacked... and Lumia 830 is following the trend! I'm actually glad they chose 720p over 1080p because I can upgrade without breaking my Order & Chaos, Chaos Rings and all those other apps that render horribly at 1080p.

Are you joking? This is Nokia/MS. It will be available in two months at least...

They're releasing next month. Daniel posted that on the live blog.

Concerned about how your fave games will render on your phone? Makes the Code Monkeys avatar very appropriate. Loved that show.

snapdragon 400?!!! REALLY?!

It's an affordable phone. What do you expect?

330 EUROS for a CRAPPY PROCESSOR is NOT "AFFORDABLE".

And yet it's exactly what Samsung and htc did with the s5 mini and the one mini 2, except that the 830 is cheaper than the s5 mini...

$430 dollars isn't exactly "affordable" either.(for off-contract people like me) They should have eliminated dolby. the audio fixes are actually quality destroying on costly headphones. Completely useless if you own a pair of not-dolby over $100 headphones. Had they done that and eliminated Qi wireless charging this phones' price could have easily dropped to around $360-370. THEN they really could have said "The affordable flagship".

true story the Moto G ($199) shipped with a snapdragon 400 6 months ago and its over half the price. Meanwhile the Nexus 5 is $349.

I expected it to have better performance than the 820 thats what. In the overall it will lose and in graphics its downright pathetic

I was originally ready to scoff at that too... but that only sounds low performance in relation to the Android world... where resource consumption is sky high and optimization barely exists. Seeing as my current 820 has a measly Snapdragon S4 (and manages to kick butt in game performance) wouldn't surprise me to find this performing well too.

You have no idea the Adreno 225 demolishes the 305 in this 830 Look forward to not being able to play any decent game on this pos

1gb RAM, really? Here 925 is same price range,of that of the 830, almost same specs...

Quad Core vs Dual Core, No micro sd vs micro sd

730 seems a better option then this

The start dont mean anything serious...Just have to wait 2 or three weeks and you will have the right price..

I agree. I am torn between 730 and 830 now :/

Dude, I'd bet you don't even know the difference between S400 or S800, people just start freaking out about this because they see others doing it... This will be a great phone, you'll see. For this price you can't miss it

Wow, go ahead and buy one then, dont be such a delusional fanboy that you can't acknowledge a crappy phone when you see one.
Cutting corners on the processor department is an awful move. For that price i can get a slightly older nexus 5 with a SoC 800 and a camera that is only slightly not as good with full HD display and a MUCH better screen.
Very sloppy move from Nokia, you just lost a customer.

Exactly how does the Nexus 5 have camera only a little worse? The 830 will trounce that device on everything other than processor benchmarks. I trialled a Lumia 1320 with 720p screen and honestly it still looked fantastic. You're comment is ridiculous.

Right because you have the 830 in your hands right now. No.
Also the 1320 FYI had reviews everywhere saying how BAD the screen is, you can live with it, i can't especially when it costs that much. Also im not paying that much money for a phone with a "slightly" better camera, thats not good enough.

And you do have the 830 in your hands right now? No. Work on the credibility of your posts. You should start working on your writing capacities too.

I think someone needs a hug.

"When it cost that much"? The nokia lumia 1320 costs around 240 euros. It is is an affordable phablet afterall! The nokia lumia 1320 has a decent 720p (yes not 1080p) screen overall. The pixel density could be higher (244), but compared to other cheap phablets it's good.

You are a brainwashed f**k. The likes of samdung and others draw you into thinking numbers from procesoor, graphics etc are the "key features". Well they are not! User experience is the key feature but they'll never like to emphasize that since the latest androids lag like hsit, once you load them with apps. The phone has never been released to the public but you already know it's not any good??! Really??! Go die under a rock somewhere!

Chill out! And Androids don't lag like shit, maybe you are the brainwashed one here. Posted via Windows Phone Central App

The ONLY android phones that don't lag when they're filled up are flagships. Anything mid to low tier android are complete garbage. I've been through 3 now before I switched and christ never again am I buying an android phone unless it has a minimum of 2gb of ram. Also I personally find the OS terribly unnappealing, to the point I was skinning it weekly and couldn't even find one decent launcher that made me love it without turning my phone slower than a turtle. And even then saying you have to re-skin a whole OS in order to like it isn't particularly a good thing.

Dude I bet you cant even understand specs so look up Adreno 225 vs Adreno 305 Then spout your low IQ bs

Haha I'm glad to see how a bit of criticism gets you guys angry. Low IQ? Thanks Sam 77th in line

So you're excited about a phone that cannot beat its 2 year old predecessor in graphics/gaming and overall performance. Maybe low IQ was too generous :)

Yep, I am! Thanks for your enticing comments, dear Sam. You enlight us all by your presence

You do not need to hold a phone in your hands to tell it is dated in specs. I never held the rivals of my 620 when I was shopping for a phone or the rivals for the surface for that matter. You are the definition of a fanboy so blind that you cannot even tell this is a bad phone. I feel sorry for you I really do.

You are completely missing the point. This phone is for people who want a great camera at an affordable price. It will be able to play every game on the windows store and it will definitely be more than fast enough for its price range. Don't come with your bullshit saying that the nexus camera comes anywhere close to this, because that is uterly ridiculous. Not to mention the Dolby 5.1 recording capabilities, built in wireless charging, etc.

I'm not blind. You too enlight us by your presence

You certainly aren't!!!! You just prove how easy it is to get suckered by marketing. Enjoy the jerky framerate and poor performance. We will just do the logical thing and get a 930 which does beat its predecessor in all areas.

Please point out where a 1gb RAM Lumia (that is not factory-defective) has had "jerky framerate and poor performance" even with the earliest builds of WP 8.0. Even a two-year old model, like this 920 I'm still rocking, is as smooth as it was out of the box. This isn't Android and/or Touchwiz we're talking about.

Neither does anyone need to hold a Lumia in his hands to know that it will outperform an Android phone even with lower specs, or that a PureView camera will be far better than a Nexus camera (which is well-noted for perennially being crappy). Go buy the old-ass Nexus 5 and stop crapping on a phone you have neither used, seen in action, or read reviews of. And next time, don't ask another person if he has held a phone in his hands to prove a point of you are going to turn around and argue against it. It only shows you are lacking objectivity.

Alright chill people. First off sure, these aren't mobile gaming worthy specs, but for people that are more on the social/business side, this phone is great. You don't need a costly processor to run the OS, I imagine Denim might have some performance improvements as well. I see this as a multimedia/social/business phone completely, and that's perfectly fine. You buy tech according to your personal uses, not trends or fanboyisms. I have an 820, and I will agree in saying that because of the pricing on the 830 I won't upgrade for at least another year until the price drops, and I am dissapointed with that front cam a bit only having 1mp. At least at a $430 asking price it should have had at least a 3mp cam in the front. And if they REALLY wanted to make it an "affordable" flagship, Qi charging should have been optional again to bring down that price even further.

Only narcissistic whores need a FF camera with more than 2MP...

Or, you know, people that go out with friends and have actual enjoyable moments and what to take a group photo that doesn't look bad while being able to see the shot, etc etc.(Situations and uses differ, also skype vid quality you know. 1mp isn't always good and the 820 has a better front facing camera even if just by .2) Also, I was talking about price point vs. hardware (same guy, two accounts, have to erase the other one since it's just on my pc).

Do you come from Droid land? The land where specs determine if the handset is capable of booting the OS? History tells us that WP doesn't need a hell of a lot to run smoothly... This is a high end, BUDGET phone man.
I'm sad for you, if you expected more but you are comparing apples with oranges! If WP OS and this device have progressed to the point of not needing the "specs" of its predecessor, it is actually a win for users. Expect better battery life for starters, which will actually let you game longer!
Lol... Idk... I give up, some people look for the negatives in everything.

Exactly! Well said. @keifwoki
@Sam 77, no, you don't get the marketing. That's the whole point of it, it's not supposed to compete with the 930, it's 170 euros cheaper. Deal with it. I'd take the 930 too but for this price the 830 is also worth it. Et voila, tout est dit.

Who said it had to compete with the 930???? It would be nice if it could better the 820 in gaming and overall but alas that sort of logic is wasted on you. In overall benchmarks this phone will lose out to the 820. Don't have to believe me there is a WPC article comparing the 630 vs the 1020. The 1020 has higher overall performance and demolishes the 630 in gaming. I get marketing quite well I don't get suckered by it. You on the other hand are bamboozled by a 10MP Pureview camera. Sucker born every minute. Enjoy jerky framerates and poor web performance!

You should hear yourself. I have a graduate in business engineering. You keep talking about specs of different phones that aren't comparable. I'm talking about the MARKETING, the business model, difference in PRICE. "Bamboozled" by your own so called "wisdom" I guess. And if you could please stop now, honorable Sam, the greatest of all ego-warriors.

Lol, +930 to that!! Wtf is wrong with some people :D

Did I say I wanted one? Did I say I was excited by this handset? Where is the article about poor performance of the 830? Your argument is moot.
You're the type of person who argues for arguments sake by the sound of things?
I'll slow it down for you....
S p e c s D o e s N o t A l w a y s =
P e r f o r m a n c e !

What a bunch of whiners...this phone isn't for you, simple as that...you're like a broken tape recorder...Enjoy jerky this, jerky that... blah blah...shut it...! you're the only one jerking off here...!

It does better than 920 in games etc!

You know what man go ahead and buy the phone I'm not stopping you. At this point if MS farted some crap you'd still be kneeling in front of them giving them a BJ. The phone has features from 2012. I'm done here.

Do you come from the land of the mindless where having less performance than its predecessor is acceptable? If so enjoy the devolution.

You mean lower "specs"? remember, we don't know what the performance is like yet!

It has the same SOC as the 630 Go do a search for the WPC article comparing the 630 to the 1020 then come back and say yeah its a winner. FYI 1020 and 820 have the same SOC...

Use it, then come back with your review.... Until then, we can only wait and see what it is like.... Can't we?

Quote SAM77:" FYI 1020 and 820 have the same SOC..." But do they run the same? Thought so. Why don't you try to speak about things that are more familiar to you? Like jump rope or something..

@Sergiu Baiatu The only thing that's different is the S4 on the 1020 having some under the hood optimizations for camera performance, but that has nothing to do with what we're talking about here. In fact, the 820 graphically outperforms the 1020 and the 920 due to the considerably less amount of pixels and SAME Adreno 225 GPU.

@ SAM 77 I have to agree with you. Furthermore, if you take into account the fact that the 630 has a FWVGA display resolution (854 x 480), this SoC will certainly have worse performance on an HD screen (L830). I remember the Lumia 820 always outperformed my 920 in the graphics department because the 920 has 2.5x the amount of pixels (they both share the SoC, even with the L1020).
Also, don't listen to all these not-so-smart people pretending to have some knowledge they're actually in lack of ;-)

And one last thing. Usually the processor speed matters more than the core count for gaming. So in that regard, the dual-core S4 @1.5 GHz on the L820 is looking better than the quad-core Snapdragon 400 @1.2 GHz on the L830.

I was expecting 600 no less. Although it would be nonsense for them to put an 800 processor in it.

Just like it was nonsense for the 820 to share the same SOC as 920/925/1020 (flagships at the time of release)

You do have this right, they should've started giving it different processors from the beginning.

It's a good point. This made the 820 a bit too expensive for its position. Worse was the 720, which was incredibly overpriced for its position in the range, yet such a really good package. It should have been capable of selling far more than it eventually did, held back by high pricing. The price point of the new 730/735 models is much more appropriate. In fact the whole range pricing now looks really good, representative of their respective specifications and markets. Now then, what about a replacement for the 1020....

That's indeed a bad news actually, 830 is a sweet device, but a downer with S400 SOC, they should at least have S600 for this or 2GB RAM instead. The "affordable flagship" marketing doesn't make sense, it feels cheating honestly even though I know WP runs better on same specs than Android. This is not much difference with 730, heck even 630. Additional bump on CPU-GPU or RAM should have be done...unfortunately its here now, a bit disappointment as a 820 user.

Windows Phone runs beautifully on LESS hardware. Think the 521 ;) trust me, this is an awesome phone!

Yup, disappointing. Then again, I guess majority of people play such crappy games that they won't benefit much from a better SoC. I'd rather have seen 350€ and S800.

My only question is when will we see it in the US, specifically at T-Mobile? :)

Green and orange again. Fans of red, cyan, and yellow are not happy.

Seriosly, why did they decide to ditch cyan?

HOPEFULLY they'll notice people want cyan casings again (I have one on my 820 and GOD it is sexy) and they'll sell them seprately like for the 820. Either that or some 3D printer print-your-own-casing bull again.

They supposedly did research that told them that people really want orange and green phones. Unfortunately they took this to mean ONLY orange and green.

I suppose this research is basically looking around and seeing what colours iPhone 5c buyers are going for? It's only a charging cover. I guess more colours can be made available later as an accessory.

Cyan is awesome. Gonna miss him.
+Cyan 720

Maybe there were some left over orange and green plastic beads, lying around from the 930 production? :P

Yeah, I'm not a fan of all of the green and orange and I'm trying to figure out what other female is going to look at these phones and want these colors in those particular shades. They're so... bleh. Much prefer the CYMK color scheme the Lumia line used to have.

I miss the old colors like red, yellow and cyan too, they looked so awesome. The cyan 920 was the best looking Nokia phone in my opinion. Green & orange look so ugly. Luckily there's still black so you don't have to burn your retinas out when looking at your phone. Also, bring back Magenta too. Now that would be cool. I haven't seen that color since the 900.

Processor compromised :'(
And screen resolution too

O.M.G. Then spend more money and get the Lumia 930 if you want a better processor and better screen.

Lol seriously?? My 820 will crush this in gaming. Indeed we will bump up to 930. This is a step backwards

Move on man, you're boring us! Get some fresh air and some new material, maybe have a pull or something?

Take your own advice lil man. Jerking off is for people like you :)

Haha, come on... Nothing new? That was my line first, no prizes for second man! :D

You're no.1 at jerking off.. Lol

Now you're making yourself seem desperate!
Party's over man, go home...

Is it really necessary to insult people in every comment you make?

The 820 will do nothing. The 830, has a bigger and better screen, better camera, much bigger battery compared with the pathetic one in the 820. Games will run the same(this is not a PC).

Agree this is indeed a successor.lumia 820 may have processor but its battery life is pathetic.whats the point of so called processor if its battery life is far from abysmal.

With that sort of statement you are obviously too incompetant to assemble your own PC. There is a WPC article comparing the 630 to the 1020 thats says you are full of it.

The Snapdragon 600 should have a spot in the new Lumia rage, though. I can't think of anything better than this 830 for it :)

The screen resolution is fine. Just not on a 5" display. IPS over amoled also sucks. WP looks so much better with deep dark blacks. I guess I'll be using my 820 a little longer.

"ips over amoled sucks" FML

I so much would have prefered OELD over IPS LCD. i love bracks to really look black. Its one reason i love my 820

I for one prefer Ips LCD. Can't get used to the yellow tinge that comes with amoled. Deep blacks are good but over saturation sucks for me.

The issue of saturation can always be fixed (natural feel) with the Lumia Color profile thingy

I wouldn't call the resolution compromised. The 820 ran at 800x480, while this AT LEAST gets to 720p, though it still trails the 920's 1280x768 by a hair. The processor's compromised to hell though, and could actually be a slower one than in the 820, though we'll have to see bench results (and an actual SoC model number) before we can legitimately determine that.

Snapdragon 400!? -_- I was hoping against hope but clearly I was epxecting too much. Way to botch an amazing phone, MS. Only you can keep getting away with this stuff!

It's a 330€-phone, what did you expect? Top of the specs?

Not across the board, no, but being marketed as an "affordable high end phone", many were expecting it to reflect that in at least one or two specs. Many were expecting/hoping that the one high end spec to be the chipset.

No, but at least a better processor than competing $200 devices (see: Moto G, etc). The 820 had a better processor than this. I doubt going with a S600 (NOT S800) would have bumped up the BoM too high. If they are marketing it as an 'affordable flagship', they could have at least used a processor that doesn't totally suck... They can't use the same SoC in 830, 730 and 630, and then target them to different market segments.

I have a feeling that this is in part due to Qualcomm, the s5 mini and One mini 2, which are the 830's closest competitors, have the same S400 at a similar or even higher price. Qualcomm never did a S401 or S601, and I think that no-one released a S600 Phone in 2014, so there simply might not be much choice there.

To be fair the 925, and 1020, used a chipset that was certainly not the latest or best at the time while competition was moving forward. It was a year old chipset in 2013. But they used it anyway, and so did Motorola for the Moto X. Both were criticized for it, but the actual performance was smooth. Unfortunately, the S400 doesn't fall into the same category. Graphics performance especially is terrible. They could have still sourced the S600, but I am willing to bet this was done to imrpove profit margins. The design on this is lovely though, for what it's worth. It'll sell in good numbers (hopefully) for that reason alone.

Moto G also uses a S400 SOC genius. And how exactly was the CPU in the 820 better?

How about nearly double the graphics performance of the Adreno 225 compared to the 305? I know what Moto G uses but they're not marketing it as an 'affordable flagship', are they?

330€ isn't exactly cheap.

its just a starting price ..Not more

I don't know, maybe a last generation top processor would be more logical? Like the Snapdragon 600 or the Snapdragon S4 Pro? At least then it will suit the tagline 'The Affordable Flagship', rather than the affordable mid-powered phone.

I can get an LG G2 for 330€, including taxes. Would have expected S600 at least.

Please please tell this phone is coming to T-Mobile

And Daniel you were so confirmed that the 830 WILL NOT HAVE S400!
Looks like a win for wpdang huh....!
Then again, I am already investing in 1520 so no big deal.

I too - 1520 is it for me know. But smells a little bad...

Is that display ClearBlack? Because it doesn't look like Clear Black.

Yes it has ClearBlack. IPS. Gorilla Glass 3.

Cool. But at $433 I'll just spend a bit more and go for the Lumia 930 at $599.

The problem with this convertion is that the €330 is incl 21% vat so usually dollar is euro that is the sad truth. (for the eu) edit: it seems not to be the case this time it is €399 vat incl soo 399 dollar if you s me to expensive nice loocking phone premium look but specs wise (snap 400) not really that impressive.

It's been missed off the spec list but I thought it would have :)

Where have you seen pictures indicating it's not a ClearBlack display? It most probably is ClearBlack, though, since it shouldn't have a worse display technology compared to the 630.