Lumia 900 available for pre-order from Nokia in Brazil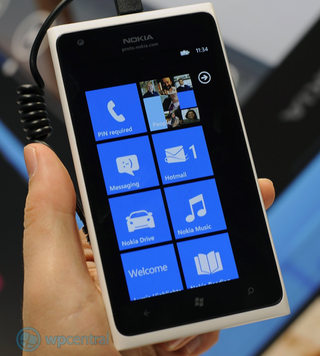 We've been informed the Lumia 900 Windows Phone is available to pre-order from Nokia in Brazil. The choice of black, cyan or white is present at a price tag of R$ 1.799,00 (about $880 / £560). The Lumia 900 is Nokia's flagship Windows Phone, sporting a 4.3" AMOLED display (with Clear Black technology), 1.4Ghz CPU, 8MP shooter (with FF camera) and 16GB storage.
No word has been given on the release date (though the website says "buy"), and Nokia's Lumia Momentum Map is of no help. We'll keep you guys posted once more information comes to light. Will you be ordering a shiny new Lumia 900?
Source: Nokia Store.br; thanks, @igor_limap, for the tip!
Rich Edmonds is Senior Editor of PC hardware at Windows Central, covering everything related to PC components and NAS. He's been involved in technology for more than a decade and knows a thing or two about the magic inside a PC chassis. You can follow him over on Twitter at @RichEdmonds.
Why? If you're in brazil DONT BUY. Go for android and you'll be fine. Lumia 800 owner.

Care to elaborate with some reasoning behind this madness?

I thought about elaborating an answer good enough for you, but then I read the other comments. It seems to me that the people are not eating this "lumia 900 is the best" shit. Is fast as hell, beautiful as no other and interesting. It took me to buy an 800 to comprehend what's really important in an smartphone (ecosystem and multitasking), none of these achievable by any current lumia not now and not in the future, maybe the next generation but the current generation is already out in the cold peeing it self to keep it self warm, or at least, thats how i feel.

"peeing itself" ? Classy... lol.
I'm pretty sure Android suits you better it haz the ecosystem and th3 multitaskig.

Why did you buy Nokia 800 in the first place instead of the green robot?

Because I'm an idiot sir, that's why. But actually I'm now saving for an iPhone 5, not matter what nokia launches, how sexy and beautiful they may be, how many cores they may have or how many pixels they can handle. If you don't have apps that work like they should, everything else is just bling. I'm not a troll I just want that the people that is thinking about buying a WP now, know what their getting into.

The only reason I can think of is that the Brazilian marketplace might have fewer apps, music, etc than U.S. Never had issue with the multitasking, though

Which multitasking? An smartphone should be able to at least internet, email, calendar and IM. Email and calendar in WP are just awesome and blazing fast, the internet is OK, to be honest IE makes me nervous and I miss opera mini (data compression anyone?) and don't tell me that 7.8 is gonna get IE 10, is not gonna happen (and don't tell me that I don't know because MS is silent, we all NOW know what silence mean) and about IM you cannot have a good IM experience without multitasking and don't you even dare to tell me that the integrated IM solution is fine, messenger is irrelevant and the FB chat (which work through messenger) is not working properly during the last month. The whatsapp experience which is key nowadays, is horrible, no messages, no toasts, just horrible. So I ask again, which multitasking?

Sure Android has multitasking and all the goodies but the problem is if you can use it without your phone crashing, lagging, and freezing. I came from Android i had a Samsung Vibrant and it's a piece of S_it and the same thing with my motorola.

Why not as fellow Brazilian an also Lumia 800 owner and previously GS owner.... and wont either own another Samsung or Android ever after.

Hey Toro, why are you telling people to buy Android in a WP site ? Weird.

Android, iPhone, whatever to keep them away from WP, we should stop lying to people. I can post here through my lumia 800 in the WP central app, so I think that I can talk about a product that I actually own.

someone is lost, anybody want to guide him back to the hospital?

I see his complaints as being quite valid. Yes, you may disagree with him but his complaints about the ecosystem are justified.

You should find out first before you buy your phone instead of whining later.

I did. Why can't I whine? Am I saying any lie?

I'm in Brazil (São Paulo) and I'm also a Lumia 800 owner so I understand perfectly well why you're angry. The first weeks with my 800 were terrible, I was using a brazilian account because I couldn't figure out how to use my credit card with the US account I use on my 360, but there's a way. Actually after registering my CC (international visa from bradesco) everything becomes available, even the zune pass for my surprise. That made a HUGE difference, unfortunately a WP with a brazilian account is just a brick. I'm on twitter and on r/windowsphone (reddit) with the same user name if you need help, (even though that magic might require a 360) or any other brazilian reading this. Also as you are as brazilian as I am I should point that this isn't a scam and I don't want your CC number (lol). Don't hate it yet, just give your phone a chance :P

Lumia 710 and Lumia 800 arrived in Brazil in March, Lumia reaches 900 operators only in September, sad.

Marketplace of Brazil has only 63 títulox Xbox Live! And Microsoft does not care, there are many people complaining here and nothing is done.

seriously?! dont blame microsoft! blame your country....

How is the country to blame?

Not agree with migueltoro. I am a mobile vendor in France and I have personally a lumia 800 and a lumia 900 and both are terrific. They are the best phone to buy if you want a phone with a good speed for internet and a long life without any problem. Android isn't reliable for long term...

You are right there, Android is not a reliable phone for a long term and the bad part me and my family experienced, is when someone is calling and your phone is not ringing, and yes my ringer is on and I don't have the vibrate on. I need to reboot the retarded green robot to take calls again until it acts up again, which is most of the time.

If I was in Brazil I'd wait for WP8. I have a Lumia 900 and I like it. But I see no reason to get it now... Even with 7.8 on the way.

Do you know when WP8 will arrive in Brazil ? PS2 went on sale there in 2009.

No, PS2 was already popular here in 2004.

It was officially released in November 2009 for 450 dollars.

But it was very popular in 2004, in all stores. Your comment sounded offensive in anyway.

But it was very popular in 2004, in all stores. Your comment sounded offensive in anyway.

Correcting your post. He began to be manufactured in 2009.

http://www.1up.com/news/sony-officially-releases-playstation-2

Not manufactured. Don't understand why the truth is offensive. It is what it is. No offensens.

But it was already sold since 2003, Need for Speed ​​Underground and GTA San Andreas were unqualified successes in 2004.
Your country (Portugal) does not manufacture many things. He is so late? No.

WP8 and will arrive here early. Nokia delays products in several countries, but usually behind the flagships quickly, eg, N8.

I'm from Brazil and I'm owner of a Samsung Focus (1st gen) and I'm very happy with it. Really, Brazillian Maketplace sucks. Each time a see a new app commented here, I cry. I cry because USA developers don't allow their applications for other countries, specially games. They don't need to translate into Portuguese the game, just release it for Brazil too :)


Word! There's the same problem in Europe (maybe not as much, but that's because there's England which is part of the EU). And I'm surely not offending myself, it's the silly legislations.
Windows Central Newsletter
Thank you for signing up to Windows Central. You will receive a verification email shortly.
There was a problem. Please refresh the page and try again.