Lumia 920, 925 and 1020 owners can get credit toward buying a 950 or 950 XL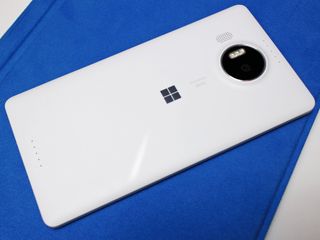 (Image credit: Daniel Rubino / Windows Central)
Many owners of the Lumia 920, Lumia 925 and Lumia 1020 were not happy that Microsoft decided not to include their phones in the Windows 10 Mobile update. Now Microsoft is offering those owners a chance to get a discount off a new Lumia 950 or Lumia 950 XL by trading in their older device.
Microsoft is offering up to $150 in credit towards the purchase of the Lumia 950 and Lumia 950 XL by either trading in the Lumia 920, 925 and 1020 by mail or heading to a Microsoft Store retail location in the U.S. or Canada. The trade-in offer will last until June 30. If the trade-in is by mail, owners of the older phones will go to a site that deterimines the exact amount of credit they will get, depending on the phone model and condition.
After the phone is traded in, Microsoft will email the owner with a promo code that can be used online to get the discount on the Lumia 950 or 950 XL. The promo code must be used by July 30. Microsoft adds:
See at Microsoft Store (opens in new tab)
Sadly, one more "u.s. Only" benefit Posted on Windows Central App for Windows 10 Mobile

Yep. Too bad, heres hoping this kind of deals come to Europe sometime.

And not forgetting Australia too ok?

Not offered to 1520 users because MS knows that the 950xl isn't a worthy upgrade, and they didn't want to offend anyone.

I was hoping they said the 1520 so I could take mine to the Microsoft Store...and stop your foolishness. The 1520 is a great phone but I had the pleasure of trying the 950 XL and it is just smooth, build for W10 so no bugs!

You Cray, Cray, cray, cray... Foolishness. Lol. "the pleasure of trying a 950XL"".. Lol. Please. Have you even allowed yourself to check out some of the other HARDWARE on the market?...
.....
Built for W10? No bugs?.. Lol. Please. This is why they say "drank the Kool-Aid"... Wakeup.

You're a jerk, but you're right. Even on the 950 series, Windows 10 Mobile blows. Cheap Android knockoff with a half baked Live Tile skin.

Not too bad of a deal if you are looking to upgrade. The likelihood that one would get $150 for any of those phones is pretty slim at this point.

Well actually, at my local bazaar site, L925 is going around 80-120 €.

How much they're asking for is one thing. How much is actually sold for is another.

I agree. I took my Lumia 1020 to my local Microsoft Store today and it qualified for the full $150 trade in. I had purchased a 950XL just a couple of days ago and the Microsoft Store staff gave me no hassle at all about applying the trade in credit against my earlier purchase. I was willing to pay $649 for the XL, so getting it for $500 was a delight. I am very happy with the phone.

There is no longer phones to sell in Brazil...we are left alone here, no more choices, what's once was a strong/big market for Microsoft now is dead

Same thing here in Chile. Not a single new Lumia. Microsoft has left Latin America behind.

But it's U.S. and Canada...

canadian link for those interested.
http://www.microsoftstore.com/store/msca/en_CA/cat/Phone-Trade-In/categoryID.939376200?ICID=Phone_ModD_Trade-In_EN_041216

Looking at a UK page right now, the 950xl is £390.83 without vat. In the US it $649. £390.83 == $555. Then there is a $86 discount currently in the UK. So in the UK, they pay $186 less than we do in the US. Even with this trade in deal they pay $36 less than we do. I DEMAND that Microsoft give us this UK price here in the US without the trade in. Microsoft must hate us because we pay so much. They are cheating us! Whaaaa! Whaaaa! Whaaaa! You people whining and complaining about how you get cheated because you don't have all the specials that we have, and yet people in the UK are paying less than we are. You may not be in the UK. Tell us which country you are in so we can compare the real prices.

Why are you even comparing the non-vat price? Everyone pays the vat here. Unlike in US where different states has different tax rate. I paid 470gbp for my 950XL at launch. Tell me how much that equates to US dollar?

So you want to compare prices with VAT in the UK, but without the sales tax in the US? It is obvious that you are not trying to compare what Microsoft charges and discounts given by Microsoft, but trying hard to find a way to make it look like Microsoft is trying to cheat some location over another.

If you include all taxes (on both sides), the US generally has cheaper prices.

It is not Microsoft's fault that your country decides to charge higher taxes than in the US.

In Ghana 950 going for GHc 2,600. $1 = GHc 3.8. So approximately $685

I already own a Lumia 925 and I'm not interested in exchanging it with a Lumia 950, cause why bother? The price will fall within the same discount range around the time the offer ends. Besides, do anyone really have a 3 year old phone in a near perfect shape?.... With the original accessories?! Please

Yeah... Original accessories... Let me dig that out.

I do, my lumia 925 is in mint condition, not even a scratch on the glass, i kept the original boxing too, same with my daily driver 1520.

Lumia 1020 boxed in yellow cordless charger boxed camera backing boxed 820 with the same I seem to keep it all

My 920 is in perfect shape with all the accessories and original box! Worth more than $150...

My 920 is still in mint condition.

My L925 is in really good shape, but it's worth more than $150 to me so I'll jsut keep it and buy a new phone outright. That said, it's not a bad offer from MS.

I do! A perfectly happy looking 920. Original box and accessories included.

Lol my 920 works, but far from perfect! Be realistic!

Yeah, but no hard drive. Not sure what that bit means.

Minus the headphones, my glass, case, charger and original box with manuals are mint.

I do. I have lumia 1020 not even a scratch, wireless back case, camera grip... All still working perfect... The nokia portable battery works fine too, just the k alphabet has dropped out Lähetetty Windows 10 -puhelimen Windows Central -sovelluksesta

It clearly said Canada in the article... Sent from Windows Central for Windows 10

This argument could go both ways. I've seen some great European or Australian offers that weren't offered in the US.

How dare you say that! Countries other than the US deserve their special deals plus the ones available in the US! Those people are entitled to all the deals world wide. People in other countries pay higher taxes, and Microsoft should be penalized for those countries making decisions as to tax their people. Microsoft should be forced to sell these at a loss becase of the tax policies, and because they simply do not live in the US. People in the US should have their prices increased to cover for the shortfall. People outside of the US are entitled to whatever they want! If you look through the comments so far, that is the current thinking.

No one suggested other countries shouldn't have these deals. I was simply pointing out that there are also some offers that aren't available in the US.

He was being sarcastic because people keep acting like only the US ever gets discounts.

My sarcasm detector must not be working today...

I've seen Microsoft give away free XBOX ONES WITH EUROPEAN WINDOWS PHONE PURCHASES!
GET OUT OF HERE WITH THIS NON SENSE COMPLAINING PEOPLE.
Do you remember what happened to the 900 buyers when the 920 was released?

Lol got a pair of zune premiums tax free thru their originals site a few years ago. It's a shame it cant be done more often. Wii **** CH. on the other hand overcharges sales tax on cc top-ups of points in countries outside of US

Oh you mean my 950XL on day one for € 380 excl vat to be paid in 24 monthly's on Tmobile with unlimited calls for 8,26 and GB's for 1,16, yeah we've nice deals ;-)

I got mine (950XL) from Optus Australia for au$930 and at MS store Sydney it go for au$1200+. Yeah they throw in a Display Dock through don't promo, but still ?

They forgot the Caribbean also

It's actually North America US & Canada.

Don't feel so bad! Even U.S. owners of the Lumia 928 (Verizon, of course) are skipped over too! Going on 3 years with no comparable replacement in sight.

Yep, saw that too. Even though it would be customers having to choose MS over Verizon, they still won't do it. It must be tough at MS some days, trying to decide who they should twist the knife harder into, any given day. Verizon, or customers? Yay! Customers are #1!!! Wait....

I bought a L640 to check out local ATT service (US Mobile) so I can ditch Verizon. My 928 will be my camera a podcast device. Bye Verizon.

Don't worry. Wndows Phone 10 is half baked. So my advice... don't trade your phone. If you want to buy a new 950 or 950xl do it. But keep your old device in case it functions better... and it will... as much as I wanted to keep it I switched back to my old Lumia 1520 with WP8.1, WP10 was a real disappointment for me.. Sad to see another platform go down the drain.

This should go worldwide. Sent from pichke materine ;)

the 950 should go worldwide! still no release date here in Brazil, where the Lumia brand was overselling the iPhone until Microsoft dropped the ball completely and vanished from stores.

There is no new phone at all. It's crazy how they left the market. We had here bank apps etc. Now it's vanished.

Sadly, those owners have probably already bought a 950(XL) like myself for the full price.

Yea, I did, too. This stuff always shows up too late. Or I'm just impatient.

Sucks to be so impatient...oh well...time to wait on that Surface phone and see the prices drop 2 months later!!

I wish I could have used that offer, but sadly I already have bought the 950xl. They should have done this from the start or do a retroactive rebate. I wonder if they could apply the funds to my Microsoft Account with a proof of purchase :P

Not me. Even with this discount I'm not sure I will take the offer. 950 does not have double-tap to wake or the zoom capabilities of the 1020.

I have to admit, I do miss the 'reframe' feature of Lumia Camera on the 1020. They need to bring that to the 950(XL)

This 925 owner bought an iPhone 6 plus.

Interesting but I'm not sure I want to trade my 1020 in. It makes an awesome point and shoot with the camera grip.

I hope they extend that to the Icon too. _________________________________________________
Sprint (9 1/2 years) - Samsung SPH-A460, Sanyo PM-8200(S), Samsung A900 "Blade" & Samsung SPH-M620 "Upstage" simultaneously (2 lines), Samsung Instinct & Samsung Upstage simultaneously (2 lines), Palm Pre & Palm Pixi simultaneously (2 lines), HTC Evo, HTC Arrive:::::. Verizon (since March 2012) - iPhone 4s, HP Pre3...........Finally back to Windows Phone with the HTC 8x (iPhone 4s as work line, HP Pre3 to play with). Then the Lumia Icon and the Lumia 735 for work.

Its pointless I think, 950/XL wont work on Verizon.

I would switch to AT&T or Tmo. Service is the same for all carriers by me. Benefits of living in a major metro area, I guess. _________________________________________________
Sprint (9 1/2 years) - Samsung SPH-A460, Sanyo PM-8200(S), Samsung A900 "Blade" & Samsung SPH-M620 "Upstage" simultaneously (2 lines), Samsung Instinct & Samsung Upstage simultaneously (2 lines), Palm Pre & Palm Pixi simultaneously (2 lines), HTC Evo, HTC Arrive:::::. Verizon (since March 2012) - iPhone 4s, HP Pre3...........Finally back to Windows Phone with the HTC 8x (iPhone 4s as work line, HP Pre3 to play with). Then the Lumia Icon and the Lumia 735 for work.

Couldn't you fetch more for the ICON by selling it on ebay?

Lol probably could. It works well on the major cdn carriers to a certain point since 8.1.1. update unlike the 930 which is kinda useless there as 2600 is only deployed in a few areas not worth mentioning

Unfortunately, there is no Windows Phone on Verizon that they could upgrade to from the Icon. I'm still rocking my Lumia 928. I'm hoping the Surface Phone is really coming and that Microsoft is finally smart enough to put a flagship phone on all carriers. Otherwise, I'll just keep using my Lumia 928 indefinitely.

I actually just got the S7 Edge. Think I'm aking ot back. I'll keep rocing my Icon and get another 735 since I gave my other one to my mother and my Icons battery life is atrocious at this point. _________________________________________________
Sprint (9 1/2 years) - Samsung SPH-A460, Sanyo PM-8200(S), Samsung A900 "Blade" & Samsung SPH-M620 "Upstage" simultaneously (2 lines), Samsung Instinct & Samsung Upstage simultaneously (2 lines), Palm Pre & Palm Pixi simultaneously (2 lines), HTC Evo, HTC Arrive:::::. Verizon (since March 2012) - iPhone 4s, HP Pre3...........Finally back to Windows Phone with the HTC 8x (iPhone 4s as work line, HP Pre3 to play with). Then the Lumia Icon (and played with the Lumia 735 for a bit before giving it to my mother)

The only thing wrong with my Icon is the battery. Everything else looks great on it. Used a screen protector/case the first year I had it, so it's in good shape. Pity I can't just replace the battery. +Lumia 929

Yeah, the battery was mediocre at best from the start, but about the last month or two for me, it's "gone from suck to blow". Not designed to be user replaceable. Not impossible. Thanks for reminding me to go look up replacement batteries. :D

Lol I just did the same. http://www.batterybay.net/Battery-for-Nokia-iCOM-Lumia-929-p/nokia-cs-nk...

Bought a mugen battery case for l929 adds about maybe a half a day on mw10 & a day on wp8.1.1 with avg. use

i moved from 928 to Icon (929). Love the phone and am still holding out hope on Gabe's last Tweet about the 929 possibly being considred for W10M upgrade.

I would forgoe any monetary reward if I could trade-in my L822 and it included a *****-slap to a Verizon employee.

Same here, I'm in the process of switching to ATT so I can replace my aging ICON since Verizon ditched Windows phone, it would be nice if I could get the discount. +Lumia 929

Include those of us on our 3rd 1520 because you never fixed the phantom touch issue. Ugh.

That was a hardware issue I think. Nokia would be the people to ask.

And there is fairly good evidence that it is caused by tweaking\twisting the phone. Example: inadvertantly sitting down with it in your back pocket. I do know this.........We have 5 1520's that are kept in Folio cases, which further resists tweaking the chassis of the 1520, and NONE of them have the phantom trouch issue. Of the few in our corporate inventory that did exhibit the behaviour, they did not have robust case protection and were addmitted to have been sat on and\or dropped on occasion. My point being that the phantom touch issue may very well be the result of the wonderful large size and distinguished thinness of the 1520 3+ years ago. Phantom Touch was not baked into it at the factory. (Just my opinion)

Everyone keeps saying that, but my third one did it straight out if the box. And while it's not gone, the issue has gotten slightly, but noticeably better, with the Windows 10 Mobile update.

....which would be Microsoft, since they bought the Nokia devices division that built the Lumia 1520.

it was a harware oversight, if you flex the phone it can mis align some stuff, causing the phantom touch issue. if people were more careful with their phones 90% of phantom touches wouldnt exist

And twisting the phone can make it stop. Lol Posted via the Note 4/Nexus 7 (2013)/Lumia 1020/Lumia 2520

Include original charger... Disqualifies 90% right there.

Wish Lumia 830 was included.

Hmm, a three year old phone without a cracked screen.

Oh c'mon they are Nokia... Posted from my Lumia 640 Xl dual sim 10586.164

That would describe both of mine. Near mint condition.

In 15 years of smartphone ownership I have never cracked any screen.

Again, Windows Phone customers DO NOT LIVE IN THE US! (the few left are negligible). MS, please take a look at where your customers actually are. And what about the Lumia 820? Just as powerful as the 920 (same internal spec, different fringe features, just as capable as the 920) and both the 920 and 820 were advertised as flagships. Yet again, no though from MS before flailing around in the phone market...

My 820 will be going to my children when I eventually buy a 950. No need to trade in, new price is already down to Euro 460 if you shop online.

Again, the largest number of Windows Phone/Mobile customers ARE in the US. No other country has more. This isn't a reason to exclude anyone, but your argument isn't based on fact.

Dang it, my 920 doesn't have the original hard drive!

And WTF did you do with the original Hard Drive?

I switched it with for an mSata SSD disk sadly ... Posted via the Windows Central App for Android

Oh hell, I wish I knew this before I bought my 950 last week

And how to if living out of USA and Canada? I live in Brazil for example, Microsoft should apply same promotion worldwide!

It's a harsh reality of the company being US based. All I can say is deal with it. The fact they are doing anything is a + in my books. Sent from Windows Central for Windows 10

This is the same service they have always had. You can take most devices there and you get some credit. It is a third party company, not microsoft doing this. They just handle the transaction and honor the credit.

Too late, I sold my 920 last year at $70

Nice! $200 CAD for my 1020. I couldn't sell it for that much on Kijiji. Sent from Windows Central for Windows 10

Wow, thats pretty awesome. DAMN> they reel me back in. I may get the 950xl and 950 for the wife now, and a cheap off brand android for work. DAMN!

But you have to throw in at least $549+tax to get a 950. Not sure the $200 credit will be applied before tax or after. You may still need to pay extra $26 HST if you are in ON or BC.

That's fine... Posted via the intertubes

what about 1520 users eh?

Probably not because you're at least officially supported for W10M, going forward... These top-end models for their time (1020 was very pricey) aren't past a few more Threshold builds -even then that's only via WI.

Im keeping my 1520, its a cooler design than the 950xl. I jsut bought a refirbished one from EBAY. Dont think I'll upgrade til surfacephone.

since when did these devices contain a hard drive..... 'Must contain hard drive.

This is a good idea. I do agree that it should be made worldwide. It's a short term loss for Microsoft, but hopefully this is more fans off of WinPhone8x and on to Win10. More users = more developer interest = more users = ....you get the idea. The short-term loss could pay off next year when they release the mythical "Surface Phone", if they now have an active audience of users and developers. The tech media would even have to pay attention. Of course, for ME, this doesn't apply. I bought my 950 months ago. I still have a 920 and 1020, too. I won't give up the 1020 because I use my phones to make videos and the 950 won't recognize an external mic in the headset jack while recording video. Ugh. The ROCKIN RED 920 could go though.

This will not help at all. I can sell my mint 1020 for that amount if I really want a 950xl so bad. But mine is a keeper as long as there will never be true pureview zoom with Xenon as one of a kind. If Microsoft talk incentive, then give me $150 credit as a faithful owner of 1020 and supporter of windows mobile without taking my phone, and we can talk business then. Why use this incentive slant to fool me?

So they should pay you to buy a 950XL? Are you high?

Canada has $200 off for successful trade-in

What about the Lumia 1320? We don't get a credit?

I love that it only applies to phones through MS, and not at all through AT&T. *le sigh*

What about the UK? Is it another "pamper the spoilt yanks only" offer? Absolutely pissed off with Microsoft and how everything is NOT equal in the way other countries are treated compared to its home nation.

According to the figures mentioned above, you pay $186 net LESS in the UK for the 950xl than us "spoilt yanks". Even with the yanks only discount, you still save $36 more than we do on the same phone, from what is amazingly enough, an American based company. Yes, the UK pays VAT, but that has nothing to do with MS, and everything to do with your local politics.

Bring it to Microsoft Store online worldwide. Posted from Windows Central for Windows 10

My 4 year old 920 shows $150 redemption code. Its speaker doesn't work though (have to use headphones). I am gonna try redeeming it. They don't say anything about headphones.

If I had a good functioning 1020, even running 8.1, I wouldn't trade it for the full $150 value. That is a classic that I would keep just for the camera until it just couldn't hold a charge anymore. There may never be another like it. Having said that, I find the 950(XL) a worthy replacement for every Lumia ever produced preceding it. (Not by much though when discussing the 1520) A little surprised the 1520 wasn't on the list. Bet it was discussed. Would love to know the official reason to not include it.

Too late for me, my 950 XL is already on the way to me. I also got it cheaper that the current offer and I get to keep my L920!

Boo, wish they did this before when it launched. But I guess the caveat is early owners got a free dock.

Soooo.... Since I bought mine at launch, can I get a MS Store credit to use for something else? Posted with Windows Central for Windows 10

Thanks, but no thanks... A 950 with an unfinished Os? If only 950 could be used with 8.1, i would buy it without trade!
I might still be able to use my 1020 with Win 10 as an Insider, but 8.1 is the most stable and complete OS around. DO NOT FALL into the trap!!!

"Must contain hard drive." Wait, what? I didn't know phones used mechanical disks for storage...

I was for a moment thinking it's a floppy disk. Haha...

I'd rather keep mine to remember the good times, and I'm pretty sure the 950's prices will fall like no lumia before in a few months

That's cool but they need to add 830 1520 640xl etc to the list if they want ppl to buy

why not refresh the 925-1020 with sd820 and iris scan? now THAT would be something for the fans

Little late, guys. I'd have considered getting an off-contract 950 XL in November, if this were going on. Now, I've got a 950 on AT&T and a 920 that's just sitting about. Another move that Microsoft set up poorly.

I'm surprised that it took them so long to do this.

I got broken body near sim tray. So I don't bother. Stay in US and Canada ..

What about outside of us who owned Lumia 920

Too bad I lost my L920 on a uber... its a little bit weared out on the outside but works like a beast on the inside! Too bad I had to switch to a S6 edge+(because of apps and app support) but I would go back to windows and grab a lumia 950xl in a heart beat if the apps got better and with better support...

I would trade both my 920 and 925 if I could trade for a two 650's, So much nicer than the 950!

Lol. I just bought a mint condition white 1520 for $180. Super happy. Will keep my 1020 as my super shooter. A little too late Microsoft.

I like how the MIcrosoft webstie still calls them Windows Phone. So have we been just forcing ourselves to keep re-naming it?

For a photography enthusiast, i don't think it's a good deal to trade my L1020 for any other phone right now. I would appreciate if there was a phone as i have now, but with upgraded hardware specs. Dont give me L950, (re)vive L1020 with some new model ;)

I would absolutely do this with my 925 (still have the charger!) except for 2 things: 1) I can already get the 950XL for $475 at Amazon (new, single SIM, no warranty), which is $175 off Microsoft's current $650 (which has not dropped since day 1). 2) If I send in my phone for a voucher and buy online, I would have to pick up a temporary phone for a few weeks turnaround time. That would cut into any potential savings. I would much prefer to pay the cost and get a $150 rebate back once my old phone is received. No vouchers, thank you.

Were the 950 closer to $400 to start, this deal would work for those I know with the 925 and 920... But at $550, this will not sway them... They will keep their 920s/925s or move to 640s... EDIT: With that said, I'd take advantage of this if they had it available for my 1320 or 1520, ditch my Moto X Pure, and come back to Windows... I forgot how Windows-like Adroid was... Not in a good way...

Yeah, I'd consider trading my 1020 if I could walk away for $200 or so. But I'd still have to part with $400 for the 950. Meh. I'll wait a year until prices drop further.

The words "up to" always mean "we won't give you much."
I'd turn my "like new" 925 with original accessories over if they'd guarantee the $150.00.
More sorry damage control from my friends at Microsoft :(

so how long will the user be without a phone? 6-8 weeks?

The link that I couldn't find in the article. https://msmobiletradeca.cexchange.com/online/home/index.rails?WT.mc_id=C... also, My Lumia 1020 is appraised at $200. But I still think it's worth more than that as a digital camera. :)

damage control by microsoft, trade in old flagship lumia and get a workinf win 10 lumia xD

What about giving credit for viable platform.

BS!!!! - Im in the UK and offer only applies to US and Canada..

Tempting but I don't want to give up my 1020.

What is this crap? Why couldn't they offer me something when I got the 950 on DAY 1 as a Microsoft enthusiast. Can I take my new phone, along with my old 920, then get something for the 920? Or maybe let me just mail my 920 somewhere, and they give me a gift card for my loyalty. If it were not for the Microsoft fans, they would probably have 0.001%... you're welcome.

Doesn't it figure? I bought mine three weeks ago, and just donated the 920 to a worthy organisation this morning. Oh well, someone who needs it will get a good phone. MS is on the right track though. How about making it standard policy to have an upgrade programme in place for annual trade ins if people wish?

Why not include Lumia930 for trade-in?,...coz' it's Not getting Continuum anyway. And in no guarantee in future update,...again, It will be just one of the next obsolete phones by the end of the year,...by the coming of Redstone2,...in surfacing the 'SurfacePhone'.

My 925 is mint - I'd have to look around to see if I have the original charger, it's probably somewhere. But $400 for a 950 is still too much. I was looking at used ones for around $300, but (sad to say) I don't think I'll be buying another Windows phone - I just can't justify it anymore.. That $300 for a used 950 would be better spent on a new Nexus 5x. As much as I love Windows phone, I think my $29 Lumia 640 was my last purchase :(

I wonder if the discount stacks. I've got two 920's and a 1020

Just saw the dinner print. Limit one per trade in.

Also three per household...

Also five households per family.

Better off keeping your superior Nokia devices than exchanging them for MS junk.

This is clearly a sign that I should switch back from Android ...

uk please. why are they bothering with the US?!!!

These phones are available in more countries than just the US and Canada, why isn't this deal available elsewhere?

Kinda wish I still had my old 925!

6 months too late, with a STILL buggy OS. Early adopter of Windows Phone 7, Windows Phone 8. They've left me behind twice (L925) still mint condition, but I just dumped T-Mobile who doesn't offer a L950 cause MSFT doesn't care about their customers...so I'd have to buy a protection plan for a $550 phone from a 3rd party. Apple and Google make buying a phone easy. Bought a Google Nexus 6p (the fingerprint reader is amazing, which L950 doesn't offer and supposedly Windows hello is still gimmicky at best) and couldn't be happier with a great camera, access to apps I didn't even know I needed, lower price for phone service, get to keep my L925 just in case or gym media player usage. I love microsoft and have been a shareholder for over 3 years....93% gain is great. But they need to wake the hell up and take care of their customers or they'll end up just like IBM.

Look at those requirements

So what if you shattered the screen on your 920 and replaced it with the HTC 8... still NOT getting Windows 10 after being promised. So much for customer loyalty.

Doesn't apply because my 920 does not contain the hard drive...

Well, crap. I already bought my 950, and my Icon is not part of their offer...

They wont trade my dead lumia 925 because of windows 10 mobile

Thanks but I'd rather keep my 925. I still consider it to be the sleekest and best looking Lumia ever. It might be underpowered when compared to recent devices, but I have a Nexus 6P to compensate for that. Cosidering the hiccups 950 and 950XL faced, I guess I'll wait for the rumored "Surface Phone" to return back to Windows Mobile. Just hoping that Windows platform gets more polished by then. Loving Windows 10 on PC though. It's getting more and more improved with every update.

I think is high time for MS to sell there phones in US and Canada alone. More so is good for MS to work on the upgrades of 920,925, 1025 to Windows 10 bec there are high phones of MS and to make people continue with there phones.

What is the device warranty seal? I've replaced the oem black back cover with a cyan back cover. I've also replaced the micro usb b/c the original melted (!) on me. Would the seal have been broken with either procedure?

I would trade in my L920 for a L950 if MS promises to trade in my L950 with a Surface Phone due in 2017! ;-)

I have a 1020 I might do this... :D Posted via the Windows Central App for Android

Disappointing this is only for US, it should be a global/worldwide offer.

Nice call, Microsoft! USA and Canada the two countries with the least WP market share.

So they actually plan to resell the old phones or why does the condition matter? :P Posted via the Windows Central App for Android

microsoft forgetting every promise they gave to us (all Devices getting W10), and now only US and Canada "benefits" for having "unsupported" devices. this i can not understand nor agree.
It was OK while receiving feedbacks from all devices, and now that they released some new ones, we are not good for them anymore.

Good deal is only for you MS not for me!

No 1520...sigh... Posted via the Windows Central App for Android

Well im keeping my 64gb 1020
No way handing in,they should be paying use to buy there phones a moment,as a good will gesture standing by them thro thick and thin.

If I had one of those phones mentioned in the article I'd jump on the deal. Your phone would have to be in pristine condition, though, to get the max credit. Still a good deal. Hopefully the promo expands to everyone in the world.

Guys help us to bring these new lumias and surfaces to Brazil, assign the petition https://secure.avaaz.org/po/petition/Microsoft_Corporation_Tragam_os_nov...

I'd be all over this but apparently the small crack in the corner my screen disqualifies me completely. Shame, since it's pretty much the only way I'd consider buying a Windows Phone right now.

Microsoft should offer this worldwide because it's not only in the U.S. that those phones were sold and it's not only in the U.S. that those phones are not getting the W10M update.
And by the way, my older 925 is in a much better condition compared to my newer 1520 LOL!

Lol maybe they should add the dysfunctional 930 to that list too!

They should create a better version of this deal for the ICON. We are the ones really getting shafted by Microsoft.

My 1020 is going nowhere!!! Best photo taking relic ever made.

I am currently installing Windows 10 Mobile build 10586.218​ on my 1020 in PRODUCTION MODE.

Do this with that HP phone in June

Seriously, I just don't understand what's going on. They first claim that the 1020 WILL get Windows 10... After, they say that THEY WON'T... And now, they are offering me a credit WHILE I AM installing Windows 10 Mobile build 10586.21​ on my Lumia 1020 in production mode. WTH?!?!?!?!

There are MONSTER phones out or soon to be out that DWARF Microsoft phones. Lol

There is even a rumor of an octacore snapdragon 820, 6", 200GB, twin 21mp cameras, 3600 battery. End of second, middle of third quarter.

What the F.... Microsoft again screw the 928 owner thanks again.

I'm still holding out hope for the Icon!

Is the promo code valid only at the Microsoft store or other retailers as well? Amazon has the 950xl for $479.

I own both the 950XL and the 1020. The 1020 is so much better, camera speaking, that I would never trade the 1020 for the 950. I will keep the 1020 with Win 8.1 for the moments where I really need the camera and the 950 as my main device.
In all other aspects though, the 950XL is a better machine.

So unfair for folks from other countries! And so much for getting a Lumia 1020 when it launched :-/

Too Little, too late. Come on Microsoft you can do better. This is certainly progress as far as MS acknowledging that user sentiment matters in the consumer devices market. But there should have been much more incentive to retain valuable users. It's a poorly implemented afterthought. This program should have been $250 toward L950XL, $200 toward L950, $100 toward L650, and $50 toward L550. I would love to be able to upgrade my parents to L650 and Surface 3 at same time and standardize them on Windows 10 on their PC's, Surface 3's, and L650's. Unfortunately it breaks down if the phone is $200.00. That puts them in the Android arena, where they can get a pretty good phone + pretty good Tablet for 40% less price than Lumia + Surface 3. Android is also 60% less than iPhone + iPad. Microsoft has to do better in the consumer market.

I'm confused because then why am I able to have the Windows 10 preview? Wtf?

MS should make this offer for all Lumia phones and for the whole world.

to say nothing of the Lumia Icon owners ...

Unfortunately, there aren't enough Microsoft Stores around here, and there is no way I am going to mail my phone and be stuck without one for even a few days. I would love to have a Microsoft Store close enough that I could visit it.

The whole point i believe is to get non windows users switched over to windows but I suppose that takes a lot...

And also users of Lumia 525.

I hope they would offer it in the Philippines too for Lumia 930

MS should have included this offer in India

Just wait a few more months. Just think, next year a 950xl will only be a couple hundred dollars.

This trade-in is simply a joke. The eligibility part is insane.

Went to the MS store and within 10 min got $150 back for L925.

It might be an OK deal on the 950 but the XL is cheaper on Newegg $530 MS Store $649

I have 720 , 520 and the recent 735, all in mint condition. Original bills, accessories,boxes too. I get about 100 dollars for 720, 50 for 520 ! But I ain't giving them away unless MS India gives me a really tempting deal

Putting more money into a dead platform? Thanks, but no thanks.

Just got $150 back for L925

Too little, too late, W10 mobile is rubbish and i reverted back to 8.1 on my 930, its so much nicer to use, I hate to say it and i thought i never would but this may be my last windows phone... it so sad.

I wish Windows Central or MS CEO Mr. Nadella could get Microsoft to get the MS Lumia 950XL on the Verizon Network because it will be at least 10 months before the debut of any new MS Lumia or Surface Windows smart Phone and Microsoft rufuses to upgrade Verizon's Nokia Lumia 928 or Verizon's " ICON" windows smart phone to Windows 10 Mobile OS. this is Very bad for Microsoft's standing in the Mobile World except for it's Surface Tablets which still sell well.

It turns out that you can't use the coupon code on at&t Next program. I have a $150 coupon code I can't use now. Anybody wanna buy it for $50?
Windows Central Newsletter
Get the best of Windows Central in in your inbox, every day!
Thank you for signing up to Windows Central. You will receive a verification email shortly.
There was a problem. Please refresh the page and try again.