How to redeem Xbox One codes and gift cards
For those who don't know, here's how to redeem codes for Xbox One games, subscriptions, and credit.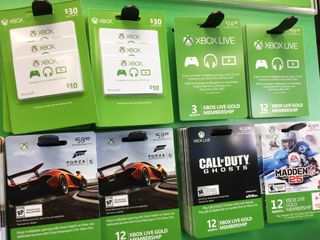 (Image credit: Windows Central)
Just received a redeemable code for Xbox One? Codes are Microsoft's method of sharing subscriptions, store credit and games outside of Xbox Live, with 25-character keys for redemption online. And no matter what your code provides, Microsoft offers a seamless method of applying them to an account. Here's how to redeem Xbox One codes and access its contents on your console.
How to redeem a code on Xbox One
One of the most common ways of redeeming codes for digital items is directly through the console, via its integrated Microsoft Store. Using this method, associated items will be automatically received and instantly begin downloading.
Open the Home menu on your Xbox One console.
Press RB four times to arrive at the Store tab
Select the Use a code tile.
Enter your 25-character code using the on-screen keyboard.
Press the Menu button.
Select Confirm to add the product to your account.
For subscriptions and store credit, the benefits will now be applied to your account. For downloadable content, installation progress can be viewed under the "Queue" tab of "My games & apps."
How to redeem a code on PC or mobile
Microsoft also allows for code redemption when away from the console, via an online code redemption page. This method is especially useful when for copying and pasting codes received digitally, or simply typing with the convenience of a keyboard.
Go to microsoft.com/redeem

(opens in new tab)

.
Enter your Microsoft account credentials when prompted, unless already signed in.
Enter your 25-character code.
Click Next.
Click Confirm to add the product to your account.
When codes are redeemed through this method, subscriptions and store credit will be automatically applied to your account. Downloadable content will be handed off to your Xbox One and begin installing, provided "Instant-on" mode is enabled, and your console has enough storage space. If the download doesn't start, navigate to the "Ready to install" tab of "My games & apps" to initiate it.
Related reading
Windows Central Newsletter
Get the best of Windows Central in your inbox, every day!
Matt Brown was formerly a Windows Central's Senior Editor, Xbox & PC, at Future. Following over seven years of professional consumer technology and gaming coverage, he's focused on the world of Microsoft's gaming efforts. You can follow him on Twitter @mattjbrown.
I wish Microsoft would just come up with one gift card for everything... like a "Microsoft gift card"

This! So much this! I have never seen a Microsoft Store card....

They already do that (some what), every gift card from Microsoft is "one", people will just get confused with One Microsoft gift card, instead of having names like window's, xbox

This is exactly why they can't call it a Microsoft Store card. Is that a digital store card or a card for their retail stores?

It's true that one branding would help a lot, but rest assured the cards are interchangeable, as detailed on the cards themselves . For example, an Xbox gift card can be used on a Windows 8 computer or Windows Phone 8 device. Reverse is also true. Phone 7 and original Xbox cannot use these codes.

I had actually looked at a bunch of XB cards at WalMart last night and apart from the generic phone icon on the front of some of them, there was not a mention of Windows Phone or Microsoft Store on them. We know they all work, but grandma buying one for little Timmy sure as heck isn't gonna know that. Compared to an iTunes or GooglePlay card.

All the Xbox Live cards, Windows Store, Windows Phone store cards all add up in your Microsoft Account and you can use them on anything

Don't the cards already do this ?

I see that you're in a good mood......Uhhh.....see.............my Live membership is going to expire in 3 more days so............I was thinking if you could.....................gift me a 12 month Xbox Live Membership card.

Must've not read the guidelines. Before you reply or post anything else...
Enjoy!
http://m.wpcentral.com/commenting-guidelines

I don't understand why they don't just send me an e-mail. Now i go the website, order a gift card, a courier brings it to my house. So silly and 1970.

You can order online gift cards from Amazon and other retailers. Delivered by email.

Lol where do you order from?

Didn't know about adding though the wallet. Thanks.

If you pair smartglass to the Xbox you can use smartglass as a keyboard to enter the code. I do this all the time. Posted via Windows Phone Central App

Or show QR Code to the Kinect!

Done it with my 25 euro cover l voucher I got with my 930

More ways: - At bill.ms.net in your payment options section when the Microsoft account payment method is selected, click the redeem code link. - In the Windows Store: go to Settings charm, My account. - On Xbox 360 (much the same way as the Xbox One description in the article, however you will need to go to your profile and select edit payment options instead)

Thanks for the timely article. I received an Xbox gift card for my Bday and now I know what to do with it.

Same here. No QR code on my gc so I used wallet. Didn't know about it before the article

Too bad I couldn't use it for buying a download copy of Windows or store goods

Huh. Did not know about the Wallet option.

Mine got expired and the Microsoft store refused to give me another one,

Doesn't matter since am in unsupported region gift card just going to waste

It is important to note that they are region specific.

So do you guys know any ways someone might get some gift cards for free ? Just wondering

Gamestop was giving away soo many of them .. Every Thursday but now the giveaway has ended. I have around 10 $5 gift cards

No need for cards then. If you need credit, head to rewards.xbox.com. Just keep doing surveys and you can have a dollar every 4 months. More details on the website.

A dollar every 4 month sounds like it's not worth the try

I've gotten several different gift cards. None of them had a qr code. I wish more of them did.

This is good to know, was wondering a month ago if I could use the Xbox card the same as a Windows card. For what I've seen there is more Xbox cards available in stores than Windows cards.

Where to purchase gift cards online??? Any specific website? Or do we get them from Microsoft stores only!

I've seen them on Amazon. They display/email the code to you immediately after purchase I believe.

I need to get a keyboard on my xbox one controller, absolute god send on the xbox, for codes or anything else. I wonder if it works on the one, probably not though.

Cool, didn't know you could use the wallet app, I usually just go to the Microsoft billing site.

Im using my Nokia and my xbox 360 for pretty much long time and never knew that i can redeem codes from wallet app-i always redeem them from xbox or from xbox site

So Xbox Cards work with Windowsphone 8+ & Windows 8.1 after all ?
Been looking to buy one , but all I found were the "Xbox" ones ... Its written in the back of the card that it does work with WP8 & W8.1 , but WinPhoneSupporr said otherwise.

They do, now that Xbox uses cash instead of points out just gets put into your Microsoft account that is available for any devices.

To bad we can't use them in music!

Theres no wallet in wp 8.1, what can i do?

Does MS still apply regional restriction on the new gift cards, i.e., gift cards bought in US cannot be used in non-US account?

I will admit it took me ages to figure out how to redeem a card on Xbox one, same thing happened when they switched over to the new Xbox 360 layout.

If you have been a xbox gamer for a long time (I have about 60 xbox 360 games and 6 xbox one games), check through all your boxes if you have not redeemed the free trial stuff. I found about 4 months of xbox live just sitting in my current boxes, even Forza 5 (if you got the physical) has a 15 day trial, GTA4 had a 12 day trial... and a ton of 24 hour to 3 day trials... Thinking about renewing and have a little free time, check it out.... like I said I found almost 4 months, that I added on to my almost 2 years I have now available :)

Uh, Guys! You do know you can scan the code with your phone and then paste it into the wallet? I just got 3 gift cards with new Lumia phones and copy/pasted each code. Though I must admit why they can't use QR on all cards I'll never understand.

Plz microsoft provide the purchase facility of ms gift card in india.......

Don't forget redemption on the Xbox application for Android and iphone!