Nokia pushing the Lumia 925 with magazine ads and a new video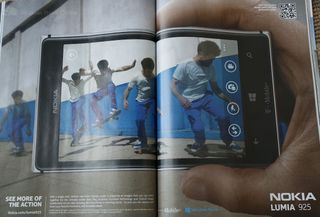 The Nokia Lumia 925 is set to become T-Mobile's flagship Windows Phone 8 device very soon. In fact, all signs point to July 17 as the device's American release date. That's great news for T-Mobile customers who require a little more hardware power than the value-priced Lumia 521 can provide.
Nokia and T-Mobile know just how much potential the Lumia 925 has to be a hit on this side of the ocean, and so they're engaging in an advertising blitz in several popular magazines. We've spotted a two-page spread in the latest Rolling Stone as well as two separate advertisements in the July issue of Wired (one shown above).
To top it off, the QR code in the Rolling Stone ad leads to Nokia's web portal for the Lumia 925. T-Mobile customers will want to head there and sign up to be notified by email when the phone shows up in stores. The page also features a number of new images and at least one new video that shows off the 925 camera's low light abilities. Check the video and print ads out after the break!
Watch that camera shine
Nokia's high-end Windows Phone 8 handsets have always excelled at low light photography, and the Lumia 925 is no different. That rear camera is a 8.7MP Pureview shooter with optical stabilization and short pulse, high power, dual LED lights. Those specs ad up to sharp shots, even at night.
Getting the word out
Wired
It's no coincidence that all three magazine advertisements show the 925's camera in use. Both two-page spreads tout the Smart Camera feature which allows users to combine photos taken in sequence into single shots.
Rolling Stone
As for the Man of Steel-themed ad, the QR code leads to Nokia's Man of Steel web portal (opens in new tab). Naturally, you'll find some Lumia 925 details there as well.
Do these ads get you guys psyched for the Lumia 925?
Thanks to Ismael Torres for the Rolling Stone tip and photo!
Paul Acevedo is the Games Editor at Windows Central. A lifelong gamer, he has written about videogames for over 15 years and reviewed over 350 games for our site. Follow him on Twitter @PaulRAcevedo. Don't hate. Appreciate!
Awesome to see the 925 being properly advertised in the US. This will indeed be a great year for windows phone and this is just the beggining :)

Just gotta get blue out. Can't believe we have to wait until 2014.

Live 2014 next year, stop waiting for the future, the present is already here, go out and enjoy it.

Good stuff. Everybody who asks about my phone, they always say I've never saw one IRL. I then show them how it works, everybody loves it.

That might not be enough. Simply WP sells are not supported at all. I went to six mobile phone stores in the city of London. Asked same question: " Please recommend smart phone that is rich in functionalities but easy to use with very good camera?". Every single store recommended Android phone (mostly SG). None even mentioned any Windows phone. Not a single device. In one store I was pointed to SG3 mini. Ironically on display next to it was Nokia 720. So this is reality in London's financial district. Real shame...

I have said this so many times. Unless if you have people working at these carriers stores use and like Windows Phones they (WP) may suffer for a long time. Your experience is what I encountered most everytime I would go into a TMobile store. Once I got the Android spiel I would say and now can you take me to your Windows Phone devices. It's an uphill battle.

You are exactly correct my friend.

The same in Lima, Perú, I think it is one of the main problems of wp

I don't think its the phone's problem. Its the retailers not properly training their people.

Throw in on the end, "and I want Office also" ;)

I remember when I had already decided to purchase my 920 and was getting my card out to pay...'are you sure you wouldn't prefer the S3, Note 2 or even the Sony Xperia...they're really good!'

Paul jetpack is updated plz tell whats new?

Article coming up. It looks like only bug fixes.

:) The clock is ticking, the US T-Mobile Lumia 925 will be mine soon enough!! :D :D :D
PS: I'm also so hyped I was thanked at the end of the article!! :D (by the way is there a way to change my wpcentral account username? I want to use my real name "Ismael Torres" instead of this Miistercoool I picked back in 2011) Anybody know how? I tried on the mobile webpage buy I didn't see any option to change it :(

3 and 1/2 weeks to go.....still none of the 3 T-Mobile stores in my area know about the phone....and the 521 is sold out in two of the three.

I Just wanna know how people on a mobile contract already can do to get this phone now that they have this no contract thing...without having to pay full retail price for the thing.

Nothing u can do except sell ur phone and buy the 925.

Can't wait for the 925. Its going to be my going out tonight phone. Camera is sick.

What phone do you have now? Because the low light capabilities really aren't much better than a 928, or 920. I think we need a shootout between the 920, 925, and the 928.. Now, that's going to take some very well trained eyes.. Lol!

Terrible music in the video. Like someone torturing a cat.

I'm sick of Nokias mobile site popping up on my browser.. Does anyone know how I can make it show up in desktop mode.. That's just one site that refuses to show up in desktop.. And, its obvious that Nokia wants me to view the mobile site because they give no other options.. Even if you remove the Mobil BS out of the link it still converts it back to the Mobil site.. Who has the solution❔

Does anyone know when the 925 is coming to Australia?
Windows Central Newsletter
Get the best of Windows Central in in your inbox, every day!
Thank you for signing up to Windows Central. You will receive a verification email shortly.
There was a problem. Please refresh the page and try again.