Swing by the forums if your Lumia 925 or Lumia 625 grabbed the Lumia Cyan update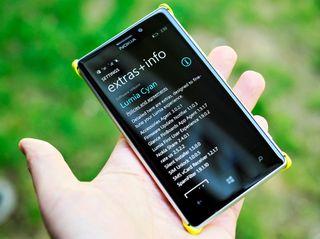 Today's a big day. Lumia Cyan is officially rolling out to consumers around the globe. Owners of the Lumia 625 and Lumia 925 are in the first batch of customers to get the update. Are you in that group? You'll want to hit up our forums to talk among fellow owners with the new Windows Phone 8.1 and Lumia Cyan firmware update.
Here are the threads you'll and forums you'll want to direct your attention to. They're a useful place to go if you need to troubleshoot any problems or have questions that are best answered by fellow owners.
Did you get the update today? Let us know how you're liking it!
Windows Central Newsletter
Get the best of Windows Central in your inbox, every day!
Loving the update, downloaded it about 2 hours ago, and still trying to find all improvements & new inventions. Really great !

I had the preview months ago , battery improved at least by 20% to my Lumia 820

I have the preview on two Lumia 820s and the battery life is noticably poor. Have you now got the official cyan firmware release?

@Dominicwatts my Lumia 820 battery is perfect , after the second update of the preview I noticed its improved at least by 20% , I still don't have the cyan

Well my lumia 820's battery is freaking poor.. And it's still Lumia Black update.. :s

Sell them an get the 830 when ots released , dominic

Battery life can be bad at first with the update... as if it's a new phone. I made sure to drain the battery so that the software could readjust. Mine is fine now. Although I'm on a Lumia 920.

Yes is battery life any better

He just got the update an hour ago...

Cortana it's updated by MS, in background or OS updates. Not by Firmware updates.

Hey, Any idea how do I make Cortana speak up? Problem is, she does everything when I type... However when I use the Microphone to say something, she doesnt do anything at all. There is no verbal response from her side on anything. Someone on the forum commented that I need to Un-Mute her. Any idea how do I do that?

Never heard about it. Does she writes down what you say?

Yes. For example if I write "tell me a joke" she shows m the joke on screen. But doesn't say

If you speak to her she will speak back. If you type to her she will show result on screen only. Clever. She assumes if you are typing it is because you cannot speak right now and will reply appropriately.

Hi Raghav, Check your Speech option in setting and check on Allow Speech.

Its already checked. I even reinstalled it. Doesn't work :(

@Reinherz Cortana won't be out of beta untill WP 9

Lock screen! Is it updated?

Why my 625 still amber.i already updated to 8.1

Check for updates in store I guess extras + info will get updates

facepalm. Some people are just too stupid (no offence - fact^^). just let him search in the playstore :)


That's right. On the other hand, some people are not smart enough to cope with it. I mean, would it hurt to be nice?

Just read it here and checked... YES I have the updates! Downloading right now on both my 925 and 625!

Southeast Asia. The 625 and 925 WP8.1 updates are rolling practically across the whole of Asia except China, Australia, and New Zealand. By the way, both my phones are unlocked.

I can't updated my 625.. I'm here in Qatar.what is your region and language in your settings?

How much data this update sucks

Is the lock screen there?

Have you got the Dolby Virtual Sound?

Dolby Virtual Surround playback for Lumia 925??

What's the size of the cyan update?

Yep I got the update and making this comment via NL 925 using swipe to type.. Feeling happy at last got updated.

Swype was available without cyan.

But not everybody had 8.1 DP ;)

WordFlow is the predictive text. It is called Shape Writing. WordFlow with Shape Writing

But not for all languages .... Not for Norwegian for ex ... No swiping keyboard

Mohammed, are you Moroccan?

How is that even related to the updates?

He's probably just looking for some users from he's country

That's it misterimo. Sorry if I interrupted something

Enjoying update on my L925 on Telstra in Australia

I just want confirm that those having 925 with cyan,do they continuous autofocus while taking a picture or no?

I'm not sure but I think the continuos autofocus is for icon and 1520. Not really sure.

Not really. Even 630/635 does have that feature too....

Either I don't know how to get continuous autofocus to work, or it isn't working!

Just open the Nokia camera and don't tap to focus. Just point at any subject and see it. Best way to do it is by putting your hand in front of your camera. If the background becomes blurry and your hand in focus, them it posses it!

No. Its only available in higher CPU like L930, L1520 not sure on L1020 though.

Will the 520 get the update?

All lumia will get the update

It's sad that the 810 is practically the only Lumia in the whole world that will not officially get the WP8.1/Cyan update ;(

That's why I won't buy another exclusive phone again.

All Lumia phones (with WP8) will get the update. Lumia 810 is not a WP8 device, it is a WP7 Phone.

No, that would be the 800. The 810 is a WP8, like the 820 and the 822.

Lumia 810 not Windows 8?!! What planet did you land from?!! The Lumia 810 has always been a Windows 8 device from the moment Nokia made it and released it to T-Mobile!!! The last time I checked, all WP8 devices don't suddently revert to WP7 on their own!!!

Glad these are starting to roll out for the lumias. I'll expect my 925 to get it soon here in the US. Samsung has been pretty quiet about their firmware updates though. Curious as to when my Neo will get the notification.

Yea, if I doesn't roll out along with Cyan on my carrier, I'm ditching Sammy and my SE for good. It should have been ready for 8.1 rollout. There was no excuse for MS to take this long. Sam's only excuse should only have been only waiting on 8.1 official.

Let's hope they are hiding something bigger under their sleeves - Samsung

Nobody's waiting on MS for anything. They released 8.1... if Samsung and or your carrier don't implement it don't blame MS. They even gave you an easy method to install it yourself.

Nobody is blaming MS. We're blaming Samsung and there is no place to go and get it ourselves. And no, Samsung couldn't release firmware until MS released 8.1 officially.

Yes it is, get the developer preview

Jesus Christ, you people still don't get it. Official release is when regular WP8 users get updated to 8.1. Yes, they're the same fucking version. And yet no, DP is not the official release.

"Samsung couldn't release firmware until MS released 8.1 officially" Microsoft officially announced the roll out of WP8.1 yesterday. And today, here in my region of Asia, the update is rolling out practically Asia-wide for versions of the 625 and 925. Based on your comment, you should be dancing around in glee then because that means you already had your update yesterday ahead of our 625 and 925 here in Asia.

*Sigh* No. I guess I have to go through this step by step.
1.) Samsung can't release the new firmware until the 8.1 official release.
2.) Yes, this is finally happening.
3.) No, the US carriers just got it for testing. No, it hasn't released yet for us.
4.) It remains to be seen if Samsung has prepped a firmware to be ready for this release. There has been no word, only Nokia has been updating their customers.
5.) If a Samsung firmware is not released when the carriers release the 8.1 update, I am ditching Samsung.

I completely understand your wanting to get 8.1 as soon as possible. The reason I thoguht you were blaming Microsoft is because you said "There was no excuse for MS to take this long. " I now understand what you meant... that they shouldn't have kept it in preview for so long. I believe (granted, I am not positive, but I think this is what is happening) the reason they do that is specifically to provide the time to the OEMs to create the firmware updates... so that when MS pulls the final trigger, if the OEMs have done their job, the carriers can then start their testing very soon after. In other words, if they made the final release on the day the dev preview was available, I suspect it wouldn't have much impact on when you might see an official rollout with firmware... because the OEMs would still need enough time to create their firmware once they get the completed code. As for Samsung, they have never been good communicators at what their plan for WP is. Who knows if they are even working on a firmware. Who knows if it is even needed. The Nokia firmware seems mainly to provide some imaging tweaks and low power Bluetooth connectivity which old hardware doesn't support anyway. I would recommend that you check the forum for your Samsung model and see what the experience with the dev preview has been with that specific model It's not unlikely that it won't really even need a firmware update. 8.1 runs fine on 3 of the 4 different Nokia devices I have it installed on (520, 920, 1020) without a firmware update (still on Black). The fourth was a 620 that did not even have the Black firmware available (on Aio)... so I did have to flash that one with a foreign ROM to get decent 8.1 battery life because Aio is so far behind. But 8.1 works fine on it with the Black update. If users aren't reporting any major issues, go ahead and update it. Personally, I would ditch Samsung anyway as they are not really invested in WP... but I don't really think the firmware update is that big a deal unless there is a specific compatibility issue with 8.1 that needs to be addressed.

I already have 8.1. I want the firmware to fix everything it's broken. Yes, a firmware update is needed for ATIV SE. There is no way to roll it back to 8.0.
I prefer the Samsung because it's identical in specs to an Icon and half the weight plus it has an SD card. If it comes out great, if not back to Android and screw tho foray into WP. I gave it two chances. There won't be a third.

Ah, now that would have been great information to include in your first post. Everyone is trying to figure out why you're so hopping mad about the schedule... you never said you already installed 8.1 and are having serious issues. As for your complaints, I would still submit that they are pretty much completely with Samsung, rather than Microsoft or Windows Phone. Nokia has utilities to reflash the original OS. Samsung doesn't give a rats ass about WP, which naturally leads to a poor experience. I still feel people get way too worked up about weight... the difference is negligible in the end, even if the weight is doubled. What you get with that weight is quality. SD card is a bit tougher nut to crack. Though 95% of us don't need it, there are definitely a few that do. And it's always a nice option to have. Regardless, good luck.

Hey, I am in india and i am unable to get the official CYAN update on my 625

Troubles with BitLocker and Developer Preview... For now, only Nokia Recovery Tool helps :(

how do i know if i have BITLOCKER??? i see many complains about that. need some help SAM SABRY

See in storage sense whether your phone is encrypted with bitlocker or not. It says "so-and-so Mb used, encrypted" under the Phone.

Just make a backup before update. If you have that problem use the Nokia recovery tool

All Windows Phone 8 devices (and newer) have BitLocker enabled and it's good. You don't wanna somebody mess with your data if your device gets stolen. Now, the problems with BitLocker are only registered with devices with Windows Phone 8.1 Developer Preview upgrading to the publically available release (a.k.a. this release which comes with Cyan Update). Now, I guess that you're safe because there are slim chances you don't know exactly what BitLocker represents and having Developer Preview version rocking your phone so just go for the update. If you have any issues just tweet me at @adraskovic, I'll be glad to help

i hope i'm safe... i'm not a tech guy. and i have the DP version... thank you all.

Why are some having the issue and others aren't? Or are all DP devices going to do this? Sam, Dan, can you chime in?

You're in need of some wham bam thank you Sam! Well, good luck!

My 925 is on the Lumia BLACK. If i change my region, would i get the update now? Bcos i hav checked several times and its saying 'am up to date'.

Why not? Its factory unlocked, not dependent on any carrier

Wait,judging by your statement.........are you in America?

You just made a rude assumption.

Only if you download firmware from Nokia for another country and flash it. It won't work OTA

Depends on which country your phone comes from. The roll out is not the same everywhere. In some countries, the roll out to 925 is first on the "country variant" phones while in other countries it's rolling out to "carrier variant" phones ahead of the "country variant".

It's based on your firmware region not by your phone region.

Thanks, i guess I'll just have to wait

Well it depends upon your region where it gets released. Eg ~every 925 got the update except in UK (but one carrier did) and US. So if your impatient,you can flash you phone with firmware but I wouldn't recommend that. Just wait!

Not got update yet, 925 on 3 network in the UK. :(

Waiting for the update in Nicaragua! L822, though I have preview for developers!

Sorry bro but that Phone is base on verizon firmware, so, you have to wait for verizon to approve it!

Yeah I know that, Verizon takes this things as game, formerly slow!

Update is available in NZ. Can't download it because I don't have WiFi at work though. Just being patient...

Tell your boss you need to make a run to starbucks ;)

That is a good idea, there's a McDonalds across the road. Brb.

I got it, Lumia 925 Malaysia. There are now little arrows on top of WiFi and cellular bars. The phone seems a bit faster lol

What arrows? Screenshot please.

LOL. Just look that:
http://www.wpcentral.com/sites/wpcentral.com/files/styles/large_wm_brw/p...

Yeap, I see that little arrows too. I'm using L625.

Yeah. Little arrows indicate when you antenna or wifi is being used and if it's uploading or downloading data.

You guys just be sure to post back with whatever improvements you found

Lumia 928 hoping to get the update soon though already running preview for developers

both the 928 and icon are listed as "in testing"

Everything is listed as in testing. Could be tomorrow or Christmas.

Anyone see any updates on when the 8X 8.1 firmware update is coming out?

Or even when its coming to non Lumia Phones?

Just in case you don't know exactly what the 'Cyan' update is or adds: http://m.wpcentral.com/lumia-cyan

I assume that my cheapo 520 will get it last :(

I would think rather quickly as the 520 is majority market share.

Despite the recent report of 520 success and majority thru are pushing newer devices first... I want it now.. But I suspect it will be a good wait....

Does it get rid of that annoying "other data" in the storage?

Testing the Dev Preview I can assure you the 'Other" issue is solved!! Clicking on Phone Storage now takes you to the new storage screen, when you click on phone you will also see a brand new screen and in here you can clear your "other memory" meaning the temporary files. you can keep clicking clear until you get to 0 MB :D yayyy

Where've you been? The Other memory issue has been fixed since last year.

My wife's 625 got it but not my 925.

When it will be available for Lumia 1320?

Nothing here yet (L925 Global Variant).

Lumia 925 country variant--- still waiting :(

The developer preview was worth it for taking the rough with the smooth, so I imagine Lumia Cyan will work wonders with my 520

Is that a 925 in the photo?

Available here on Saudi Arabia for Lumia 625

I have 925 on at&t in the U.S. but no update yet...anyone with 925 on att get it yet?

No Lumias are getting it at the moment in the US, blame your carriers

Nokia camera nd creative studio yet to be updated fr cyan right?

Already were before the rollout started.

No they weren't. Creative studio 6 nd Nokia camera with the living images feature is still not there in the market

yes where is the nokia camera update and creative studio 6 i'm going crazy plz explain this to mee

Noob question, can we update 925 to Lumia cyan with Nokia software updater?

Only if you download the firmware from somewhere.

Nothing on my925 I'm in Brazil...why???!!!

Because you lost the world cup and got mugged off by the Germans.

Not funny. I will assume though that your team crashed out in the group stages after just two matches

I'm English, but that is hilarious... and true. By far England were the worst team in the World Cup... Pathetic!!!!

Then you'll get the Cyan update last!!

So is Cortana going to be available globally after this update..... Or do we lowly humans outside of the US still need to change our region setings?

Still US only, China and UK imminent.

It's based on your firmware region, not your phone region, so that would be moot. The only way is to flash your phone with firmware from a released region.

No update yet for me, in Australia on Vodafone with a Lumia 625.

Lumia 925 actualizado a Cyan.... Argentina!

How much time yu got this update?

Did the update for NL 925 come to India?

How to set silent mode, in Lumia Cyan?

Quiet Hours mode or Silent Mode? For silent it's like before, volume down until it's silent. Quiet Hours I think you need to be in the US since you need Cortana to set it. You can activate it via Cortana or you can add a link to it at the top of the new notifications page.

You don't need to hold the volume key down until it goes to vibrate. Just tap the bell icon when the volume meters drop down. It's an extra step from WP8 but it works nonetheless.

Not bad. But not really liking the permanent system tray

You get used to it. You can also toggle it in the WPC app.

Yup, got that turned on. :) idk... Was one of the things I loved... Only time will tell

Where is tha 1520 update....1520 supposed to be one of t tha first ones

They decided they aren't releasing it for the 1520

No update for 1520 owners. You don't deserve it.

Just received it on my Lumia 925 via TDC (local telco provider in Denmark). Update currently being installed. More info will follow - stay tuned...

Install failed. Got the Blue Screen BitLocker Recovery Key issue. Will start troubleshooting (have read the previous posts around this error).

L925 updated. The phone is transformed. Reconsidering my order of 930 for tomorrow.

Wait! Keep your 925 for the time being and wait for new, awesome hardware to come out, like McLaren! 930 is just a stepping stone!

Loving it. Though the update took very long :P

It took like 20-30 mins for me.

Did you have the DP 8.1 before updating ??????

Nope, I didnt have DP 8.1 From the time I started updating to the time it finished, with everything.. it was almost the entire night. I do give benefit of doubt of a 2 hr power cut in between :P

No update for me. Lumia 925 UK sim free

My 925 has not got the Cyan update yet, am in Nigeria keeps on telling my phone is up to date

Yeah cos it is not available yet in Nigeria but you can always check this page to avoid waste of data: http://www.nokia.com/global/support/software-update/wp8-software-update/...

same here. i think its not available for 925 yet cos all 625 has got the update even in nigeria.

Update Lumia 925, Malaysia. Having that small arrow on the Wi-Fi and mobile signal. If I'm not mistaken, on black update others Lumia owners outside from Malaysia already have that with black update. Right now my phone feel smooth. Cannot find that brightness setting that WPCentral show before in their article. I could not find that USB setting also. Owh, and suddenly my phone had "health and fitness", and "travel" app.

For USB, open phone (Bing) search, search for USB and swipe to the 'Phone' tab

I know how to do that by search. But previously, Danial show it is in the setting list itself in Lumia 930.

I installed a Black Chinese FW on my Lumia 720 that had it, but when I returned to the Brazilian FW, it disappeared. :/

Nokia Lumia 925 Cyan update available in Egypt now though it says under testing in the official page, I'm currently downloading the update

Are you using preview for developers?

If you are from America and want the today switch your region and language I'm downloading the update move using Brazil as the region

What language.and what the region..tnx

Are you sure you're not just downloading a language pack?

Anyone can find any changes or improvements? I can't.

Anyone knows when the 920 update will arrrive ?

Lucky sons a mitches, I have the Lumia 520 for AT&T urgh....

Lumia 925 Vodafone UK and Lumia 625 FR updated.

Got mine in Malaysia just now. No visible changes from 8.1 so far. (925)

Did you have the DP 8.1 before updating ?????

Waiting on update for Lumia 620 DE.

No brightness profile India 925

No brightness profile here also in Bangladesh. Lumia 925. No living Image support also

Awesome ! Never thought wud get it today.. That too in India on Lumia 625.. Loving the update n exploring :)

Help me out. I am unable to get it on my 625.

Just got the update by cheating and switching my region and language

What region and language? Please help me.my 625 I can't update..

Wait a couple of days brah

me too... i too cant update my 625. i am in india. help me out

I just updated my Lumia 925 to Lumia Cyan, but I didn't find anything new except that small arrow above WiFi signals, not even USB options....

guys take a look at these samsung ads for windows devices. didnt know the do ads for their windows device. https://www.youtube.com/watch?v=jC9ZJf_CUTA wpcentral should write something on this and other oems with ads for wwindows devices, not only nokia / microsoft ads.

the update is available in ALGERIA for both said phones but I'm waiting for the L520. Hopefully it's soon.

8.1 arrived in Brazil!! For Lumia 925.,. Let's test it!!

VC ja recebeu o lumia cyan???

Pro 925 da minha mãe já. O meu 720 ainda não :-(

Eu to esperando aqui também mas nada de aparecer no meu

Tbm to na espera...tomaram que chega logo...brasil sempre atrás...

I did in Pakistan.....but no visible change. What I do please any one.

Click check for update again and a bigger update file Will né dowloaded.

Changed My Setting to download cortana... She works we'll when i type. Doesn't understand The speech :(

Hope we get for Lumia 820 soon

No update here in the UK on O2 (Lumia 925)

I got it. It seems battery life
has improved . Phone is not heating up.. Loving my phone even more.

Loving the update different phone

Help!!no Cortana on my WP8.1 (Developer).What do I do??

Change your region to u.s ..and use the language English united states..should be enable..so go to your settings now

Well my nokia lumia 925 sold on ebay, buyer isn't paying so have to wait a week and get reimbursed by ebay. Wonder if I should just keep it or list it again. (Same thing also happened with my s4, ebay needs to fix this.) Posted via Windows Phone Central App

I'm in uk 625 EE updated hours ago keeps disconnecting from my home WiFi though

My Lumia 625 8.1 still amber..I'm here in Qatar .icant updated to l.black and cyan

Wonder when my mothafuckin icon will get cyan?

I haven't even gotten my update for 925 in the u.s

Icon was launched with Cyan update. Check your settings page.

Autofocus not working on my L625, Cyan, Updated Nokia Camera

Of course. It's only available on certain higher spec models like L930, L1520, L630* (*not sure).

Does Xbox music work properly with Cyan?

Waiting patiently for the 1520 update to come... :-)

@JC Rosario Got it!!thanks man

@idrizzy.no prob man..my 625 8,1 still amber ..fuck! Lol

Updated today but there is no swipe typing !!!

Not all the languages support swipe writing

Go to Settings>keyboard>tap on your language and then tick the box swipe through letters as I type.

Nope. i didn't have DP...

Btw. Can Someone tell me how to switch off apps from running in background? Like Windows Phone 8 had an option in Settings called Background Tasks

Go to battery sense and swipe to the apps list and press on the app

i have the update but nothing changed no nokia camera living images or studio creative 6 or any thing why is that ?

Yep, I get it Lumia Cyan update from Developer Preview. Lumia 625H Indonesia. Thanks for WPCentral for update informations.

Not getting it on ATT... Ugh

Can anyone tell me about Xbox music, Xbox videos and Xbox Games performance after cyan update???

When well 1520 users get the update

Updated from windows 8.1 developer preview to Lumia cyan on my Nokia Lumia 625. Can't seem to find any change except extra+info showing Lumia cyan.

Honestly I'm a bit worried about the bitlocker problem, can someone explain it please, apparently is something serious

To all the people who are waiting for the cyan update... If you had the dp8.1 installed previously, there is nothing to get excited about!! Only diff u r gonna find is Lumia Cyan displayed in extras+info... :@ no living images, equalizer for speakers etc.. All were just rumours!! At least for the moment.. For L925.. MS really screwed us.. :@:@ only the latest phones are getting the new features.. (930, 630) . Seriously MS... Show some love for previous flagship owners as well!! :@:@ Just wastage of bandwidth!! Useless update! I never expected the only change will be just a simple name change... Huh!! Big deal.. Update they say!

So its the predecessors of 930 and 630 getting updates first?? 1520 shown as under testing for India in the Nokia page....

I am downloading updates on Lumia 925. So people in Vietnam can check for updates now. Can't wait anymore. :)

Nokia 925 got official windows 8.1 in India.

Got the update atlast let see what new in this from India

@srijin : If you were on dp8.1, you are gonna be highly disappointed bro!!

Now why is he gonna be disappointed if he used WP 8.1 DP to 8.1 cyan ?

Downloaded update... Using 625 in Sri Lanka

friends have noticed latest firmware of each phone, its the same as that of the lumia black update theres no change in the firmware .. can u pls help me out of this ?????????

I'm just amazed by the people who can't be patient and wait for the update to come to there region. Then when they switch regions and download the update they complain they see nothing new....Wowwwweee.....It's a phone folks just a f@*king phone....

Will 520 get an update..if yes den wen..frm INDIA

Patience... A week or so. I am waiting for the same.

Still waiting for the update on Lumia 925..

I still have problem... When the screen rotates to landscape mode there are three thin lines just above the capacitive keys... What should I do/?

So what about the new lock screen?? Is anyone setting the be lock screen after the cyan update??

guys,,,, i have a serious problem here , when i checked for the update in the mornig i found a out new upadate ia ready to download , but while downloading it stops in 59 % , same happened when try to download the update 3 - 4 times , after i restart my phone when i chk for the update , it shows u r phone is up to date , but not a sign of cyan update ,,,, what was that

Try again after hard reset...

guys,,,, i have a serious problem here , when i checked for the update in the mornig i found a out new upadate ia ready to download , but while downloading it stops in 59 % , same happened when try to download the update 3 - 4 times , after i restart my phone when i chk for the update , it shows u r phone is up to date , but not a sign of cyan update ,,,, what was that

I am having the same problem.

do i have to change my region back to india if it was previoulsly set to usa to recieve the CYAN update????

And what abt cortana...after cyan is installed we will get cortana right(region being usa) ??

Yup you'll still use Cortana after cyan no need to change to region just wait for cyan.. Like me. :)

I can't be the only one that types faster than swyping. Actually I should be in the majority in 2014.

Updated. Cant see anything new than developer preview. Well...

Installed yesterday update on 625 in the Netherlands.

still cannot update in malaysia

@currygoat: You wont get the cyan update by changing the region in settings. Depends on the hardware manufacturer region... And why people complain?? It's coz. None of the rumored features are available with this official update!! So the complaining response is quite natural!!

@ayushriv.. Cyan has got nothing to do with changing region in settings. Keep US region only if you need Cortana!

You answered my question, thank you!

Today I have got the update for Lumia 925.

Lumia 925 from France updated to 8.1 cyan last night!

Nokia lumia 925 from France updated to lumia cyan 8.1 last night!

Yes got it. I'm in Ireland

What network. The update showed up this morning on my 625 but now it is saying I'm up to date on 8.0. I'm on emobile.

How do I use USB for tethering? Can BING it but nothing happens? So another missing useful function. Aggh. USB Settings – Currently hidden on devices with Preview for Developers, the USB settings are finally enabled with Lumia Cyan, bringing two options for users including "Ask me before using USB data connection" and "Notify me when I connect to a slower charger." Updated L625!

None of the claimed new features arrived with Cyan, not one

still i am not getting the update ( india ) in my 625 , after the mornings incident ( guys,,,, i have a serious problem here , when i checked for the update in the mornig i found a out new upadate ia ready to download , but while downloading it stops in 59 % , same happened when try to download the update 3 - 4 times , after i restart my phone when i chk for the update , it shows u r phone is up to date , but not a sign of cyan update ,,,,) what to do guysssssss

Hey anybody tell m how to update cyan on my Lumia 625...i tried bt its not done....help me is there any problem in my setting???

I use L625. Update is downloading cant wait :D

Mera b l625 h ...helpp me
How to updatee..mene try Kia tha phn update p bt bt phn up to date bol rha h....:(

u must have dev preview installed...facing same issue

How to updatere cyan helpp

You need to ensure you have WIFI and Phone on Charging. Go on settings>Phone Update? Search for update. Update will show up and it will start downloading and installing. It might take time based on your internet speed.

Does the region need to be changed from USA (to get Cortana) to my true region to get the update?

If you change it back from USA you'll loose Cortana. First get the update installed completely and then change the region and language to US to get,Cortana

Thank you for the answer. It is appreciated.

I really dond get it why its taking so long to release it for the 1520 omg hurry up !!!

Just updated it. I'm practically fangirling lol

What we can get exactly with cyan update?

I am so anxious to het the update on my 720. I m in the Netherlands

Lumia 920 via NSU available :)

I am enjoying every bit of the update. Only issue is with Cortana. I have her up and running and she is doing everything I type. When I use speech and say something, she doesnt respond. Any idea why?

You forgot to un-mute her.......

I was just kidding.......try asking her Will it rain tomorrow?.....press and hold search button a bit longer till she starts listening.....

Tried. Doesn't work still.,:(

What do u mean by she doesn't responds?

When I speak and say Open Calendar, she doesn't do anything. If I type, she does it perfectly

By reading some of the comments here, so theirs no change from 8.1 preview to cyan? Dammn

Creative Studio? Living images?

MS taking so long was a problem because they released the Icon in February. Some of its capability wasn't useable until new firmware was released. They put a device on the market that wasn't fully enabled until six months later? That's horseshit. I don't care how the story is spun.
Yes, new firmware is needed for Samsung. On 8.1, the ATIV SE has a buggy camera, reboots whenever the LED is fired, the touch screen becomes unresponsive forcing you to do a soft reset for no reason at all, and the SD card appears to corrupt about once a week and there's no way to roll it back to 8.
I have an Icon and an SE. My Icon filled up the first week I had it. Hence, I bought an ATIV SE. It was half the weight despite almost identical specs and had an SD card slot.
As it stands, if I have to give up the Samsung it'll be to go back to Android.

Lol I feel your pain. Now that Cyan is finally rolling out, I only begin to wonder how long the 8.1.1 will take to rollout lol yet they said already its almost ready.

LOL, you made the decision to install the 8.1 DP ahead of the official release, you deal with the consequences. There's a reason it may void some warranties by installing the DP. The icon is fine. Anyone who runs it outside 8.1 can enjoy it until the new features arrive. Anyone who installed DP (which lacks cyan firmware) did so at personal risk and has no right to complain if it goes wrong, since it's not a guaranteed build and hasn't been through carrier testing. I think the true culprit here is Samsung. If you're getting problems with a buggy camera or touch screen, that's NOT a fault with WP 8.1, it's a fault with how the firmware talks to that particular device. Samsung are responsible for the firmware for their own device. Go back to android if you want; it's always more peaceful here without another fool who installs the D.P. and whines when it's not perfect.

Available in the UK on Vodafone for 925 according to the Nokia site but phone still saying no..

I downloaded the Lumia cyan uppdate 2 hours ago on my Nokia Lumia 925 in Sweden but i didnt get any new settings likw the ones Daniel Rubino showed in the Nokia Lumia 930 video on youtube. And yes its stands Lumia Cyan in the extras+info so i has got it. And i had the Windows Phone Developer prewiev before i uppdated. Why?

Dude some updates are not applicable to L925.

Got the update yesterday then did a hard reset. Still a few issues glance colours not working when I want quiet time, do not know about battery life yet, Camera seems to auto focus, I'm using a Lumia 925.1 Italy but live in Portugal. Just hope the heating issues have cleared up ;) and better battery life!

Did you have your region set to USA or Portugal?

Hi I have my phone set to Portugal sometimes UK just because it seems to heat up alot if I change which region.

I have a NOKIA Lumia 920 with 8.1 DP and after reading disappointing comments about Cyan I'm not so interested that it comes fast to Colombia. Microsoft & Nokia disappointing users since 2011. It seems that's their main plan nowadays. 920 seems to be my last windows phone.

Why don't you just sit tight and wait and see for yourself rather than believing hearsay and not giving the company a chance to address the problems? No point talking about jumping ship until YOUR phone has cyan.

No update available? Unlocked uk

anyone updated the device which had dev preview installed? I am unable to update on my 925 in India.

I have the same issue. :(

Finally new lockscreen is available in cyan awsome!!!

Anyone in Netherlands got the update en on wich phone Pm me pls

I have updated my lumia 925 using preview for develper bt nw i ddnt gt the cyan update. i have change my region to US early bt now i have change it to my current region (Sri Lanka) but still i ddnt gt the cyan update please help me....... thanks a lot

I am facing the same issue...

ur in india or sri lanka?....

I'm with T-Mobile in the US and of course no update yet for my 925. We'll see when they decide to release it.

Nokia's website says that the update is available for my 925 in Singapore but the phone tells me that it's up to date! This is frustrating. Running on wp8.1 dev preview

Well hey..go and download Nokia recovery tool and you will downgrade back to lumia black..until then you can update your phone to cyan..i did that last night..it works now...

Having 925.can't find any difference between developers preview and this cyan.except the extra and info.plz inform the changes

Hey, is the interactive lockscreen by Microsoft and Rudy Huyn included in this update?

625 is not getting updated in India.. Say device is already up to date

Same with me also.my Lumia 625,no cyan update till now.says phone is update.

Was waiting on thus firmware to fix 2nd mic that was broken by DP. No luck. I'm not alone.

Got it. Downloaded and installed cyan very quickly. I haven't really noticed any difference from the dev preview.
Lumia 925 factory unlocked.

@charith , @shashank : Try searching for the updates after a soft reset. How much storage space is left in your devices... I read somewhere that >1.5GB is required... check your free storage..!! I had no issues and updated from dp8.1 only.. P.S. Battery performace has slightly improved with CYAN...

I have 10.33GB free in my mobile. wht dd u mean by soft rest?...

@mryamaman9 : You havent noticed any diff. coz. there is hardly any.... If you had high battery drain issue in DP8.1.. you will notice a marginal improvement.. Thats the only diff i could find.. Some people have noticed some arrow signs near wifi/data.. but i couldnt.. Check if thats available..! :D:D these are the only changes as far as i know! And ofcourse..!! in extras+info... Lumia Cyan is displayed now.. :p thats a big change !

If you're using an unlocked T-Mobile Lumia 925 on Cricket are you basically SOL as far as getting updates?

Android L available for L1520 LOL! Z

1520 & 1020 is waiting so long to update.

I got the update it's more or less the same as WP 8.1 with of course a few new improvements

No brightness profile on Lumia 925 here in Bangladesh. No living image support also

Got 8.1 update kinda good thing enjoying a lot...

I am in HK...hmmm not yet upgraded on my lumia 925....maybe tomorrow will be okay???

Anyone from HK got update yet????

I think MS doesn't want to give us all the features at one go. Hence they 8.1.1 update in the works. And just recently they said its almost ready. So I can only imagine that for now. But the real question is, how long will it take :) if its nearly finished or finished by now lol

Hey, Any idea how do I make Cortana speak up? Problem is, she does everything when I type... However when I use the Microphone to say something, she doesnt do anything at all. There is no verbal response from her side on anything. Someone on the forum commented that I need to Un-Mute her. Any idea how do I do that?

Where can I see if cyan update is out for 1520 Netherlands its realy stupid other phones getting the update and we have to Wait !!!!!

Just got it on O2 UK (Lumia 925) :D

Updated my L625
Battery sucks!
Drains like hell
Well,looks like I'm gonna need a portable charger

It would be great if Microsoft wasn't so ***damn slow with their windowsphone updates. I am getting tired checking my phone daily for the last update grrr. I've been checking for months now (Europe)

Got the update last night. Running tests on the phone... Battery, camera, responsiveness... More @ the forum

When will the 8.1 be out for the 1520

Ive just updates to Lumia Cyan on my lumia 625 from mexican operator Telcel!!!!

Updated my 925 yesterday, checked all features, all are going good except one... the BATTERY now drains on a very fast rate than before. Had to charge 2 times in 6 hours with no particular use or stress on mobile. Seems a problem.

well does anyone feel any battery improvement on lumia 925...????pls share your view..

upgrade to cyan but all my stored photos couldn't be retrieved hmmm!!

Updated my Lumia 625 yesterday
Battery drain issues and battery saver not working In general as I set battery saver in windows 8 brightness reduces but its not working in 8.1
Please tell me how to activate it And under settings-> display,
I got only COLOR PROFILE and dint get BRIGHTNESS PROFILE

Since I updated to Cyan the camera is just white, I can't take picture s.

I did also update Lumia 625 in 8.1 but I feel some issues in this window as like when we play any video then I saw three line show in right hand side .and music refreshing time is too much.

Guess we are still going to have to wait in the US for our carriers to get off their butts.

Got this update but no data TX indicators and display brightness changes nothing at all, what the heck? Posted via Windows Phone Central App

Superb update....but after update....i'm facing battery problems....it drained sooo quickly....i removed the update nd installed windows 8 lumia black....via nokia software update tool....nd after that i installed cyan update again....the same problem continue....nd I'm going remove the update now.....cyan update is awesome except battery drain issue....i'm using lumia 925

Oh dear. I'm so jealous. Anybody out there from East Africa, Kenya in particular? No update here, I'm on a 1020. I also use a note 3 and the android updates take months to get to us. Hope it's better with Windows, i.e. hope I get an update before Christmas!!! Posted via Windows Phone Central App

Battery life seems improved on. I've observed one thing that if you keep Theme as Dark or White it won't affect in battery consumption so I feel it's a myth that you should keep it dark to save bit of battery. But I still belive in Dark :D

95% of us don't need an sd card slot? I would love to know where you got this accurate percentage from.

Once I upgraded my Lumia 925 to WP 8.1 final the camera no longer works, not with any app

you need a new L925!!!, or trying hard resetting your phone.

STILL waiting for t-mobile to release the 8.1 update for my Lumia 925. What is taking them sooooo long? At&t has released there's July 31st. Getting frustrated.

I downloaded the 8.1 update, but my phone has been with the gears for about 3 hours now! How long does it take to install? It already ran out of battery in the morning after 2 hours so i dont count that time! What did i did wrong? It's a Nokia 925

P.S, already restarted once the phone and the gears appeared again! Don't want to reset it because of the info i have stored! (Didn't make a back up)

I first downloaded the Cyan I think! And then it downloaded a bigger file, so thats the one am installing! I think!

I am using Lumia 625. When I updated my mobile it shows windows 8.1 with Lumia BLACK. How to change it to Lumia cyan