Lumia 930 available for pre-order in Greece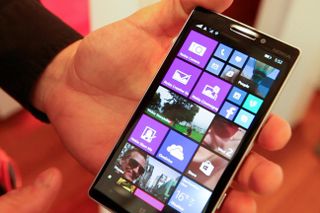 After going up for pre-order in France and Germany earlier this month, the Lumia 930 is now available for pre-order in Greece. The Lumia 930 was announced last month at the Build conference and is the first handset to run Windows Phone 8.1 out of the box.
The Lumia 930 features a 5-inch full-HD display with Corning's Gorilla Glass 3 and Nokia's ClearBlack technology. The device is powered by a 2.2 GHz Snapdragon 800 SoC, has 2 GB RAM and 32 GB internal storage (no microSD card slot). As far as connectivity goes, you get Wi-Fi ac, Bluetooth 4.0 and MicroUSB 2.0. The 20 MP PureView camera at the back (which is the same as the one used in the Lumia 1520) has dual LED flash and optical image stabilization.
Expansys Greece has the device for pre-order at €544 (around $740), which is slightly less than the €579 Amazon is asking for the Lumia 930 in Germany. Expansys hasn't announced a shipping date yet, but has mentioned that your card will be charged only once the device is in stock.
Thanks for the tip Buster!
Source: Expansys
Windows Central Newsletter
Get the best of Windows Central in your inbox, every day!
Harish Jonnalagadda is a Senior Editor overseeing Asia for Android Central, Windows Central's sister site. When not reviewing phones, he's testing PC hardware, including video cards, motherboards, gaming accessories, and keyboards.
I can't find out if there's a single release date of the device for all countries in Europe (I've hear of the 29th June in UK) or if each country will have the device on a different date.. Edit: Amazon France has shifted the price to 549€ now

Who cares. By the time this phone is out for sale it is aleady outdated by 6 Month. time the development keeps up with the current technology. guess in a year or two we will be at this point

Outdated compared to what ? I don't like android nor iOS, and as far as I can tell my L1020 is running WP8.1 smoothly.. Having its processor doubled shouldn't hurt, what's the deal with the specs rush anyway ? Who needs to impress people with overated specs ?

Well if you want to play in the pricerange of high end devices you need to provide one. They charge you 200 Euros more for the same hardware of a 6-12 month old smartphone.

You are right, and that is why the Samsung S5 isn't selling...oh wait...

Well and ? You're off topic here, I don't care if its selling or not, just saying I don't give damn if the device hasn't the exact same specs as the last high end devices like GS5. Not my problem if people are buying phones just to show how amazing its specs are compared to another high end device. I'm not interested in a dick size contest. L930 is better than L1020 and 920 which already are awesome phones, that's enough for me.

Why outdated it still has one of the best processors although it takes Nokia forever to release a device.p

It was outdated the day they announced it.

Bragging about specs is just the same as telling people your penis is small.

we dont brag about specs we put a relation to the price.

Well no you don't. It's naive to believe you're paying for the processor or gpu of a phone or whatever else, even though that's what they want you to think. Fabrication cost of cpu and GPU should switch from 5 to 15$ between a galaxy S5 and a lumia 930.
Let's ignore RAM, storage which are even more similar in fabrication cost and does not justify prices differences, you'll notice that you've always been paying more for novelty, brand notoriety and/or polish.
L930 is new, its fabrication cost should be approximately the same as a GS5 or an iPhone, only it's not the same design nor the same materials and polish. You'll find the proof of that just by looking of the relation between price and specs of the nexus 5 compared to the price of the similar phones at the same time.

544 € with VAT (23%) Without the price is 442 € (~ $600) :)

I am new in this. :) what is VAT? Some taxes or....?

Value-added tax, what the government takes in every sell/buy operation

Tnx. In serbia(belgrade) you have stores where you can buy phone without paying VAT if you pay with cash :) for example my father bought samsung ativ s for 190e with 2 years warranty. :D

In the EU that is also possible...but it is called tax evasion and it's a crime ;)

God bless tax evasion!!! :D

VAT is equal to Serbian PDV :)

Gap between release schedule and announcement of WP 8.1 is hurting. The buzz created by Build is the thing of past, now devices are being released without significant press coverage. It will only attract those who are already WP consumers.
Couple of weeks ago contract of my friend expired, she was asking for advice and there is not any WP device in the UK market which can be recommended. The irony is that we don't have even release schedule and can't hold others for a short period of time.

I think the problem here is the development who is still to far behind with the technology. they need to present it early to not show high end specs when they are mid range.

In Hungary, its 133.000 HUF (597 USD) + VAT.

It's CHEAP for a high-end phone in Greece if you see that the iPhone=740, the GS5=750 and the htc m8=720.

Honestly are you people nuts selling the iPhone 5s and the SG5 for 700+ e??? I was in Greece this weekend and I was shocked.
Come to Macedonia (or whatever you call us. I don't care) we have the iPhone5s for 550euros and the SG5 for 500 euros off contract. It will be a 200-300km drive, but you'll save 200 euros. On the other hand, you have cheeper DSLRs, but everything else in tech hardware is more expencive as far as I could see.

Can you guess why you have lower prices in Fyrom.....We have higher prices cuz of the taxes and the retailers like Vodafone/Cosmote/Wind want to get more money from every customer + we have the stupid economical crisis.

Yea, i know that's shitty. Our Vodafone-Vip and T-mobile as retailers sell cheeper phones, than, see your Vodafone. And if you go to a private mobilshop you'll find even cheper phones. Even the contracts where always more expencive.


Also because the people there are dumb and they like to spend money so they can show off to their friends. So yeah, of course the companies will attack their wallets.

Doesn't matter how we Greeks call you. You are not Macedonians, Alexander the Great, the king of Macedonia spoke Greek not your shitty language. I don't know where the hell you came from but your little hellhole sure has crossed the line. I'd refrain from using the Macedonia name if I were you retarded mosquitos.

Imperial Dynamics, really?? Yes, I am aware of that issue and this has been going on for decades. But I fail to see how you need to be so petty and insulting in a Windows Phone Central forum. Your need to cough up that hairball makes me wonder who the "retarded mosquito" is.

What an insightful comment. It really shows the intelligent person you are. Congratulations!

Greetings to my beloved Macedonian neighbors! (no sarcasm) Price for iPhone 5S/Galaxy S5 in Greece is also 530 euro as long as you don't through the so called "Official" retailers like Germanos/Cosmote. http://www.phonegallery.gr/index.php?dispatch=products.view&product_id=515 http://www.kaizershop.gr/samsung_galaxy_s5_16gb_black Nevertheless a trip to Skopje city is always a pleasant visit, I hope to visit it again.

Harish, are you new to WPC?

Yeah...he's member for 3 weeks and 1 day :)

Wow. Didn't realise that it's already been three weeks.

544 euro starting price is great for a brand new flagship. Price will be higher on retail shops so if you cant wait to get your hands to it, and can afford it, you should order it now. New phone looks great. Outdated? Not at all. It doesn't mattter if it doesn't got 8 cores or 64 bit! Iphone with 1 gigabyte is running two times faster than state of the art laggy new 3gb androids!

I think on the retail stores the price will be 640 euro....and again it's cheaper than any other high-end phone in Greece.

I hope Greece makes wp a hit. Now Microsoft just has to hurry with their other OEM's. With micromax, xolo, Blu and Lenovo. They can change the game till Dec December.

Windows phone is the 2nd most popular OS in Greece...according to Microsoft.

Ohh cool. Europe and India are really making the difference but Microsoft in India needs to be more fast. Competition is serious now a days.

According to some data and reports I have seen recently, Windows Phone is the second most popular OS (after Android) in South Africa. All thanks to L520.

Good price. Finally. All smartphones in Greek shops are very expensive.

Can any one in Greece afford one?

If i start to save money now, i think i can afford it and buy in September.

no but few the will! 476 euros/month is the basic salary(no matter if you have basic/college/university/master education) if you are over 25 years old and 426,64 euros if you are under 25.

You are RICH. Here in Bulgaria basic salary is 160 euro I think... And this is what most people get.. It's between 160 - 225 euro from most people.. Flagships usually cost between 550 - 650 Euro.. And yes people still can afford them with 2 year contract. Something like 30 euros a month for phone+ your plan. And this is what people do.. They buy expensive phones to show off and cut from food and going out.. It's stupid but hey.. who am I to judge :-)))

Of course we can . Most of the people I see on the streets have iPhones galaxy s 4 and other high end smartphones

it is a matter of priorities. Greeks spend a lot on high-end smartphones.

Please wpcentral editors, post a separate new post for every country on planet earth when any new phone becomes available. Also create a new post per carrier in the same country. So in total ANY-NEW-PHONE-MODEL multiply by ANY COUNTRY multiply by ANY CARRIER IN THE COUNTRY. Sh*tload of posts secured for the end of the decade, and no need to post anything actually interesting after that, but still have site traffic. Ps. If your sarcasm detector wasnt working, yes it was sarcasm. Better to have 4-5 posts / day that makes sense instead of having 20 posts / day where 90% is junk / advertisement.

I wouldn't agree that we cover every device launch in every country, but I decided to do the Lumia 930 post as it is a flagship.

Same thing for Poruguese Expansys. Expansys.pt

Orange.pt is also on pre-order: http://store.orange.com/pt/smartphones/telemoveis-desbloqueados/nokia-lu...

Orange Portugal is managed by Expansys. ;P

Yeah though when you pre-order, the value that showed up it 558€ without any reason. I contacted them and they said they lacked information on why there was a 13€ difference and that closer to the release they would be able to answer. Conclusion: I've cancelled my pre-order with them.

Not only is this phone ugly , its incredibly fat ( thicker than SP3 ) , it runs on outdated specs and on top of all has been delayed for months after reveal in April. And this suppose to be the Windows Phone flagship phone, little wonder Windows Phone is not growing.

Wow... No matter how you feel about it, it is in fact the most recently released WP device that we can call a flagship. The likelihood is that it will be the Windows Phone flagship for all of six months, till 'Goldfinger' comes out. Personally I like the 930. What I don't like about it is the fact it doesn't have an SD Card Slot, a Glance capable display, and on a more minor level I don't like the little speaker port on the back.

It ahs the same specs as the Lumia 1520 , which was released in October alst year.. worse thing is , it's not even on the market yet.

It's actually inferior to the 1520 as the 1520 has an SD Card Slot and is Glance capable.

None US persons should be glad to hear me say this, "what about the US"?

Why? This phone had been available in the US for months.

... and if you don't know, it is called Icon.

...and if you don't know, Verizon is not the only mobile operator.

This is my interpretation of what will happen in the US. Given Verizon has a exclusive lock on the Icon/930 in the US, the other carriers would have to wait untill the exclusive contract is up or grab a version for themselves. However I think they don't want to do this as WP does not sell super well for them, and looming over all of this, I think they are waiting for "Goldfinger" to be released in November. Daniel floated the idea that Goldfinger may be released to more than one carrier, perhaps all of them.

What can be the expected price in India?

How much is 1520 in Greece off contract? And where is the nearest Windows shop in Thessaloniki? Need for wireless pad

There are no "Windows" stores in Greece. Maybe you could find a Nokia store that sells chargers but your best pick would be to get it online.

i think around 500 euros. There are no Microsoft stores in Greece (actually i don't believe there are any in Europe). But there are many Nokia Care shops. If you can't find a Nokia Care shop near you just visit a Vodafone, Cosmote or Wind store.

Expect around 450 euro http://tokinito.gr/page/default.asp?id=64&la=1&prID=803 Try Retail shops like Public/Plaisio

Isn't the 630 the first device to run Windows Phone 8.1 out of the box?

They need to announce a release date. I can't imagine what's going on at Microsoft, have they just forgotten to publicise the release date? They made a fanfare of its announcement then it's been two months with no release date. Can you imagine Apple announcing the iphone 6 then it still bring without a release date two months later? Someone in marketing needs firing.

In South Africa, it is R7215 (€ 506.76) not sure if it includes vat, I'm enquiring that at the moment. But we only 14% VAT

I can almost bet that price excludes VAT. Vodacom, MTN,etc.are ripping us of in SA, everything is at least 25% more expensive than elsewhere in world.

Are you going to get 930 on orange sa? I'm able to upgrade on mtn next month, but guess we will not see it until September only if it is up to MTN... Sigh

No, not yet. I am still going to stick with my L620 for a bit (officially my first WP device, previously I was Android and IOS user); hopefully by Jan, 2015 I am going to be able to purchase the next generation WP flagship device, made by Microsoft Mobile. By the way I don't how good Orange is now, but I had terrible experiences with Expansys SA previously. Ordered HTC Radar in 2012, waited 2 months for delivery and after non-stop fighting with them somehow managed to get a full refund.

when Nokia Lumia 930 will come to Malaysia ?????