Lumia 930 flipcover makes an appearance in Italy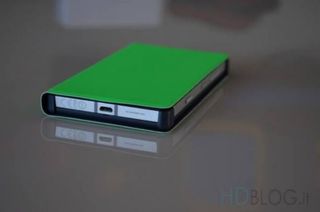 It looks like Microsoft and Nokia have a new Lumia 930 flipcover that complements the phone and brings the color aesthetics from the device to the protective accessory. As its name implies, the Flipcover is a case that Lumia 930 snaps into and has a protective flipcover flap that will protect the screen when the device isn't currently in use. The cover has cutouts that provide easy access to the ports, buttons, and of course the 20-megapixel PureView camera on the rear.
In the image, it looks like the bright green hue of the phone is carried on to the flipcover so you can have a case that matches your phone, especially if you're choosing a device that has a lot of color personality like the green or orange 930.
For owners of the Nokia Lumia 1520, the flipcover for the Lumia 930 is built around the same idea though unlike the official Lumia 1520 cover, the cover flap doesn't fold to create a stand for the phone.
And given that the Lumia 930 is the international variant of the Lumia Icon, a Verizon Wireless exclusive in the U.S., the flipcover should work on the Icon but at this time we don't know if Microsoft will bring it to the States. Right now, we still don't know much about the cover nor its pricing or availability, but it looks like a promising accessory option for users who want official accessories from the makers of their phone.
Thanks, Linh, for the tip!
Source: HDblog.it via WinPhoneViet
Windows Central Newsletter
Get the best of Windows Central in your inbox, every day!
Chuong's passion for gadgets began with the humble PDA. Since then, he has covered a range of consumer and enterprise devices, raning from smartphones to tablets, laptops to desktops and everything in between for publications like Pocketnow, Digital Trends, Wareable, Paste Magazine, and TechRadar in the past before joining the awesome team at Windows Central. Based in the San Francisco Bay Area, when not working, he likes exploring the diverse and eclectic food scene, taking short jaunts to wine country, soaking in the sun along California's coast, consuming news, and finding new hiking trails.
I wonder if its as flimsy as the 1520's flip cover.

So will this work on the icon too?

Flip covers are only needed by Samsung galaxy phones to hide their phones buy not showing how awful the cheap plastic looks

True that, and S5 is water resistant. My Lumia 620 is apocalypse resistant..!!

Well I like my flip cover my 1520 is black and my flip cover is teal to match my accent color but it's true the phone looks nice without one

Hahaha... The truth has been spoken

When is 930 coming to India?

Check flipkart bro ;) WSRetail gonna release stock soon

Why do we always read: What about India? - Exactly, what about it? If the article does not address India, presume India's not getting it.

Is it the new seems faster?? Because it is annoying..

I can never make my mind up about using cases for awesome looking hardware. I have a white wireless charging shell on my 925, don't have a charger though. Just wanted a case to take the camera lens away from any surface it is laid on. Suits the design well and these look like they do too, not too sure on the black clip in corners though.

I agree and currently don't use one on my 920. That said, a case like this that is designed with aesthetic considerations as well as protective, combined with the fact that it's officially made by the phone designer themselves, could change my thinking. I could see myself using something like this, pending a full Windows Phone Central review, of course. ;)

I took the charging unit out of my case and put it inside the phone so that I could go without a case... The phone is gorgeous.

I bought a flip cover for my 925 the first moment I dropped it - nothing happend but who knew the next time I dropped it. Since then, have dropped it quite a few times but the flip cover protected it. AND AS AN ADDED BONUS, the lens is kept away from hard scratchy surfaces I lay the phone down on.

The back looks ugly though. And it would look even more ugly on an Icon.

What the fudge, I want it for my icon

the Saddest thing is that The Nokia Lumia 930 Won´t be coming to Chile :/ Nokia Chile said to one tech Site over here, Instead of the 930 we are going to have something Better.

I'm using my Lumia Icon in Poland.. Can't wait to buy some Lumia 930 accessories here

I'd prefer one that clips on the side and is for covering the screen only...

Something like the Lenovo Thinkpad 8 cover?

If I can get one in the US. I'll be buying one for my icon!

This type of cover tends to make the user look like a moron when he's walking down the street with what looks like an open wallet covering half of his face. I suppose that if people actually flipped it all the way around it would be different but they never do. :)

The Lumia 930 is already bulky and these covers will make it more bulky, won't they?

Doesn't seem by much, thankfully, but a littler bulkyness for protection isn't a bad thing if you have bad luck.

I agree. But there's also something called as good looks other than safety!

way too thick! i'm still going to use all my phones bare.

Posted this in the icon forum a few weeks back. Expansys uk have had them on pre-order for £24.99.

Compatible with Icon? That would be sweet!!

I want this for my 1020... :/

Trust me everyone who says the phones is huge... The performance of the phone makes it worth it! Awesome screen, fast processor, and speedy performance, you'll wonder how you ever managed with a 925, a 500 series, or anything in between! You'll love the device if you love Windows Phone! ;) I heart my Icon!!

No one hates this premium phone! And those who come to WPCentral are mostly WP lovers.

How is glance working out for you

I thought I would miss glance, but I don't (totally forgot about it until you mentioned it). Still, It would still be great if they can find out how to put it on the Icon :)

Love HTC's flip cover for the M8. Wish Nokia did something similar to add the glance feature back to this model...

McLaren or 930. Currently have 1020

We've passed the halfway point for 2014. If reports are true & the McLaren will be out before years end. I would at least wait for the reveal announcement before making a decision. Figure a few months at most. Prices on the 930 will have dropped by then and will decrease further post reveal.

Thx. I'll wait. I don't want to lose my 42mp camera, one of the main reasons I chose this phone over the 1520. I hope the big surprise Nokia's making us will be big.

Honestly I think thats ugly... I dont have a 930 anyways... :(

Camera bulk is the only thing I don't like on my 925. And the fact that it could easily slip from hand due to rounded edges. So I an using Nillkin frost case, but phone looks better without it.
My next phone will be orange 930 without any cases. It seems that above problems are over with it. :)

It's a very hefty phone. Heavy but with thick glass and excellent weight distribution. The shape of the glass also allows for stress to exit when force is exerted (ie dropping the phone). Hard to imagine wanting to add any more size or weight to an already plump device. But those Itals have certain proclivities towards fashionably adorning the color black. As for the green and orange, no comment.

I think the term you were looking for regarding green and orange is "hideous". For me neon colors are equivalent with GARISH....

I concur. The 1980s continue to be deemed very strange times. But why? What would drive the population en masse towards cheap trinkets garnished in these neons you speak of garishly? You and me, we could produce a documentary on what happened there so that such a travesty never occurs again. O wait, too late.

Well put good sir. I fear poor taste is always in fashion. P.S. I would suggest though that "garishly garnished" works much better than "you speak of garishly". The meaning is potentially quite different.

Lol
proper suggestion
Mentally noted

Which other phone can you get in different colours (pre Nokia then iPhone then Galaxy) :P

€25.00 in all stores like Mediawold and Saturn

With Glance screen, why would I want this? Does it at least put the phone to sleep like a Kobo e-reader Sleepcovers?

930 and Icon do not have glance...

i like my -phone naked. the unibody is just gorgeous, id hate to hide it on something plastic and hideous. If it was samsung however, it would be a different story.

Build one for the lumia 925

Sad OEMs don't care making beautiful looking cases for Nokia Lumias, especially the 1520! Though you can find all kinds for the note. Dammit!

Dammit. All this disparity between USA and the rest of the world. Shouldn't it be cheaper for Microsoft to just build once and sell everywhere? Not to mention Cortana, Bing, etc... I understand localization is needed for native languages, but English muthafu@#er, do you speak it? If so, let everyone that does have it. India, UK, USA, Japan, etc. Then explain that localization will occur later. Geez.

I live in Ireland and Cortana works great. It finds restaurants etc. Shame I can't have my local store. If they just made Cortana worldwide as an English beta...

All I care is how to protect the camera glass of my 1520 camera which made me buy the phone, I already noticed a very slight scratch on it and the phone is only two weeks old...they should really harden the camera glasses especially for the premium phones

It's the most scratch resistant glass around: Corning gorilla glass

Sure they will. Microsft is states all the way. Aren't they?

For lefties also? Or can the cover be turned upside down without the whole thing looking utterly ridiculous?

Very Samsung like. I have one on my ATIV S and Note 3.

Would like to try one of those for my lumia 1320! Anyone happy with a good case for 1320? Thanks

Hate flip covers. I'd rather have a silicon one like the ones for the 920. As there's none, I'll probably get one of those hard cases one can buy on eBay for 0.99. I've got them for the 1020 and they work perfectly.

That green is so refreshing! Edited: Owh btw, i only use carbon fibre skin on my L920, love it so much that i have my phone in it's original 'thickness'...

I really like the 930, especially the orange and green colors, but the lack of Glance is a deal-breaker.

It says right on the box "Lumia 930 Lumia Icon" top left corner.

This flip covers were gotten in Thailand (for press). My friend got it already.

BaSICally i dont like flip covers that much i prefer skins than tham

Looks beautiful. I have one flip-cover for my NL925, it's ok but I usually find myself using qi-cover instead.

Available on ebay http://www.ebay.com.au/itm/Genuine-Nokia-Lumia-930-Flip-Case-Official-Co...