Microsoft launches its flagship Windows Phone, the Lumia 930, in India for INR 38,649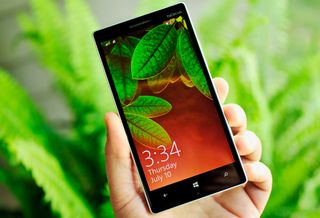 At a press event in New Delhi to launch the Lumia 730 and Lumia 830, Microsoft surprised attendees by also announcing the Lumia 930.
Microsoft unveiled the Lumia 930 during the first keynote at Microsoft's Build 2014 conference. The Lumia 930 is an international version of the Lumia Icon, a Verizon exclusive in the United States. The Lumia 930 is identical to the Lumia Icon in nearly every way except you get you a variety of extra color options with the Lumia 930.
The Lumia 930 features a 5-inch touchscreen with Full HD. That's a 1920 x 1080 OLED ClearBlack display with an eye-pleasing 441 pixels-per-inch. This is protected with by Corning Gorilla Glass 3, so it's resistant to daily scuffs and scratches.
The Lumia 930 has powerful internal specs. There's a 2.2 GHz quad-core Snapdragon 800 processor with 2GB of RAM and 32GB of internal storage. Unfortunately, there's no expandable memory card support, but 32GB internal storage and cloud storage on OneDrive should take care of the missing slot.
As a flagship, the Lumia 930 also packs a punch in the imaging department. At the back, you have a 20MP PureView camera with optical image stabilization (OIS) and ZEISS optics. On the front, you have a high-definition 1.2 MP wide-angle camera for selfies and video calls. In India, the Lumia 930 will be available in bright orange, black and white starting from October 15 at a price of ₹38,649 ($630). There's also 1TB of OneDrive cloud storage available free for first 6 months, and chargeable thereafter at a minimal ₹125 per month.
The Lumia 930 is a powerful phone, with brilliant aesthetics and camera experience. At a sub-₹40,000 price, it's a flagship priced right. What are your thoughts on the device and the pricing? Are you looking forward to buy one?
Windows Central Newsletter
Get the best of Windows Central in in your inbox, every day!
38? should have been 33k max .. to expensive.. yes.. lets here it all over again!

So what a flagship phone can be priced lower too altleast should make sense considering the sacrifices one has to do when buying it A no glance screen,no memory card slot,no great front camera and most of all the ecosystem what's the need of having a powerful speced phone when ther's no great content for it.

LOL. Why are you in WP Central?

hahaha good one znellu! ROFL!

Its actually a fair pricing...hope it drops around ₹35k in following months...

How can they price 930 more than that of 1520?

Because the 1520 is a year old device.

Check Samsung, Sony flagships. Around 50k.. 930 is priced right, the pricing of 830 is bad

How can this price be too much? its absolutely perfect... Not very high not very less :)

I am pretty sure he was being sarcastic..he meant that people will start complaining about its price..

In developing worlds like Africa, unlimited Wifi is not available generally, data is very expensive to purchase, one cannot afford to use cloud storage as an alternative to external storage. This means that such phones like 930, which is being advertised in such countries may not be very attractive.

Why is so expensive in India?
I just ordered my unlocked 930 in UK for £330 (aprox $525).
Looks like 830 will be launched in UK at similar price point: £310.
Can't work out the pricing strategy.

Should have bought new MOTO X..

I think they don't want it to sell well........ :/

Yes... Price is really high not expected that it would cost around 39k however 33-35k is what it should be.... Hope they will reconsider the price again in some days ..

It's right... Lumia 925 was launched for 34k, this is a high end phone... 38k is right

Lumia 925 launched as a flagship. In my opinion, this should be launched at 35 or 36k. As usual, it's price will come down after 6 months to 35k.

İn turkey its selling price about 900$

900$ !!!, is it really selling??

Turky in 900 then Indian ₹ 26000, very cheap in turkey.

Greedy government duties and taxes....

Almost the same price here in Brazil. My wallet cries after every Nokia/Microsoft release :(

You can buy it for R$ 1.304,00 on Cissa Magazine... I think that's a good price!

Not available from any carriers in the US. :( So any price here would be a good price.

To people saying that this is expensive. Remember that the official declaration price is always higher than the actual market price. And in India, it takes less than a week for prices to drop.
Btw they should really advertise all of these new phones, just like they did with 630.

Yep advt. Is imp. For ppl to know these phones except WP fans ..!! To make them sel even 930 too can grab sales at higher end ..!!

You guys should also be grateful. I hear comments like "went didn't India have this, when week India get this, etc..." Well, more you are. Be happy about it for one minute before the complaining starts. It's always good news when you have more options than before.

Living up to thou name homie?

Hoping for 35k price tag with launch offer .. Fingers crossed!!

It was always going to be too expensive. They should try free with iaps.

After Price announcement I am confused in Lumia 930 or Moto X (2nd Gen.) Which is at very good price of 32k. Please suggest?

Go for 930, Android is not even on a comparable level when it comes to camera, smoothness, battery backup, productivity, Cortana, customizations in UI, Live Tiles, I can go on like this about the benefits of 930/Windows phone. :D

It doesn't have glance though.

Moto X (2nd Gen) do have glance feature.

Yes, and I was almost convinced to ditch all that for Lumia 930, but this price is too much.

moto x are your crazy. intially samsung use to afd bloatware now google is adding their bloatware. 32 for moto x is crap.

Yogesh depends on what you want in a phone.. If u want an open source, lots of customization and lots of apps and games to play with then go for moto x if u want a best cam, best sound, no lags at all and ur not into gaming much then 930 is the best..

with threshold i don't think in future u would require those things what are there on droid. the main thing is mobility of devices and universal apps ehich u would get in the future. so a complete better experience will be there in windows 10.

Buy 930 its future proof and in comin update Lumia denim 4k recording will be there in 930 and windows 10 update for wp8.1 too ;)

How do you know that Lumia 930 will also get Windows 10 update?

With Moto X in India you will only have 16 gb .. Not even enough for basic apps n photos .. Go for Lumia 930

Yaa ofcourse. U will go to 930.

930...overall its a really good package...its the best from MS at this time...the glance screen is the only small compromise made...
Moto x is good...but jst doesn't seem to ace at anything in particular...jack of all trades...930 is a master in quite a few I think....:)

Goin to be mine .. In next month

I don't know how to call it a fair price when better alternatives are available in the market at lower prices

There is no better alternative to lumia

For all features and customization I thing u are missing the point of Lumia being a wonderful experience. After 2 months on your Moto u wont get the updates and u will be behind and your phone will start glitching and lagging. Microsoft does not.

Yes, Gonna buy it soon. Price is high but will be lower on Online Websites when available.

33-35 K would have been nice..I can get 1520 for 35 k though its a whole different product and shouldn't be compared .. it's not as bad as 830 pricing though.

Technicly the 1520 is the copy of the icon but with 6" and SD slot. Those phones have the same stats and even the 1520 runs with 8.1 now . So get a 1520

I dont understand why people are complaining about it being overpriced. iPhone 6 plus would be for more than 65K. You can more or less buy BOTH 830 and 930 in that price. Premium comes at a price and I feel this is a fair enough price. Its still cheaper than Xperia Z2, the LG G3 AND the HTC One M8 !

Yes and also prices drop in a week or two, not go forget the offers that now a days we get from online retailers, I hope people understand that the prices in India will not be on par with other countries because of our amazing indirect taxes, of that 38k 30% will be tax. :-\

The price in online stores would be 36k-37k..

M8 on flipkart is 40k. Just 2k more :P

Microsoft is on fire today!

Lol. Developer... Developer.... Developer.....

I can say for sure wp will gain market share with Lumia 730 by advertising well since Samsung also has galaxy grand prime for a similar price.

That's only if they are able to market it well... The last good Lumia ad was for the 1020

What's wrong with the Green colour in India?? No green color for 830 and 930 in India?? :O

And it's not overpriced.. You should know that for this price you're getting a phone that's future-proof in the foreseeable future.. I'd easily spend my money on this.

Future proof.. This is an old device if you know when was Lumia Icon released in U.S. You can buy L1520 instead of this which also has same processor and RAM, with lesser price. There are phones released with Snapdragon 801 and even 805 chipsets which can be called as future proof...

You actually prove my point.. It's an old phone yet an amazing one. It has great specs, much more than what WP requires, an amazing camera that puts newer competition to shame, and is sure to get all new OS/firmware updates in the foreseeable future, which I'm sure will run smooth as ever. Note: The term 'foreseeable' is important, coz of course, I cant predict the future.
To me, 1520, though an amazing device, is a niche one at that.
And 801 is future proof but 800 is not? With newer chipsets releasing frequently, by your definition, no device would be future-proof.

MS needs to realise that they do not exactly hold any major share in the cellphone market. If they don't price competetively phones like Moto X are gonna run circles around 930.

I dint say 800 is not future proof.. But what I mean to say is that this is an old hardware mobile whereas there are phones been released with newest chipsets like the 805. Check for oppo find 7 and oppo n3

Well if you compared to htc one m8 or iPhone 6 or xperia z2 it is much lower price.

M8 on flipkart is 40k. Just 2k more :P

830 for 29k and 930 for 38k... Wait for a few months and get the 930 !

Why microsoft is keeping its phone's prices so high???
Should cost around 35k...40k is way too high for a phone like this.

Who the hell makes these colour decisions should be fired. What's the sense of giving one colour less?

The green is coming late buddy.

Is snapdeal gonna give 6k off on this too?

Well, that price is high. I expected between 30k-33k. C'mon Microsoft, don't you want us to by that awesome phone.!!?

How much is HTC One M8 Android version in India? Also Samsung S5?

It doesnt have a glance screen. Otherwise this would have been my next device.

I own a 930 and I can easily say it's the best phone I've had (I have used both iPhone & Android). It has a camera experience 2nd only to the 1020 and is blazingly fast!!!

I doesn't have glance screen feature. Right?

Nope. No glance screen on 930

I thought I'd miss it but I actually haven't thought about it once!

Looks like none of the x30 devices have been priced properly... My take would be as follows-
530 - ₹6500
630 - ₹8500
730 - ₹13500
830 - ₹22000
930 - ₹34000

I think you need to remember the 30% import tariff...
Microsoft aren't a charity - they have to turn a profit

I kind of agree.. But still think they got the 730 pricing right.. Posted via Windows Phone Central App

We are waiting you Satya Nadella here in Saudi Arabia, Jeddah

Me too waiting for this in saudia :-\

Good pricing, considering 720 is for 16k. That's stupid.

Meanwhile we in Canada get the garbage that is the 830.

It's the nicest looking Lumia in a while. If they hadn't downgraded the camera so far (either keep the 20 Megapixel sensor or at least 15 Megapixel), this would've been my next.
Wanted to go for the Lumia 930 instead, although it's f*ugly and has no SDcard-slot.
But the lack of glance screen was the deal breaker.
How can they "forget" this on a flagship device?

Accurately priced. Only 830 pricing is horrible

Yay, a 6 month old phone for $650. What a bargain.

30% of which is import duty...so $455 is actually not bad

FINALLY!!!!!!!!!! FINALLY! FINALLY! FINALLY! I WAS WAITING FOR THIS BAD BOY FOR WHAT SEEMS LIKE AN ETERNITY! AND THE PRICING IS PERFECT! I thought it would be at least 40K+! :D NEXT STOP... FLIPKART! :D

Enjoy. :D It's gonna be an awesome day for you I think ;)

Flipkart has still listed it as 'coming soon'

yeah thats coz it would be available only after 15 oct, NP, I can wait a few more days :)

The front cam should pack more pixels. Atleast 5mp. Why so less MS. that too on a flagship phone :/

35 will be the best price under this specs..

does this one have glance screen?

No. Which I regard as a deal breaker for a FLAGSHIP Lumia.

Both 830 and 930 are 2-3K overpriced. Thinking of getting 830 to replace 820, but will wait for 3-4 months when the prices settle down to 20-22K...

Really? One article per device?
Wouldn't one article covering the press conference be enough?

If Nokia wasn't to capture market in India the he had to set low price because here many smart phone manufacture providing their phones (same specs like 930) around 15k-20k as as per my suggestion 930 prove should be less than 30k

*Want (omg flow key board)

You know there's an edit button right?

Its not WhatsApp dude... They have edit function

How much is that in euro?

So, it's the same price as in The Netherlands. € 499. O well. if you can' affort € 500 you can always call missing Glance a dailbreaker. No questions asked.

The only thing missing is expansion card slot.... It's a deal breaker....

in america lumia icon unlock cost $499 where as in india it cost $625.9 after 5months of its release in varies markets...So i think its very costly here...they would have priced at 32k. in dec iam going to buy new mobile then i will calculate my budget with icon,930 and xiaomi Mi4 :)

Still, it doesn't feel right calling Lumia 930 the flagship Windows Phone. If we look at the specs sheet, I'd say it's the Lumia 1520 (if not the 1020). Well, that's just me.

if u have forgoten 1520 is a phablet and 930 is a phone, so they are complete different devices ,and are flagship in their own market!!

I wish someone could tell us why it is so difficult for Verizon to give us cyan for the 930's twin, the Icon.

Why does it take so much to find this phone, I still can't find it where I live

In Vietnam, the price is about USD630 too.

As an opening price for a flagship phone, it's pretty damn good.

Is this thing EVER going to release in the u.s., besides the icon?

Probably not. Other than the 830/730, I don't think we'll see any new Lumia devices until the end of 2015, for the Win10 update.

I wish they would release this phone here in the US. I don't know why they won't sell it in the US.

Same. It's bloody ridiculous that we can't get an unlocked version with US bands.

Will Lumia 930 supports future OS releases like Windows 10 ?

every Lumia phone which are running windw 8 they all will support

You get the 1520, better display, SD card and everything the 930 offers for a lesser price

Even the Lumia 920 was initially launched at a price of ₹38,999/- So the pricing is more less in line with their flagship pricing. Although I feel that they have wasted a lot of precious time getting it to India. Hope it does well. I know I will definitely get mine as soon as possible.

Wow. I am going to get it. Just skeptical about the battery backup.

my 920s screen broke today ..so ya..mom,dad wont get me a new phone tho

Price is ok, though missing glance and sd slot, but worth as a upgrade at least on hardware, 930 or 1520 is the phone to go with... Hey...can't see mr. Vivekelectron...shrug, where are you mate... People are waiting for a bashing... And of course repetitive post...

Lack of glance screen is the major problem. As we highly depending on it. Next flagship will surely thinner and lighter as 830.

830 pricing is absurd. 1520 can be had at 33 k. A galaxy s4 at 28k. Its absurd when looked at these. 830,should be at 20k it will sell more then. But price will come down I guess. 930 at 32k will be awesome. 730 is the real steal its priced spot on and price will reduce only from here.

Could've been priced at 35k as Lumia 1520 retails at around 37k

what about wireless charging??will it be available in India????

Why India and not Canada? What strategic intent does Microsoft have? To introduce a 1020 refresher after the holidays and loose all Christmas sales? Pretty lonely here with two Windows phones and the scarce Lumia 1020? Come on Microsoft, apple sucks but you are not showing the alternatives for consumers.

WHy release such a great phone with one glaring flaw (lack of glance)? Still waiting for a proper successor to my 920.

I wish I could get this kind of pricing here in the Caribbean. On-contract phones are usually the same price US carriers have for off-contract. An iPhone with one of the carriers can cost up to US$1,400 off contract and the Galaxy is about US$1,200. To get a more reasonable price you'd have to go to a third-party retailer who get devices more directly, and the prices can go down to the more resonable US$650-750 range. I just checked the price of the 630 recently, US$280. Ridiculous. I'm not paying that much for a 512mb ram device.

Flagship product basically means the most expensive or the prime product of that Series.

I am buying this on November 10th, 2014. I have only one concern/ doubt about the proper customer services & availability of accessories after the Nokia plant closes in India. It would be very helpful if anyone of you can shed some light on this concern.

When is it coming to US (ATT)?
Windows Central Newsletter
Thank you for signing up to Windows Central. You will receive a verification email shortly.
There was a problem. Please refresh the page and try again.