Lumia 930, Lumia 925 and Lumia 630 go on sale in the Philippines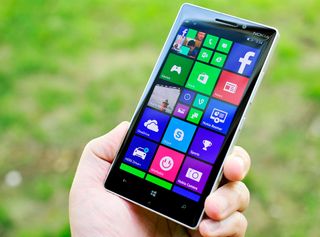 Philippines-based retailer MemoXpress has today announced an upcoming sale that will affect the Lumia 930, Lumia 925 and Lumia 630. All three Windows Phones will see up to 70% knocked off their prices between March 13 and 15 only. Surprisingly, the Lumia 925 is the device with the highest discount, making the promotion well worth looking into.
The Lumia 930 will be priced at PHP 21,990 ($500), the Lumia 925 at PHP 5,990 ($135) and the Lumia 630 at 5,990 ($135). Some real good savings there and we strongly recommend you check out participating stores across the country, should you be able to head down between the days this promotion is running.
Source: Facebook; thanks, Ivan S., for the tip!
Windows Central Newsletter
Get the best of Windows Central in your inbox, every day!
Rich Edmonds was formerly a Senior Editor of PC hardware at Windows Central, covering everything related to PC components and NAS. He's been involved in technology for more than a decade and knows a thing or two about the magic inside a PC chassis. You can follow him on Twitter at @RichEdmonds.
T.T...when I bought Lumia 925 was about USD 330

Wow! Super great deals! Come on, grab one now!

Its a nationwide sale to all lumia devices not selective devices only..

Will u get one for me Lumia 925. I am from India will I book online

The shipping would cost alot. :/

You can buy one in India too.

But do they support T-Mobile cellular band? 1700 and 2100. That's the real question

Yep. Telcos here in the philippines have 2100 band

Wonder if the Filipino Lumia 925 will work on the at&t LTE network

630 at 135 dollar??
The 638 variant in my country is nearly 110 dollar :3

It's the whole Nokia selection of devices, including Asha, C class devices, etc. Lumia prices for this sale: http://i.imgur.com/iDDILw2.png

I think that sale is a different one

Yep a different one. It is a three day sale from another retailer. Techbox Philippines

Oh yeah, thanks for correcting that for me although based from MemoXpress' FB page replies, some of the prices are same as this from Techbox. Also, same dates. Posted via the Windows Central App for Android

Great deal on 925! Less great deal on the 930 though.. We have a deal in Denmark where the 930 goes for 395$

Wow!!! $300 for the 1520?!?! That's huge!

Denim for Lumia 830 is still not available for the PH country variant. Buyer beware.

Wonder what was the original price for 930, with $500 price tag its still expensive than (last time I checked) on eBay and Amazon

I don't want to know what's going on in Philippines, just make news for me :p

Windows phone is so not famous here in the Phil.

sort of. but I've seen many using a windows phone.

Thought it was the W10 preview being announced for these devices :'(

Damn... I'm in Saudi now. Would love to buy two 925s and give it to my parents. Damn... Wish Nokia Saudi will also be on sale.

Such offers are not very common... :/

Nothing surprising about the 925 getting heaviest discount. Clearing any remaining stock they may have.

Still, it is a lot better than the 630 with the same price.

True, and one should try grab the 925 if in that market before it gets sold out. :)

When in India? :P :P :D Could do with a sale like this!

That looks like a Filipino hand ✋

630 n 925 at same price -_-

Well the 925 is 3 years old...

Don't buy L925 or you'll get blurry and yellowish photos. Even new cheaper models gets better photos. If you get lumia 920/925/1020 you can be sure that your voice will newer reach MS. Go buy some xx30 models.

We would like to have such offer in India....

What are the specs of 925? Can I update it to 8.1 or 10?

search it on Youtube for reviews and unboxing

It runs 8.1 well, it'll be updateable to 10 and probably be okay.

It was a flagship, but 3 years ago.

The Lumia 925 launched June of 2013, how is it 3 years old? It's not even 2yo yet, haha. I've had it since TMO launched it in the states...

Aha, I stand corrected. The processor is three years old though.

Please... BRING DENIM AND CORTANA in the PHILIPPINES!!

I am planning to buy a 930 in India in coming days...should i wait for some time??? May be we can have a sale here??

Are you kidding me?? Lumia 925 with mind blowing discount!

i used to want 925 so badly, but now... meh! too old.

It's really unfair for those who had bought 925 at $400 when it was launched...

Is this a joke? Can't tell if you're being serious.

Here in Sweden the Lumia 830 got discounted by almost 50% , I tipped WC but they didn't report on it.

Lumia 925 at excellent price

Will India get Lumia 925 at this price, then I will surely buy it

Wish u
I could get the 925, that a good deal.

Lumia 925 for 135$ !!?? who ever lets this slip wowwwwww shame on you lol every time i take the cover off my 925 i get reminded how nice the phone and build is. and this camera is still taking better pictures than my brothers iphone 6

Are they not just trying to sell their stock? The 925 has been sold out for nearly a year in most eastern European countries. The 930 on the other hand is quite expensive compared to most countries in the world. Anyways, if they are trying to sell the leftovers, than that could be an indication that once the 925 is put, the 930 will come on sale shortly before a 940 is launched. 1320 is not on sale in most of Europe anymore and we got the 640XL. Is this good stock handling or simply bad sales figures?

It's a clearance sale. Windows phone is so not famous here in the Phil.

I rather go for the 925 then the 630

Omg...got to grab one...is 925 worth it..

The Philippines just keep on surprising our fellow Windows users. I'll grab the 925 as soon as the store is up, bleh!!!

Jeez my 925 is nearly 2 years old and really showing its age now. No longer in stock in the UK. Did they find a boxful in the attic?

This is not the only sale going on, there's a bigger one I'm going to today. The best deal is the Lumia 636 with tri-band LTE bands 1, 3, and 7.

Grrrrr I'm there in April!!! Hope they still have stock... Wait for me!

I'll comment later whether they have enough stocks or not. I'm planning to buy a Lumia 925.

The 925 for only 135.00? That is AWESOME, especially for an unlocked device. I wish the carriers here in the states would have these kinds of sales.

If i bought my NL925 on that I'd have 4 of them. Damn it!

I just came from one of the sale sites. Techbox, 925, 1020, 1520 is gone. I'm not sure if they have daily allocation, until Sunday.

It's a clearance sale, so I don't think they'll replenish the stocks.

What's going inside Techbox PH almost out of stock in just a few hours. the inside of the store are overcrowded and their is also a line outside the store. https://www.facebook.com/techboxphilippines/photos/a.763977526964511.107...

great deal for 925.. coz it's out of stock

Got inside around 3 pm, it opened around 10 am. The only lumias left were 1320, 520, 620, 630. Fuck. Wanted 2 925s....

saw a 925 in a non participating store. why do I have the feeling they're keeping it?

ill gonna buy this today 925

Already reserved four 925's. Going to sell the three for a margin so mine will be for free!!!!

Bit useless deal if half of the shops don't have stock!

Nu be yen!! Kung kelan wala na akong pambili. (filipino words) hehehe

wag ka mag alala mukhang wala namang nakabili. lahat pati mismong nokia walang stock

I went to memoxpress sm megamall, I was told out of stock, tseh! Could've said no more stocks, not out of stocks, the salesmen tried to offer the 636, at the back of my head I was like, seriously?!

I was given a flyer of this promo while searching for 925. After hours of searching I gave up and stared at the flyer. Then I noticed there's a disclaimer for 925. *Available at the ff. Wiltelcom store only - and the stores are in davao, palawan, tagum and panabo city. I'm in f***ing SM north edsa.

Can I order the 925 from India? :-o

I got a new red 1520 for Php 15390 from Nokia store in SM North Edsa. Now looking for a good wallet case for it. Any suggestions?

oh, man! i should have known! I could have asked dad to buy me a Lumia 930 while he's there! I've always wanted the Lumia 930...