Lumia 930 up for pre-order on Carphone Warehouse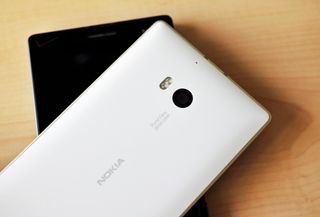 The Lumia 930 is now available for pre-order on UK's High Street retailer Carphone Warehouse, with a launch date set for July 17. The device is available for no upfront cost on select monthly plans, with the retailer offering lucrative trade-in offers.
Carphone Warehouse is giving away a Nokia Wireless Bundle with every purchase of the Lumia 930. The free bundle includes a Lumia wireless speaker and a portable wireless charging plate in addition to a £20 Windows App Store voucher. The retailer is offering three color variants of the device: black, green and orange.
The tariff and monthly plans are determined by your usage and the carrier you select. For the Lumia 930, your carrier options include EE, Orange, O2, Vodafone and T-Mobile.
I am first? Sad no SD support

People still use SD cards? I haven't needed once since my Sony Ericsson K800i.

With all those cheap ass onboard memory including ram I dont wonder about that. I already need to think about games to keep and maps to download before holdays since my 32gb is close to full.

That's a lot of games. 90% of my games I've never even played. I just downloaded them because they were free that day. I sincerely hope you won't be playing games on your phone while on holiday! You should be out there chatting to girls. As for maps, they aren't particularly big unless you're going round the whole world. I don't think there are any high end phones with an SD slot (except rubbish brands like HTC).

I want to download maps on my phone and dont bother before going if I have the maps on my phone. Also i dont want to bother with downloading some game or app. i want to play it when I want to. the 1520 btw has a card slot. with a 20MP camera or 41MP camera they better put a SD card in there. Shot a short video the other day of a building walkthroug.. 500MB taken already. Have to move all the stuff onto OneDrive and my 27 GB are nearly full as well

The 1520 is just stupidly large, Looks like a fricking TV.

Depends on the tiny TV you are used to :P but nice to follow up your argumentation on SD cards with "stupidly large"

Isn't there a syndrome which involes the size of the things you buy and the size of your man organ?

Compare in my case not compensate.probably in ur case as well

You sure do complain a lot.

Yes they do. Just because you don't doesn't make them obsolete.

Suit yourself. I have over 32 GB music and know people with over 100 GB of just .mp3 music. I use my SD card on my 1520 for local music storage. Can't stand the cloud for music.

This tricked me I to thinking it's available in Canada :/

There is some people selling 930 with A1 sim lock here, but the official site doesn't say anything :/

Heroes of Fantasy v1.7.0 updated with:
1.New Mastery function and Holy Power function unlocked! Ready to be surprised!
2. Awesome and powerful! Super comic heroes released!
3. New exciting Chapters unlocked in Hero's Gate! Embrace new journey!
4. Activity system, guild task bonus, wonderful album prize… Explore new version!

Talk about fumbled launch ... But yet again launching new devices wasn't Nokia's (now MMO) strongest point.
Sounds like a solid phone though

Joke launch, most of the hype has died down for this phone as they have all forgotten about it.

They gave us the hype for McLaren too early and now everyone wants to wait for that instead, Apple wouldn't be so dumb by saying "iPhone 6 coming out in a few months and iPhone 7 a few months later!"

There have been leaks for the McLaren, nothing official from Microsoft. And everyone knows there is a new iPhone coming out in autumn so they will wait for that if so inclined. Not to say they haven't fumbled the launch somewhat but the other points you make just aren't correct.

But even if Apple did that, the iFans would still buy the iPhone 6 and then buy the iPhone 7 when it comes out a few months later.

Totally getting one, but I want to buy 'off contract' - and that doesn't seem to be an option with Carphone warehouse.

You can buy off your contract on it. Check out the product page and you will see that you can select your carrier and other details, it will then let you know if you are elegible for an early upgrade. If you are, they will give you a number to call where you can make you're preorder. Hope this helps you out. :)

Quick note though, it's on the upgrade tab and you can only do it if you're on O2.

Alas, not on O2! I think I might wait to see what other places come out with for pre-order deals. The freebies being bundled (extra charging mat, store credit & speaker) is a Microsoft supported deal so should be available most places. The £100 cashback seems to be unique to CW though so might see if anyone else comes up with something better .. if not might give CW a call and see if this offer is available off contract :)

They told me the free bundle is only available if you get it on contract. Fyi the phone sim free is £479 with them. I took me 5 mins to find it on their site though http://m.carphonewarehouse.com/mt/www.carphonewarehouse.com/phone/nokia/...

Hmm, well it was Microsoft who announced the bundle freebies in their own press release. That could mean they've done a deal with the network operators, or it could be they're bundling the phone with these accessories and it's just Carphone warehouse who have decided to try and push people toward contract. I'll wait and see what the other sites come up with when they launch their own pre-orders!

I enquired about this today and got the same response from two different people at Carphone Warehouse - Not available for SIM Free purchases, New Contract and Upgrade Only.

I was going to order this through O2's website, but as I'm on O2 through Carphone Warehouse and they have beaten O2 to the punchline. I think I will preorder my device now and hopefully I can get it ordered to my work address and play around with it whilst at work. I am soooo excited now. :D

If the 930 comes pre-loaded with 8.1, does that mean 17th July will be the official launch date for WP8.1?

The 630 has been out in the market for a month already. In fact, the 635 LTE is also already out in the market. Both have 8.1 pre-installed when they came out.

To be honest it is hard to gauge, they have been rolling out the update in select countries and select models under a pilot. Why they have adopted this approach is bizarre, as they should have had the rollout perfected by now given we had the 7.x updates and the gdr updates for 8.0. Then again the routes MS takes is not always logical lol.

Thanks for the info, ordered through Carphone Warehouse on O2 and I'm quite happy with what I got! 1 GB 4G Data
Unlimited texts
Unlimited minutes
£100 Cashback
Free wireless charging mat
Free bluetooth speaker
£20 Windows Phone Store credit
24 month contract
£49.99 upfront
£28 a month

That is a stonking deal, how does the cash back work? A portion of the bills for the first few months?

I'm not sure exactly, the website says "to spend on anything you want" although I'll put it towards the first few bills if I can.

I spoke to Carphone Warehouse about this, and they said it's normally a cheque in the post after you've taken the contract.

I ordered the exact same tariff and I'm paying £33 a month, how did you manage to get the cost down? Although I didn't have to pay any upfront cost... The freebies you get with this is just insane, I love it so much. :D

Yeah it's because of the upfront cost. But I thought it was worth the upfront cost instead of paying extra for two years. The cashback helps as well!

Got the exact same one for £33 a month. didn't see an option to pay upfront, else would have maxed that out.

Not on the Three network? They never get any windows phones at launch. Had to wait 4 months after the 920 was launched cause they wouldn't stock it. Before anyone says go to another network, Three is the only one in my area which works. Lol

i dont think Three is going to stock this phone but i could be wrong due to customer demand, due to the fact Nokia took too long to release this handset, it was delay after delay sothey invasted in other handsets. Thats what i heard

I wanted it on Three as well, because of the Feel at Home roaming program... Attempted to register my interest in the phone on their website, but it keeps crashing...

just ordered mine from carphone, on O2 aswell. Will be sticking my Three sim card inside the phone will use the O2 as a back up/

also will the 930 come with the cyan update?

It's a really cool looking phone just the no sd card but ruins it for me I'm sticking with my red 1520 hope the next high end lumia has sd card support

I suspect we'll see SD card support still only making it in on certain phones. The general approach these days seems to be that if you have cloud storage (OneDrive) and Music Streaming (Xbox Music or MixRadio) then why do you need masses of local space?

I work in London and spend 2-3 hours commuting each day. Streaming music is often not practical, especially when on the Underground. Personally - I can happily live without SD card support as I tend to use the very good and useful offline feature that Nokia Music provide. I try to stay clear of Xbox Music, ever since the experience has been downgraded from WP7! However, what frustrates me is the fact that I can't refresh my offline Nokia music collection while I'm out and about - the stupid, stupid, stupid restriction that MS have added prevent me from downloading any more than 50MB or so on a data (non Wifi) connection. I have unlimited data - I should be able to download as much as I like on MY phone and on MY tariff. I understand why this restriction has been put in place and it would make sense that this is the default setting - but we should have the ability to turn this off. I have 32 GB of onboard storage which is more than enough to store a few Nokia Music mixes, but I want the ability to be able to refresh these - when it suits me. I know this is slightly steering away from the topic of the original comment - but due to this silly restriction that MS put in place to prevent you downloading data and using your phone in a modern and meaningful way, SD card support would actually go some way to helping my particular situation. Out of the two - adding SD card support to all phones OR just allow a setting to turn off the max download cap - I would say the later option is cheaper and much more practical to implement!

I know but for me I don't stream music my collection of tunes is all mp3 converted from a growing collection of cds were talking in the hundreds I use try he mix radio as well its great for discovering new bands. One drive I barely use and xbox music just use to play my music through but that's just me

I would rather have the bundled accessories than the phone to be honest.

Well 930 is still heavy 160 gm +. Very sad would love to see less then 140 gm.

I have the 1320 now. Was tempted by the 1520 but this deal is too good to miss. Can pay off my wife's contract and swap with her. Gotta be orange. Will be ordering tomorrow.

Just ordered mine! Comes with £100 cash back as well as the aforementioned goodies. Great deal really. Can't wait to get it :)

Nice phone, but I still think the 920 looks nicer personally.

I got already mine Lumia 930 yesterday from Estonian provider EMT local shop and its perfect! There is stock for black and orange edition and black is very represantive - no shame iPhone5S or M8... Link....

Would love this phone. Stuck with my slow ass 1020 for over another year.

Is there a version of 930 that will work on at&t in the US?

How can I buy one that works on ATT network in the US.

I also went for the deal from Carphone Warehouse (in Green!) 5GB 4G Data (Apparently you can only tether with 2GB or more)
Unlimited texts
Unlimited minutes
£100 Cashback via cheque
Free (additional) wireless charging mat
Free bluetooth speaker
£20 Windows Phone Store credit
24 month contract
£59.99 upfront (work that out as £40 cashback :) )
£33 a month As far as I can see this is a stupidly good deal and the only one for Windows Phone fans needing a new contract. The 6GB 12 month SIM ONLY direct from o2 costs £25.
Windows Central Newsletter
Get the best of Windows Central in in your inbox, every day!
Thank you for signing up to Windows Central. You will receive a verification email shortly.
There was a problem. Please refresh the page and try again.