Lumia Cyan and Windows Phone 8.1 update hits AT&T's Lumia 520 and 925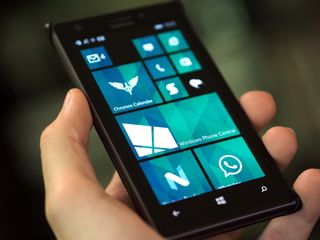 AT&T will start rolling out the over-the-air Windows Phone 8.1 update today to its customers who own the Lumia 925 and the Lumia 520 smartphones.
This new update follows on the heels of AT&T offering Microsoft's latest mobile OS for the Lumia 1520. According to AT&T:
As we have mentioned before with previous OTA updates to Windows Phone 8.1, anyone who has the Lumia 925 and 520 and has already downloaded and installed the Developer Preview version needs to downgrade to Windows Phone 8.0 before they download the new over-the-air update to 8.1. Will you be updating your AT&T Lumia 925 and 520 phones today?
Source: AT&T (opens in new tab); Thanks to everybody for the tips!
NOTE The Title was initial incorrect for this article. It is the Lumia 925 and Lumia 520 that is getting Lumia Cyan. (Previous comments were deleted since this was fixed within a minute of posting)

Sorry, I'm a little confused. I read an article about 8.1 Cyan coming out and that those on Preview have to downgrade in order to get it. Then, there is another article about 8.1 Update 1 coming to those who use Preview.... What's the advice for 8.1 Preview users?

If you're on DP 8.1 hold right until next week and you'll get update 1. That's pretty much it.

Just my two cents. If you want the Cyan update (I do) roll back when 8.1 becomes available for your phone from the carrier. After getting Cyan, go back into the Preview and update to Update 1.

Cyan is firmware, Update 1 is software (OS). These types of updates are independent of each other. Cyan is a Lumia-specific upgrade to the phone's firmware; all phones can get Update 1 because it is an OS upgrade from Microsoft.

Welcome to WPCentral. A XTalk company.

Cyan update is an official wp 8.1 . And you'll get GDR update 1 for your updated phone

No. Cyan is a collection of firmware and fixes that are Lumia specific. There's nothing 8.1 "official" about it. They are two separate things.

The article previews running along the top of the website still show Lumia 925 and 920... That needs updated if you want to avoid more confusion.

NOTE The new Slidebar (whatever it's called) still shows 920 & 925

Dang it, you gave me sweaty palms. I was prepping myself. :/

in the banners on the home page still says 920 and got fangirly exited just to be crushed about not being true u.u

Verizon takes too long because they need custom roms that delete the visual voicemail app, then charge you $3 a month to get it back. Also they need to install their bloatware backup app that can't be removed...

920....my new theme song is "All By Myself" ;)

There is no Cyan for the 8X. Just run the developer preview and you've got the latest and greatest.

So the 920 and 1020 are the only two wp8 yet to be updated on AT&T. If you don't notice it yet, at&t does staggered rollouts on Thursdays. So last week it was the 1520, so next week could be the 920 and/or 1020.

Hopefully, but don't hold your breath since at&t tends to delay on their delivery. Still being patient, on on 920.

They're miles ahead of T-Mobile and Verizon so far. And T-Mobile remains the only US carrier with an 8.1 Cyan capable device they flat out refuse to support.

Lumia 810, the bastard child, "supported" by T-Mo for <1 year. :-(

Hopefully for both 1020 & 920 next week!

I'd certainly like to see the update for 920 and 1020 before we head out of the country for vacation next week. Not holding my breath, though.

You have the 1020 crowd to keep you company

1020 and AT&T make it happen!!!!

Lol so... Is it 920 and 925... Or 520 and 925 (pssst.. The headline)

NOTE The Title was initial incorrect for this article. It is the Lumia 925 and Lumia 520 that is getting Lumia Cyan. (Previous comments were deleted since this was fixed within a minute of posting)

Noooo!!! haha I got so excited because my RSS feed still showed 920 then I came to the site and saw 520. Such a tease!

Yeah same here. It is the reason why I don't care for these numbers.

Don't worry, you'll probably have it next week before 920 gets it.

Just checked. It's for the 520 :(

Going to be a heck of a lot of people trying to figure out how to get off DP, what a worldwide headache. It was massively time consuming - like six hours total. From figuring out the recovery tool, downloading and installing it on my computer to the actual updates, app reloads, plus app password reentry - ugh.

You don't need that anymore Posted via Windows Phone Central App

Yes, you still need it for Cyan. No, you do not need it for Update One.

Hoping that the next update, due out next week for DP customers, will fix the issue so I can just update DP, then add cyan whenever ATT gets around to our site the 1020

It will. See the article about update 1 for 8.1.

Yep, that's my plan with the wife's 520 wait for update 1 then upgrade to cyan.

You should remove yourself from the DP program.

Too much effort and time vs. Waiting a bit longer, yes I'm lazy!! actually just incredibly busy though and don't want to deal with her complaining I something doesn't go smoothly :)

Oh, that's nice. Just picked up a 520 for 40.00 for my father in-law this week. Haven't given it to him yet. Score. Ready for my 1020 to get it!

+520 Dev; +822 personal. Can't wait for Verizon to allow Cyan for the 822. It'll take ages for that to happen.

Wasn't (my) Lumia 1020 a flagship phone? ... Just asking..

This! I'm surprised the 520 got it before the 1020 and my 920...

I'm not surprised. The 520 sold more than the 920 and 1020 (probably put together), so it makes sense for them to prioritise the 520.

Yes bus it's never good to treat the most enthusiastic customers as second class. Lots of budget phones are sold via high end envy, but if none of the high end customers are happy....

Only the hardcore wp fans even know this is happening lol I know a few people who don't have any idea this update exsists and they are my only friends with wp. I think 520 owners should get it first since it would garner a lager positive reaction overall.

But the profit margins on the 520 are razor thin, they made much more money off the 920 and 1020 per device.

My 1520 still doesn't have it, and it's still the flagship, so calm down. Eventually.

Dude, the 1520 Cyan update was out a week ago.

Not the 1520.1 one, and especially not those running DP. Not expecting it for atleast another month.

It came out for the ATT Lumia 1520

I'm using a Hong Kong CV, sim-free 1520.1 on Developer Preview. It has not come out for me, trust me.

Take it easy "flagships"!!! :p

Idk, maybe more of a feature ( not in the cheap sense of low end phones) kind of like my 1520. Both have something off the wall. 1020 camera and 1520 size? Just the way I see it. Don't get all mean, I'm just asking.

I guess AT&T killed L1020 already! Last week when I searched on the website for support, they did not even have it (now they updated the website). And the fact that they take so much of time (WP 8.1 DP is already 3 months old and L1020 itself is over an year old) shows it is no more flagship.

This is what I talking about,I don't have 520 but I'm glad it's rolling out to the phones that have most WP sales.

I agree, but the France beat them to it...they had the 520 a week ago in the updatelist so my little lumie is now a little France lumie :)

Well to be honest att it's moving a lot faster than they have in the past. Still to slowly, but this round has been a big improvement over a year ago

Yay! This doesn't affect me but I'm happy for those that use this phone and carrier

Then wait for it Posted via Windows Phone Central App

I'm with you on the preview! I'm holding out for a formal fix that prevents the need for downgrade. I'm sure I'll cave though.

Preview gets updated next week to 8.1.1 and won't have to downgrade. Did no one see the article about this earlier today here?????

It vanished very quickly again for some reason.

Because it was incorrect. You need to downgrade for Cyan, not Update 1.

I know about WP8.1U1, but how to get Cyan? The two are separate

Get update 1 then wait for your carrier to release cyan. Or check again after you get update 1 for cyan. No one knows for sure but that's my guess.

in time my friend in time

Y is country variants taking time then

It's AT&T? And what country

I'm installing it on my AT&T in America and it is being EXTREMELY slow, been sittign at 0% for al ong time

Didn't they sell more 920s, wtf!!!!

!%%@**, I have a &&%*&^* Lumia 1020. When the &$(#$ are they going to release that one?? !@$!@ #$%#$% &&&&&& #%#$%#$%&&. (I still dont feel better) Really? 925 first?

I know bro, I have 1020 too.

Though I DP on 1020 and patiently waiting for MS to fix BL issue, I'm starting to think there maybe an issue with 1020 and Cyan firmware.

Yeah, I'm with you on that. All those advertisements highlighting the 1020 left out one thing: nobody was buying it. It's got the sharpest pictures of any phone, and certainly is a high-end smartphone, but we owners are a tiny minority of a tiny minority. I really hope this isn't like my previous experience with updates. I've had the worst luck. AT&T never updated my Samsung Focus S to 7.8 despite its earlier commitments. Kind of left a bad taste in my mouth and the current situation isn't helping matters. Just release all the updates already! This waiting of weeks or months is just insane.

1020 owners need not fret... no way they will not release for 1020. The one I'm worried about is the 820... my brother has one and he has lockups periodically on 8.1 DP.

I quit ATT for those reasons. They don't support WP. +ICON

Yeah I'm waiting for it too

Hi. I'm planning on getting a 925 next week. And I'm going keeping it for a year. Should I?

You should... It is a great phone...

For the life of me, i cant understand why the CV phones have to wait for carriers!

More then your eyes can see

I have a feeling by next week Cyan will be rolled out to the rest of the Lumia AT&T family. If you couldn't guess it, they are starting with the latest devices and working their way down. I am glad AT&T has been relatively supportive as being a "Premier U.S. carrier" for WP.

Lumia 520 king of the world ahah ;)

What about in India L520??

Will you guys please stop asking about india. It will get it when the rest of the world does. This is only for at&t.

when you grow some common sense Didin't take long for some whiner to post nonsense again

The 920 has got to be next. It's the next most popular (more popular than the 925 but the 925 is newer so I'll let it slide)

Yes, the latest devices that were launched on this carrier received the updates first, and then work backward. The launch devices (920/820) will be the last since they are the oldest devices on the network and as far as I know aren't even being sold anymore.

I thought the 925 came out before the 1020....

The 1020 is not nearly as popular as either device so there is not as much incentive to. If they are releasing multiple devices at a time then the 1020 and 920 and 820 (820 and 920 run similar firmware versions) will be released together or around the same time.

I'm wondering if this is going to be like the amber update all over again for the 920. Where we wait and the whole world gets the update and when we finally received it, it was time for everyone to receive the black update.

Wow. Really? I honestly expected the 1020 to be next after the 1520. Oh well. A few more days won't kill me at this point.

I have the 1020 and cyan doesnt really add anything for us. So I dont mind waiting for it.

Really? Well that sucks. I had heard there were at least some minor camera improvements. Seems kind of curious though if that's the case and there is nothing in it for our handset then why wouldn't they just push it straightaway? :/

It depends: Will MS ever release their developer version of Cyan?

Come on, Verizon. Get your crap together and release Cyan for the 928 and Icon.

I think we'll see 8.1 Update1 before Verizon gets to us.

i agree with you, they'll prob wait for update 1 then roll it out to us. i guess it make sense to do both in one shot instead since update 1 is just around the corner

Is there any update at all on when 928 will get it?

No idea, both still say "under testing".

Does anyone know if this covers the Lumia 520 a friend of mine recently (two weeks ago) got from Cricket? That poor phone is still only on the Amber update, as apparently they didnt release Black for it.

No. The Cricket Phones have different software and will be rolled out seperately from AT&T branded phones.

Yeah at&t. Thanks for the 1020 update. I really hope at&t will update the 1020.

Any update for those who have Preview installed? I really don't want to go through the hassle of reverting back to 8.0 just to get this update.

Yes please, and some answer that for us :/ i also have a 925

The people with dp will get cyan after the release of wp8.1 update 1 dp. At least that's what a previous article said.

Isn't update one expected this week?

That article got deleted. You still need downgrade to 8.0 to get Cyan ir wait for a fix.

This rollout, CV phones wise, is a joke!

One more reason why I'm switching to AT&T from T-Mobile.

Man, where is the cyan for 8.1 DP? Plz fix it!

Fix the update package for 8.1 DP. It seems like MS lured many users to test the 8.1 for them, and ask them to downgrade in order to get latest firmware. That's nonsense. I personally don't have a PC to run recovery tool and wont bother to do that. It could be solved by a small package of update of 8.1DP and we can download the cyan update from ATT. I am happy with DP program, and willing to try the update 1. But I somehow also need cyan to improve my camera. Please fix it, MS and MS mobile department.

That means 920 not far away. Wow nice att.

Will there be a time when you DONT have to roll back to get Cyan if you have the dev program? I don't want to take the time to do this... Again...

Waiting for that fix too.

With wp 8.1 they have to program the camera algorithms for the 1020 again and make sure they function properly. Also the chip set in the 1020 was highly modified to support the 41mp camera so just be patient its coming soon. Posted via Windows Phone Central App

Either I'm not getting it, or something's very poorly explained here.. Weren't the various Cyan firmwares ready and just in carrier's testing and approval?

Yes. All ATT is doing is testing it. All the windows phone sites have stated on the 920 and 1020 cyan doesnt really do much since its on an older chipset. No changes to the 1020 camera algorithyms have been reported.

I doubt that. Cyan is supposed to update camera algorithm, probably not specifically for 1020 tho.

Wright what is the problem here. . Still nothing for 1020.

I guess its safe to say that the 8.1 update for the next bunch of Lumias will be announced next Thursday. The 1520 update was last Thursday as well.

Why do you guys at WPcentral still tell people to downgrade?
Did you miss Joe Belfiores tweet today that by next week Developer Preview phones will be able to upgrade!
Any comments?

People who are on 8.1 Dev Preview can't get the full update to official 8.1 because of errors that appeared. They have to downgrade to 8 instead and do a full upgrade then.

I briefly saw a story on his tweet this morning on WPCentral but it quickly disappeared. Clicking the original link takes you to the 8.1 Update 1 article from last week. What gives WPC???

Here it is, but it doesn't work: http://www.wpcentral.com/windows-phone-81-preview-users-dont-need-downgr...

No, I read that entire article: Regarding the current hold on Lumia Cyan updates for those on the Preview program, Microsoft is planning on a fix for that for users, though they currently have nothing to report on the matter. So, still stuck.

Because you STILL have to downgrade if you want to get the CYAN firmware. The Developer Preview is ONLY the operatings system, NOT the Lumia firmware.

bro Beta will upgrade to higher beta in this case Update 1 NOT to official Cyan

That's not what Belfiore said. You will be able to get the 8.1 update 1 preview if you have 8.1 preview installed. This is NOT Cyan (FIRMWARE).

Joe only promised those with 8.1DP can be upgraded to 8.1 update 1... He didn't mention anything about Cyan.

Begin the jealously of T-Mo 925 users!! Like me

Yeah angry rant what the heck tmobile

They love me on twitter @tmobilehelp every day three times a day I ask the question when will we get the WP8.1 update and when will you carry a high end WP8.1 device.I even have the folks in work who have WP to start hounding them everyday.

Verizon can kiss my ass! My Icon needs Cyan...

What does that mean"Windows phone 8.1 Update" is it the new one Microsoft just announced?
Is it already here as an official update?

Its Cyan firmware with the same 8.1 that is the Dev Preview. We are getting 8.1 Update 1 in Dev Preview supposedly next week, why would AT&T release it? ;)

I have no idea but "Windows phone 8.1 update" means Windows phone 8.1 update 1

Why does this 925 still use less columns of tiles?

You have to enable the 3rd row manually on all screen below 1080p or 5", I can't remember which.

I know. I'm just using mine with more tiles, so seeing this picture, just feels weird.

5" and above have a toggle switch.

Actually you can get three rows of tiles even on the 520. They are small as hell but they are still there. I' m using my backup 520 because its got cyan/8.1 and my 820 does not.

I would think the 1020 would be next. Maybe something special in the way.

Nah, they're just releasing it sooner to newer phones and phones that sell better. 1020 probably didn't sell too amazingly, but its should be next, id guess. It did get GDR3 first, so it clearly lost priority. Well, it was one of the first...

Lack of amazing marketing that did it in.

Meanwhile on the Verizon network...Crickets

520 owners are probably dancing right now. But will they finally be satisfied?

It's not even doign anythign on mine been sitti