AT&T announces that the Lumia 1520 Windows Phone 8.1 update is now live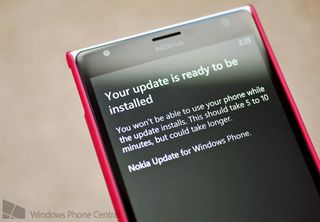 Starting at 1PM ET today, AT&T has announced that the Lumia 1520 is cleared to receive the Windows Phone 8.1 and Lumia Cyan update.
Owners of the Lumia 1520 can head into their Settings > Phone Update > Check for update to begin to receive the latest OS from Microsoft and new firmware to enable advanced features from Nokia.
AT&T did not comment on timelines for their other Lumia phones, though presumably they are not too far behind the Lumia 1520.
Our in house AT&T Lumia 1520 is not showing an update is live just yet, but our phone is running the Preview for Developers. It is not clear if we need to rollback the Preview in order to pull the update, though we will follow up shortly on that matter.
For more information about the Lumia Cyan update, please see our tracker page for all the latest.
Windows Phone 8.1 and Lumia Cyan update tracker
Customers can also head to AT&Ts Community blog (opens in new tab) and software update page (www.att.com/softwareupdates (opens in new tab).
Final Update: Microsoft is advising those with the Windows Phone 8.1 Preview enabled to downgrade the OS first before getting Cyan. More information can be found here.
Get the Windows Central Newsletter
All the latest news, reviews, and guides for Windows and Xbox diehards.
Daniel Rubino is the Editor-in-chief of Windows Central, head reviewer, podcast co-host, and analyst. He has been covering Microsoft since 2007 when this site was called WMExperts (and later Windows Phone Central). His interests include Windows, laptops, next-gen computing, and for some reason, watches. Before all this tech stuff, he worked on a Ph.D. in linguistics, watched people sleep (for medical purposes!), and ran the projectors at movie theaters because it was fun.
With AT&T beating expectations this time, it's worth getting a new phone just to update it :D

The 520 is a good phone and gives access to Microsoft's services.

I paid $99 for my 1520 and I love it except for the neutering I still have to undo for Qi.

Was that a green lumia 1520?

Paid $125 for my 1520 off contract and added Qi so I am delighted :)

TODAY IS A GOOD DAY TO HAVE A GOOD DAY! I have the 1520 running the Preview(and a 1020 which I'm not ready to update.)
I LOVE the 1520! If you'd like to read my story of how I arrived at one of the BEST Windows Phones EVER read here!:
My Road to the Nokia Lumia 1520
http://jltechword.wordpress.com/2014/02/06/my-road-to-the-nokia-lumia-1520/

I got mine 3 weeks ago w renewed agreement 99.00

OMG, I'm gonna call and tell them I lost mine so they'll send me a replacement. You pay for the new one. I think it's like $125. Whachusay?

The will lock out your original 1520, so it will become a wi-fil only toy, but yes, you can do it

InfiniteRefrain, they won't lock it. I reported my 920 and they wanted to give me some Android phone but I told them that I wanted a Windows Phone so they send me a 1020. The 920 I sold to a girl and all she did was put a Straight Talk SIM card and it works fine. It's still going to this day. I know a lady who lost her 1020 a couple of weeks ago and they didn't have it in stock so they sent her a 1520. I know cause I found the phone and I know the lady so I gave it back. That's what you do when you live in a small town of 1800 people.

essentially what he is suggesting!

It's OK though, he's from a small town.

You can interpret it how ever you wish. You've never downloaded an MP3 from the internet and didn't pay for it? You don't use torrents neither? If the chance is there, why not take it?

I have never downloaded an MP3 and have not paid for it. I always pay.

So you are why my deductibles are so high. Thanks, thief.

I got a solution to not having high deductibles... Leave the company and go to another one or pay full price for the phone. We only live once and if you're not willing to break any rules, you'll get no where. I've just been pushed too far already. You think AT&T isn't making any money off of us?

Really? That is your answer? Life is too short to not be a thief? Wow.
Edit: Also, it is AT&Ts job to make money off of you, that is sort of the point in a company. Thief.

Oh no!! Please don't cut my hand off. Thief? I paid for both phones. Maybe a little dishonest... I'll give you that.

More than a little dishonest. You are obviously lacking any kind of moral compass. Yes, you are a thief.

Care to elaborate more on the thief part?

You fraudulently gained a product. That is stealing. That makes you a thief. Theft by deception, fraud, whatever you want to call it. You are a thief. Even worse, you can justify to yourself why that was ok, that makes you a dishonest person. As you even, sadly admitted to.

Well, I do pay for insurance. The option is there. But if you're going to label me as a thief then I can label you as a scapegoater... Right?

The NSA knows. Posted via Windows Phone Central App

Nice Posted via Windows Phone Central App

I was debating whether or not to do this with my 13 month old 920 just to try and get a 1520 but really don't want to part with my 920, like ever. Lol. Also there is some new thing with AT&T and Assurian insurance where the deductible for phone claims actually drops less than $125 depending on how long you've had you device. I think it goes into effect Aug 1 or something.

I got a letter in the mail from AT&T about it a few weeks back. Not sure if there is a Web page yet with all the details yet. I'll try to find it.

Spend a day with the 1520 and you'll never want to use the 920 again.

I agree, my 920 is a great backup though. better than any insurance that I paid for.

I would :) trouble is, it wouldn't fit in my jeans pockets... ;)

Are you sure? It fits on my jean pockets just fine

I have small pockets in my jeans for some reason.... My 920 barely fits in my jeans pockets...
Weird, I know I mean, it fits but its kind of hard to sit down... So I guess a 1520 would probably snap if I sat down with it in my small pockets ;)

are you wearing skinny jeans????

Hahahaha xD My same reaction.

Nope. The company that made the jeans doesn't know what pickets when I get another type ill consider T 1520 :)

Why would you ever sit down with a phone in your pocket? Any size phone for that matter..

Why not?
I sit through college all day with my phone in my pocket :) (I wear combats...) lol

I don't agree. I have both the 920 and the 1020. I spent more than a day with a 1520. The camera is better on my 1020 (but not the 920), and the 1520 is too big to comfortably use one-handed. So, no, not everyone will think the 1520 is better in ways that matter to them. I wouldn't even trade my 920 in for the 1520.

That's how I got two 920s I broke the screen on my first told att it broke paid 125 and went fix my screen now I have both and a 1520 now might try it again before I finish paying this one off via next program

Wonder if thats for all their clients cause rogers uses the same company. The other day they sent me an activation code for an android/ios app lol talk about dumbasses

Yep.. I feel you and feel myself

Nothing for me yet either. On DP.

Well MS screwed up. Get over it. Rollback to WP8 and you'll get it. It's that simple!!!

Never said I was under it :) I have wiped and am downloading an update now, not sure what it is. Edit: 8.1 it is

Can't one keep the Developer Preview OS installed and uncheck the checkbox in the DP app (unenroll)? Will that allow one to upgrade to Cyan?

No, tried it, uninstalled app too

says 1pm ET. Which just starts in a minute

Can confirm this. My 1520 prompted me for an initial (pre 8.1 thingy) update earlier this morning. It's done now and wnet on without a hitch. :) "Your update is all done!" Followed by... "You're all set to get new phone updates - including the latest one, Windows Phone 8.1! We'll check for it shortly. But if you can't wait, you can do it yourself by going to Settings > Phone update > Check for updates." Looking forward to meeting you Cortana. ;)

It's allowing the full 8.1 phone update (first try) on my AT&T NL 1520 no problem. Just request it manually if you want it NOW. Bam! Your request is granted. Downloading 75%... Preparing to install 13...96%... Is Auntie Mame hung?!? Naw, she's good! Tap install. Agree to terms. Tap install. Agree to 15-30min time window! Restarting...goodbye Winding wheels of progress takes over your screen...progress bar appears... TBC .

It looks to have restarted... Nokia signage... Blue MS 4squares logo... AT&T logo... type in passcode again... "We're getting there..." "...and it will be worth the wait." Migrating your data (step 13 of 19) 52...76 (quicker step for sure) Migrating your data (step 15 of 19) 17...94%... Migrating your data (step 17 of 19) quickly to 100%! "Update successful" goodbye Nokia letter logo again, MS 4 squares... AT&T world...start screen...passcode again "We've added a few new settings with this update. Tap Continue to customize them, and then try out the new features on your phone." *blue Welcome to Lumia Cyan notification flashes at top for a brief moment* New Settings: WiFi sense (helps you save data) Additional settings: Auto update store aps. Ads across apps for experiences Microsoft account updates: Back ups now include your app content. Some settings sync across devices. All can be changed later. Tap done. Home screen!

You'll notice a new medium sized Data Sense tile on your homescreen. Flips to show your usage at a glance. Off to the tutorials then... No issues of rme. I'd allow plenty of time though. Easily 30min to 45 min over WiFi on your lunch hour should be possible, but you'll need to stick around. It doesn't run through all by itself!

I'm really curious to see if preview devices really need to be rolled back, even if they don't use bitlocker. I really hope not... that's a lot to ask, and really flies in the face of how easy the preview program was.

So, I did the refresh and am now installing 8.1. Wonder if it will be pushed for DP or we just have to reset.

I have the RM-938, the Latin American variant of the 1520, AKA the 1520.3, AKA "the good one" (supports every common North American frequency over both LTE and HSPA, plus has in-built Qi charging). I purchased it used with the developer preview already on it. How do I know whether the update is available if I roll back? I don't want to lose the 8.1 DP if the final version isn't available.

My guess is you will have to keep an eye on the update page and only roll back when your country variant is available. But, I am hoping MS makes some sort of statement regarding DP prior to my 1020 receiving the update. I will roll back if I have to, but I don't want to.

I don't understand this. People who recently had DP on Lumia 625 still got the cyan update. They didn't have to rollback. So unless it is an ATT thing I don't see why we need to rollback from DP 8.1 to 8.0 to get cyan.

I am still waiting, resufing to rollback just to upgrate to Cyan. MS is just advising people to rollback then upgrade first, but I am pretty sure they are working on a solution to enable Cyan update on a 8.1 DP. (well, hopefully.)

Yes if you don't rollback the update will NOT be seen by your phone that's what I experienced tried once no joy reverted did the recovery setup installed 8.0 didn't even click update it just said update available And it started the update

Me either because my replacement is taking its sweet time on the dhl truck :(

I don't see the update either. I really hope I don't have to go roll back.

My carrier has the Black update available and my phone is still on Amber because it doesn't find any updates, I did a hard reset and still nothing. I guess we will have to roll back to get the updates :/

Connect it to the computer and update it that way.

Disable the Dve preview app then try again.

I did a hard reset and didn't install the Dev preview app again.

Try skipping logging in @ oobe it helped me recover from the same issue on my ativ s

You actually need to revert back to 8.0. A hard reset does not remove 8.1 just all your settings, apps and customizations.

This lordrican dude is cool lol, that's normally my line!

Wow, guess AT&T beat most people's expectations after all!

That has yet to be determined. ;-)

Only for the 1520. But all the other Windows Phones are waiting.

Seems like the 1520 has the most to gain from Cyan over just the dev preview though, so they probably picked the right model to start with.

I hope rest of the phones will follow in next 1 week..

Or other variants of the 1520.

8.1 is much faster trust me. I rolled back to 8.0 and oh man I miss 8.1.

Not on my 920 it isn't. It's lag city.

Ditto, really hope Cyan or consumer release puts it back to what 8.0 was. I love 8.1 and am glad I did the DP, but it is not near as fast as 8.0. Not even close.

Do a factory reset. 8.1 works just fine on L920, but the way updates work things can sometimes get wonkey. Doing a fresh factory reset of your device should fix any weirdness and get things working smooth as butter like it should. For myself the core OS was working just fine and smooth with the 8.1 update, but the maps were getting all sorts of lost when using navigation. Factory reset and now it works perfect again.

In my phone lumia 520 it shows many copy of videos of songs, videos nd photos.. If i remove one of two both remove.. What is problem i dont get it..suggest smthing

Insert obligatory "soft reset" comment here. Runs perfectly fine on my 925, which is basically a redesigned 920, right?

Yea it's what I own a L925. I had no issues with the dev pre 8.1.

If it is faster, it isnt by much. It performs relatively the same, the difference wouldnt be too much either way. If anything, it is somewhat laggy on the 1020, all the apps takes time loading................... sometimes, it takes time for the app tiles to pop up and left with blank squares on the home screen. Hopefully they fix with the official release.

This is my experience on my 1020, 100%

I think the cyan firmware is really needed for the 8.1 update

Keep us updated if you do need to rollback to go forward, please.

My heart just jumped out of my chest!!!!! Yes! Yes! Yes!!! Just in time for my NIN/Soundgarden concert in Atlanta! Yeah buddy!

At least you're not old! LOL

If you haven't seen them live you're in for a real treat. I've seen NIN live twice and they've been amongst the best live concerts I've ever been too. And I've been too tons of concerts. Enjoy the show and your new phone.

Yeah, I've seen NIN live twice myself. Never seen Soundgarden though! Really looking forward to capturing some great video footage on my 1520. Especially with the new Cyan FW. DD 5.1!

Shit, why don't you send me some of that footage you take with your awesome Lumia 1520? I haven't seen Soundgarden live either but I bet it's going to be an amazing show. Rock on dude!

Sure thing! I had planned on uploading all my footage to my YouTube channel and then sharing the link on the 1520 forums. Concert is August 8th, so I will have footage that weekend!

Yes!!!!!!!!!!!!!!!!!!!!!!!!!!!

Nothing yet here, running on WP 8.1 preview

Download at 48% running 8.0

8.1 and Cyan up and running:)Apps being updated as I speak.

did att remove data sense?

Does this include the 1520.3 with an AT&T SIM? That's a critical detail.

That's discrimination! Lol


It is based on the phone's existing firmware. It needs AT&T firmware to get an AT&T update. It has nothing to do with what SIM is in it, otherwise we'd all just put different SIMs in our phone to get the update.

This is something I haven't been totally clear on. Using a 1520.3 with an AT&T SIM, am I correct in assuming I have to wait until either A) The US country variant is released, or B) The Latin American carriers release the update?

You will have to wait until that CV gets the update.

Is it known whether or not a rollback would be required? I'm still seeing no update.

I rolled back my MEA region 1520 in anticipation of an update only for Nokia software recovery tool to flash it with an O2 euro_1 ROM. I've reverted back to dp, but I'm not sure who'll get the update 1st, my original region or current one. Pissed. I hate carrier flash startup screens

If you bought a region unlocked phone then you will have to wait for the regional variant release directly from Nokia. If you purchased a phone that is branded with/by a latin American carrier then you will need to wait for that carrier to release their update.

I believe the country is Italy. Under Extras + Info/More Info it says Manufacturer Name RM-938_Ita_Ita_905. I think Ita stands for Italy unless I'm wrong.

I think that's actually "ita" and not "lta." It's a lowercase "L," as opposed to an uppercase "i." That, coupled with the Mobile Operator of "000-22," means that we're waiting on the Latin America country variant. Unfortunately, which country variant is up in the air. More information from windowsphone..com: https://dev.windowsphone.com/en-US/OEM/docs/Customization/Registry_value...

I don't believe so as that is my situation as well. The 1520.3 is a country variant, but I'm not sure how to determine which country. If I had to guess, we will get the update after the carriers push theirs out.

I believe the country is Italy. Under Extras + Info/More Info it says Manufacturer Name RM-938_Ita_Ita_905. I think Ita stands for Italy unless I'm wrong.

Actually, that first letter is a lower-case 'L,' not an upper-case 'i.' 'lta' stands for Latin America, not Italy.

Ah, ok. Thanks for the info! So wait, what country then should I be watching the Nokia page or will any do in that region?

How do you know it's not the number one (1)? Stupid sans-serif fonts, should be illegal... j/k

Lumia 1520.3, a.k.a. RM-938 is a Latin American variant. IMHO, lta stands for Latin America.

The region originaly stated on the 1520.3 is Mexico. So CV Mexico.

Do you have a source on that? I've never heard this before. Might be promising, since a few Mexican carriers have Cyan available for certain models.

That's an "L" rather than an "I". "LTA" is for Latin America.

Dumb way to check...but install the tapatalk app. And look at the settings to customize your forum signature. Tapatalk by default puts a "sent by tapatalk using nokia blah blah device " . There's probably an easier way to check... Your phone should have an "RM--xxx" model number. Check in phone settings to find out what the xs are...then Bing it

I really don't want to have to rollback. I don't use Bitlocker. Please don't make me rollback.

Will not going to roll back if required. Heck with ATT. I do have 64 GB worth of apps on SD card with their information/data. If this is the case ill stay on Preview.

Apps or data? If its apps, it will get reinstalled if you choose to wipe the SD card when asked. If its data, you can tell it NOT TO wipe the SD card. I've reset a bunch of times and this behavior is consistent. I can't say, however, if this update will offer such an option if it requires a special process for previewers.

Will whatsapp data be retained if its on SD card

... so set your backup point, roll back to 8.0, do the update, then reset the phone and load your backup. Shouldn't that apply the updates and bring back all of your apps/data automagically? Granted I am sure it would take some time.

Not yet. Do we have to go back to 8.0?

Lol. I'm ready to go buy the 1520 on my way home from work despite the size.

Hope WC team will make a camera test... Really curious how it will be with the new firmware :-)

Hey, does anyone know if we can restore our DP 8.1 layout/apps if we roll back to 8.0 then update thru at&t over-the-air to 8.1 Cyan?

Trying that now. I reset after getting cyan
it made me enter emailed verification code like on pc

Nothin here for me either

Great news for windows phone, hope Verizon gets the icon updated asap too

I have this same question. Is AT&T still ripping out Data Sense?

Data sense is there. ATT didn't rip it off.

Great!! thanks for the info.


hey if you watch the video . she shows a green 1520 ;)

I don't want to rollback just to get the updates

I'm not seeing the update. Please, God, don't make me have to rollback to WP8, before I can get it. Didn't MS assure us that if we got the DP we'd still just get the cyan update/regular firmware release, just like everyone else?

due to bitlocker issue ,some might have to rollback to wp 8.0 , bro just backup settings and apps to onedrive cloud ,then restore after, ezpz.

Bullshit! I'm on DP and don't even use bitlocker.

Yeah I would love to know this as well!

No update for me either - 1520 here

At work and I can't wait to get home to update mine. I have the DP and hope I dont have to downgrade first!!! Please keep us posted.

I'm using 1520.2 and got a small update just now. Seems they are preparing for WP8.1 . Update: Now it downloading! Seems I'm getting WP8.1 XD. I'm not using WP8.1 DP.

At least it's a start, hopefully more to follow soon

No update for me yet in Stockton California. Also on the 8.1 preview. Not going to update until we get the word if we need to rollback or not though. Still this is great news!

Why do people think their physical location has anything to do with anything? Updates aren't strategically focused on specific cities...

Doesn't hurt to add it. Just A few extra words to read. Also if that's true why are certain people reporting that they are able to update right now and others cannot?

Could be people on 8.0 vs 8.1 DP, for one.

That's what I was thinking as well. Maybe I'll just rollback and see what happens. It was said it would be out by 1pm though as well. I can wait a little longer.

It doesn't automatically ask you to update instead we have to do manual check for updates?

Once a week from the last time it was checked

it depends if you have your phone to automatically check for updates

AT&T 1520 here. The update is available on my phone.

Did you have to roll back to 8.0?

Did you have to roll back son?

Hi, I had WP8.1DP and didn't see the update. Since I have only user data on SD card and can easily install apps, I did the Nokia Recovery (roll back) . It is now downloading and installing OTA updates: The process starts with: Searches for and downloads first available update (took a minute or two): "Windows Phone 8.0.10532.166 - This will make it easier to update your phone to Windows Phone 8.1, which is loaded with new features and imporvements we think you're going to love." restarts installs data migration 6/6 steps, restarts Searches for and downloads next available update (took more than a few minutes): "Nokia Update for Windows Phone. Windows Phone 8.1 (8.10.12397.895) - Reinvented with you in mind, our latest update is packed with cool new features and improvements to the things you love most." restarts installs data migration 19/19 steps (there is a progress bar displayed that applies to the current step;this will likely take longer if you didn't just roll-back like I did to expedite this) restarts DONE

Installing now......great that AT&T came through pretty quickly!

Just to you know, Cyan still blocked by Microsoft for Dev Prev.

What and why? Where did you get this from?

Read the article again. Update 3.

To the folks updating...on 8.0 or 8.1 preview?

Wow AT&T...keep it up trying to push WP updates out quick......im updating my Lumia 1520 right now

Are you on the 8.1 Dev Preview

It appears that those who are will have to roll back to the WP 8.0 so they can update then...

Ohhh...i knew about already....but thx

Plenty of us don't have developer preview and still don't have update yet....grrr

Well if your on At&t and own a Lumia 1520.... You got the update..... if not you just have to wait

Yes! I think I have a 1520...

At least it's a start hopefully more to follow soon +920

When 1020 will get a update

Not here, running on WP 8.1 preview.

you probably may need to roll back at this time.

I'm checking every second for it! How long could it possibly take to show up?!

All 1520 news gets me so excited!

Lumia 1520 unlocked received cyan + WP 8.1 in the UK 2 days ago.... Yeeeeaaahhh
WP 8.1 is fantastic on the 1520... My fitbit One even pair with my phone in the Device hub. Now waiting for official fitbit app...

When can we get the update here in Malaysia?

No update for me. Currently 1:35 eastern time. I'm using the dev preview.

The Icon is supposed to be a flagship. Verizon better get moving

T-Mobile I am looking at you. What the hell are you waiting for?

To be bought out by sprint

No update for my 1520 on DP here in Sacramento, CA. Hopefully, we won't have to rollback either.

Im in Sac as well, will we have to rollback from theDP?

I never thought I would say this but... go AT&T! now get the update out to my 1020 please! :)

I'm on Dev Preview and don't see it either. I don't think much changes so I think ill wait for MS to unblock the update for us.

Wow. Impressed by AT&T. Wife will be happy.

I'm assuming we're just going to have to rollback if we want it now, but again, im just wondering if we can restore to our 8.1 Dev Preview states? If no one can answer, I guess ill just do it myself after work and let yall know

That's what I'm wondering. Restoring an 8.1 state from 8.1 is cake. I'm ok with rolling back if the work is minimal.. Probably gonna roll back and do it all. I have time. I'll let you know how it goes.

Not looking good for Dev Preview phones - no update here in the Los Angeles area

Sounds like you have to rollback to 8.0 if on DP. That sucks...

I hope I don't have to go back to WP 8 to update. That's too much work!

not really, just backup apps and settings , roll back to windows phone 8 ,then backup from cloud ,ezpz

Wow!!! Att Lumia 1520 got it before my factory unlocked 1520 -_-

Nothing yet. The DP is so great. Why oh why would i want to roll back?

Because Cyan is even better???

But is it really? What are the proven advantages of Cyan over DP?

Features are features, brah.

What features is Cyan bringing in tow?

Camera improvements, working BT4.0, DD+ 5.1 recording, etc...

You are talking about two different things. Developer Preview is the version of the Operating System. Cyan are fixes, features, firmware from the Nokia division. You don't LOSE anything by adding Cyan to WP8.1, in fact the firmware might make it run better.

Cyan brings the right firmware for your phone to work with 8.1. So everything will work much better. Kind of like using a generic driver for your printer instead of the manufacturers driver. Sure it might work, but you aren't getting the best performance out of your printer that way.

By if I roll back ill lose everything and will ha e to start completely over. It took me actually 2 months to get my phone perfect... This hurts! Now I'm sitting at my cubicle trying to figure out if I want to go through with this or wait for the fix if there be any...

You have to roll back people.

Oh god if we end up having to roll back to 8.0 regardless of phone (judging by those who had 8.0 are only getting the update) that's gonna cause some major problems for HTC and Samung phones. Anyone with the DP been able to update the 1520?

there's no need to roll back.

Apparently there is reason to roll back. Only people on 8.0 are getting the update. Nobody with DP is getting it. By rules of deduction, we can assume you need to roll back to get Cyan.

Maybe to get the update right now. But I am sure Microsoft is working on a way to directly update dev preview users. I am sure it is the bitlocker bug they need to fix before they can push the update to dev preview users.

OOOOH. Microsoft suspended the Dev Preview updates to any further version due to the bitlocker issue. It would make sense that the cyan update wouldn't work. DUH

I had to roll back....weird.

8.1 DevPrev for me as well and still days I'm "up to date". :o/

Any 1520 fun in Malaysia? When can we get the update guys? Thank u

Thank u.. Did u get any update?

How do you go back to WP 8?

You use Here map to find direction..lol. Actually, use Nokia Recovery Tool.

How do we roll back to 8.0 if needed?

Search WPC. There was an article about it a few weeks ago.

http://www.nokia.com/us-en/support/faq/?action=singleTopic&topic=FA142987

check this link http://www.wpcentral.com/how-recover-bricked-lumia-windows-phone

+920! And what ever happened to the green 1520 on AT&T? Should have been officially announced by now!

Sprint was first last time GDR3 (8XT), now is ATT first for 8.1?

AT&T was also first for GDR3 on 1020. They are shocking me. I love it.

I must say, I'm not sure if I'm excited because AT&T is starting to roll out the updates or watching Madaline talk about WP 8.1.

OMG!!! Currently updating my white 1520. Can't wait to play around with Cortana.

Were you running the 8.1 preview??

I was on 8.0 & got the notification that it was available.

Aight Thx I guess I just have to rollback and update again

Where you on 8.0? Cause am on DP 1520 and i can't update

Roll back to 8
Only then you'll get it

Yeah. I have the 1520 and there is no update present. I do have the preview for developers so that may be the reason. But I'll have to wait to see what is needed next for me to update.

All, see Daniel's update above...ATT pulled the blog post. I wonder if there might be an issue?

You guys suck. When I initially saw AT&T ANNOUNCES....i got excited until I saw for THE 1520

I can still see the post. 2:06 pm EST.

I just checked, the blog post is back up. http://blogs.att.net/consumerblog

Yes please let us know cause I have the preview for developers and I am not sure if I can update muy phone!

Roll back to 8
Only then you'll get the update

If it's rollback, or wait, then I'll wait. Not going to have to put Humpty Dumpty back together again. If i wanted to always be tinkering with my phone like that, I'd get an android. Maybe ten years ago, on my HTC Tilt, but not anymore... Come on MS! This f-up, is on you.

If you didn't want to tinker then why in the hell did you install prerelease software on your phone to begin with? That's just ignorant. The dev preview came with no guarantees except that it might screw with your phone. Well, guess what? If you wanna play sometimes you're gonna pay. If you don't like the situation now you have no one to blame but yourself for being impatient. This f-up is on YOU. They warned you there were risks when you went down that road.

Get off your high horse. The Dev Preview has always been final software.
By the way, something about WP you should know. Each update already includes the firmware for devices as Microsoft approves the base hardware. That is to say, phones like the 52X-82X series as well as bogstandard WPs don't need any firmware other than for specific additions like cameras and such.

Wrong. It was beta. Still is. Proof is, you can't upgrade it to Cyan. Why? Cause its beta.

That's absolute bullshit. Why do you think it was called a "preview"? Did you read the disclaimer before you agreed to install it? The one that said it might even violate your warranty? I'm sick and goddamn tired of all you people who just couldn't wait now crying the blues because it blew up in your face. The software came with ABSOLUTELY NO GUARANTEES. You installed it at your own risk, willingly. There was no reason whatsoever for anybody to have this installed unless they were a developer testing app compatibility, most of whom have a test device for this very reason. So if you jumped in the deep end and are suffering the consequences now, well boo hoo. Cry me a damn river. It's nobody's fault but your own.

You're just a charmer aren't you?

Yikes, someone has some anger issues. Get help on that...quick.

But don't you forget ms told us that we won't be able to downgrade our os once we upgrade to 8.1 dp... And now they are making us to downgrade... MSFT haven't kept their words

The f-up is made by Microsoft

How? Did they guarantee that this beta software would work perfectly and that everything would be sunshine and roses. NO. Just the opposite. They warned everyone who downloaded it. Deal with it.

Um, YOU might want to try Prozac, guy. I can start my opinion without being skewered. The info from Microsoft, when the preview was announced, was that it was going to be rtm/final release software, not beta, also, that there would not even be a way to rollback, to a previous version, and that we would review the carrier update, just like everyone else, when it was released. So, you don't know what you're talking about, for one, and for two, i don't want to have to reorganize my start screen, or loser my app data, which will happen, of i have to roll back, which, three, again, aww p was promised, would not be the case. So, man, easy, on the caffeinated drinks, and the overbearing opinions, psychotron. We ALL have a right to our own...

Yep, we do have a right to our own and that was mine. Don't like it? Tough. It is what it is. Just stating facts. If you don't believe me go back and read the terms YOU AGREED TO that state the software might go sideways and that MS takes no responsibility - YOU DO. Sick of people who take risks and then don't want to admit responsibility for it when it goes tits up just like they were warned it might. You took a chance and it went wrong. Now suck it up, princess.

Unless you work at Microsoft , why do you give a fig?
If you do work there : Xbox Music sucks ass.

To personally attack me, is way beyond the pale. I just saw the comments and you seriously need some treatment or a happy ending our something. Take a chill pill. And you can keep saying it, but out won't make it true. The DP is NOT beta. It's final release software, workout the OEM firmware. There's not even a way for non-Lumia owner's to rollback. Period. So how you can say this isn't on MS is delusional. Just because you're a family, doesn't mean you have to act like Sarah Palin, and ignore reality. Sorry, to bust your warm, cozy, passive-aggressive bubble. Wow. Civility, is beyond some people. I get that. I just hate it when I get to see it up close.

+1520 +920 +1020 + 2*520. I am with you on that.

C'mon 1020! Looks like AT&T have mended their ways. Keep getting a little better all the time.

I have a question? I have a Nokia Lumia 521 running Windows Phone 8.1 preview for developers and I'm wondering if I will have to roll back the OS back to 8? If so how will I be able to sync my email accounts? When I got a new Lumia 521 I tried putting my email into the phone and it kept saying invalid email. I didn't understand what the problem was until I realized that my email only recognized 8.1 and wp8 doesn't work with 8.1. Anybody know what to do?

I don't mind rolling back to install the update, but I need to confirm that it is still available first since they pulled the announcement. I'm also unclear if it is possible to reinstall the developer preview if the Cyan update is not available as my understanding is that DP may have been halted due to the Bitlocker issue. I don't want to roll back and be stuck with 8.0 and be unable to use some apps/features.

My thoughts exactly. I'm just going to wait as I would rather keep 8.1 Dev Preview than to be stuck on Windows Phone 8.

Well now that the announcement is back, I'm rolling back to 8.0 now.

I rolled back. It took about 3 minutes. I am installing Windows Phone 8.1 + Cyan right now.

The announcment is back up. http://blogs.att.net/consumerblog

Other carriers are updating their Lumia phones, tmobile is just sitting there masturbating.

They haven't said one word about it other than "we have no hard eta, keep watch on the product page".

Well, they would at least be doing something productive. In more ways than one. So, I doubt if they're even doing that.

I may just unregister from the preview altogether after this. We all took a chance on their system and they let this slip through their fat (possibly) fn fingers. Good job Microsoft, good job.

Here is the link for Nokia Software Recovery Tool to revert back to WP8. http://www.nokia.com/us-en/support/product/lumia1520/faq/?action=singleTopic&topic=FA142987&category=softwareupdateanddownload

By the weekend it will all be sorted out, current OTA update check logic preventing Cyan firmware to show up on Preview devices. There will not be a need to roll back, keep calm and carry on :)

Haha and your credentials to make this statement are...? This is MS we're talking about... they can't make a decently functioning Xbox Music app... what makes you think they'll figure out this Developer Preview issue when updating to Cyan over the weekend? They don't do ANYTHING quickly...

I recommend using these delays to improve english and grammar, and perhaps grabbing a drink (or sedative of choice) to calm down..

Completely calm and my grammar is fine, thank you. Have fun updating from Developer Preview to Cyan on Monday - let me know how it goes for you...

Simple. Rolled back to Stock using Nokia tool. 20 minues to download but only 10 to update. Ran a backup while it downloaded.. Set up phone with no MS Sign In. Minutes to complete. CYAN was next rith a reboot. checked again and Winoows Phone 8.1 is on its way. More in a couple minutes. BTW. I am in NE Ohio

Nice, glad to hear everything went smoothly!

Source please as i don't trust Microsoft anymore

Think it would be good to know I anybody checked for the update after 1:45 and got an affirmation, due to the recanting of the announcement by at&t

I am getting the update right now.. It did two downloads. The first was a very small update that I do not know what it was for. I assume it was a preventative update in case you are running the 8.1 dev preview. I saw this happen on my co-workers CVGB device as well. Once that applied, this it started to download the actual Cyan update. This requires Wi-Fi access and is huge. Cortana, here I come.

So you were running the Dev Preview on your device and received the Cyan update?

Why would we have to roll back to 8.0 if we don't use Bitlocker?

Because MS halted the updates for all phones with DP installed and it looks like that they still haven't resumed the updates for those phones.

Well, seeing as the official update hasn't been released for the 1020s, I'm going to hold what I've got with this DP and wait it out...

Where's the f*cking fix on the DP issue?! What the hell, MSFT!

I rolled back from DP 8.1 to 8.0 using the Nokia Recovery tool because. . . . why not? In my experience doing a fresh install every once in a great while isn't such a bad thing. I re-evaluate my app installations as I go and also reconfigure my tiles, etc. For all the lack-of-app griping, I already have more than I need (215 and counting). At any rate, did the rollback and first small update, still under 8.0 and am now doing the second update which will presumably be Cyan. I am very pleasantly surprised by the way ATT got this out. They were among the slowest US carriers to update on the Blackberry side, and by slow I mean like a glacier made of mollasses. Literally years behind other carriers. I don't know whether this rapid deployment is attributable to some more accomidating back-end stuff underpinning the OS or to a more aggressively supportive relationship between carrier and manufacturer. Either way it's a good thing.

#ShowSomeLoveForTheLumia1020at&tOrElse

Haha I'm wondering how long it will take for them to provide Cyan for the 1020 seeing as the end of life date is October 15th... wonder if we'll even get it at all to be honest...

Oh... I was going off of this site... http://www.wpcentral.com/lumia-1020-new-end-life-date-and-what-it-all-me... Not that 1 day matters, nor does Wednesday vs Thursday

After 1520, its 1020 and 920/925

@HyperKid your source please...

Just wait and you'll see.....

If we roll back to 8.0 and update to official 8.1 will we still be able to get the lock screen beta or do only people running the do version of 8.1 get it?

You'll get the lockscreen

No update showing for me on 8.1 DP.

I have Nokia Lumia 925 and after cyan update. My phn is not work properly and automatic switch off. So, what to do. I didn't get two small update and my phn didn't show the update in my phn.

You might get a faster reply if you use the forums.

I really hope that the ATT Lumia 920 gets the update. Seeing as that it is no longer offered as a current device I am sure it is not high on the priority list, but it would be nice to see it continue getting support at least through the 2 year contract.

Richard, were you running 8.0 or 8.1? And tendau, you can re-enable dp after loading 8.1, but you probably won't need to to get the LS beta

Update showing on my stock AT&T 1520 in southern Florida. But I'm in my office; have to wait for WiFi at home.

Downloading now. Hopefully Cyan fixes the issues the DP had with screen sensitivity, etc. because I had to roll back to 8.0 to get the phone to actually work right.

Dev preview devices are currently not allowed to receive official Cyan updates. Supposedly there is a fix coming... Probably in the form of an OS update. Mess at Microsoft.

Is anyone using on here with a 1520 on AT&T with the Dev Preview installed receiving the update?

PW38, what time did you check for the update?

Just got the update here in West Michigan for my 1520 on AT&T. Started the download at 1:30PM Eastern time. Like Richard Wessels said it was two downloads, but I didn't have the 8.1 dev preview so the first download wasn't for that. After the first download and reboot my phone still said WP8.0 (Black). The second download was the actual WP8.1 (Cyan) update. Now it's time to go play...

updating mine now..! seams like a pre 8.1 update. 1:00 p.m. (central) did not have the preview installed

okay, so the pre update downloaded and now I am downloading the next update..! I hope this is it!

Guys, please... we all know by now that if you where running the WP 8.1 DP, that there will be issues updating to the CYAN update. This is why even MSFT has suggested that you roll-back to the release software and then upgrade to CYAN.. This should not be a surprise if you decide to run BETA software. Anytime I have used a BETA OS, I have taken it as a standard that I will have to re-image when the release software comes out. This is standard BETA practice... If you decided to run a BETA OS on your production device, then you should have been planning on dealing with this sort of issue. If you are on an AT&T branded Lumia 1520 and you want the update right now. You may have to roll-back to the release software and then upgrade. Otherwise, you may need to wait for MSFT and AT&T to agree on a fix. I should point out that the fix does seem to be going out, as a recent story this week about a small update going out to users of the Lumia Icon on VZW clearly shows. I am just as impatient as the next person, but when it comes to BETA sofware, you have to expect certain things. One of those is multiple reloads and re-imaging when dealing with a BETA OS.

You are right. I stand corrected. I apologize..

8.1 Developer Preview wasn't beta...

The dev preview is the same as RTM, NOT beta.

OMG OMG OMG ... It is finally here!!!

The AT&T update HAS data sense!

Nice! That's the answer I was waiting to hear!

Awesome news thanks!!! Now if AT&T could just go back to supporting Qi by the time some flagships are announced this fall...

Thank God! After never having it until the DP, I simply cannot go back to using AT&Ts crappy app(which is always off on data use by a lot) to monitor my data.

I'm still waiting and itd last 1

I think someone just hit me in the head because I'm seeing stars........

I'm on 8.1 DP, no update yet in Dallas. I'll wait for a few hours and roll back. I hate to do this, but you got to do what you got to do.

Show some love for the Lumia 1020.

It would suck, but I wouldn't be surprised if AT&T didn't push an update out to the 1020 or the 920. The 1020 more so, as it's still being sold in some carrier stores. It's definitely still being sold in the Microsoft retail stores. The 820 on AT&T? If that gets an update, I'll be shocked.

Yeah well the DEV Preview for WP 8.1 Update 1 is right around the corner so if AT&T does not release it for the 920, I'm just grabbing 8.1.1 instead :)

It will come and who said it wouldn't?????
The next in the list is 1020 and 925/920 so relax for some time

Interesting, the Nokia update page still says "Under Testing" for the 1520

I am rolling mine back now. I want slider for brightness and I use headphones a lot, so the Dolby surround sound (not the camera Dolby) may be interesting

I got my download. getting ready to test it out now.

That's the OS version, which I have on DP. The firmware is the one below that. My DP with black is 3051.40000.1404.0011.

Mine only shows a "firmware revision number" and is a totally different format with yours. So I assume we are using different phones ... Mine is RM-940_nam_att_200

RM893_nam_tmous_201. I didn't even have a chance to get the small update to go from 12397 to 12400 before they shut the whole thing down. Should mention I have a 925, not a 1520.

Currently, I have the following:
OS Version: 8.10.12400.899
Firmware Revision number: 1028.3562.1407.1001
No update yet.

Interesting... Don't know why but my firmware revision number starts with 02061.00074.*****.*****

Any word on when we'll be able to go straight from Dev preview to full 8.1? Unless I misunderstood MS's comments this was an option thta was being worked on.

Has anyone seen the update yet on their unlocked 1520 RM-937?

Receiving in Chicago now (starting around 12:45 PM Central) on my stock 1520. It was the double udpate, at first a brief update, which after install and restart started to download 8.1. Still installing, and now I have meetings all afternoon

updating as we speak. AT&T really surprised me with this one. Good for them!

That's incorrect. I'm seeing no update. It's frustrating considering Microsoft made the claim no rollback would be required to incorporate the Cyan update. It seems, you most surely do.

Technically, you don't need to rollback on the Preview and that is still true. What happened is an exception: they discovered a bug that could lock up some phones, so they paused all updates. What they will do is release a new update to the Preview/dev channel (build 1401?) which will fix the BitLocker thing. Once you have that, you will then get the Cyan update as usual.

Any ETA on Preview/Dev fix?

Do you have a ball-park figure for a time frame for both updates, Daniel?

People who has updated from,8.0 what is your OS version in about? For example my DP version is 8.10.12400.899

Thanks. This is interesting. So people on DP actually are having later versions of OS.

Well, I guess that's true, otherwise, why call it preview ...

Nothing yet do I have to downgrade to get it?

When will international 1520s (937) running on att network receive the update?

If I'm using 8.1 do I need to restore to factory software and if so how

Please see the 2:25 update to this article.

Ok. At 2:15 I began reverting to 8.0. At 2:22 I checked for updates on my at&t 1520, after reverting back to 8.0, and its almost finished with the first short one and restarting. Chercking for another..... and there it is!! Downloading! 2:34. So, yes. Revert or wait until a fix, and it is raining 8.1 with Lumnia Cyan!

WP8.1 DP here. No update was showing so I rolled it back to 8.0 (easy as pie) small update went and now downloading the big one. ROLL 'EM BACK, FOLKS!!!!!!!!!!!!

Anyone tried to wear skinny jeans with a 1520 in their pocket howd that work out?

It looks kinda weird...wearin one rit now lol

Especially if you have a case. Can't pull the thing out without pulling your pocket inside out!

I'm too old for skinny jeans.

So am I, but since that's where fashion is now, most regular jeans are all cut in a slimmer fit. The baggy loose fit look is definitely out.

Yes. All the ladies loved me. They called me Spongebob Squarepr--k...

I hope there is a fix for DP users as the rollback isn't an option for me. I'm a Mac owner and the Nokia Software Recovery Tool isn't available for anything other than Windows.

I had no problem managing a Nokia Symbian phone on a white MacBook back in the day (I miss those), but a Nokia Windows Phone on Osx leaves a lot to be desired.

Oh ok. Rolling back IS required.

Does anyone know when at&t plans on releasing wp 8.1 for Samsung phones. All other phones have except Samsung

Everybody that has been running 8.1 has been on Developer Preview, including Samsung devices. All of us are just now getting the "Official Commercial Release" that will be rolling our, internationally, for all devices and that will be determined by manufacturer and carrier approval. So, if you want "8.1", now, participate in the Developer Preview like all of us did and get it. If you need any advice on how to, there are tons of articles on it.

Downgraded....installing second update now!

Back up and running after the update and it's AWESOME. I love the extra perceived real estate on the 1520 since everything had gotten smaller.

I do and I dont like the smaller text. I like to have the large txt for some things since middle-age is killing my eye-sight. but yes, some things are much nicer smaller.... we have a 6" device. we don't need things HUGE.

Nice. It was rumored to be this week and sure enough, AT&T made it happen. Awesome.

This beast is taking forever to download. Had a pre-update install first, then the 8.1 download started. 25 mins into the download and I am at 81 percent. Windows Phone, Nokia, and ATT FTW

Done with the download, preparing to install now :)

Mine isn't showing that I have an update...

1520 running DP, no update. Downgrade to 8???? Humph! ;)

Thats what did it for me.

I don't have a Windows computer right now so the whole roll back thing is a P.I.T.A -- wack on Microsoft's part, considering they said we wouldn't have to do any of this.

Agreed as we already enjoying 8.1 and can wait till next week

They have to first provide proper backup technics for the people,with apps on SD cards. I can't roll back.

I think after you have reverted to 8 and then upgraded to 8.1 you have to do a hard reset and then your back up from dev preview will show...at least thats what I read...im updating now...about to try Yup this works!

...and here I am with my 1520.3 patiently waiting.

I have my 1520 and I still have my old 920 to some music. But I wouldn't go bad to my 920!
I love my white 1520!

Got to role back to 8.0 to install it though so annoying !

Looks like you need to use the Nokia software to roll back to stock and then update. There is one update to prep the phone and then the update for the Cyan firmware. Freaking finally.

Come on 920 it's my backup but it would be nice to get this update and become my primary for a while again. +920

I DID have to roll it back for the update to show up. It's finishing right now.

Thats gay I have the preview and no CPU to do the roll back :(

I just decided to call my phones carrier to find out y the cyan is not released to 625 users here in SA... And their answer was "no contact Nokia or. Microsoft. Cause there are no new updates for Lumia 625...what I dnt get is that 925 hhas the update how come they there's nothing new.....do you guys face these problems on that side of the world?

Funny, I'm downloading the rollback software and it is 1028.3562.1407.1001. the same thing in dev preview. I hope this will give cyan because it seems it's giving me 8.1 from Nokia software recovery tool. Any thoughts?

<Spongebob voice over dude> 3000 thousand yearzzz later....lol. Finally installed and restarting. Patient, Brett...be patient :)

90% from recovery tool. Then, instal.

For what its worth; if you are running 8.1 and decide to roll back, I would highly recommend that, after the update is complete and you have 8.1 Commercial Public release and Cyan on your device, you do a factory reset just for kicks. It shouldn't matter because you had a factory reset after the reverting back to 8.0. It's just a good idea if you have the opportunity, like this, IMHO

I concur. btw.. I have the gears and progress bar about half way across.

Same software number updating to the same software number from recovery...i guess this will get rid of dev preview as a hindrance. I'll update, almost done with recovery tool

Question. I installed the DP app a while ago and have been getting the notice that my update is ready to install. I have not updated it due to problems I have read about on this site. But I still get the notice to install the update on a daily basis. So how can I check for the real update now and install it without it showing me the DP update instead?

I use Navifirm to check the availability. Once its available, it shows up there. Nothing new for the 1020.

Signing into typical phone stuff, looks 8.0, hang on.

Already have 8.1 and Cyan on my new awesome Lumia 930 ;)

Considering this is about the 1520 and AT&T... Posted via Windows Phone Central App

Hopefully 1020 update isn't far behind.

Why can't MS just block Cyan from developer preview devices that are using bitlocker? I don't want to roll back and loose game saves etc.

Agreed. I just had to replace my 925 and even though my apps were backed up, saves were gone for rival knights and that chaos and order card duel game.

I would imagine, if you would do a backup before you downgrade to 8.0 to get Cyan, you would then be able to restore from that backup once you have cyan and do a reset.

That's what I did. I plan to do a hard reset so I can download all my crap after cyan installed

O wow Cyan for the 1520 before the 520? That's odd

Why? 2520 actually has most to gain from cyan. Makes perfect sense.

What's the best way to rollback?

Nokia Software Recovery Tool. Daniel re linked to the how to in the 2:25 update.

Too bad I don't have a PC to rollback on.

Update available!! Waiting to be at home to download!!!

I am getting the "could not read data from selected phone" on the Nokia recovery tool. Any ideas?

I had uninstalled dev preview, idk if that makes a difference

I rebooted phone and PC then it worked fine.

Ok, was 8.0. Right away, I found update. Doing it now. Definitely have to get rid of dev preview

"We are still waiting on a response from Microsoft, but all indications and evidence suggest that if you want the Lumia Cyan update, you need to roll back to Windows Phone 8.0 first. See our tutorial guide on how to do that. Alternatively, Microsoft will patch the Preview version at some point, which will lift the block for the update. However, there is no ETA for that fix." Why is this? What is the point of putting Dev Preview on your phone and then you can't get the phone updated without going back first. Is MS that stupid as to not think about this?

Well, they weren't joking

ask yourself what Developer Preview program was about ? you beta tested for Nokia/MS no promises and certainly no guarantees

Its called Dev Preview for a reason.

It only takes ~5-10 minutes max to downgrade.
The time your wasting here by commenting and yelling,instead do this procedure

Because it's a reflection of how stupid MS is and how stupid you are for accepting this process. I have been an MS Windows Phnoe user since day 1, if MS is going to be better than Apple especially regarding OS updates then you need processes that work and don't hinder the user. That simple.

rolled back to 8.0 after I did a backup of my L1520 while being on DP8.1. getting updates now. this is better than.....

Would be interesting what you could restore from backup...

When I updated to dev preview 8.1, it scaled things in different sizes, a little smaller, but I like it. Does the official 8.1 Cyan change the scaling back to the original 8.0 1520 size where things appear a little larger? If so, I prefer the dev preview.

Should be the same, tell you in a few.

Guess ms needs to stress the point of dont use this on a personal device & maybe stop allowing app studio users from using it.

Glad the update is here, but major flaw on Microsoft's part regarding the apparent mandatory roll back.

Ran Recovery tool and t only gave me one version to download, 1028.3562.1407.1001 which it said is what i was running? Im on the preview.

Same thing for me, just do it

Just run it, I had same thing, it takes you back to 8.0

It's......it's.....majestic :)

Rolling back from DP is a must ! Of course if any ody wants the update...

Aw man, that means i have to rollback or just wait it out for the patch. Ehh, doesn't take that long.

My solution was a downgrade using Nokia software, then get the 8.1 update, then "reset my phone", then the 8.1 DP backups appear when you set up the phone again. Cheers

I'm rolling back to 8.0. I'm not waiting around for the fix for DP. I need this Cyan update now! Who knows when the fix will come for DP. A good clean slate never hurts anyways.

It only takes ~5-10 minutes max to downgrade.
The time your wasting here by commenting and yelling,instead do this thing

On the DP and ran Nokia recovery tool, rolled back to 8.0 in 10 minutes now downloading 8.1 Cyan. Im in Sacramento, Ca. My asvice if your running previw roll back and update its very easy and takes about 30 minutes total.

One more thing, Nokia Recovery Tool seems faster.....

Ok, here is what's what.
1. Must roll back.
2. Use Nokia Recovery Tool. You have to download this to your computer, takes 1/2 hour. Actual rollback once phone detected, 5 minutes.
3. The is numbers will be the same, ignore that, you will be back on windows 8.
4. Look for update after filling in sign in, etc. I chose to do a clean install because I am going to hard reset if I don't have the chance after install is complete. I'm waiting now, actually, it's done restarting. Wow, I saw the blue flag like on the PC! Now its running through the 19 steps. So, I will have to do a hard reset when this is done to get my stuff which will be infinitely easier because either way its a MASSIVE waiting game, which we WP fans are good at.

Checked for update with Preview installed, nothing there. Restored to original software, downloading Cyan now. Must revert phone back to original software for it to download. Deltona, Florida.

Has anyone heard any updates or announcements from T-Mobile? I am so excited for the update!!!

I dont know why after 4 years, WP still does not have option to backup Application/Game data. Everytime i backup and restore i lose all progress on my games which is very annoying and frustrating. Now I want the WP8.1 with Cyan but here I am thinking whether its worth to lose my game progress for cyan update. I am using Dev preview.

So who rolled back the 1520 and tried to update?

So not far behind for 920 owners I hope, I've been waiting patiently to see what all the fuss is about for what seems ages now.

The updated 1520 firmware for the AT&T US 1520 is 1028.3562.1407.1001, and is the only variant showing an update on Navifirm. Nothing yet for the 1020.

Stupid MS! We got DP to find out we can't install the official. Have they considered those that can't roll back. Say something Belliforde!

Downloaded and working fine on mine. No problems

Loading mine as we speak.......Can't wait!.....<---screaches like school girl

My son's 1520 is updated, just waiting for the 1020 and 920 for mine and my wife's phone

Guess such on DP until Billifordi does his job!

Can you guys help explain what happens when you would rollback and upgrade to 8.1 and actually use backup...specifically what happens with SD apps/photos after backup.

i cant seem to roll back my 1520 using the recovery tool, it just keeps searching for the phone and cant find an older version on navifrim to use

A'right guys... I caved and downgraded to 8 from 8.1 DP. As soon as it's downgraded, I got the update for Cyan. Downloading know and I think I'll be all set in another 20 mins. Just like DP, first there is a small update for prep I guess and the the bigger one is getting downladed now.

did you not have any problems downgrading....cant get the cevovery tool to find my 1520

No, I did not have any issues. As soon as I downloaded the tool, and connected it started downloading the OS and then then some and started installing it right away.

it's working on my laptop but didn't want to work on my tower....

Still no love for users of RM-938_lta_lta_905... (Lumia 1520) here in US..

Can anyone with cyan check if the screen sensitivity issue has been resolved on the 1520?

Just updated my 1520! YAY!

Post Cyan update. updating all the preinstalled apps. Woo Hoo

Here in seattle. Already have the 1520 update installed. Data sense is there. Only took about 15 min.

Why can i just do a hard reset to my phone go to Wp 8 instead to be connecting my phone to a computer?

Hard reset will not change your phone OS, so WP 8.1 will remain 8.1 and wp8 will remain 8 after hard reset. Only option is Nokia recovery software.

If you know what a hard reset does, it can only take it back to the software settings that is available in the phone. Think about it, how do you think your phone will have an updated or an older OS? it has to come from somewhere, either through the computer or OTA.

Isn't a hard reset easier than to be connecting my phone To a computer?

Just reposting the process for those with WP8.1DP that would consider just starting fresh with rollback. I like installing new OS as fresh installs regardless of how incremental the update might be particularly when I encounter whacky behavior with pre-released versions (beta, preview or otherwise) and I DEFINITELY had some issues with DP: Since I have only user data on SD card and can easily install apps, I did the Nokia Recovery (roll back) . It is now downloaded and installed. The process looks like (after you roll back DP): Searches for and downloads first available update (took a minute or two): "Windows Phone 8.0.10532.166 - This will make it easier to update your phone to Windows Phone 8.1, which is loaded with new features and imporvements we think you're going to love." restarts installs data migration 6/6 steps, restarts Searches for and downloads next available update (took more than a few minutes): "Nokia Update for Windows Phone. Windows Phone 8.1 (8.10.12397.895) - Reinvented with you in mind, our latest update is packed with cool new features and improvements to the things you love most." restarts installs data migration 19/19 steps (there is a progress bar displayed that applies to the current step;this will likely take longer if you didn't just roll-back like I did to expedite this) restarts DONE

Att had to get that mobile minute recorded as apart of their "testing"

DL in progress as I write this at 2:38pm local time (AZ). And to think I was bashing AT&T/Microsoft a couple weeks ago about their BS in the past rollouts. Now to go drink a beer and wait.

Stupid Verizon hasn't even rolled out the update for its flagship, Icon... Makes you wonder if they actually care about their WP customers... Posted via Windows Phone Central App

After downgrading to 8 and just seeing the OS in that form compared to what I had...8,1 is a pretty amazing update especially for 1520 - whew that big font and huge buttons...even the sign in process for 8.1 looks 100xs better...

My 920 (cyan) has the sim card error. They offered me the 1520, I asked for the 1020, they didn't have any so they offered me the 925. I ended up getting the 1520 and taking over the 920 (yellow) *sigh*. It was her bday and she wanted that 1520 so bad. I miss my cyan 920.

I got the Cyan Update for my 1520, the nokia recovery tools finish quickly and the update finish quickly

I downloaded the tool from nokia, downgraded from 8.1 back to 8.0 and then updated back to 8.1 and Cyan. It is a pain, but I don't want to wait. The 'accidental click while scrolling' issue seems quite a bit improved on Cyan so far.

So they are getting the green one.

I did the update but I don't see any difference

Done installing. 8.1 is bad ass so far.

Does the Cyan update enable the wireless "project my screen" feature for the Lumia 1520? Or is that kept for another day?

I couldn't get it to work wirelessly. Plug in the USB cable and all is well. There is an advanced option on the phone to fix wireless issues. Doesn't really do anything. Probably waiting for 8.1 update 1

What the heck, ATT and a 1520 here, WHERE IS MY FRIGGIN UPDATE???

I just finish update I LOVE IT

I'm leaving T-Mobile, no Nokia Lumia 1520, no Windows Phone 8.1 update.. Tired of that!

Touch Sensitivity Bug still exists on my Lumia 1520 after the update. I'm loosing hope on this platform, one of the top of the line phones could not recongnise the difference between tap and scroll. Anybody body have had a similar issue and found a fix? I have tried every thing that was suggested on the 28 page thread.

Wow! She's hot Posted via Windows Phone Central App

Well I am super impresses so far with this update. Cortana is amazing so far and the notification center is on point. Also, I keep forgetting that I have a swipe keyboard now with emoji suggestions

Just got the update. Now to play

Anybody ever notice a dot of light toward the upper left hand corner of their Lumia 1520's screen? Well after this update I now have 2 dots? Wtf!?!?!

So the list now goes: Lumia 520: France
Lumia 625: Worldwide
Lumia 925: Worldwide
Lumia 1520: Finland, India, Taiwan, USA When will the L1520 update go worldwide? It sure seems to be heading that way. And wasn't it supposed to go simultaneously with the update for L1020?

Downgraded and finally up and going. Don't know why but just happy to have screen timeout at never :)

Did the 1520 now will await the 920

I'm glad I waited for the official 8.1 update. Patience pays off.

What's the arrow above the wifi signal in the 8.1 update on 1520

ive seen it on the wifi and lte signals....i'm assuming its showing data transfers

great, i have WP8.1 + Cyan....now just waiting on ISIS mobile wallet. Have seen some new settings for NFC tap to pay. Isis keeps saying its coming soon but i've been heasring that since August I miss the IE option to open links in new tabs..... Motion data + Bing health and fitness looks nice

Cyan is also available for LUMIA 1520 in india. Check on official site under asia>India.
But I owned 1020, So still waiting.. :(

The cyan and 8.1 for the 1520 no brand in uk is avaible ...

And in france for the 520 on Orange carrier

I could watch Madeline talk about software updates all day, but I digress...I went to att.com/softwareupdates and the 1020 isn't even listed as an *option*. They have 15yr old Nokia feature phones but Lumia 1020 isn't even listed; um, oversight I sincerely hope...

wow thats terrible. i just checked that same page yesterday and the 1020 was definitely there. they must have taken it off of the drop down selection box?? but why???

So anyone who was on 8.1 DP and now downgraded and then updates to 8.1 Cyan, confirm if the 1520 screen early/accidental touch issue has been resolved? Also does project my screen work on 1520 now (without USB I mean). Thanks.

Never was on DP here but it definitely feels like the sensitivity issue is gone for now. Hopefully for good!

If ATT released the Cyan + 8.1 update for L1520's does this mean that it is available in the US? The WPC update tracker page does not say that it is; http://forums.wpcentral.com/windows-phone-8-1/293096-track-windows-phone... I am waiting till to downgrade till I know it is available in the US for ATT L1520 users.

I just got off a chat session with ATT support and they told me that it is available on the 1520 in the US. So I an now going to downgrade and get the new update.

Mine didn't show either until I manually pushed the button to check for updates. It's not automatically showing up but I bet if you check manually it may show like mine did.


I checked manually and there was no update abailable, Now I a reverting to WP 8 and its processing. I also backuped phone and had all my Apps and setting on my SD card which I removed till I get Cyan + 8.1 when I will reinsert it.

I must say that I'm impressed that there is definitley a difference between the DP and Cyan. I like the other settings like the bluetooth transfer, and even the extra color scheme tile (bright green). I also don't see the phantom touch screen sensativity issues either. The key is backing up your phone before you roll back your phone to 8.0. It should resemble how the phone looked when you first bought it. It was so easy to upload what you had before. Cortana is more inquistive. It's awesome!!!

Wow, 8.1 absolutely CRUSHES. Love it. Yes MS is late to the party with some of the inclusions here that have already been done by iOS and Android (siri, swipe texting for example) but MS's versions are FAR better and more advanced. Can't wait to see what they do with WP9 in a year or so.

I just reverted back to WP 8, then checked for updates. It found one and installed it so I checked again and it found the Cyan + 8.1 update and found that. After install I shut phone down, replaced the SD card and upon restart all my apps are there. After they all update I will sync with the backup at Microsoft. All in all it went very smooth on my 1520 in the US. If you follow the instructions you should have no trouble.

I update to Windows Phone 8.1 all I can say it is the best on the 1520 best invest I did. I am true Nokia fan from the 3310 to the N95,96 N900 to Lumia 900 to the Lumia 1520 far best and I love it