Lumia Denim update is rolling out to Lumia 1520 and 930 in India
The Lumia Denim firmware update is once again expanding its reach to more Lumia models in India. The download is now rolling out to the Lumia 1520 and the Lumia 930 smartphones in that country.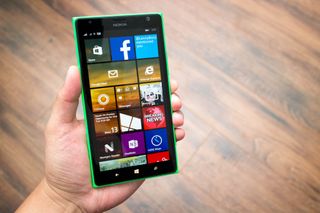 (Image credit: Windows Central)
The Denim update is now on a wide range of Lumia phones in India. Microsoft started with the Lumia 520 and this month, it expanded to the Lumia 525, 535, 620 and 720. Monday the Lumia 1020 got Denim in India and on Wednesday the rollout continued with the Lumia 820, 920 and 925.
Thanks to everyone who tipped us!
Denim is cooler than jeans in 1920s

Why no news about Windows phone 10? I mean for the rest Lumias user who didn't get the update yet.

Keep calm , and wait dude

Its really brave to call it "update" in so early stage. Its really really early alpha preview I would say.

Hey Cortana is sublime, she hears me from my pockets.. And she can know what I wanted to say if I pronounce poorly

Hey Cortana training is not complete, Hey Cortana is not recognizing my voice. Cortana (hold search) is answering my voice Hey Cortana and all my commands, what's the problem please help me friends....

Just make sure that you are in network/internet coverage area and obviously the location must be on , she needs activate internet to capture your voice.

All things set, that's why I am asking, yesterday out of five one time she recognized my voice after that I tried hour she not recognized me, now again I training her for five time my old one on is not there....

I liked your comment rockstarzz. ;)

Anyone else having mix problems when phone is put in speaker with Lumia denim for L930?

Hopefully to the Hong Kong Versiont too (RM-937).

Hopefully Hopefully. That's ASIA area. I can't wait.... L1520 RM-937 HK

im also having HK RM 937 im in india have you got Denim update?

I also use the same but no update

When to India? My Lumia 035 is waiting!

Dont worry, its in the pipeline...comes complete with string and can for making those arduous calls round corners

Lumia denim page for India showing denim out for 530 too....
https://www.windowscentral.com/e?link=https2F%2Fclick.linksynergy.co...

Microsoft Pakistan, make a move already ! EDIT: Denim is rolling out in Pakistan as well, for Lumia 630 and 1520 ! :))

Calm down everybody is waiting even here in sweden

I am calm now ! Just checked, and update is rolling out here as well ! :)

Just waiting on the 1520.3... ugh

I'm in the same boat as you sir. Want me to paddle first?

The start screens at Windows Central always look pretty dope, I must say.

Why for Lumia 830???!!! O_o It comes with Lumia Denim out-of-the-box i.e. Lumia Denim is pre-installed on L830!!! (as well as on L730/735)

Rich capture and Lumia camera tera baap dega kyaa? If you don't know, 730 and 830 are listed as 'Not available' in the tracker page. Means it is also getting another version of denim SOON(Microsoft Trademark). Do have some knowledge before commenting...

Haha... :D itna bura nahi bola jata yaar ;)

Guys , will the denim update bring a hell lot of difference in my Lumia 525 ... Although I'm running the pfd ... Sooo ... Anyone ... Here ...
I mean is it worth to downgrade it for my 525 ... Just to get a firmware

And you should have some knowledge too. 730 mein zayda koi differences nahi hai update ke baad bhi. Uska baap ni dega.

Wo toh pata hai.Tu pehle uski baap Ki aarti utaarna bandh karo.
But still 730 will get battery live tile, data toggle, etc. Ig it is not in PfD. Same for 830 + Lumia Camera 5.

*It
Bhai no going on maa and baaps. Gf utha le beshak but no mai-baap. Many 730s are being shipped with the latest version.

Lmao "gf utha le beshak" xD Epic

Was waiting for this, now downloading. Thanks Microsoft!!

MS India is delivering on its Denim-by-February promise. :D

Belgium next c'mon Microsoft!!!

Maybe tomorrow for L1320...

530, 625 and 630 are also left. Just these four.

It should hit rest of the devices tomrrow

730? My phone shows no new updates available?? Is it out already?? I am getting confused with this shit.

Denim already there on 730, pre-installed.

Not the latest one. My Lumia 730 has version 8.10.14167.221 but the latest version is 8.10.14234.375 (<<which is the version being rolled out atm)

Hmm that's strange. You could ask in forums or on the MS support pages. I thought Denim came out of the box on the 730. My bad :P

530 is getting updated now

Why they are neglecting 1320...its one of the best mid range phone...seriously, it's the most underrated phone....

Yeah underrated midrange phablet.

waiting for 1320...
Y always last :(

530, 625 and 630 are also left.

No 530 is updated with denim. Check the tracker page

Oh that's good. Sorry for wrong info :P

just got lumia 535 but now i desperatly want lumia 1520

Go for it its an awesome phone, no complaints here :) and extremely satisfied.

Damn I don't know if I have denim or not cause when I turn of PFD it shows denim and when turned on it shows cyan. Lumia 620.

http://www.neowin.net/news/why-your-lumia-wont-update-to-denim-even-thou...

What is the solution for this bug?

Don't know.. But wait for Official Denim Update..

But the update is out for my phone.

625 n 1320 left n then x30 series. My 630 waiting patiently :)

I wonder if I will get it. My carrier does not seem to care for WP anymore and my phone is nor recognized by any computer or port anymore either. Huge hardware flaw in the 1020.

730 came with Denim pre-installed.

Can anyone tell me how is it that America prides itself on being the best and brightest and yet phone companies in India where WP is supported way more than in the US are able to release the Denim update to ALL their devices and yet AT&T,Verizon and Sprint still playing de ass.

That came with Denim pre-installed. 530, 625, 630 and 1320 are left for tomorrow.

Those are the phones they didn't mention. MS India promised Denim on all Lumias by February-end.

It is pre installed but 830 still needs denim to run Lumia camera 5.0 app.

This SumairB has to be kicked out. Seriously telling this...

I just like answering people's queries :P I apologise if I seem to be interfering too much.

Reply correctly... Don't mislead the people just for your timepass

630/635 are still waiting for the Denim update

Can we expect it before March as announced?

Russia also began receiving Denim update for 930 & 1520!

It has denim but heard the firmware would be upgrading. But no update ..

What's the size of Lumia denim update?

920 got denim??? My phone isn't showing any update :(

Sign out of PFD and then check for updates.

It worked, thanks a lot! :) Does it bring any new features for 920?

Same features as normal Denim update. No Camera 5.0 for 920 I think.

India carries the 1520 and 930? Who can afford it?

I have one. L930. and so do many others here. Be careful how you word your questions cause you make our country sound poor. Which is not the case everywhere here. We have both kinds, the poverty striken, as well as the middle & upper class. Also, you guys have contracts subisiding every phone you buy and most of you take that route by choice. That is not the case here. Every phone has to be bought outright. Lets see how yours or any other country perform on high end sales without contracts and subsidy.

Hi. Have you got Denim yet? Will be checking my 1520 now.

Yup I got the notification...! :)Unfortunately am in office now...need wifi to get it downloaded...which I only have at home...

Oh. Bet you wished you had wings now!. Got the update on my 1520. Of course Hey Cortana is disabled although I downloaded the app. Guess i will have to change region to U.K.

Yeah been itching for the update for hours now...on my way back home finally..! Denim here I come :D

but microsoft have stated in the news that in india hey cortona is there ,, we l1520 owners will get this and i think many here have got this ultimate cortona .. pls check it and let me know as i m out of station so cant download it now

Ah...Sarang has the answer you are looking for...Voice activation is limited to only China, UK and the US...

Hey Mango lover,by the time you would have eaten one mango two 1520 or 930s would have been already sold in India

Most unfortunate. Oh well...
https://www.windowscentral.com/e?link=https2F%2Fclick.linksynergy.co...

Hmm..well...it wasn't likely on an alpha product anyway....hopefully by Win 10 release...meanwhile I guess I'll keep playing with regions whenever I fancy showing off the feature...:P

I love the Lumia 1520 but I want it in green which is not available in India :(

Yes I was, signed out of it and bang!! There it was waiting for me... The "Update" :P

It came for oem version today .

Hasn't shown up on my 720 yet ☹

Plz plz plz Lumia 625 should be next in India

1520.3 CV next please!! Tonight will be fine, Thank You :)

Waiting for 1520 in Egypt :)
EDIT: The update is now live in Egypt :D

Nice I will trying to download it now

To get the Denim update the DP has to be on or off?

What about L830 in India? Eagerly waiting. Why is it left out till now?

I have the answers but you're gonna have to buy me a cookie first

Cookies are too mainstream. Will a Cortana trick do?

Now Lumia 1320,830,730,630,625 are away from denim but hope to get these sets closer to denim in few days or may be tomorrow or day after tomorrow

Jesus Christ, Hong koooong please :D they are doing it on purpose.

Those who are wondering that L830 will not be getting an update, please be assured it will be updated though I came with a pre-installed Denim. It has to. Otherwise Lumia Camera 5.0 will not be working. I read it somewhere on Windows Central.

Love you Microsoft for delivering on your promise. (:

Seriously, I'd like to see it hit the 635 on AT&T. I'm now having to do a reset on my phone 2-3 times per day running 10 tech preview, and I'm going to be rolling back on March 1. Hopefully, my 635 will be able to get it at the time I roll back. Shame I had to do it, as there are a few features I feel like I can't live without (like voice dictation anywhere), but I can't live with the constant hangs, and there are times I can't even answer the phone. I'll have to be a bit more patient before I put it on my daily driver again. Denim would help ease the loss, though.

I have received denim update to my Lumia 930 CV Azerbaijan

Lumia 520 gets the denim update it says but the camera still opens slowly and the other features like Lumia camera 5 update is not available...what's new..just makes start screen folders.that's lame.

Then pay 32000 and get 930. Don't rant unnecessarily. For your 520 that much only you will get.

Only devices with 8xx chipset supports Lumia camera 5.

What is so special about denim

630 PLEASE....OR WILL IT DIRECTLY JUMP TO WINDOWSPHONE 10 :/

Fuck i was screaming so excited thinking it was for everybody then I realized it was only for India. D;

my 720 in India still didn't get the update. have checked ik phone update many times but shows its up to date and im still on cyan.

You have to uncheck dev preview.

When it will be available for 630 in Bangladesh? :/

Finally I got update in my L930 India...

Denim on Lumia 820 uk today, working well!

Hopefully in the Philippines, i guess we are tha last country variant in South East Asia update for Lumia 1520.

Spreading the love, cool deal.

Can't see Hey Cortana feature!!

Which device do you have? Check in settings. It might be last at bottom

I have a 1520. I checked in the settings and it's not there.. Sigh. Any help?

Keep ur phone on charge and make sure your WiFi Connection is good...if there's NO update it'll tell u in a minute...if there IS it'll take approx 5 mins to tell you that

I just installed Denim. Got Lumia Camera 5 too. Just no Hey Cortana.

Search for hey Cortana in Google or Bing. You will see a store link. Head over to that and download xap or install via push notification. Then you can have Hey Cortana. I'd that doesn't also helps, report the issue to Microsoft in al possible ways.(forum, twitter etc.)

I am able to get the app installed on my phone. But it has region error. So I think Hey Cortana not meant for India.

F**k Microsoft's regional discrimination.... Bullshit...

If you are not in PfD, wait till morning. Might be server problem due to server problem

Well I am in PFD. And have it unchecked to receive the update.

It is. U.K. China. U.S. Edited.
https://www.windowscentral.com/e?link=https2F%2Fclick.linksynergy.co...

just finsihed installing ..... will get to test lumia camera on my mighty 1520 :)

Downloading!!! Finally Hallelujah!!!! After a super-long wait!! It is SO gonna be worth it!! Thank you to the team especially Microsoft India for making it possible!! Lumia 1520....gonna be picking up the Windows 10 Flagship when it's released!

Where is denim update for 1320

Got denim update on Lumia 930

Woohooooo... Wooohoooooooooo.. Just so damn happy....!!!!! Thank you MSFT for keeping your promise..

Hey Cortana.. 4k camera , And HDR camera the best..

Hi.. I have 1520.. I have updated my phone to denim.. But cannot activate hey cortana.. Any help.. My region and language are USA.. I am able to use cortana as such.. But cannot find hey cortana in the settings so as to go to tutorial.. Any help?

Try this http://www.windowsphone.com/en-us/store/app/hey-cortana/68a0d9b5-be5f-40a1-be88-4e6c4e3cad8e

Dude.. Thanks.. It worked..:)

I've installed it but it doesn't work because an error message appears saying it not applicable on my phone. What's wrong?

We're having the same issue @chittresh dhawan1. I guess you're also using RM 937.

Dude.. I am not facing any more issues.. Just change ur region to USA.. And then click on d link.. It should work for you too.. Hey cortana is awesome..:)

Now I have it...Denim in India.....1520

My Lumia 1020 (UK EE) got an update today, but it wasn't the denim update. Still says I have the cyan update. Anyone know what the update was for?

Try phone update in the settings menu again Martin. I just got denim on Virgin in uk, maybe your phone needed to download another update first. I had the preview for developers, but the final version is even better :-)

Got it. Had to uncheck the preview for developers app and check for the update again. Thanks

Waiting for Lumia 1320... Why last???

925 in Ph?? When? Too slow...

So would it be funny if I asked "Wen in Latin America?"

My 1520 RM 937 was updated to denim months ago but still there's no hey cortana, and the camera 5.0... when I launch it, an error message appears saying that I need to update to denim. Was that something to do with my being enrolled in preview for developer's version before?

Dude u don't have Lumia Denim.. U should get the denim update once it is available in your region.. Camera 5.0 and hey cortana would work with that only.. I think u just have pfd updates on ur phone..

Wow. Just got Denim for my L930 in Ukraine (country variant) I hope that all of you will be able to get updates soon because I'd expected than my countly will be last.