Lumia Selfie update adds selfie stick support with Windows 10 Mobile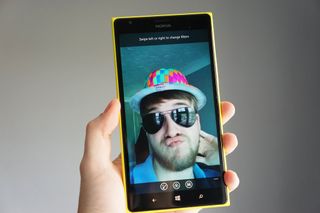 Microsoft's Lumia Selfie app for Windows Phone scored an update today in the Windows Phone Store. The small update is actually for Windows 10 Mobile preview users. The app now supports Bluetooth selfie sticks with Windows 10 Mobile.
That's the only change that's mentioned in the update notes for Lumia Selfie, which has been designed to help owners of Lumia smartphones take the best selfie image they can with special auto enhancements, filters and more. If you have downloaded the new Windows 10 Mobile preview build 10512 on your Lumia device, you should be able to use the app with a Bluetooth selfie stick for the first time.
Thanks to Rokibul for the tip!
Download Lumia Selfie for Windows Phone
Windows Central Newsletter
Get the best of Windows Central in in your inbox, every day!
Says not available in windows 10 mobile store. And yes i have build 10512

Also to mention, the app's live tile has now a new icon, which is sadly also transparent (no choices, again)

The fact that this feature was given priority over, oh, I don't know, Internet sharing*, destroys what little faith in humankind I had left. EDIT: *Or any other feature, ever.

You may not believe but selfies has way more users than IS!

Oh, I believe it. That's what terrifies me.

Also the fact, that this app is released under Microsoft Mobile (read, Nokia Corporations) and not Microsoft Corporation.. So different divisions, different priorities

Selfie sticks are the dumbest fad ever.

Beat the selfie takers with these sticks

Totally agreed, people are so weird these days..years.

a friend of mine has one and constantly uses it to take photos. I want to slap him 9 times out of 10. Ill admit they are very usefull for taking group photos without requiring someone from outside the photo to take the shot.

someone asked about this two days ago in the forum, is this a coincidence ? this should fairly simple now with keyboard support rolling..

wow , finally selfie stick support , that's what i need

It supported in Windowsphone 8.1 GDR2.... My sister has been crazy with 640XL

Still does not work with the selfie sticks that plug into the audio jack. My friend has one and all the button does is change the volume.

Hi, same with windows phone 10 both on lumia 930 and lumia 550. I have tried with Lumia selfie app. Lumia Camera app says it is not compatible with my mobiles... any hint?

This is the problem I'm having too with my Lumia 950XL. Paired the bluetooth selfie stick no problem, but instead of taking a picture it turns the volume up. Useless.

It comes with a transparent tile...

even the logo got changed

Now I only need W10 and selfie stick :) I got this update few hours ago I think

I can't download it. .windows 10

The problem is, when I was on windows mobile 10, I couldn't install the Lumia apps. Even from an external link.

The irony being that you can't download Lumia apps on Windows 10 Mobile

Now where is Lumia Camera..

It's says is not available anymore. Lumia 830 with the latest mobile build.

What native QRcode reader in WP10TP? Anybody help me?

Fails for me with the new win10 build. Same problem with the wallet app

I want to get 'The Wand of Narcissism' so I can share my wonderful and exciting life with the whole world! I just know that everyone is just on the edge of their seats to see what I am doing next. The whole world revolves around me.

Well then you have to share it with the world :)

Selfie stick came, android/iphone people enjoyed it and now its out of practice....

Cortana should beat up the owner with that stick.

2 other changes: New icon and transparent live tile :)

I can't download it. It says it is no longer available. Wtf?! (I'm on build 10512)

What about wire selfie sticks? should be easier to implement...


Go to store n check for updates

Not everyone likes transparent tile. They should make it optional. ​

I can't download it. Its no longer available... Lumia 930 with WP 10 build 10512... :( Whats wrong with MS???

Same here, Lumia 830 build 10512. This is just what I needed, but no luck

Same here. Can't download on 10512

Same goes for my Lumia 1520

I really don't get the fascination with taking pictures of yourself.

LoL It's like a decease...

Transparent tile now too! Yay!

Hey why cannot download? It's not available anymore?

John Callaham. Please answer why we cannot download this on Windows 10 Mobile. If you write an article, please be be kind enough to help by responding

Lumia Selfie apps not even available now....disgusted

Wow. In windows 8.1 transparent tile has arrived for this app..

Learned my daughter: What to do with selfie stick users? "Grab the stick and hit 'em dad" And I'm against violence.... Can't help myself.....

What is the selfie stick blue tooth?

Didn't they change the icon for the app as well?

what about beauty lens??? what is this?
Windows Central Newsletter
Thank you for signing up to Windows Central. You will receive a verification email shortly.
There was a problem. Please refresh the page and try again.