Windows 10 Mobile Preview build 10512 is now live for Fast ring Windows Insiders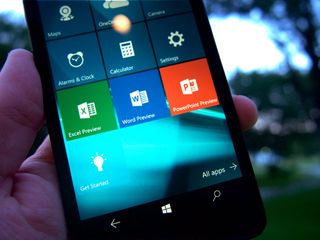 The latest update for the Windows 10 Mobile Insider preview build is now ready to be downloaded, over a month since the last official build, 10166, was released by Microsoft. The new build number is 10512 and can be grabbed by folks who are a part of the Windows Insider program by going to Settings > Phone Update to check for a new OS update.
In a blog post, Windows Insider head Gabriel Aul stated:
Aul also noted that users should also check out the Windows Store as there should be updates to many apps in the store. One app that is not in the store is the Insider Hub app, but he stated it would be back in future preview builds.
Today's new Fast Ring update paths:
Windows Phone 8.1 > Windows 10 Mobile build 10166 > Windows 10 Mobile build 10512
Windows 10 Mobile build 10166 > Windows 10 Mobile build 10512
Related Guides and How-tos:
Here's what's new, improved and fixed in Windows 10 Mobile preview build 10512 {.cta}
Windows 10 Mobile Preview build 10512 has over 2,000 fixes {.cta}
Windows 10 Mobile - All our coverage
Source: Microsoft
Wondering if I should leave the safe and stable 8.1 and jump for it.

I'm doing it, I'm used to rolling back to 8.1

I like ur comment, am use to rolling back lol, I love it

Even I am used to rolling back to 8.1 lolz.. Now downloading this build. Lets hope i don't have to roll back for a few days :)

They see him rolling, they loving', we go roll now..

Well.. This build broke few things that worked in previous build. Specially the Mobile hotspot. :/ You'll roll back.

Hotspot did not work for me on 166 so, ymmv.

last time i did that, battery life became horrible! (12hrs in WP10 compared into 24hrs in my lumia 920 WP8.1). But really liked WP10! Have to wait and see how this build goes for other people before i make the jump!

Strange, my Lumia 920's battery life was so terrible after the Windows Phone 8.1 upgrade i went over to Android. No problems here at all. I have the build before this one released today on my 920 and the battery life is just like it was on Windows Phone 8.0, which was amazing. Posted via the Windows Central App for Android.

Maybe you needed to hard reset after you got 8.1 Hard reset fixes a lot of issues like this

Thanks for the suggestion. But i dit that multiple times, i even put in a brand new battery. And opening up the device also fixed my broken flash at the back, bad connection i guess.

Lucky you, my 920 either with WP8.1 or W10M build 10166 was dying hard, 8.1 was like 12h and in 10 it was like... what? 6 hours? :'(

Same thing hapened to me on my lumia 930 but it wasnt windows it was a app. Once i iremoved it, the battery was great again.

24hrs of battery life on 920 running 8.1?! :-o I can't remember the last time I didn't charge my 920 for at least 3 times a day!

Fingers crossed myself...it was horrible for me on the last build but I liked the last build I stuck with it...I just upgraded to this build and then reset the phone and am starting fresh (not restoring apps) and will see how it goes...Lumia ICON here.

If the start screen loading issue has been resolved, you should, especially since you will eventually be updating anyways. Aside from start screen issue, it's been quite reliable as a daily driver. I was on the fence too but decided to jump in for 10166 and the only thing that really irritated me (in terms of usability) was the start screen.

From the known issues, it sounds like the start screen issue is still there. I've read you can turn off "show more tiles" or reduce the number of tiles on your start screen and its ok.

Read the known issues - doesn't sound main phone ready. It is great preview software - but not prime time... caveat emptor

Yup. I was going to install it on my daily driver and start repackaging some .APKs. Guess it goes on test lumia 625 only.

If you value safe and stable, just sit tight. when it goes public any remaining bugs will get worked out. If you opt in, you should be fine, but not quite safe or stable in every aspect.

I really can't think of a reason to switch from 8.1.
10 has literally added nothing to the 8.1 user experience. Mail and SMS is still buggy, with resume screens.
Just not worth it IMO

Oh, come on.. it's not that bad. It's not exactly what I wanted, but there are a few good things here and there. I think I'll enjoy the background thingy, even though I love the skinned tiles option. The only reason I'm wondering if I should go to Win10 is because of the bugs. I read the known issues and I'm worried, even though it's not something huge. Also there's the performance - I'm still not convinced it's better than 8.1.

How exactly is the background different in WP 10 vs WP 8.1? I've seen the difference in screen images but not sure what all the options are. I like the clear live tiles in 8.1. All the images I see of WP 10 has some harsh colorful background.

That's just the transparency level. You can take it all the way down or up or somewhere in between :-)

WE ARE TESTING THE PREVIEW BUILDS , IF YOU DON'T HAVE A SPARE PHONE , JUST SIT ON THE SIDELINES

Don't, I'm pretty sure the battery won't last long

Too bad we won't get any features in this build. Really want to see interactive tiles and aero effect in action centre. It's disappointing to see that MSFT is not exploring the tiles concept further, which is the unique thing about the OS.

How do you know they're not exploring it? My guess would be they are because why wouldn't they? Doesn't mean we're going to see anything, for a while yet at least.

You don't have to guess. They are exploring it. They did a demo of it earlier this year. Still disappointed that it's not coming soon.

..mom...get me a towel...I just shit myself...

Thought this was gonna happen soon. Im all prepped and ready for my 1520, 1020 & 925 to test! Wooo!!!
Love being involved in the build process!

It sits on 0% for me :( ETA it's moving, I better go get the fridge ready :D

Hey there, just gotta be patient :P my phone went from 0% to 4% all the way to 19% and jumped up to 42%.

Pls do we all know how this build stuff get stucked while downloading hahahha

I am stuck too, but the fridge joke killed me. hahahahahahahahhaahah

It's not a joke, it cools the phone down and avoids a reboot loop that would otherwise happen, at least on my L1520. BTW it's already in there.

It isnt a joke really :-D Some people with L1520 needs the fridge to update otherwise the phone overheats :-O Though I haven't had the problem myself :-D

I stuck it in front of a big fan, lol.

Damn what if you don't own a fridge

After 15 minutes, I went from 0% to 1%, heh.

i stuck on 0 from past 1 hour

I'll throw mine in the freezer

Beware of condensation. Warranty won't cover it.

Hahahahah what warranty? After technical preview??

Ditto, my 1520 was stuck at 0% for a couple of hours before it have me an error - rebooted and I'm going to try again.

I was about to try to cancel the download, but after 10 minutes, I jumped from 0% to 45%, I guess I'll wait.

Mine has been stuck, at needs 40% battery. Even though its charged 100%

Hint about low ram phones in its name?

I will sleep peacefully.... Wakeup at early morning and will start checking YouTube or Windows Central for its Hands on

Same here as first I ll wait for some

I am gonna pass this build.. Videos and Hotspot are broken and the start screen bug is still there.. And there is nothing new in this build.. I think it's few steps backward than 166..so yeah, goodnight.. Posted via the Windows Phone Central App for Android

Nope... Still boggs down often. As stated many times already, it's not for those who don't have a test mule or are impatient.

Hopefully they add something new in the multitask bar, among other speedy improvements from 8.1

Too late in the night ..I'm gonna go to sleep and get it done tomorrow!!!

hey, why dont you just let it update overnight? you can schedule automatic downloads so youre ready to go when you wake up. :D

Kinda dangerous considering phones sometimes go under bootloop. You don't wanna leave a warm/hot phone on your bed/nightstand unattended

Long wire into the fridge my friend :-D

Good morning!!!.. Breakfast and downloading... 45%

About 2 minutes in and finally seeing the progress bar move. Yay.

Finally! Been itching to try a new build!

ohhh yes! I'll be getting this ASAP

Video Playback is broken, plus no hotspot. Cannot put it on the daily driver :|

Have you tried a hardreset after update?

Report it to windows feedback. We can't do anything about that

Its already listed in the known issues for this build

I wonder if they haven't fixt the sharing bug. I need to shut off wifi to activate connection sharing.

Doh, read the gotchas in teh release notes. Hmmm.

Lots of phones drop your WiFi connection to create their own hotspot.

wow , finally windows 10 build rolls out

Let's get the update started!! At last...

I wonder how stable is it as I am bored and feel like updating my Lumia 1520.

Can you put it on a 1520? I keep hearing you can't.

I am downloading it right now. Will keep you guys updated

I've been running the preview on mine since the beginning

It's on my 1520 and running fine

Failed to install on my 1520. 920 install went well.

Cant update to build 15012.My update got stucked at 0%. Even after restarting the phone it shoes downloading 0%.Please help. I am using Lumia 920 windows 10 build 10166

Got my MBBS finals tomm.... Hell wit the exam.... I need to get this build now!!

Don't. You'll end up wasting the night. Save the build for later.

hope this doesn't take forever! gotta get to work soon!

No. No new phones for this build.

WE WANT LANDSCAPE MODE ON 5.5"+ PHABLEEEETS

Or even 5" phones. Let's not leave out the Icon/930...

I'm thinking about jumping in now with the build being as advanced as it is now. This would be on my daily driver. Any opinions on that? Does it seem stable enough? (knowing it just released)

The last one I put on my daily driver and regretted it. First couple of days seemed ok, but far too many hangs and crashes to be viable. I'm tempted again with this build but if your phone is vital to you (eg. for work emails) then I'd say hang fire. Maybe try it over a weekend as you can roll back if you find it's not stable enough for you.

I have the last build on my icon, so yup its stable. I'm about to download this build now.

It depends on your phone and firmware cz im running this on my lumia 920 as daily driver and it's quite good except some overheat and battery drain and from what I heard the denim firmware doesn't go well with win 10 mobile and i have cyan

I wouldn't if I were you unless you can manage to live with your start screen not loading consistently, gmail not syncing and apps, that used to be reliable, crashing randomly.

I am downloading it for my L1520. The last build was solid for me except for onedrive not syncing my photos/videos (I have done hardreset several times)

Tomorrow can't work 100%. 20% work 80% staring "new phone".

Does it work with HTC 8x?

After 5 minutes still on 0%. :(

Check your Battery.. Needs to be at least 40%

Downloading @ 50 mbps.. Yeah!

yes. start download but it seems to already locked at 0%

Damn video playback is broken? Just when is started playing back in HD on mobile. Posted via Windows Phone Central App because this phone waa closer to me.

Yeah, wondering if I should take the plunge after running 10166 in my 640XL, but Riker back to 8.1 because of battery drain and couple smaller glitches... I'll wait til I see some more info and feedback about it I think.

Looks like there are more new issues than fixes in this build

What issues have u noticed pls do let us know

Haven't downloaded it yet but the blog post by Microsoft(http://blogs.windows.com/bloggingwindows/2015/08/12/announcing-windows-1...) doesn't sound good. It mentions some serious issues.

Thank you. I probably would have installed on my 2nd phone without reading the issues as it's not a deal breaker if it's flaky. However I'm currently using it abroad with a foreign sim as a Mobile hotspot which appears to be broken. That would have messed up my next 10 days ;)

Maybe do some research before commenting. Gabe has already said there are over 2000 fixes in this build. The list u saw was a short one of some of the most reported ones.

Maybe do some research before commenting. Gabe has already said there are over 2000 fixes in this build. The list u saw was a short one of some of the most reported ones.

Nope, no new devices. I've been waiting for them to add the S and S Neo as well.

Just edit registry to mask your phone as some Lumia. I've done that when I had Ativ.

That's nice but when they will be released for the all the phones? I've BLU WIN HD really good phone but will be awesome with
W-10

I gave up hope waiting for it on my Blu win HD LTE. Blu isnt giving microsoft the 8.1 restore files. I have a feeling that we wont be getting windows 10 for a while after release. Im gonna sell my Blu win HD lte and buy a lumia.

Really? That is so nasty :( MS need to support all phones for the good of the ecosystem

Its installing for me know on my att 1520. Hopefully this build is better then the last.

I've been waiting so anxiously !!!! :D

0x80244019 error on search for updates !!!!

Same here, you have an solution ??

Showing 10166.. Do i hv to dwnld that first????

Hv to reset phn to dismiss this update notification then hv to recheck!! Ny odr way to do it???

Same ? I have. I'm on L1520 8.1 update w/denim

have to install 10166 first then 105xx. Should have been able to install newest directly from 8.1.

hmm, known issues: Mobile hotspot doesn't work in this build. When sharing the Internet from your phone using Mobile Hotspot, devices will fail to get a valid IP address from your phone and will show no internet access.
Two-factor authentication for your MSA with a phone number doesn't work in this build. If you reset your phone and go through the first run experience, you won't be able to input more than 2 characters for validating phone or text authentication. If you have a secondary email for two-factor authentication – you can choose that. As a workaround, add secondary email for two-factor authentication.
Some phones might spend a long time in the post update migration experience – just let the phone sit and it should complete this migration.
Apps that use background audio such as Groove, Podcast, Pandora, etc. will crash when launching after receiving an app update from the Store. Rebooting the device will resolve this issue.
Some phones with a large number of tiles pinned to the Start screen may get stuck in a state where the device shows "Loading…"; the device will need to be reset or rolled back to Windows Phone 8.1 using Windows Phone Recovery Tool.
Some apps may fail to update through the Store with the error code 0x80073cf9; uninstalling the application and reinstalling it will resolve this issue.
The Movies & TV app will not work in this build (video playback is currently broken).

Waiting for the next build then... Thanks

Thanks for this. Will pass on this too. So sad because I want to try it.

Changed to fast ring from slow ring.. Started downloading!

Let the testers comments BEGIN! I played with 10166, but count handle the black screen from phone calls. I may jump on this and stick with it.

New build for my 930 = 930 running at 1000000 degrees and might need to be used in a fridge ;-)

I literally put my L930 wit win10 in freezer for a min or so, everytym after i use wireless charging.... I cud even make omelette even jus after playing crossy road

My 1520 is already in the installation process... Really hoping Groove music is getting an update to support the pass

Yes! That's a bug issue.... Do you also have an issue with the app force closing, then not wanting to open back up?

Movies & TV not working: I dont use it by the way. This marks the first time Gabriel replied to me in Twitter. :)

TESTING PREVIEW ON MY 635 , DISNEY CHANNEL APP AND MORE WORKS PERFECT

From jhcopp on Reddit: We've made quite a few improvements since the last build, but here are a few things that we fixed that were frequently reported by Insiders: •General improvement in overall stability and performance. •You can now set the Lock screen and background image from within the Photos app. •We fixed an issue where apps installed on SD cards weren't working after a reboot. •We have improved Latvian and Chinese inputs. •We have made improvements to the Kid's Corner tile layout. •We have improved reliability of Data Sense notifications. •Modified Shape Writing algorithm to be less aggressive in suggesting contact names over common words. •Resolved an issue where Camera would not launch when the phone was locked. •We fixed an issue where notifications for incoming text messages weren't appearing. •We fixed an issue where the touch screen wouldn't be responsive after ending a phone call on some devices. •And we fixed an issue where folder tiles have obviously overlapping text. We do have a few known issues for you to take note of for this build: •Mobile hotspot doesn't work in this build. When sharing the Internet from your phone using Mobile Hotspot, devices will fail to get a valid IP address from your phone and will show no internet access. •Two-factor authentication for your MSA with a phone number doesn't work in this build. If you reset your phone and go through the first run experience, you won't be able to input more than 2 characters for validating phone or text authentication. If you have a secondary email for two-factor authentication – you can choose that. As a workaround, add secondary email for two-factor authentication. •Some phones might spend a long time in the post update migration experience – just let the phone sit and it should complete this migration. •Apps that use background audio such as Groove, Podcast, Pandora, etc. will crash when launching after receiving an app update from the Store. Rebooting the device will resolve this issue. •Some phones with a large number of tiles pinned to the Start screen may get stuck in a state where the device shows "Loading…"; the device will need to be reset or rolled back to Windows Phone 8.1 using Windows Phone Recovery Tool. •Some apps may fail to update through the Store with the error code 0x80073cf9; uninstalling the application and reinstalling it will resolve this issue. •The Movies & TV app will not work in this build (video playback is currently broken). One other note is that the Insider Hub is not yet included in the new build. We are working to bring this back into new flights soon. Remember – be sure to check the Store and grab the latest app updates from there too, as there have been lots of improvements to apps since the last build.

Good post. I'll wait until the next build. My 1520.3 is running just fine on 10166.

PLEASE let me have a reliable start screen...PLEASE EDIT: I just saw this, "Some phones with a large number of tiles pinned to the Start screen may get stuck in a state where the device shows "Loading…"; the device will need to be reset or rolled back to Windows Phone 8.1 using Windows Phone Recovery Tool." WHY is this so hard for them to fix? It's been a problem ever since 10080! I shouldn't have to limit my start screen for your code to work correctly, especially since 7 and 8.1 don't crash.

This was the main reason for me to switch from slow to fast but after reading the known issues, im guessing were stuck with this which boggles my mind as to why they didnt resolve it but since they mention large number of tiles pinned, maybe its best we unpin the unnecessary ones and pin them back later.

My anger with this issue is, it fundamentally changes how I interact with my phone and it's the antithesis of the modern Windows design story that they've sold us on since the introduction of WP7. If this is going to be a problem going forward, they need to come up with a solution and fast. Whether it be "pages" or "virtual start screens" (akin to virtual desktops) to artificially limit how many tiles are pinned and rendered, it needs to happen within the next 1 or 2 builds.

While it's irritating that we have this issue on tech preview, im certain by the final build it will be sorted. Since its officially been addressed as an issue, I'm guessing the next update will solve this and by the sounds of things we will be receiving quicker updates from now on, so hopefully it will be solved sooner than expected.

You're right, this is the first time that they've publicly aknowledged this bug exist, so hopefully it's a top priority now.

There ya go. Glad you found the silver lining. It's just a preview build afterall.

I wonder if they have left this in by design - to ensure "Joe Public" doesnt go loading it and subsequently not contribute useful data / insider feedback (?)

Strange, I never had this issue on any build?

Any idea of the size of update? I need to know if i should buy bandwidth or my 512 kbps connection will do it!

Damn, my daughter took my test Phone with her on vacation. I'll have to wait almost 2 weeks to see the new build. Bugger.

Ask her to update and to post a hands on video on Youtube for you. :)


Lol i swear people on windowscentral come up with the darnedest things