Lumia US is giving away a Lumia 830 and Fitbit Flex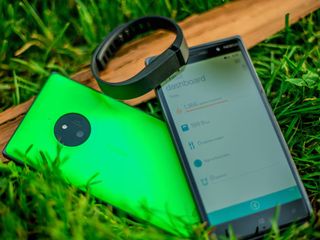 In the US and interested in a new Windows Phone? Then you might be interested in winning a Lumia 830 and Fitbit Flex. Lumia US has a contest going on that ends in less than three days.
It's an easy contest to enter. Just head to the Lumia US Facebook page and drop your contact info for your chance to win. It's really that simple. There will be five winners walking away with a Lumia 830 and Fitbit Flex combo. Something that will be super handy to help get fit over the Holiday's where it's easy to put on extra weight. This is a US only contest, but be sure to check your local Lumia Facebook page for other contests. Full details and rules available at the link below.
The Lumia 830 is one of the newest Windows Phones from Microsoft. It's the affordable flagship that comes with a 10 MP PureView sensor to help you capture some amazing photographs.
Source: Lumia US Facebook
Windows Central Newsletter
Get the best of Windows Central in your inbox, every day!
I hate the contests that require Facebook. I don't use Facebook.

Make a fake account, I've got one that I use for competitions so I don't get loads of spam on my real one

You are completely missing the point of hating Facebook and not using it...

Just borrow a friends account to use it, and ... Join us join the facebook world! Internet does not exist without facebook.

See... People inside the cult always preach. Begone FB spawn, in the name of sanity I banish you!

+830 same here I do not give a dam about facebook!

i hate the us only contests

I don't like what Facebook has turned into but there would be no internet for me without Facebook in it

Yeah I support you. May be the should use So.cl instead.

Yeah the band is too new and to give away still. Have seen these offers with Fitbugs before (co that Fitbit ripped off) here in the UK.

Band is so much more capable, hopefully fitbit can license the Band software, My Band is So neat!!

Band is a lot more expensive too, it's cheaper for them to give one of these away.

Yeah seen a few companies here in the UK giving away Fitbugs, I guess in the US it's Fitbits.

Good luck to everyone who enters!

Too bad I'm reading this on my Lumia 830 while wearing my Fitbit..

Is it unlock and can be used on tm or att ?

Hmm.. maybe I should consider moving myself in U.S. Lot of contests are U.S. only XD btw how's life in the Ice Age?

It's great! All the typing we do to enter contests keeps us warm.

I thought it was global warming...

Looks like I'll have a 830 and fitbit for sale when I win this contest, lol

Then dont enter. Leave it for people who dont have either. :P

It was a joke, there's no way I'll win

Microsoft Lumia Facebook page when trying to 'Enter'...send me on endless loop back to their front page..??

I got IE mobile is not supported

Yes...worked now with Chrome.....IE 11 no luck...lol!

Shows the Nokia logo on the front. My brothers has no logo on the front.

Start the U.S. Only bitching in 3..2..1...

You're late to the party :P

Its so weird seeing Lumia US. Why not just write Microsoft Mobile?

Guys what do we have to drop?, I entered Lumia US, then what?

Had to enter using opera browser. IE wasn't working for some reason.

MS,Please include India as well.... Its one of the biggest market for windows phones

Don't you know, only people and places that needs a boost get free stuff.

I would love any of these...

As indicated by me and 500 other people, the link on the FB page DOES NOT WORK!

This is strictly AT&T, no? I'm on T-Mobile and would like to enter this contest and get an UNLOCKED 830 should I win...