Lyric app musiXmatch gains Cortana integration in new update for Windows Phone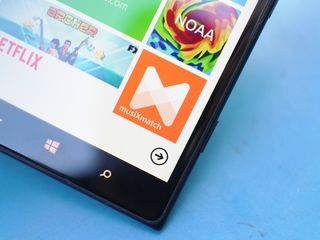 The world's largest music catalog has updated their app for Windows Phone. Head to the Windows Phone Store and you'll now find a new version of musiXmatch waiting for you. This new update is notable for introducing some swanky Cortana integration.
musiXmatch lyrics player version 3.6.2.0
Improved song recognition engine (new small fixes)
Cortana support
We love using musiXmatch for all our lyrics needs on Windows Phone. The app visually is the same from when it received a big update in summer 2013, but we're happy to see the Cortana integration.
Have Cortana and the new version of musiXmatch for Windows Phone? Then all you need to do is say "musixmatch identify" for Cortana to launch the app and begin to identiy the song. Then you'll see the lyrics that go with whatever song you're currently listening to. It's pretty swanky.
Let us know what you think of this small update to musiXmatch for Windows Phone!
Thanks for the tip Sakthi R!
Does this do newgrounds music search?

Lol that looks like The MKPlayer's logo

they should have made it a nickname instead. I use SHAZAM THIS feature with Cortana and it works great.

I could say 'musixmatch identify" For a while

Guys check the vlc...updated again

Cortana integration was in the last update in Nov 2014. I have been using since then!! Seems its not new, may be a bug fix and change log not updated!

I could do it even before

sadly it's not working when you use an other language than English. It should recognize the English commands when native language isn't supported by an app. Funny thing is that it does understand my words and even translates identify into the German identifizieren which is pronounced significantly different. But since the app doesn't support German it just does a Bing search.

Cool, but kind of a clumsy trigger phrase. Why not just "Musixmatch, what's playing?"

One of the best app on WP...

As a second language learner, I find this app really useful, sadly I cannot use it with Cortana yet

Still no option to save lyrics offline

It used to do it automagically, but an update changed the behavior :(

Does it listen to Spotify yet?

It can listen music already playing in your phone also

Does anyone else has a problem Downloading it? Something about check that ur phone is updated n try again ? Phone already up to date btw.

No offline support for lyrics. Android has had this feature for years still not available on WP...

I need a music app that can read lyrics from the lyrics tag. Programs that find lyrics in the web usually fail, just like their desktop counterparts. Plus they use your bandwidth.

Developers, here's an idea for you!

My iPod touch did that long time ago, i guess it still works like that, been screenbroken since 2010

I have not used this app yet, but do like shazam. my problem with shazam is that the songs I tag on my phone, are not visible anywhere but on my WP. I hate that I can't log into shazam.com and see what I've tagged. Does anyone know if this app allows you to log into a website and see what it has 'identified'? If not, it is a wast of time for me.
Windows Central Newsletter
Thank you for signing up to Windows Central. You will receive a verification email shortly.
There was a problem. Please refresh the page and try again.