Madden NFL 20: How to get a free 99 overall Joe Burrow for your MUT team now
No need to wait to have Joe Burrow slinging passes for your MUT squad.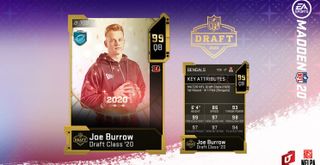 (Image credit: EA)
The Cincinnati Bengals certainly hope that Joe Burrow, Heisman Trophy winner and national champion during his dream 2019 season at LSU, will be the quarterback to lead them to a brighter future. But for your Madden NFL 20 MUT team, the future can be now.
Since the Bengals made Burrow the No. 1 overall pick in the 2020 NFL Draft as expected, EA Sports is free to put him in the game (no pun intended). While Burrow's actual debut in his true form in Madden NFL 21 is sure to come with a much more modest rating, MUT is all about fun, so players can get a version of him right now with maxed out attributes — as in 99 overall.
Even better, you can get him for free if you're willing to put in some time grinding things out in a multi-step process. Let's walk through it.
Why Cam Newton is important to your Joe Burrow quest
Except for being No. 1 overall picks from SEC colleges, Cam Newton and Joe Burrow don't have a ton in common. But you'll need Newton if you want your 99 overall Burrow, and not just one but two of them.
That's because the way to guarantee yourself a Burrow to lead your MUT squad to glory is to exchange two 98 OVR Draft Pick Cam Newtons in the #1 Pick, Draft Class '20 set to get a 99 OVR version of this year's No. 1 pick. And of course, we know now that is Burrow.
Of course, getting two copies of the 98 OVR Draft Pick Cam Newton is the tricky part, but you have some options.
Option 1: Hit the Auction House
Have you been saving your coins all season long in Madden NFL 20 or have some desirable cards in your collection to auction off? If so, you can simply go buy two copies of the 98 Newton and be done with it.
It goes without saying that this method will cost you a pretty (albeit virtual penny). At the time this article was being written, players were asking for anywhere between 280,000 and 340,000 coins for just one. Still, it's one way you can go to secure Burrow.
Option 2: Grind out NFL Draft challenges
EA loaded up MUT with NFL Draft challenges leading up to the real-life draft, and all of them are now unlocked. If you play enough of them, you'll earn several 90 and 93 OVR Draft Pick players, all of which can be traded for better players — eventually leading you to a 98 Cam Newton.
Here's are the sets you need to know:
#11-20 Draft Picks: Exchange any four 86 OVR Draft Pick players for any 90 OVR Draft Pick player
#6-10 Draft Picks: Exchange any three 90 OVR Draft Pick players for any 93 OVR Draft Pick player
#2-5 Draft Picks: Exchange any three 93 OVR Draft Pick players for any 96 OVR Draft Pick player
#1 Draft Pick: Exchange any two 96 OVR Draft Pick player for a 98 OVR Draft Pick Cam Newton
Got all that? By obtaining a total of 72 86-rated players, you can assure yourself of getting one Newton, and 144 will get you the two copies you need. That's a daunting total, but just by playing the NFL Draft challenges, the stars you earn along the way will let you skip some of these steps.
Here's where you'll earn free Draft Pick players:
50 Stars: 90 OVR NAT #11-20 Draft Pick
125 Stars: 2x 90 OVR NAT #11-20 Draft Pick -200 Stars: 93 OVR NAT #6-10 Draft Pick
275 Stars: 93 OVR NAT #6-10 Draft Pick
Also, it's worth keeping in mind that you'll find Draft Pick players in the Auction House as well, so if you have spare coins, you can skip some of the grind just by buying players to fill in some of the intermediate steps on the way to your two Cams.
Wait, can't I just buy a 99 OVR Joe Burrow?
Well, you can at least try, though the odds are against you. Madden NFL 20 has a special pack available for 500 Points (or $5 in actual money) that will grant you a special collectible that can turn into any of the 32 first-round 2020 NFL draftees.
The catch, though, is that there's only a 3.1% chance that it becomes the No. 1 pick that turns into Burrow, and each player can only buy the pack once.
How to get a free 99 OVR Joe Burrow now: A recap
So if you want Burrow for free, you know your path involves one or both of the following ways to get two 98 OVR Draft Pick Cam Newton cards:
Hit the Auction House and buy a 98 OVR Cam Newton, knowing it will set you back nearly 300,000 coins
Take your pick of NFL Draft challenges, using a combination of the players you earn from stars and the ability to trade several Draft Pick players for one from the next tier up
And hey, even if you decide the Burrow chase isn't worth the effort, even grabbing one Newton isn't a bad consolation prize.
Don't wait for Joe Burrow
(opens in new tab)
Get the No. 1 pick on your MUT team

OK, so Joe Burrow probably doesn't quite deserve to be a 99-rated QB in Madden yet, but you can get him in that form and battle it out in MUT right now.
Windows Central Newsletter
Thank you for signing up to Windows Central. You will receive a verification email shortly.
There was a problem. Please refresh the page and try again.