Madden 20 Super Bowl LIV simulation: Does Madden like the 49ers or Chiefs?
The wildest Madden 20 sim of the Super Bowl isn't the one that's most likely to happen.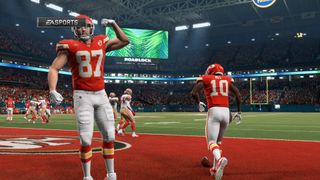 (Image credit: Windows Central)
As one of the few genuinely must-see events left in this era of TV, Super Bowl LIV is undoubtedly ready to generate some massive viewer numbers on Sunday, Feb. 2, when the San Francisco 49ers take on the Kansas City Chiefs at Hard Rock Stadium in Miami. Some surely will only be tuning in for the usual slate of big-budget, big-name commercials, or to see Jennifer Lopez and Shakira light up the halftime show, but for football fans, there's only one question that matters for the NFL's Big Game: Who's going to win?
The sports media has made an entire cottage industry of the build-up to the Super Bowl, so there's more speculation, informed guesses, and statistical analysis floating around out there than Patrick Mahomes has passing yards. Still, there's no reason that video games can't contribute to this time of anticipation, especially when Madden 20 is available to simulate the matchup and see what insight we can glean.
Of course, Madden 20 isn't exactly a sports sim, but it does have settings that get as close as a console game gets right now. I simmed Super Bowl 54 using the "Simulation" settings, with an accelerated play clock that ran down to 15 seconds after each play that ended with a running clock. I used the most recent roster updates possible, with one manual tweak: I moved 49ers running back Raheem Mostert up to the RB1 spot, as his recent performances suggest that San Francisco will give him more carries than his backfield mates Tevin Coleman (who is playing through a recent injury) and Matt Breida.
Play Super Bowl LIV for yourself
(opens in new tab)
It's not too late to get in some NFL action this season

Whether your plan is to replay the 2019 NFL campaign or tackle the very popular Madden Ultimate Team mode, Madden 20 offers a variety of ways to play America's most popular professional sport, and you won't find a better price on it than right now.
To avoid the bias inherent in running a simulation of the Super Bowl just once (and yes, mathematicians, this is still going to be a very small sample set, I know), I watched one full sim. I then used Madden's supersim feature to replay the game 99 more times. In one of those purely delightful cases of serendipity, the sample game I watched turned out to be the most wildly entertaining of them all ... but the outcome disagreed with what Madden 20 thinks is most likely to happen in Miami.
Intrigued? Then read on, because I'll break down the full game and follow up with trends from the full body of 100 sims.
Madden 20 Super Bowl LIV sample game simulation
As you'll notice in the pics accompanying this article, the 49ers were the designated road team (which switches by conference every year), wearing their white jerseys with gold pants. The Chiefs were in their traditional red home jerseys with white pants. Fun fact: This is the first time during the Super Bowl era that the game will be contested between two teams with red as their primary home jersey color.
First quarter
The 49ers won the coin toss and elected to defer to the second half. On the second play of the game, 49ers defensive tackle DeForest Buckner broke through and sacked Mahomes, suggesting it may be a long evening for the 2018 NFL MVP. Undaunted, he came just a yard shy of converting third down on a pass to Sammy Watkins, and the Chiefs were forced to punt.
San Francisco quarterback Jimmy Garoppolo fared even worse on his first series, with his third down pass finding its way into the welcoming arms of Kansas City cornerback Bashaud Breeland for the game's first turnover. The 49ers defense held firm, however, and the Chiefs settled for a 43-yard Harrison Butker field goal.
Garoppolo settled in on the 49ers' second drive, finding rookie receiver Deebo Samuel not once, not twice, but thrice (yes, that's a real word) to convert third downs. After a loss of yardage on a first down run from the 3-yard line, Garoppolo lofted a pass for Samuel again, who outjumped Chiefs cornerback Charvarius Ward for a TD reception.
Mahomes responded quickly with three completions to three different receivers. Still, after a holding penalty on Laurent Duvernay-Tardif, Buckner got him down to the turf for the third time, tying the Super Bowl record for sacks in just one-quarter of action.
Score: 49ers 7, Chiefs 3
Second quarter
A second Butker field goal on the first play of the second quarter cut the 49ers lead to a single point. The teams then exchanged three-and-outs, with Buckner recording his fourth sack to set a new Super Bowl record — and plenty of time left to add onto it. He added a fifth sack after the Chiefs got the ball back again, but Mahomes was busy completing 12 of his first 13 passes when he had time to throw. From the San Francisco 40, he kept a play alive with his feet by rolling to his right for a gorgeous 31-yard completion to Watkins, then found running back Damien Williams over the middle of the field on the next play to put Kansas City back in front.
The lead wouldn't last long, as Garoppolo used play action to find Emmanuel Sanders for 35 yards, then located Kendrick Bourne curiously uncovered on the right side of the field for a 41-yard score. Mahomes responded with a 7-play, 72-yard TD drive capped by a 3-yard pass to tight end Travis Kelce.
Then came the first play that seemed like a turning point: Garoppolo threw to Sanders on a run-pass option, but the receiver was drilled by Tyrann Mathieu. The backwards pass was ruled a fumble, and linebacker Damien Wilson scooped it and ran it untouched for six. Another Butker field goal made it a 30-14 Chiefs lead a few minutes later, and when Breeland picked off Garoppolo to end the half, it felt like the kind of dominance the Chiefs had shown during spurts of their previous playoff games.
Score: 49ers 14, Chiefs 30
Third quarter
The lead grew to 33-14 for Kansas City after Butker proved true again from 33 yards out. Yet Garoppolo dug in and led the Niners on their most impressive drive yet, going 74 yards in 11 plays before the signal-caller connected with Samuel in the end zone for the second time. Mahomes once again had a response up his sleeve, locating Kelce several times on the ensuing drive and completing a 2-yard TD pass to his All-Pro tight end to put KC up 40-21.
His 49ers counterpart, George Kittle, had been strangely quiet to that point in the game, but he made the most important play of the next drive, hauling in a 27-yard catch and run down to the Chiefs 10 on the final play of the third quarter.
Score: 49ers 21, Chiefs 40
Fourth quarter
Though the 49ers had an uphill climb ahead of them, it got slightly easier when Garoppolo found Bourne with 12:37 remaining, and the PAT cut the Chiefs' lead to 12 points. The Niners forced a three-and-out for the first time in ages, but a booming 56-yard punt meant they had to start their next possession from their own 23-yard line.
Garoppolo came out firing with completions to Bourne and Kittle, but the Chiefs rose to the challenge and forced three straight incomplete passes. The 49ers summoned kicker Robbie Gould to try his luck from 51 yards out and he rewarded their faith, making it a 40-31 game with 9:34 left in regulation.
Still winging it despite their lead, the Chiefs advanced to midfield before Demarcus Robinson came up just short of the sticks at the 50-yard line. Andy Reid called for a punt, which boomed its way into the end zone. That seemed like it might seal the game for the Chiefs, as a deflected pass off the hands of Sanders managed to find Breeland again for his third INT of the game. Kansas City took over with a nine-point lead and only 5:51 to kill. The Chiefs punted again, but after a Tanoh Kpassagnon strip sack recovered by Coleman left the 49ers behind the sticks, a facemask penalty bailed them out. It proved costly, too, as Garoppolo hit Samuel for 36 yards down to the KC 14, then completed a touchdown pass to Bourne to make it a 2-point game.
No onside kick followed as the Niners retained all three timeouts. The two-minute warning stopped the clock after a first down run, but the Chiefs dialed up a play-action pass on second down ... and it proved disastrous. Despite entering Super Bowl LIV without an interception in the postseason, Mahomes picked the worst possible time to throw one, with Richard Sherman going the distance for an improbable 45-40 lead.
That still gave Mahomes 1:46 to manufacture a signature championship drive, and he got the Chiefs to the 49ers' 35-yard line with 25 ticks left on the clock. There was no fairy tale ending in store, as Sherman leaped in front of Tyreek Hill for yet another pick-six, icing the game at 52-40 and sending the 49ers fans into (presumed) virtual hysterics.
Final Score: 49ers 52, Chiefs 40
Madden 20 Super Bowl LIV sample game - MVP and notable stats
For his late game heroics, Sherman was named MVP. If not for the second return TD, the honor almost certainly would have gone to Garoppolo, who finished 32-for-52 passing for 449 yards, five touchdowns, and three INTs. Mahomes had one of the finest performances a losing quarterback could ever have, going 37-for-48 with 486 yards passing and three touchdowns, though his two devastating picks will almost certainly haunt this virtual version of him for the rest of his days (not to mention Andy Reid for calling that fateful play-action pass).
Kelce was also a beast in defeat, racking up 13 catches for 207 yards and two scores. Samuel (10 catches, 165 yards, and two TDs), Watkins (eight catches, 143 yards), and Bourne (9 catches, 99 yards, and three touchdowns) all enjoyed parts in the aerial show as well. Two-star pass catchers had much less impact: Kittle had a good but not great day with six catches for 68 yards, while Hill was nearly invisible, finishing with just two catches for 35 yards.
Along with Buckner's sack record, Breeland also tied the Super Bowl interception record with three. A feat only pulled off once before by Rod Martin in Super Bowl XV. Not too shabby in a game that would have been the highest-scoring Super Bowl ever if it played out in the real world.
Alas, another 99 simulations by Madden 20 leaves one with the impression that Sunday's game won't feature nearly as many points, and probably a different winner, as well.
Madden 20 Super Bowl LIV - What I learned from 100 simulations
Let's get the most important difference out of the way right off the bat: Madden 20 likes the Chiefs to win Super Bowl 54. The Chiefs prevailed in 59 of the 100 simulations, including the sample game, with an average score of 30-20. There doesn't seem to be one specific way to beat the Chiefs either, as Kansas City won high-scoring and low-scoring simulations alike, as well as games where Mahomes went wild and others where a rushing attack led by Damien Williams did most of the damage.
Even more disheartening for 49ers fans: Madden 20 thinks there's a good chance for a close game, with 61 of the 100 sims decided by a single score (meaning eight points or less). However, if there's a blowout, it will likely go Kansas City's way — only two of the 100 games featured San Francisco victories by more than 16 points, compared to 10 for KC.
One potential beacon of good fortune could be if the Niners can take the game to overtime. San Francisco had a 10-3 record in the 13 simulations that are tied at the end of four quarters of football.
What Madden 20 (probably) gets right about Super Bowl LIV
Patrick Mahomes will most likely be the MVP
Mahomes was named MVP in 45 of the 100 sims, by far the most of any player on either team. Only Garoppolo (25 times), Damien Williams (seven times), and Tyreek Hill (three times) grabbed the honor in more than two other games. The 49ers were more democratic overall, with 11 players splitting their 41 MVP awards, including all three running backs getting the nod at least once. No losing player was named MVP in any of the games.
Mahomes will also probably throw for 300-plus yards
This seems like a no-brainer, but Madden 20 thinks this is almost an even bet, with the Kansas City QB eclipsing 300 yards 44 out of 100 games and coming within 15 yards eight more times. Certainly, he heads to Miami on a roll, and even the 49ers defense might be hard-pressed to slow him down.
What Madden 20 (probably) gets wrong about Super Bowl LIV
The 49ers rushing attack gets stifled by the Chiefs D
It's true that Kansas City has played much better on defense during the second half of the 2019 season, but the Niners have been a juggernaut running the ball, combining a three-headed RB monster with timely jaunts by Samuel and others. Madden 20 was unimpressed, however, picking the Chiefs to have more rushing yards in 60 of the 100 simulations (plus two more games where the squads were dead even running the ball). Considering the conventional wisdom is that the 49ers will need to control the ball and run effectively to win, this is a curious stat that could be very important, as unlikely as it appears.
Neither tight end has a shot at MVP
OK, look, Kelce and Kittle might be the two best pass-catching tight ends in the NFL today, and Kittle is a ferocious run blocker to boot. There would seem to be a good argument that both of them would get an MVP at least once in 100 simulations of Super Bowl LIV, right? Not so much. Though both men have some impressive stat lines, most of the games in which they really shine see the MVP trophy go to the player throwing them the ball instead. Modern history suggests that awards are really weighted toward QBs these days, but a complete shutout of these two studs is hard to fathom.
Play Super Bowl LIV for yourself
(opens in new tab)
It's not too late to get in some NFL action this season

Whether your plan is to replay the 2019 NFL campaign or tackle the very popular Madden Ultimate Team mode, Madden 20 offers a variety of ways to play America's most popular professional sport, and you won't find a better price on it than right now.
Windows Central Newsletter
Thank you for signing up to Windows Central. You will receive a verification email shortly.
There was a problem. Please refresh the page and try again.