Madden NFL 21: Release date, cover athlete and news — What you need to know
Madden goes next-gen... eventually.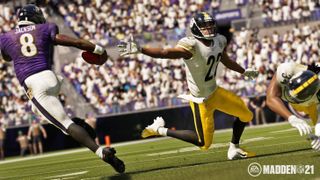 (Image credit: Electronic Arts)
The Madden NFL video game franchise is routinely one of the best-selling games of any given year, and this year looks to be no different, albeit with a slight twist. With Madden NFL 21 set to launch later this year, many fans are wondering what the game will do once the PlayStation 5 and Xbox Series X launch. With tons of questions left to answer, let's dive into what we already know about the upcoming football simulation title.
When is the Madden NFL 21 release date on current-gen consoles?
Madden NFL 21 is currently set to launch on August 28, 2020 for PlayStation 4, Xbox One, and PC. The game comes a bit later in the month than normal, potentially due to the COVID-19 pandemic that has taken a toll on nearly everything in the world. Regardless, the game will be available for players to download later next month, just in time for the potential start of the real NFL season.
Will Madden NFL 21 be a launch title on Xbox Series X or PlayStation 5?
So little has been revealed about either the new Xbox or PlayStation that it's hard to say for sure which annual franchises like Madden will be represented at launch for either console. So little has been revealed about either the new Xbox or PlayStation that it's hard to say for sure which annual franchises like Madden will be represented at launch for either console. However, EA Sports has already put many fears to ease by announcing Dual Entitlement for Madden NFL 21.
To put it simply, Dual Entitlement means that players won't need to buy Madden 21 twice to upgrade their copy of the game from PlayStation 4 to PS5, or Xbox One to Xbox Series X. Once you have your new console, players will reportedly be able to upgrade their copy of the game at no extra cost, regardless of whether or not they bought Madden 21 physically or digitally. EA Sports has also put no strict deadline on this, allowing fans access to Dual Entitlement up until the launch of Madden NFL 22.
Who will the Madden NFL 21 cover athlete be?
Though the Madden series has often avoided featuring a player from the same position in consecutive years, it's tough to leave a player who changes the game. Thus, even though the Madden NFL 20 cover star was Patrick Mahomes, EA went back to the quarterback well again and will feature electrifying 2019 NFL MVP Lamar Jackson of the Baltimore Ravens as the Madden NFL 21 cover athlete.
Considering the season Jackson had, it isn't too surprising. In just his second year in the league, Jackson took the NFL by storm, capturing an MVP and leading the Baltimore Ravens to the best record in their conference. Jackson's blend of elite speed, athleticism, and playmaking ability make him the perfect choice for the Madden cover treatment, and it looks like he's ready to live up to that honor.
Where are the Madden NFL 21 ratings?
One of the best parts of any year's pre-Madden hype is the release and subsequent debate/complaining about NFL player ratings for the upcoming game. There's something oddly entertaining about seeing anyone and everyone gripe about who's been done dirty by the ratings folks, along with the laughs that follow when the likes of Tom Brady joke about his own speed number.
This year, EA Sports released the ratings for Madden 21 a bit early, giving fans a chance to dive into their favorite player or team and check out who is the best of the best. You can check out the full list of ratings over on Madden 21's website, which has access to every stat, right down to kicking power. Earlier this month, EA Sports also announced the members of the 99 Club, an elite group of players who are good enough to garner a 99 overall rating in the game. This year, the members of the 99 Club are:
Patrick Mahomes, QB
Stephon Gilmore, CB
Aaron Donald, DT
Christian McCaffrey, RB
Michael Thomas, WR
Will Madden NFL 21 have any new game modes?
EA sometimes plays the addition of new game modes close to the vest. After all, the only true new mode in Madden NFL 20 was Superstar KO — I'm not counting QB 1 here, as that was more of a refresh to an existing mode — which wasn't in the game when it first released. It was certainly welcome, though, and with the next-gen consoles coming, the timing couldn't be better for something new and cool.
Alternately, maybe EA Sports will finally give Franchise mode the love and attention it deserves. Yes, it doesn't grease the company coffers like Ultimate Team, but come on: MUT is a well-oiled machine at this point, while Franchise has been rusting and gathering dust for essentially forever. After backlash following the announcement that Franchise mode wouldn't be receiving much of an update, EA Sports has promised to look into the mode, so it looks as if Madden 21's Franchise mode will be receiving at least some sort of major update. However, it's best to just play it safe and don't get your hopes up too high as you wait.
Preorder now
(opens in new tab)
Prepare for the game.

Madden NFL 21 promises to deliver another year of excellent football simulation. With the game set for launch later this year, you can secure your copy now.
Windows Central Newsletter
Get the best of Windows Central in in your inbox, every day!
Madden NFL 21 is pointless understand how worthless the madden nfl series since the ******* goddamn cover athlete because electronic arts company is the worst of all things because electronic arts can't make the game the right way because Madden NFL 21 being on next gen is worthless to me and the cover athlete is lamar Jackson on the cover of Madden NFL 21 because the game is worthless of being on next gen because the features are no good and the game itself won't get better because the game gets really worst the year after,lol,so at this point Madden NFL 21 is at a lose cause because derick heary ran all over the the new England Patriots and Baltimore Ravens like it was nothing because this worthless sports title doesn't even worth next gen because the freaking electronic arts development team is worthless and lazy making a simulation football with freaking microtransactions and scripting the last worthless seven games since Madden NFL 12 because Madden NFL 13 is where they ruined everything with CFM Bullshit,madden 25 nothing special,madden NFL 15 playbooks sidesways madden 16 worstless madden 17 trashy gameplay Madden 18 trashy gameplay again madden 19 garbage gameplay madden 20 trashy gameplay strikes back,madden NFL series is definitely not giong in the right direction because it's going in the worst direction in all the worst of all places is the worst place a freaking football game doesn't want to be at because Madden NFL 21 whats worthless **** features and no freaking deal with this goddamn football making a goddamn mockery of itself after being nationwide,Madden series Ranting,everyone else,we go through this each year and the freaking game needs its plugged pulled off the damn market because the game when Madden NFL was better was 07,08 and 09 before they added ultimate team and mut are the worthless modes because Madden NFL never brings something and all sports games are pointless and worth nothing to me because my reason to say electronic arts sports games are trash meaning the good company is 2ksports and sega company because Madden NFL 21 is at a negative 0 because i'm not planning to buy that worthless piece of trash electronic arts Madden NFL 21 because i'm saving my money for something else different.otherwise,the game could be great when proven wrong,obviously,but there's really nothing to prove here because it provides answers to nowhere because the darkness of fears only come within the rest is what matters to begin with if say so,obviously inconsistent which is Madden NFL series.

Everyone calls ben roethliberger a *******,all the freaking Madden NFL 21 voters,you freaking worst of all is you,people,you fools are calling quarterback ben roethlisberger a ******* of the freaking 2011 incident of miley cyrus of the singer,stop talking about it because big ben deserves the Madden NFL cover actually.people are the worst of all things,but not freaking nfl players because the freaking worthless nfl fans.

Pretty much the same game every year just roster updates and yet still charge $60 for that.
Windows Central Newsletter
Thank you for signing up to Windows Central. You will receive a verification email shortly.
There was a problem. Please refresh the page and try again.